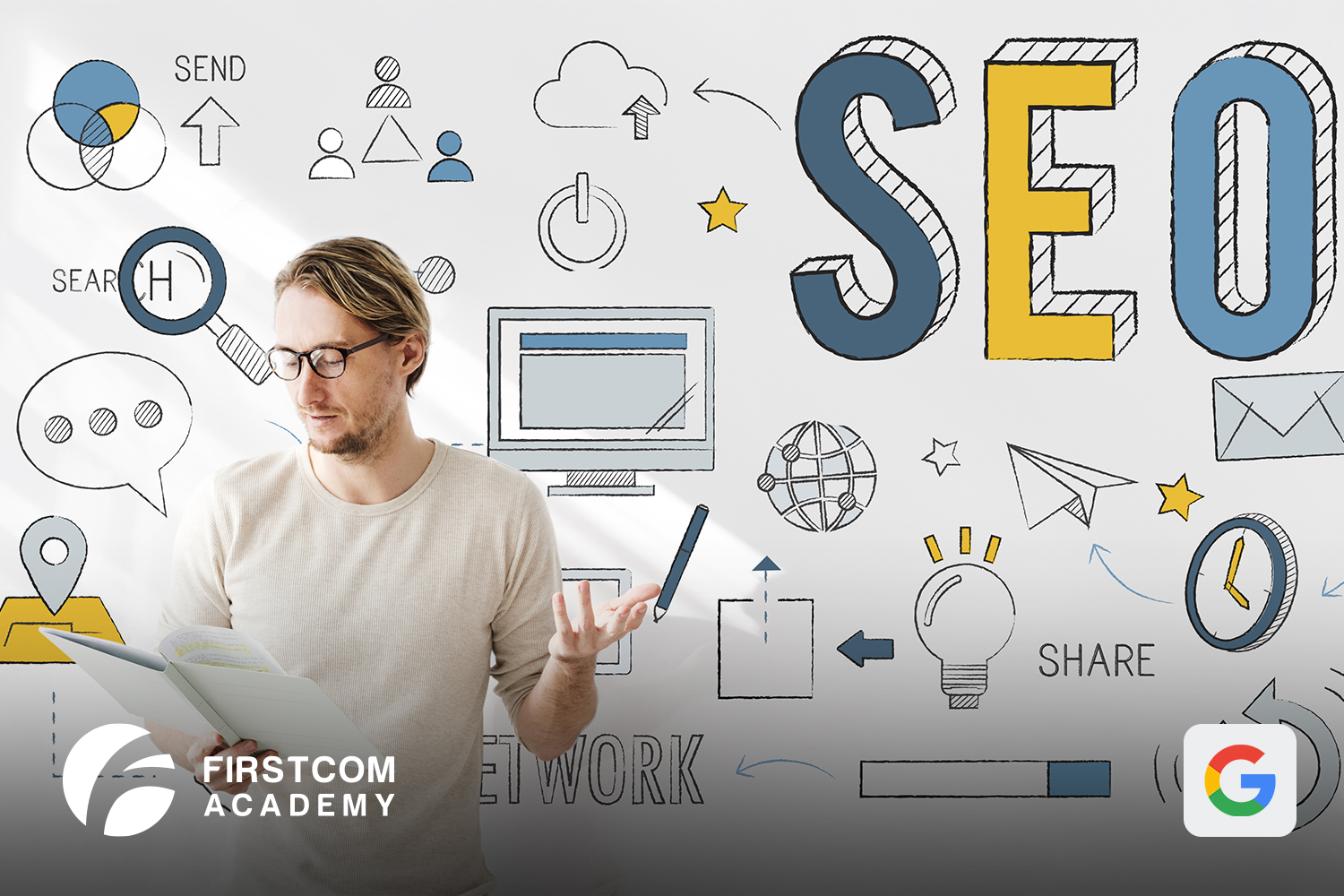 Sometimes Search Engine Optimisation isn't enough to get your desired results. That's where Search Engine Marketing comes in.
Whenever we look at sporting events and competitions, we'll look at the top five or 10 competitors to determine who's the best. And it's no different in business — if you rank among the top 10 results in the Google Search Engine Results Page (SERP), you're effectively a "winner".
If you thought there isn't much of a difference between appearing on the first page of Google's SERP and appearing on the second, you'd be surprised. Analysis of click-through rates (CTR) has found that a mere 0.78 percent of users will click on a result on the second page — a steep drop from the first 10 results which range from 31.73 percent to 3.09 percent.
While you can work on improving your organic reach through Search Engine Optimisation (SEO), it may still be difficult and slow to rank on the first page due to factors such as your competition's reach, your site's content relevance, and more. That's where Search Engine Marketing (SEM) comes in.
What is Search Engine Marketing?
Search Engine Marketing (SEM) is a form of paid advertising that allows you to market your product or service so that it appears to customers and searchers first ahead of any organic search result. This enables you to attract new prospective customers even if your organic reach isn't doing so well.
By implementing a thorough SEM strategy, businesses will be able to enjoy numerous benefits like increased brand awareness, better customer engagement, improved traffic, and more. With this pay-per-click (PPC) advertising strategy, you can bid on specific search terms and keywords, and only need to pay for your ad when someone clicks on it.
Which Search Engine Marketing platform should you use?
Should you spend your marketing budget in every search engine or just one?
While Google, Bing, and Yahoo are the three most commonly used search engines used in Singapore, Google is the clear winner in terms of market share at a whopping 95.78 percent compared to Bing's 1.98 percent and Yahoo's 1.4 percent. When you advertise on Google, your ads will be seen on three platforms within the Google ecosystem: the Search Network (text ads on Google's SERP), the Display Network (image ads on relevant websites and apps), and Video (short video ads on YouTube).
On the other hand, if you choose to advertise using Microsoft Ads, your ads will be shown across Microsoft's properties: Bing, Yahoo, and MSN. There are pros and cons to using Google or Bing like a difference in reach and cost, but Google is the usual choice picked by most marketers here due to its majority market share.
How Search Engine Marketing and Google Ads benefits your business
It can get frustrating when your business or brand isn't getting the amount of reach, traffic, or conversions that you hoped it would. If you want to get ahead of the competition or level the playing field, then using SEM and Google Ads is the next step you should take.
Once you've sorted out your marketing budget and planned your marketing strategy, here are some of things you can expect when you make use of SEM for your business.
Only pay when ads are clicked
One reason why SEM and PPC marketing is effective and attractive is because you'll only be required to pay for the ad when someone clicks on it. This makes it easy to control your marketing budget depending on your cost parameters and how much you're willing to spend.
This advertising strategy is highly beneficial as your ad will gain much more exposure compared to a regular link on the SERP, especially if your website doesn't appear on the first page. Plus, it will lead to greater awareness of your company, and you won't have to pay for anything if your ad does not get clicked on.
Greater awareness potential
When you launch a Google Ad, not only can you expect better conversion rates, you can also count on increasing your brand awareness dramatically.
Even if a searcher doesn't click on your ad, your brand's presence will help with brand recall and awareness whenever someone is looking for something related to your product or service.
In a study conducted by Ipsos MediaCT in conjunction with Google, it was found that brand awareness was improved by 6.6 percentage points whenever search ads were used. According to Google, this is the reason why:
"Search ads reach people who are already in a highly receptive mindset. After all, they are actively searching for topics related to your business, product or service. If your brand appears front and centre in that moment, as they search, there's a strong likelihood they'll remember you."
Specific audience targeting
Making use of SEM gives you the ability to target anyone you wish, no matter how small or precise your audience scope is. This can be incredibly useful for a variety of reasons.
For instance, you can target specific keywords searched for by certain demographics who are already looking for your business, enabling you to aim your ad at this group of people who have shown interest in your brand.
In addition, narrowing down your audience locale can help you attract the right kind of traffic while saving you money. It's been found that 72 percent of shoppers who include a locale in their search will end up visiting a store within 8km of their location.
With PPC ads, a highly specific search term will also ensure that you'll be able to pull in the correct audience within your area while lowering your ad spend thanks to the lower cost when bidding on specific keywords and phrases.
Quick results
SEO is often the best strategy for establishing your brand visibility over a longer period of time. Think of it as planting a tree — the longer you spend growing and enhancing your SEO efforts, the better coverage and reach you'll get over time.
The downside is that SEO will often require a lengthy period of time before it becomes effective. This is why SEM is a game-changer — implementing a successful PPC ad campaign using Google Ads will allow you to quickly bring awareness to your business in a fraction of the time.
Compete with the big boys
Being in the same space as some industry giants can be challenging as their presence will almost certainly overshadow smaller businesses on the SERP. However, with the help of SEM, the little guys will also have a fighting chance to get their names out there and draw the crowds in.
One smart strategy you can implement with SEM is to bid on your competitors' keywords. While this can be more costly, it can also allow you to "hijack" their search results and appear whenever their customers search for them.
But it's not always about who has the largest advertising budget. Your content's quality score and relevance plays a crucial role in SEM, just like it does for SEO. So by having the right kind of ad creative with the right keywords, you'll have the ability to reach specific audiences as long as Google judges your content to be highly relevant.
Where to learn Search Engine Marketing & Google Ads
If you want to know the best place you can start learning about SEM and how to maximise your business potential, then FirstCom Academy is where you need to visit.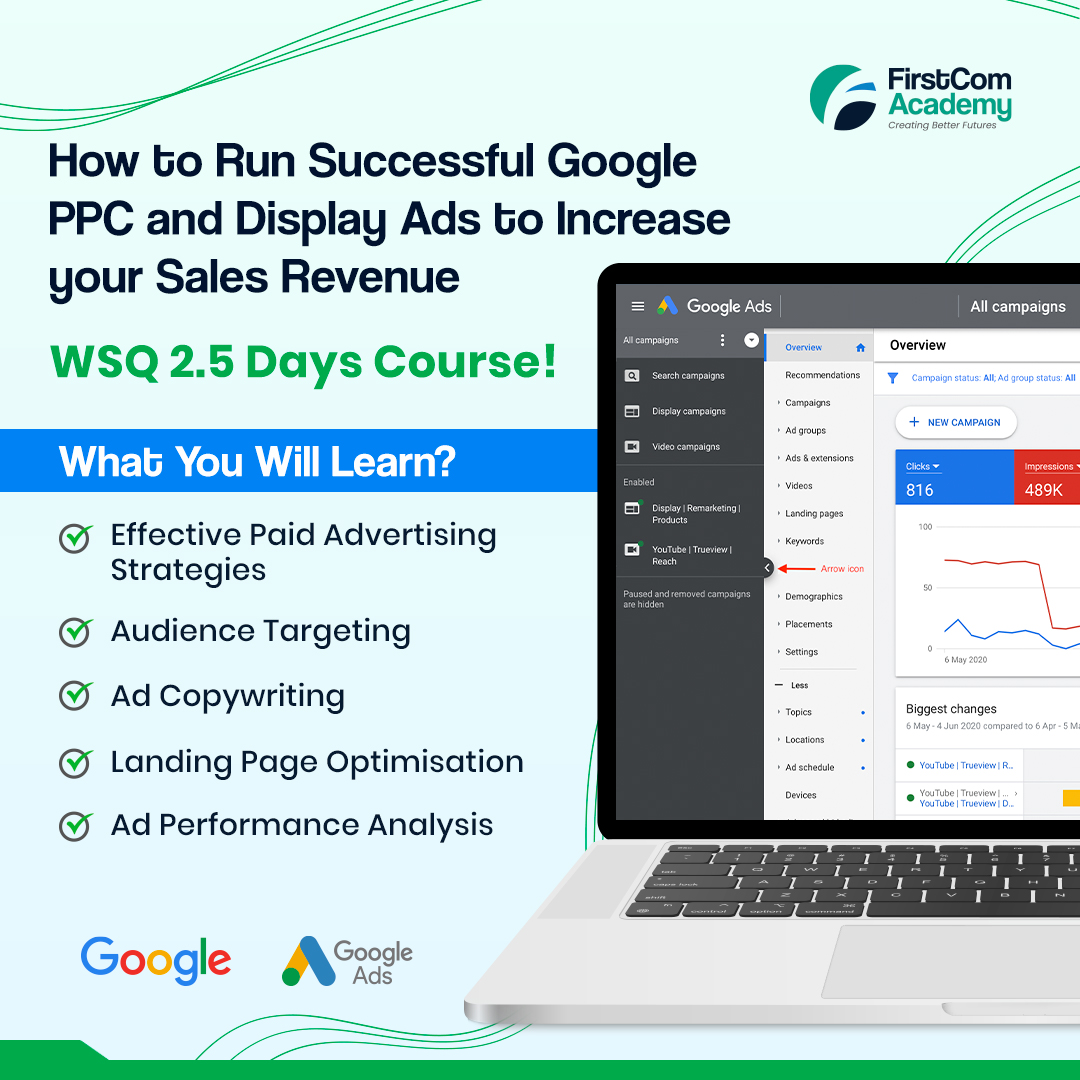 FirstCom Academy's content marketing course, social media marketing courses and digital marketing courses in Singapore are led by industry experts with years of practical experience who will empower students with the skills and knowledge to take their digital marketing abilities to the next level. Best of all, all of FirstCom Academy's courses can be claimed using SkillsFuture credits.
Ready to start learning about SEM and other useful digital marketing tools and techniques? Visit our list of digital marketing courses to sign up today!
---
Read also: