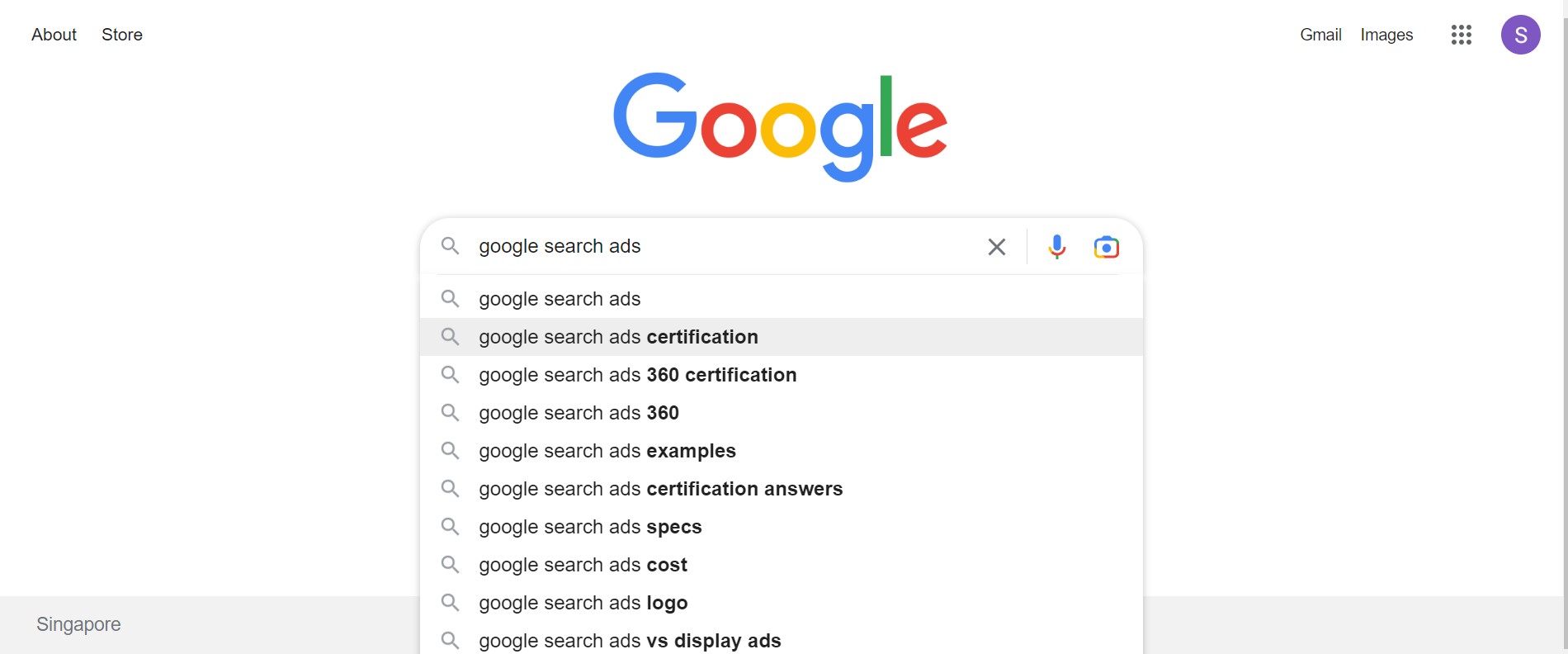 Whether you're looking to pivot into the pay-per-click (PPC) industry or a digital marketer trying to specialise, one of the best ways to increase your chances of being hired is to enroll in a Google marketing programme and obtain a recognised Google marketing certification.
This not only tells employers that you have passion for the subject, it is a great way to demonstrate that you have the skills required for the role.
Thankfully, there are a number of paid and free Google marketing training courses with certifications available online. In this article, we've picked out some of the best PPC courses for you to consider.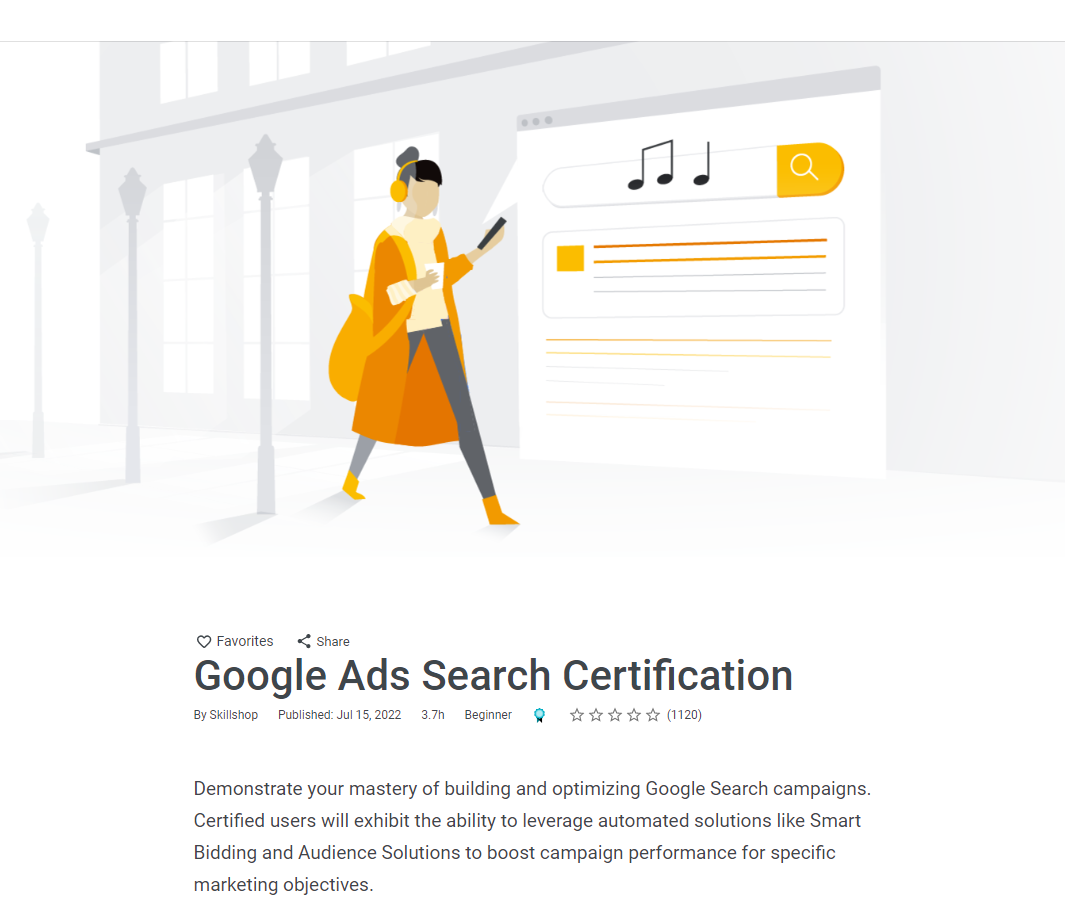 #1: [FREE] Google Ads Search Certification
If you're looking for a certified Google marketing training course, why not learn from Google themselves? The Google Ads search certification is a PPC course that is designed and built by experts working at Google.
Aimed at beginners, this is a free 3.7-hour course that covers everything you need to know about creating, publishing, and optimising ads for Google's search engine results pages (SERPs). You'll receive a certification if you pass the assessment at the end of the course. The certification demonstrates your mastery of building and optimising Google search campaigns, as well as familiarity with automated solutions like Smart Bidding to boost campaign performance for specific marketing objectives.
The Google Ads Search Certification course can potentially end your search for a comprehensive Google marketing programme. Visit the Google Ads Search Certification page.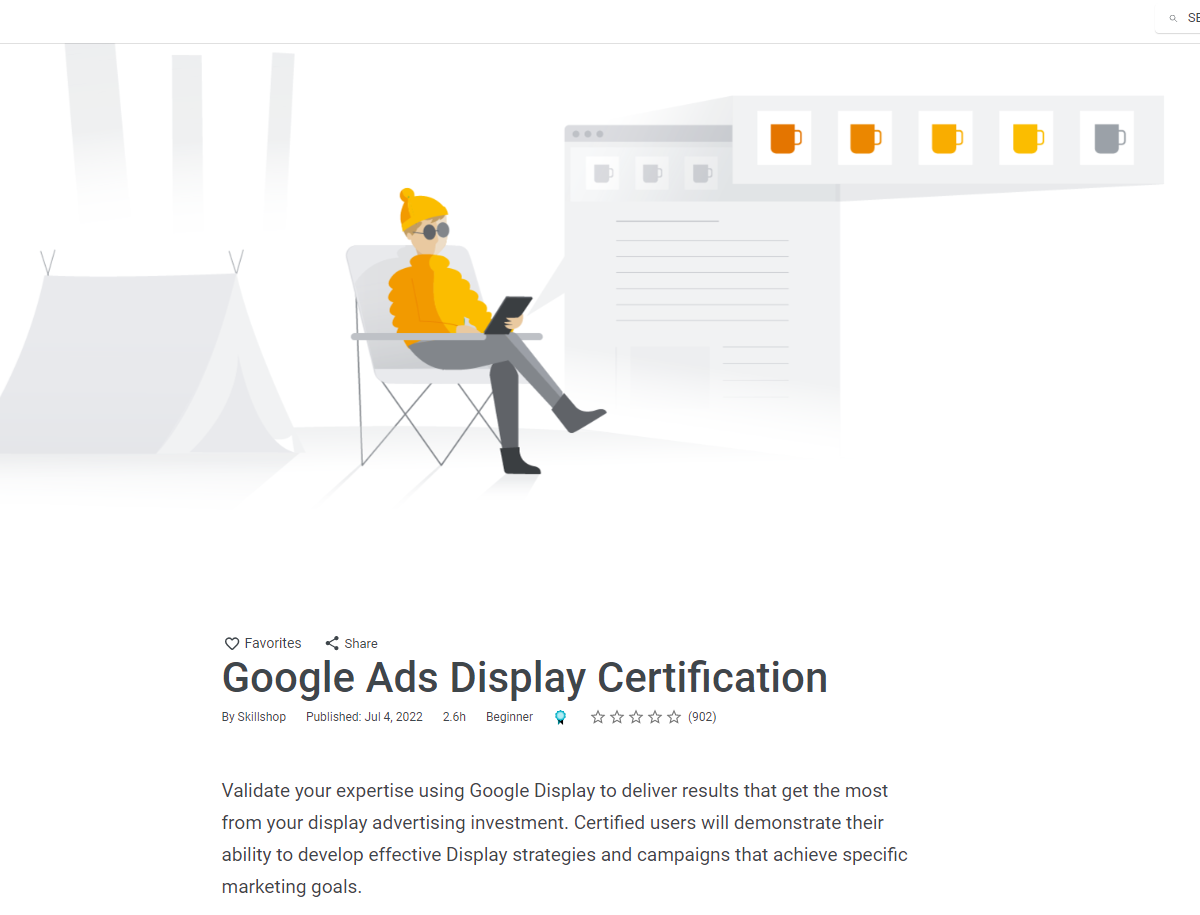 #2: [FREE] Google Ads Display Certification
Another certified Google marketing course you can consider is the Google Ads display certification. Instead of text ads, this is a PPC course that focuses on image ads that show up on SERPs or on certain websites.
This free Google marketing programme takes 2.6 hours to complete. You'll learn how to identify different types of campaigns on Google Display Ads, how to target users, best practices to deliver the right message with your ads as well as how to increase the efficiency and conversions of your campaign using Google's tools.
After passing the Google Ads Display Assessment at the end of the course, you'll receive a certification that demonstrates your ability to develop effective Google Display strategies and campaigns.
The Google Ads Display Certification is a useful free Google marketing course to get you up to speed and showcase your skills on the subject. Visit the Google Ads Display Certification page.
#3: [FREE] Google Ads Measurement Certification
Yet another free Google marketing course on this list — the Google Ads Measurement Certification is the cherry on top if you already have a solid understanding of how to run Google's Search and Display ads.
This free Google marketing programme takes 4.7 hours to complete. It is a comprehensive Google marketing course that covers how to measure, value, and improve your PPC campaigns using Google's suite of data tracking tools.
You'll have to pass an assessment at the end of the course to earn a certification that demonstrates your understanding of Google's metrics and your ability to turn key insights into Google Ads performance.
If you're looking for a marketing certification course that showcases your ability to make an impact on businesses, then consider the Google Ads Measurement Certification.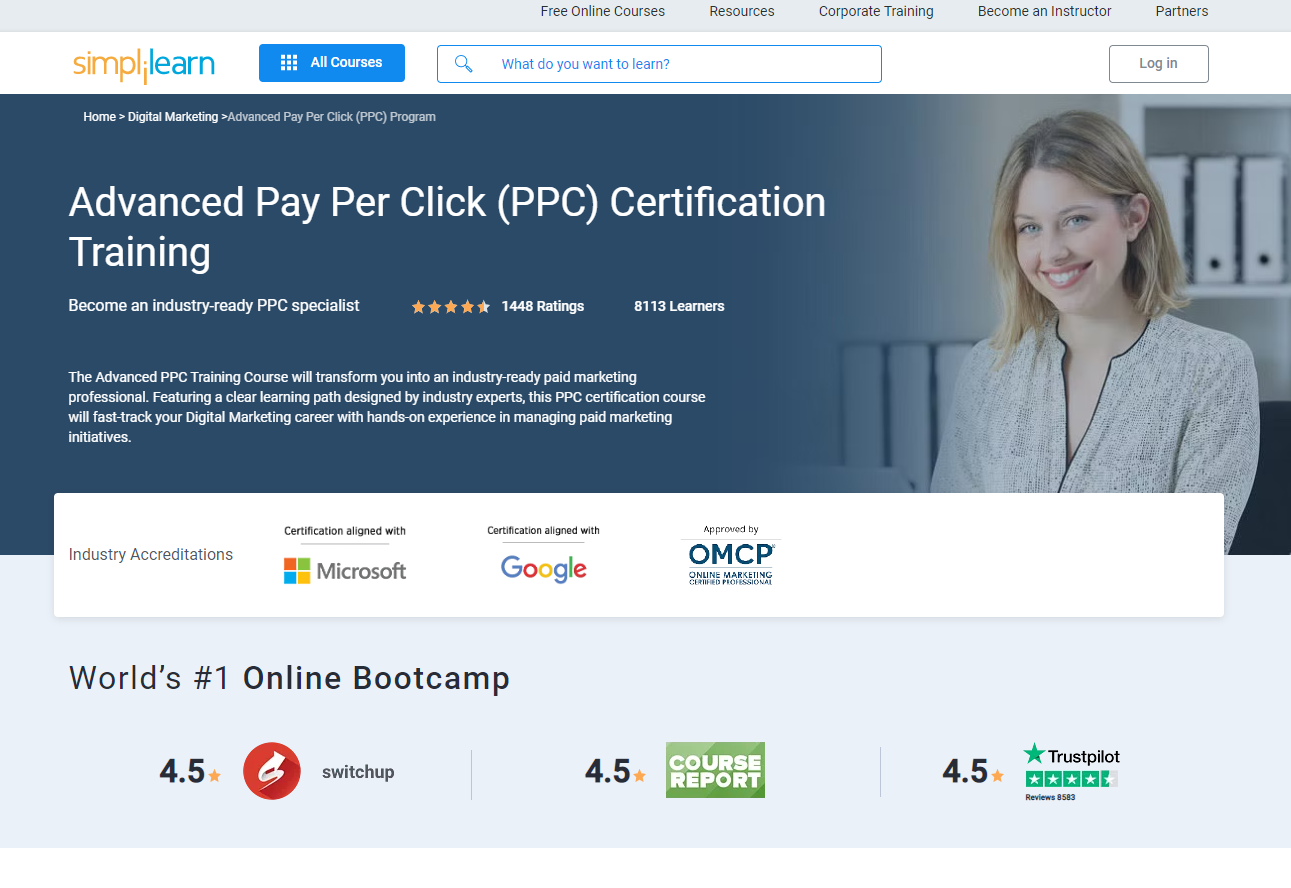 #4: [$641] Simplilearn PPC Certification
If you're searching for a PPC course that is not made by Google, Simplilearn's Advanced PPC Certification is often recommended. This marketing certification course isn't free, but at $641 for the self-paced learning version, you get plenty of content, demos, and a well-structured course.
Simplilearn states that their PPC course is intended to fast-track you into an industry-ready paid marketing professional with a clear learning path designed by industry experts. With 126 live demos and five industry-specific projects, Simplilearn claims you'll gain hands-on experience and in-depth knowledge of bidding methods, ranking algorithms, performance measurement, ad platforms, lead generation improvement, and search engine marketing for campaigns that drive measurable ROI.
Simplilearn also states that its certification is aligned with Google Ads certification exams. Consider the Simplilearn PPC Certification if you're searching for a marketing certification course or PPC course with a formal learning structure.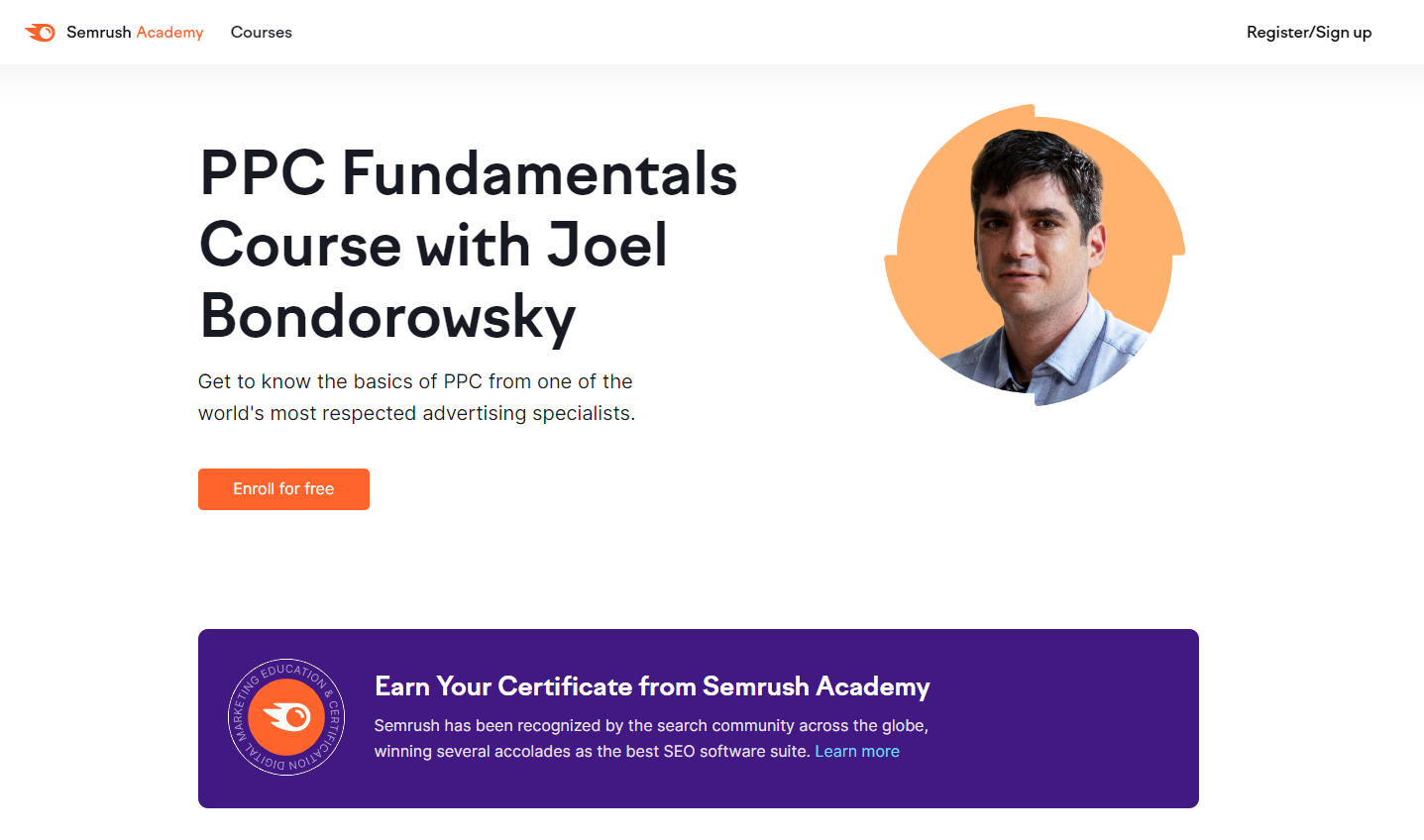 #5: [FREE] Semrush PPC Fundamentals
Semrush develops digital marketing tools used by the world's leading companies.
Their free PPC course is prepared by practicing experts who share their tips and real-life case studies. Designed for beginners who want to learn the fundamentals of PPC, the course is delivered by Joel Bondorowsky, Semrush's PPC professor with over 10 years of experience running his own boutique PPC agency.
The PPC course features 36 video lessons and has a runtime of about 5 hours. The syllabus includes an overview of PPC, PPC strategy, search advertising, shopping campaigns, display advertising and universal app campaigns. You'll also learn how to bid for keywords and set budgets for your campaign, as well as how to track multi-touch conversions. After you complete the course, you'll be able to earn a Semrush Academy certification.
Semrush is a recognised name by the search community across the globe, so consider the Semrush PPC Fundamentals course if you're looking for a marketing certification course that is approved by industry experts.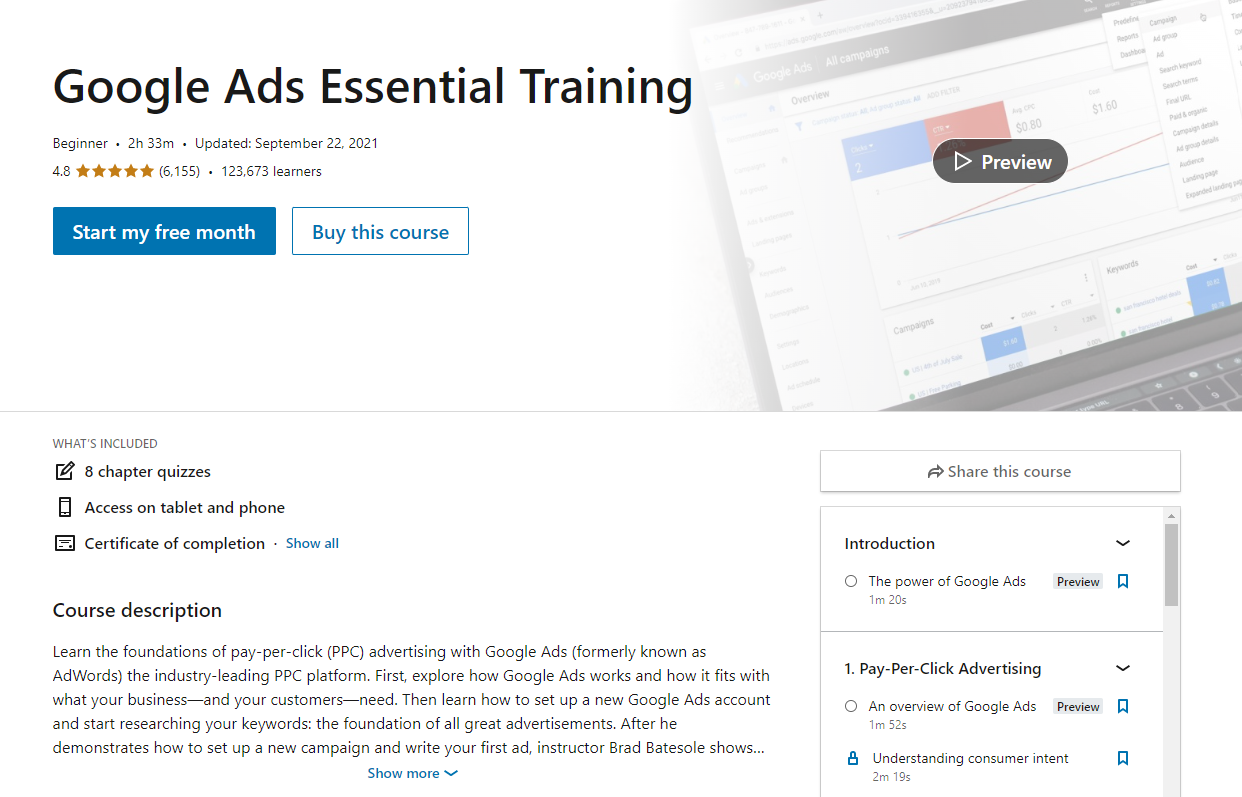 #6: [$26.99/mth or $39.99] LinkedIn Google Ads Essential Training
LinkedIn Learning is one of the best places to find Google marketing training courses for learners of any levels.
With a 4.8 rating by 6,146 users and over 100,000 learners — LinkedIn Google Ads Essential Training is one of the most popular Google marketing training courses on the platform.
This Google PPC course is targeted at complete beginners and aims to teach you the foundations of PPC advertising. Learners will explore how Google Ads works and go through a step-by-step guide on how to set up an account, start researching keywords and create your first campaign and ad. You'll also learn how to use Google Ads reporting and Google Analytics to monitor and optimise your ads to get more clicks, conversions and better ROI.
The Google marketing course is split into 8 chapters with a total runtime of 2h 33m. You'll receive a LinkedIn Certificate of Completion after you've completed the course and all its quizzes. Consider the Google Ads Essential Training on LinkedIn Learning if you're after a Google PPC course with a certification you can add to your LinkedIn page.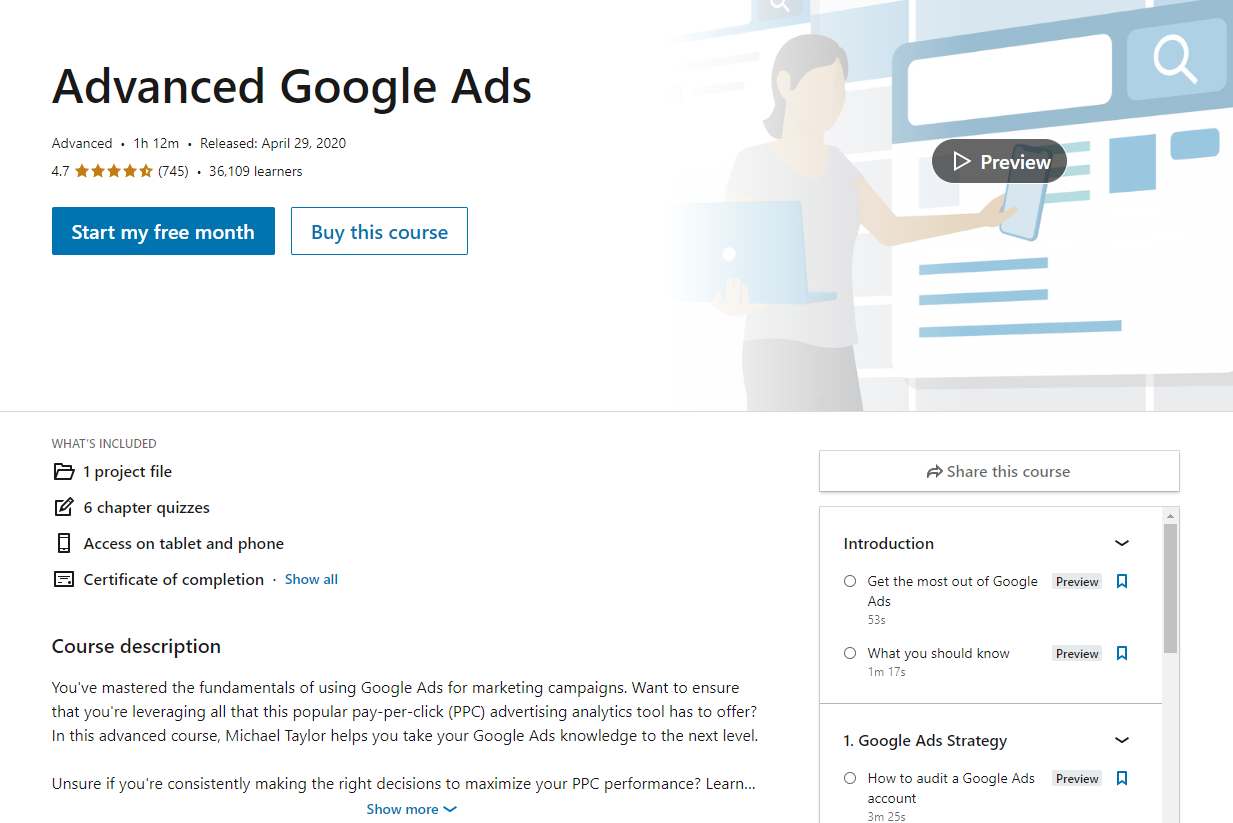 #7: [$26.99/mth or $49.99] LinkedIn Learning Advanced Google Ads
If you're searching for more advanced Google marketing training courses, then the Advanced Google Ads on LinkedIn Learning might be right up your alley.
With a 4.7 rating by 744 users and over 35,000 learners — this is the most well-reviewed Google PPC course on LinkedIn Learning.
This is a course for someone who has mastered the fundamentals of Google Ads and wants to ensure that they're getting the most out of their PPC campaigns. During the course, you're taught about bid and budget optimisation rules as well as how top advertisers work efficiently on large accounts. You'll also learn how to optimise your workflow in Google Ads such has how to use Google Ads Editor to make bulk changes and run Google Ads script to automate repetitive tasks like campaign performance tracking.
Overall, Advanced Google Ads on LinkedIn Learning is one of the best Google marketing training courses out there for advanced users.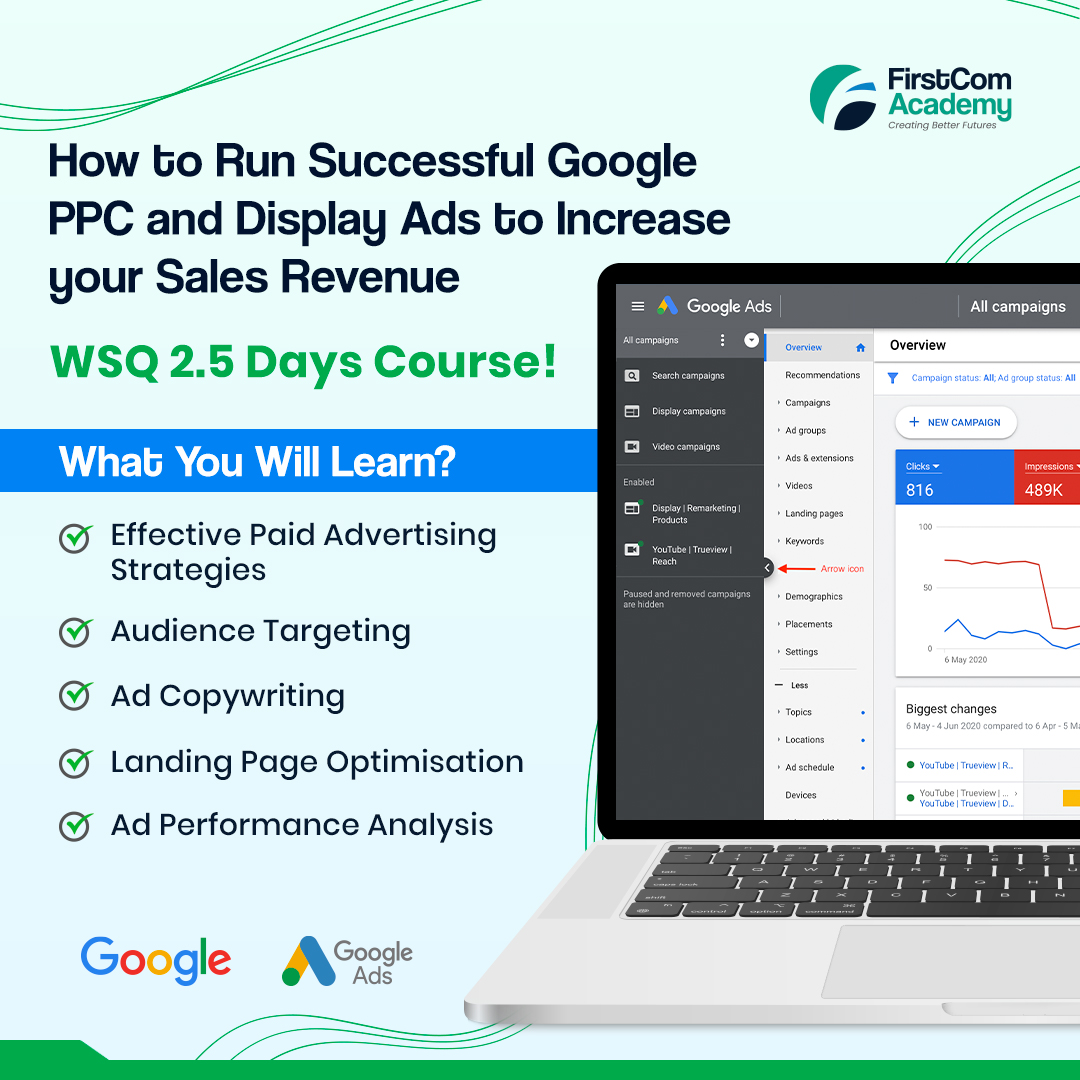 #8: [$330] FirstCom Academy: Search Engine Marketing Course
There are plenty of benefits to taking an online PPC course such as learning at your own pace and accessing the contents anytime. However, in terms of applicable knowledge gained in the least amount of time and money spent, it's hard to beat learning in person from an industry expert.
FirstCom Academy's How to Run Successful Google PPC and Display Ads is a WSQ-certified marketing certification course for anyone who wants to learn how to PPC ads on Google and develop effective campaigns to capitalise on enormous search traffic to generate leads and increase sales. The in-person Google Ads course costs $1100 but you can make use of available subsidies to bring the course fees down to as low as $330.
The 2.5 day SkillsFuture course will teach you everything you need to know about PPC. Starting with how to set up and launch a PPC campaign, how to analyse key metrics to determine ad performance, as well as hands-on experience executing different PPC optimisation strategies such as split testing. Unlike online courses, you'll be able to receive immediate answers to your questions and get real-time feedback from your course instructor — who is a seasoned SEM expert.
You'll obtain a FirstCom Academy Certificate of Completion and SkillsFuture WSQ Statement of Attainment upon passing the final assessment. As the course is recognised under the National Infocomm Competency Framework, a certificate can help you secure interviews for future Google PPC-related roles and greatly boost your earning potential.
Is It Worth Paying for a Google Marketing Certification Course?
As you can see, there are plenty of free and paid Google marketing training courses out there. When you choose to invest your time into a Google marketing program, you want to ensure that you get the most of the experience.
In general, paid Google marketing courses are valuable because they take the guesswork out of the equation, saving you time by providing a structured and organised way to learn. Their content also tends to be higher quality as they may be vetted or created by industry experts.
That said, online courses are an unregulated industry so the quality of content can vary greatly. Pay close attention to the syllabus of any marketing certification course before you enroll — you don't want to pay for a course only to find out that its contents are not relevant to you!
If you're unsure about the credibility of online courses, obtaining a Google marketing certification from offline courses backed by government programmes such as WSQ SkillsFuture is the way to go.
All candidates who complete FirstCom Academy courses receive a certificate completion and a WSQ SkillsFuture Statement of Attainment (SOA. The WSQ SkillsFuture SOA is a nationally recognised credential system that helps employers verify an individual's competency in the stated skills. This enables individuals to be eligible for promotions, enter a new sector or find new job roles.
---
Read also: