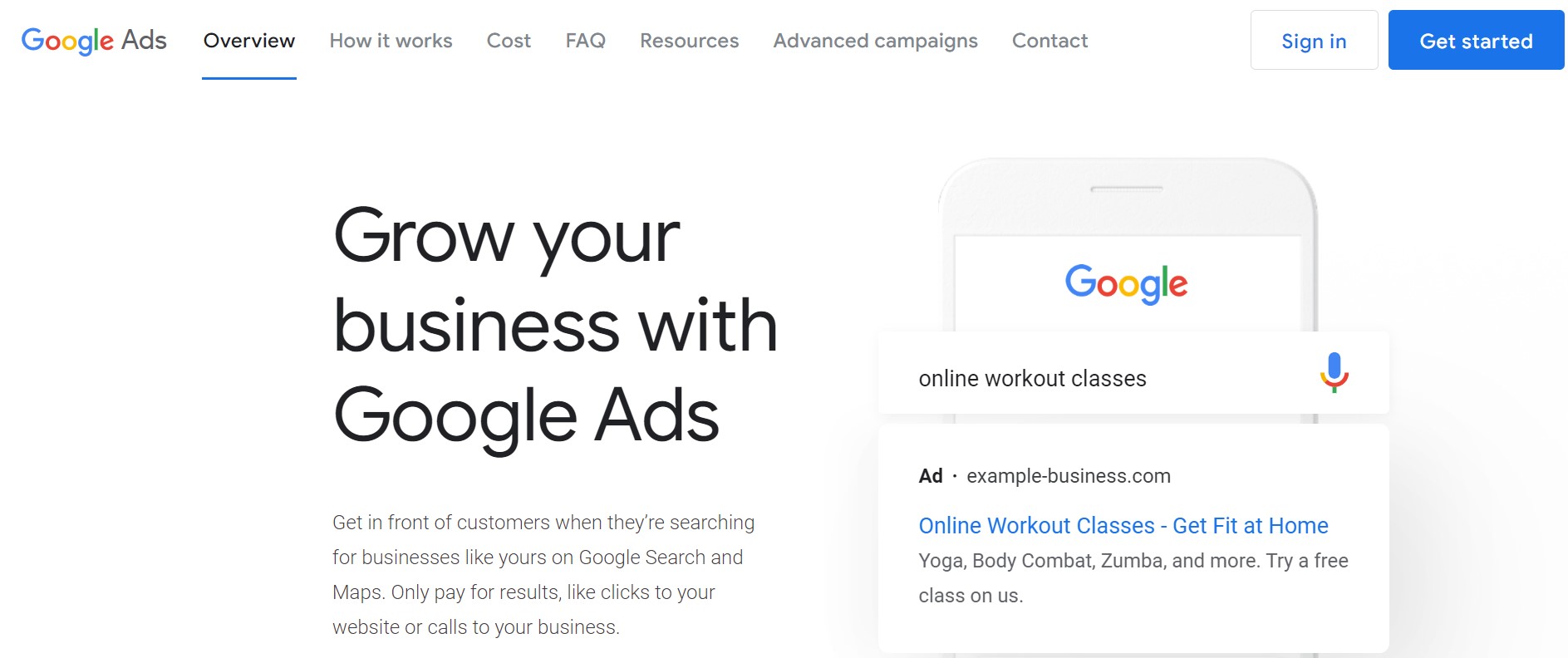 The goal of Search Engine Marketing (SEM) is to improve your website's visibility on search engines. This typically involves using pay-per-click (PPC) advertisements to ensure that your website appears in the first few results on search engine results pages for specific keywords. In this article, we'll cover 10 practical SEM learning resources that cover the basics of SEM and provide applicable SEM hacks and PPC hacks to dramatically improve your website traffic.
Why should you learn SEM? SEM and PPC play in a key role in many online strategies as they are an effective way to get your website to rank highly more quickly, especially if you are still in the process of building up your organic traffic. PPC ads appear as search results marked with an "Ad" next to the page URL. Websites that rank higher typically get more traffic, receive more leads and generate more revenue.
#1 Google's Introduction to SEM
Learn direct from the source with Google's Introduction to Search Engine Marketing! Google accounts for 83% of search engine market share (Statista), making it the platform of choice if you want to get your search ads seen by the most number of people.
This Google marketing programme is one of the best SEM learning resources aimed at complete beginners. It covers the following topics:
Introduction to SEM
The SEM Auction
What Makes a Good Keyword
Ways to Make Your Ads Stand Out
The course is completely free and consists of 4 lessons with a total estimated runtime of 20 minutes.
Explore Google's Introduction to Search Engine Marketing course.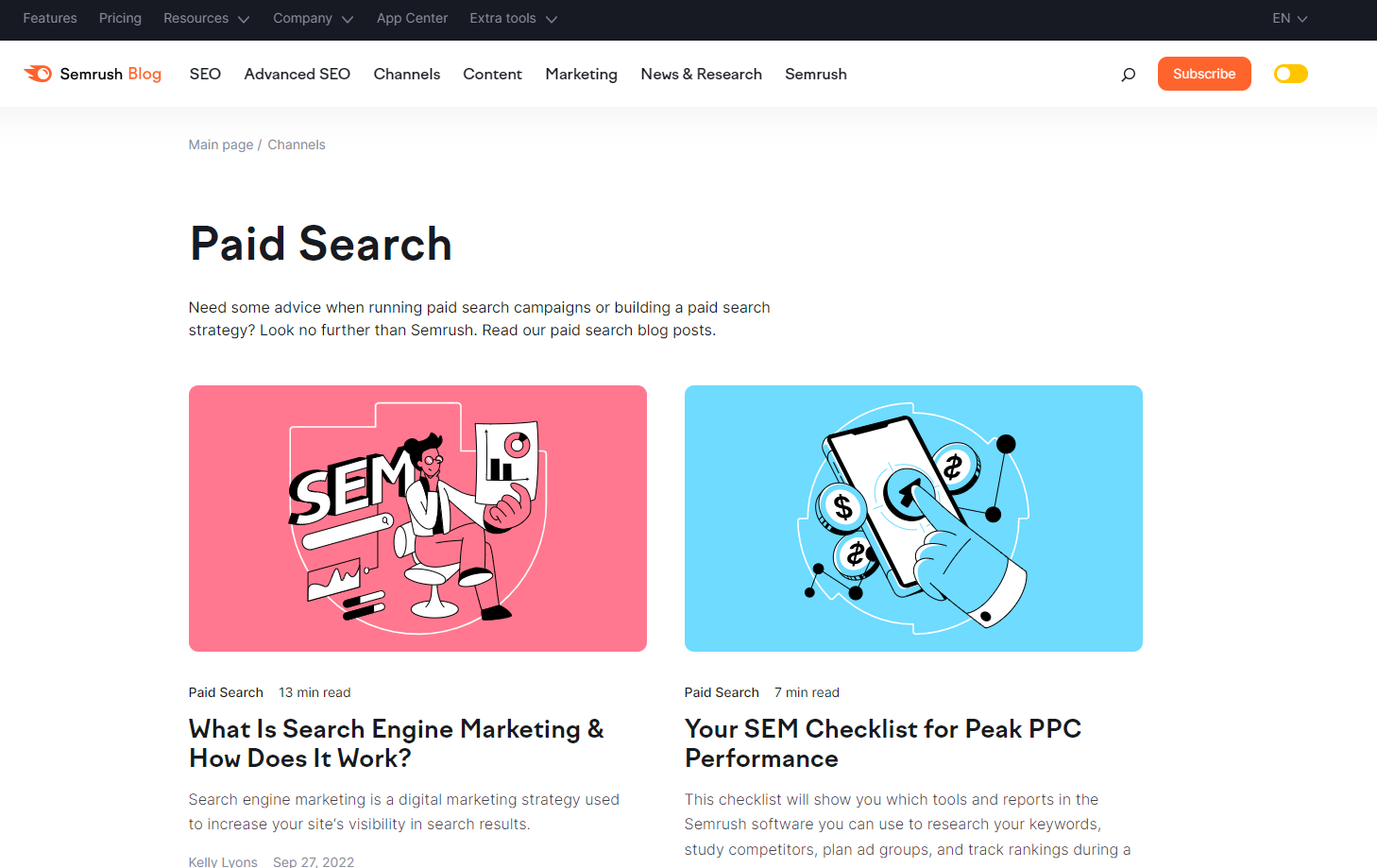 #2 Semrush Blog: Paid Search Category
When it comes to SEM learning resources, reading blogs from reputable SAAS companies can be one of the best ways to learn and pick up practical PPC hacks from industry experts. Semrush is one of the most widely used SEM tools out there favoured by digital marketers and website owners from all over the world.
The Paid Search section of their blog is chock full of high-quality articles covering the latest SEM techniques, case studies, PPC hacks and more.
Explore the Semrush blog on Paid Search.
#3 Moz Blog: Paid Search Marketing (PPC)
Like Semrush, Moz is a company that develops an all-in-one Search Engine Optimisation (SEO) tool for digital marketers. While the company is primarily known for its SEO expertise, there is significant overlap as robust SEM strategies often involve SEO best practices and PPC working in tandem.
The PPC category on the Moz blog consists of articles written by Moz staff as well as guest posts from directors and digital marketing consultants from various agencies. They share PPC hacks and how to get the most out of your PPC tools.
Explore the Moz blog on Paid Search Marketing (PPC).
#4 HubSpot's Ultimate Guide to SEM
Keeping up with the trend of blog articles as excellent SEM learning resources, HubSpot is a SAAS company that develops CRM and marketing integration tools. While the company focuses primarily on inbound marketing, they recognise that a mix of organic and paid traffic is the best strategy to attract traffic over the long term.
That's where HubSpot's Ultimate Guide to SEM comes in. The article is a 9-minute read that takes you through everything you need to know about SEM. It covers how ad auction works, best practices for keywords and ad copy as well as a list of popular SEM tools and PPC tools for you to check out.
Explore HubSpot's Guide to SEM
#5 WordStream's PPC University
WordStream provides online advertising tools, services and solutions to small businesses. Their PPC University page is hands down one of the most comprehensive SEM learning resources available online. Perfect for beginners looking for a free structured guide to pay-per-click marketing.
WordStream's PPC University is split into 6 sections:
PPC 101
PPC 102
Advanced PPC
Social Ads 101
Facebook Ads
Guides
Each section consists of several smaller bite-sized guides focusing on a particular topic. This makes it easy to organise your learning over several sessions and pick up where you left off. For beginners that are progressing quickly, or even experienced marketers looking for a refresher — PPC University is great because they offer advanced topics like remarketing and bidding strategies once you've mastered the basics. Additionally, the social ads section also takes an in-depth look at relevant SEM tools and PPC tools you can explore for specific platforms.
Explore WordStream's PPC University
#6 Search Engine Journal AMA About PPC
AMA is short for "Ask Me Anything". Search Engine Journal's Ask Me Anything About PPC is a monthly column where the experts at Search Engine Journal (SEJ) answer questions about PPC sent in by readers.
This is an excellent SEM learning resource because the questions come from people from all sorts of different backgrounds with questions about PPC in real-use cases. If you've been practicing SEM and PPC on your own and are feeling stuck — it's worth browsing the columns, you might find someone who has the same questions you have! Who knows, you might discover some useful SEM hacks or PPC hacks you can apply to your business.
Overall, the SEJ Ask Me Anything About PPC is a standout SEM learning resource for its plethora of SEM questions derived from real-world scenarios.
Explore SEJ's Ask Me Anything About PPC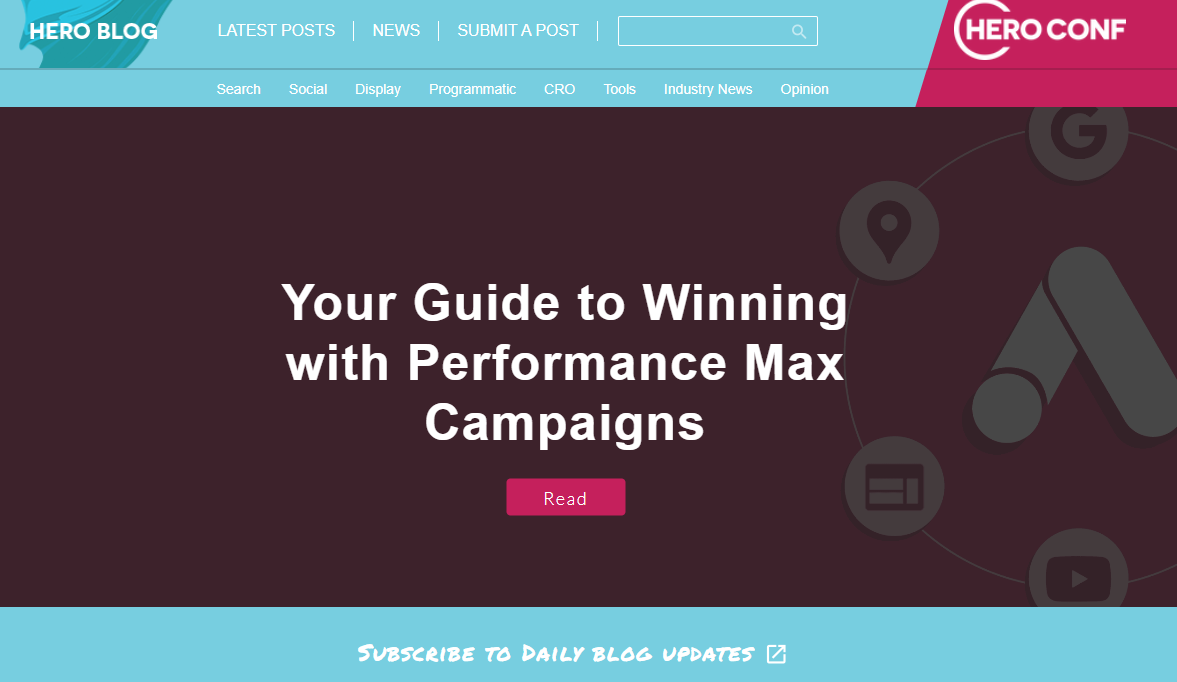 #7 PPC Hero Blog
PPC Hero is a PPC specific blog that publishes educational content in order to advance the digital marketing community. Their audience ranges from beginners to advanced PPC professionals and consists of freelancers, in-house managers and other agencies.
With a name like PPC Hero, they sure sound like a great SEM learning resource! All articles are contributed by guest authors but have to go through a vetting process to ensure it meets PPC Hero's requirements and guidelines.
The blog publishes a variety of content including best practices, how-tos, strategies, case studies, research findings as well as experience and learnings. According to PPC Hero, they don't publish opinions without any actionable takeaways or generic and vague content.
Explore the PPC Hero Blog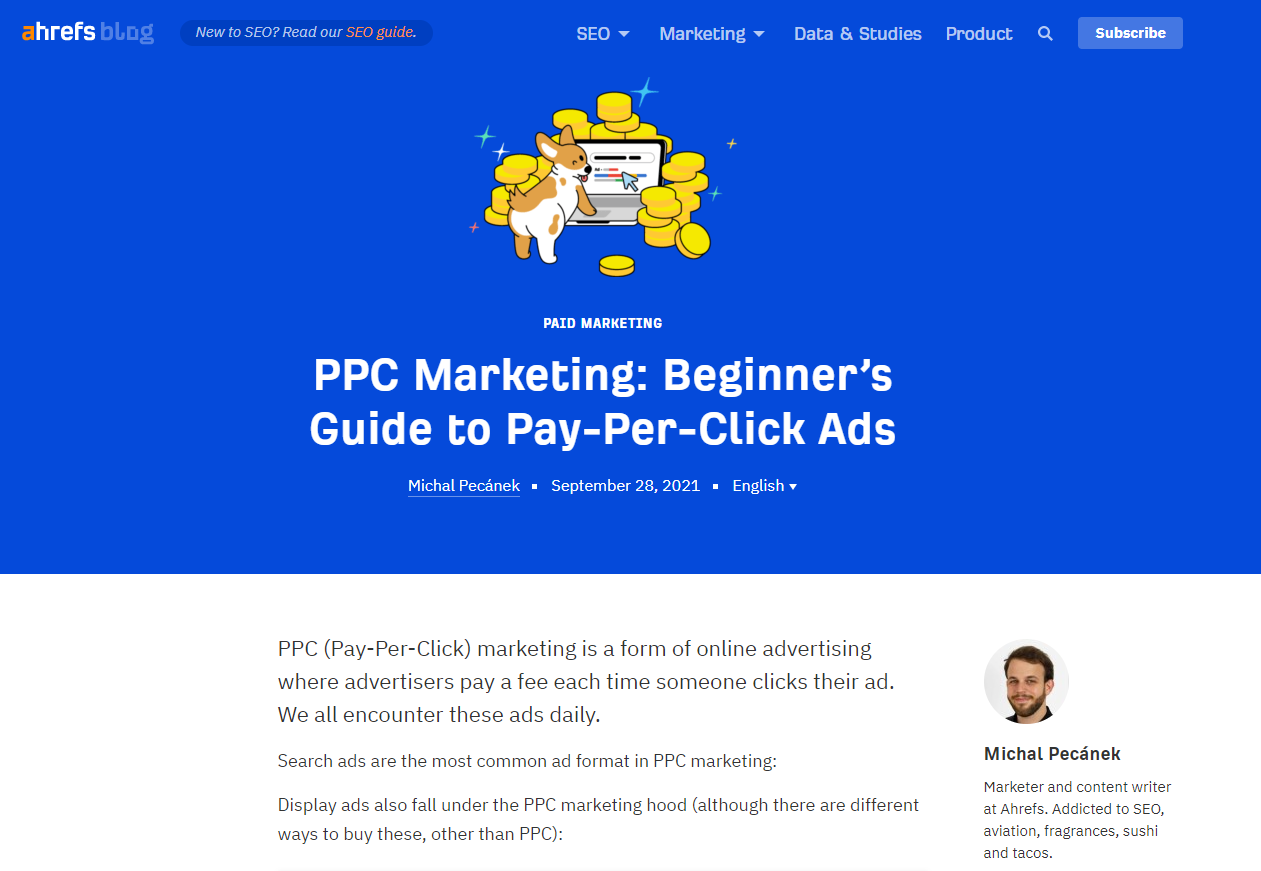 #8 Ahref's Beginner's Guide to Pay-Per-Click Ads
Ahref develops one of the most popular SEO tools amongst digital marketing professionals for link building, keyword research, competitor analysis, rank tracking and site audits. They are a reputable company in the digital marketing space with extensive expert knowledge in getting webpages on search result pages.
If you're searching for SEM resources from an authoritative and reliable source, consider Ahref's Beginner's Guide to Pay-Per-Click Ads. From a basic introduction to PPC and its benefits, to walkthroughs on setting up your very own Google PPC campaigns — this is an excellent learning resource that contains useful theoretical and practical knowledge as well as applicable SEM hacks you can use for your business.
Explore Ahref's Beginner's Guide to Pay-per-click Ads
#9 Similarweb's Beginner's Guide to PPC Marketing
SimilarWeb's Beginner's Guide to PPC Marketing is one of the most comprehensive all-in-one SEM resources available online. Compared to other guides, it differentiates itself by breaking down the available PPC platforms available out there, explains how they work in practice and how you should use these channels to maximise your ROI.
This makes it a go-to for practical PPC hacks you can start applying to your business!
Explore Similarweb's Beginner's Guide to PPC Marketing
#10 Simplilearn's PPC Tutorial for Beginners
If you're looking for SEM resources in the form of video rather than text, Simplilearn's PPC Tutorial for Beginners might be right for you. This YouTube video covers an impressive amount of knowledge in 13 mins, and is organised with convenient timestamps so you can easily find what you're looking for.
It is designed for complete beginners with no prior knowledge of pay-per-click advertising. The tutorial covers a number of important topics to help you develop a strong foundation in order to identify relevant PPC channels for your business. This includes teaching you how search ad works, explaining PPC use cases and finally offering useful PPC hacks on
Providing an overview of what is PPC and how search ads work, before explaining the PPC cycle, potential PPC use cases and finally providing PPC hacks that can help your campaign succeed no matter the size of your company.
Watch Simplilearn's PPC Tutorial for Beginners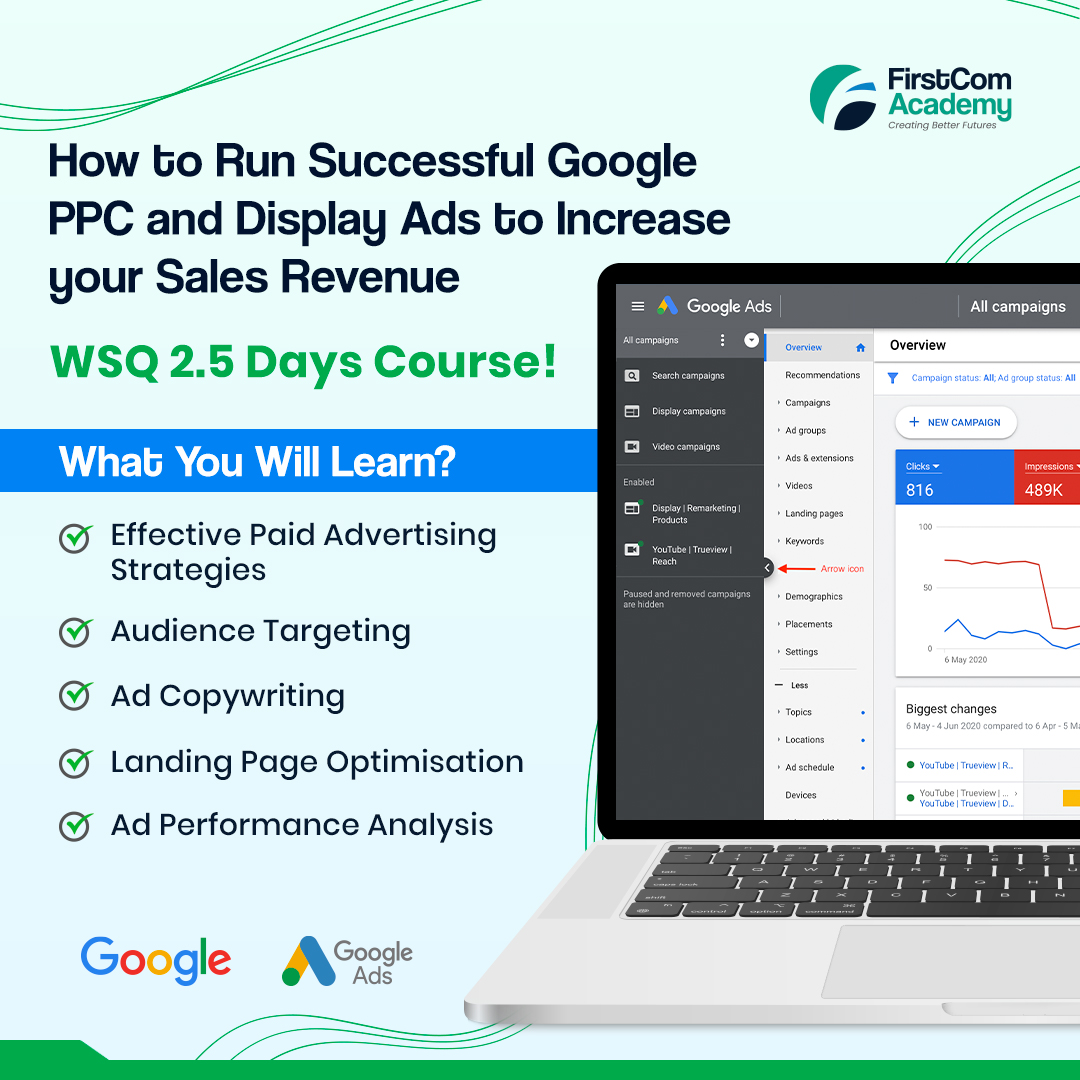 Bonus: Learn SEM In-person From Industry Professionals at FirstCom Academy
While you can learn a lot from the 10 SEM learning resources outlined in this article, you can pick up relevant SEM and PPC skills much faster learning in-person from experienced industry professionals.
FirstCom Academy's Google PPC and Display Ads course is a WSQ-certified and SkillsFuture Credit-eligible course that is ideal for marketers, entrepreneurs or business owners looking to grow their website traffic and revenue as quickly and as efficiently as possible. Taught by expert SEM practitioners with real-world experience, you'll learn how to setup, launch and analyse PPC campaigns according to best practices. As the course is conducted in-person, you can get immediate answers to any questions you might have!
Interested? Enroll in Google Marketing Program today!
---
Read also: