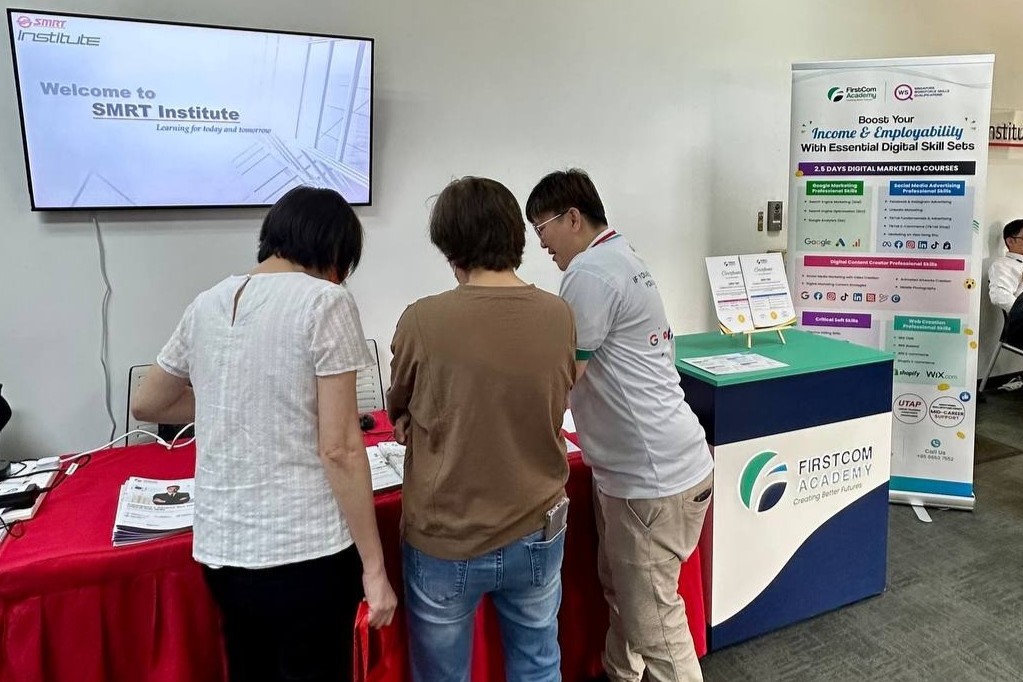 The pursuit of personal and professional development is vital to thriving in today's ever-evolving job market. In recognition of the significance of continuous learning at any age and the growing demand for digital skills, the FirstCom Academy team was invited to set up a booth and engage attendees at the Singapore Mass Rapid Transit (SMRT) Learning Fair 2023.
Held at the SMRT Institute from 18 to 23 May 2023, the four-day event was a platform for SMRT employees to explore additional learning opportunities and acquire valuable digital skills to propel their careers forward. Our team attended the learning fair to showcase the importance of personal and professional growth, guiding and consulting attendees towards the right digital skills and critical soft skills for their unique situation.
Unleashing the Power of Digital Skills
At the heart of FirstCom Academy's participation in the SMRT Learning Fair 2023 is the firm belief in the transformative power of digital skills. In today's digital age, proficiency in various digital domains has become an indispensable asset for professionals across industries. Digital skills are the gateway to unlocking new career opportunities, enhancing productivity and staying competitive in the new technology-driven workforce.
FirstCom Academy's main activities at the SMRT Learning Fair 2023 included a booth with our helpful education consultants engaging attendees, as well as a presentation on digital marketing skills. We featured programs covering an array of in-demand areas, ensuring attendees could acquire skills that are not only relevant, but also aligned with their career goals.
Some of our key programs that were highlighted include:
Google Marketing: Get Better Leads and Conversions
FirstCom Academy's Google Marketing programme is designed to equip learners with the necessary expertise to harness the full potential of Google's tools. Led by experienced digital marketers, this course combines digital skills in Search Engine Marketing (SEM), Search Engine Optimization (SEO), and Google Analytics (GA). Learners will gain practical knowledge to identify cost-effective keywords, execute impactful Google search campaigns, and drive tangible results for their businesses.
Social Media Advertising: Reach and Engage More Customers
Social media platforms have become invaluable channels for businesses to connect with their target audience. FirstCom Academy's Social Media Advertising programme provides insights and best practices for developing, managing, and evaluating successful ad campaigns on popular platforms such as Facebook, Instagram, TikTok, LinkedIn, and XiaoHongShu. Seasoned social media marketers impart their knowledge, enabling learners to effectively promote their brands and engage with a wider customer base.
Digital Content Creation and Content Strategy: Attract, Engage, and Retain
Creating compelling content is a critical aspect of digital marketing. FirstCom Academy's Content Creation and Content Strategy programme empowers learners to attract, engage, and retain customers through various content creation techniques. Participants gain hands-on experience in producing high-quality content, including animations, videos, and photos, using just a smartphone and mobile apps. By honing their content strategy skills, learners become adept at crafting engaging narratives that resonate with their target audience.
Effective Leadership Skills: Futureproof Your Career
While digital skills are essential, they are complemented by critical soft skills that ensure long-term career success. FirstCom Academy's Effective Leadership Skills programme focuses on developing core competencies necessary for thriving in today's employment landscape. By honing leadership abilities, learners enhance their communication, problem-solving, and teamwork skills, enabling them to navigate challenges and drive positive change within their organisations.
Guiding Attendees Towards Success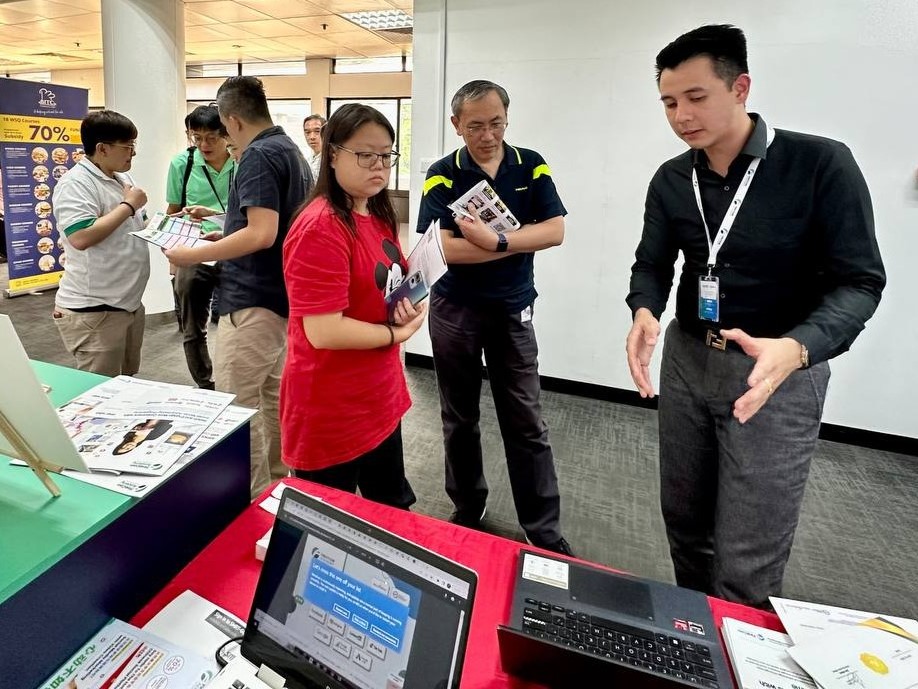 At the SMRT Learning Fair, FirstCom Academy's dedicated course consultants were present at the booth to guide attendees in selecting the most appropriate courses based on their individual needs and career aspirations. The consultants on location provided valuable insights into the course curriculum, learning outcomes, and the practical application of the acquired digital skills. Their expertise and personalised guidance helped attendees make informed decisions about their professional development journey.
Presenting the Landscape of Digital Skills
In addition to the booth, the FirstCom Academy team also conducted a captivating presentation on digital marketing and digital skills at the event. This session offered attendees an overview of the job skills landscape in Singapore and highlighted the pivotal role of digital skills in achieving career goals. We shed light on the growing local demand for professionals well-versed in digital technologies and provided a roadmap for attendees to acquire these digital skills through FirstCom Academy's comprehensive course offerings.
Equipping SMRT Professionals with Digital Skills
FirstCom Academy's participation in the SMRT Learning Fair 2023 underscores our organisation's commitment to empowering professionals with the essential digital skills needed to succeed in today's dynamic workplace. By offering a wide range of courses and programs taught by experienced industry practitioners, FirstCom Academy enables learners to acquire relevant skills quickly, retain them, and apply them to their respective career paths. As Singapore continues to embrace the digital era, individuals who invest in their professional development by picking up digital skills can position themselves for success in an increasingly competitive job market.
View this post on Instagram