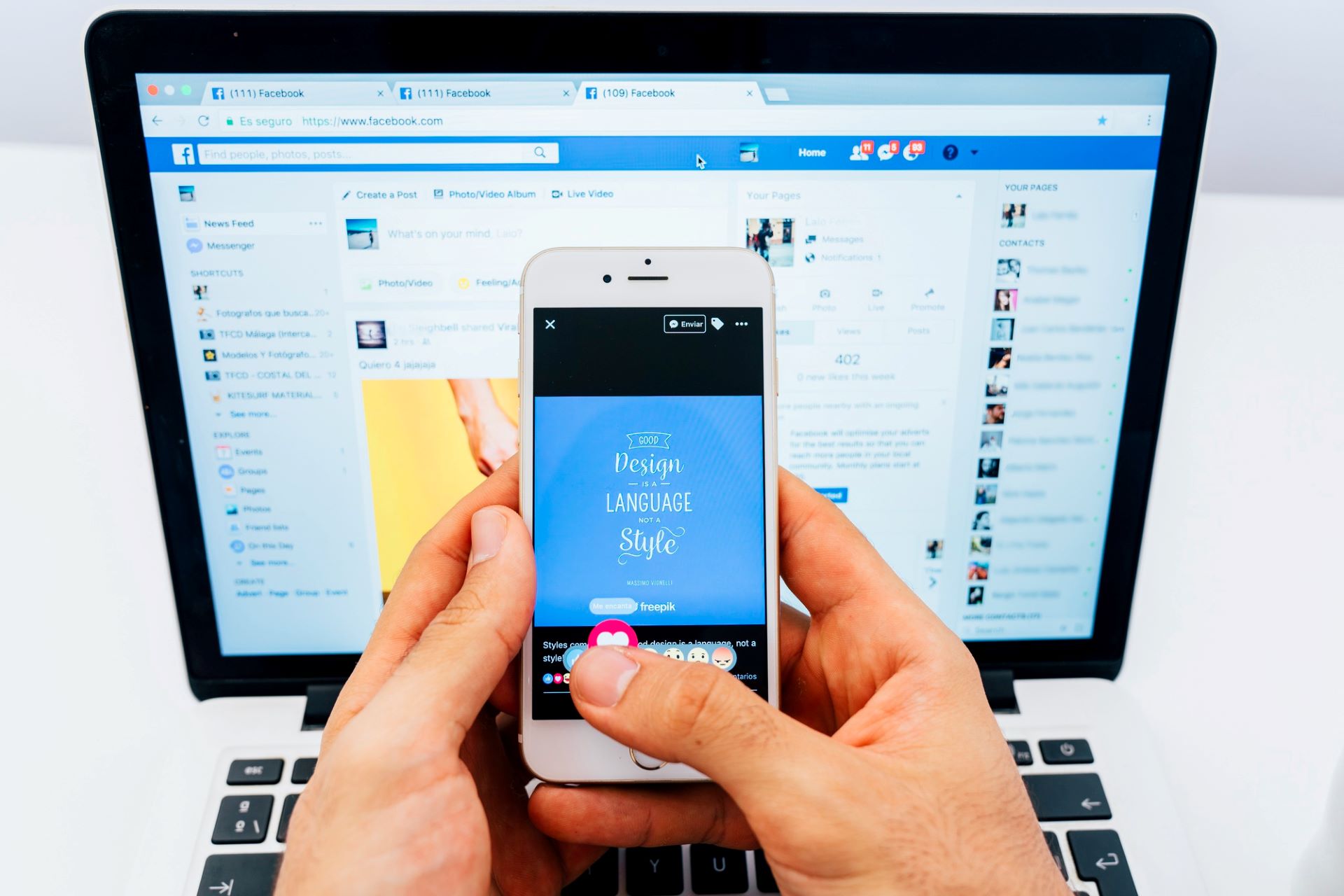 Despite stiff competition from newer social media platforms like Instagram and TikTok, Facebook remains Singapore's favourite social media platform with the majority of users aged between 25 to 34 (We Are Social). With an advertising reach of 3.5 million Singaporeans, Facebook is a platform that can reach 60% of Singapore's total population.
While high reach is important, we're sure those of you reading this article will be wondering what Facebook's engagement rates are like. Statista conducted a survey in January 2022 which placed Facebook as the social media platform with the highest engagement amongst Singaporeans, with 71% of respondents stating that they had engaged with a Facebook ad in the past 12 months.
These statistics make it clear. If your goal is to market to Singaporeans via social media, you need to start running ads on Facebook. We've compiled a list of 7 resources to help you learn Facebook marketing.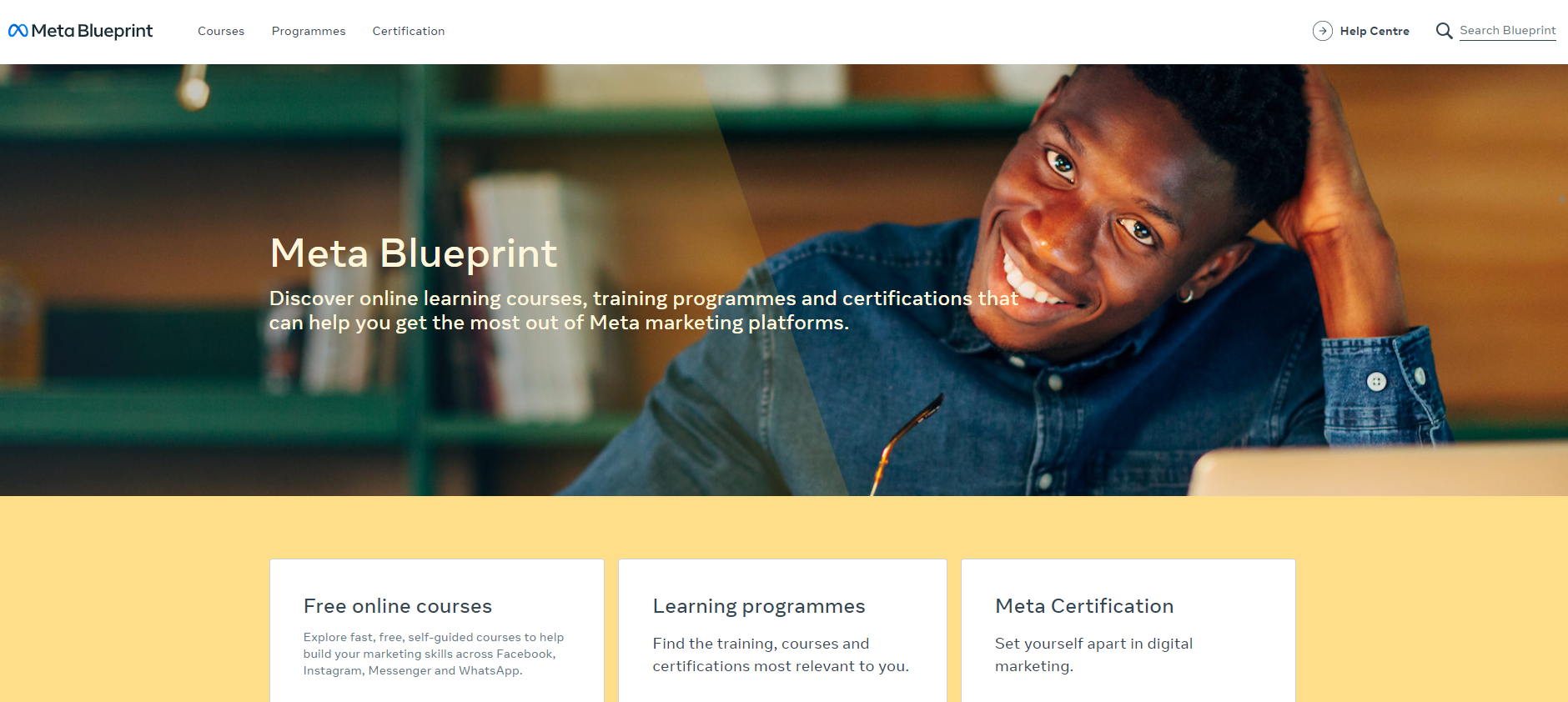 1. Meta Blueprint
Learn Facebook marketing from the social network itself. Meta Blueprint was created to help everyone from small business owners to digital marketers and new users get the most out of Meta marketing platforms.
One of the most comprehensive Facebook resources you'll find on this list, the website is full of free online learning courses, training programmes and certifications. From setting up your page to running an ad campaign, measuring campaign results, creative strategy and more, there's something for Facebook marketers at all levels. Whether you're just getting started or are looking to fine-tune your existing campaigns, Meta Blueprint is an invaluable resource.
Explore the Facebook resources on Meta Blueprint.
2. Next Level Facebook Ads Podcast
As far as Facebook resources go, podcasts are an excellent way to learn about Facebook marketing and keep up with current trends while you exercise or do your chores. Rated 4.6 stars out of 128 ratings, Next Level Facebook Ads Podcast is one of the most popular Facebook marketing podcasts available today.
The podcast is hosted by Phil Graham a marketing professional with over 15 years of experience who now runs his own ad agency. There are over 250 episodes with new podcasts released every week.
Overall, the podcast has a good mix of content aimed at beginners and experienced Facebook marketers. Some examples of topics covered include Facebook ad headline formulas, best audience targeting options, what to do if your ads aren't working as well as discussion of the best Facebook tools you can use to maximise your success.
Listen to The Next Level Facebook Ads podcast on Apple or Spotify.
3. Hootsuite: Facebook Marketing Guide in 2022
Hootsuite develops social media management tools that help businesses improve their reach and engagement, so they know how to get results on Facebook!
The company regularly publishes useful blog content to inform their clients and attract new users, making its website one of the go-to Facebook learning resources for digital marketers worldwide.
Hootsuite's 2022 Facebook Marketing Guide is one of the most comprehensive free Facebook learning resources you can find. It is aimed at complete beginners with little or no experience with Facebook. While more experienced marketers might not find every section useful, it can still be a useful refresher and reminder of the basics.
We like how there is a handy recommendation at the end of the guide that suggests five Facebook tools you can use to automate the more mundane aspects of Facebook marketing and make it easier to run successful campaigns.
Read the 2022 Hootsuite Facebook Marketing Guide.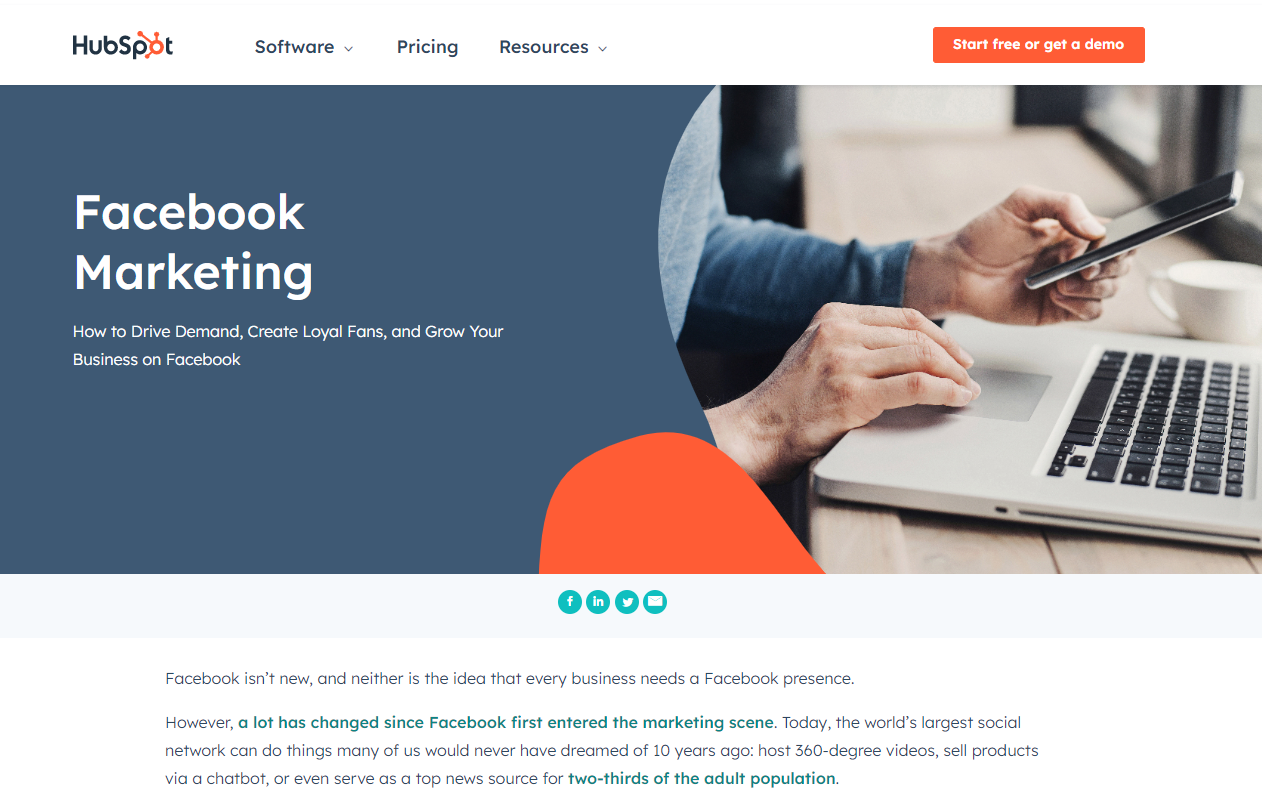 4. HubSpot Blog: Facebook Marketing
HubSpot develops software for inbound marketing, sales and customer service. The company is a go-to learning resource for new and experienced digital marketers alike thanks to its impressive blog which offers solid information on almost every topic under the sun.
HubSpot's Facebook marketing guide stands out from the other Facebook learning resources on this list because it focuses on inbound marketing. Inbound is a marketing approach that centers around creating valuable content that aligns with the needs of your customers and builds long-term relationships.
HubSpot's guide promises to help beginners create and distribute quality content in order to form authentic relationships with their customers and build brand awareness, demand and loyalty without having to spend on advertising. It is a long-term marketing strategy that will require consistent commitment for months or even years before you can see results.
Read HubSpot's blog post on Facebook Marketing.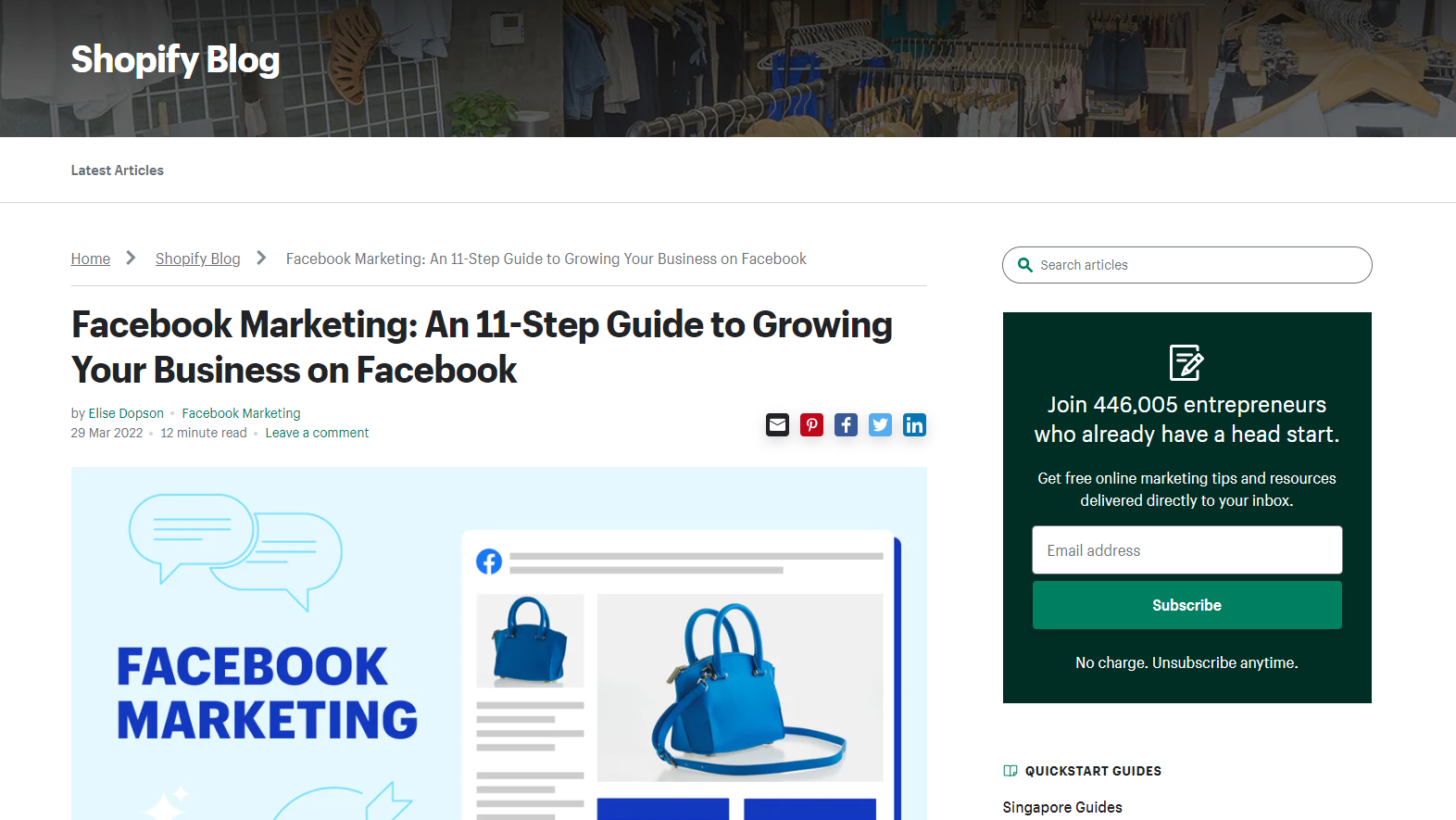 5. Shopify: How to Start Marketing on Facebook
If you own an e-commerce store and want to start dabbling in social media marketing to sell more, then you must prioritise this as a must-read out of all the Facebook learning resources out there.
Shopify's comprehensive blog post covers the different ways e-commerce store owners can use Facebook marketing to their advantage. Sectioned into three parts: How to start marketing on Facebook, free Facebook marketing strategies and paid Facebook marketing strategies — it is easy to follow and provides actionable advice backed by statistics as well as real-world examples.
Pay attention to the tips provided and check out the pages they use as examples for some inspiration! Shopify's blog post is ideal for e-commerce owners who don't know how or where to start developing a Facebook marketing strategy for more traffic and sales.
Read Shopify's e-commerce-focused blog post on Facebook Marketing.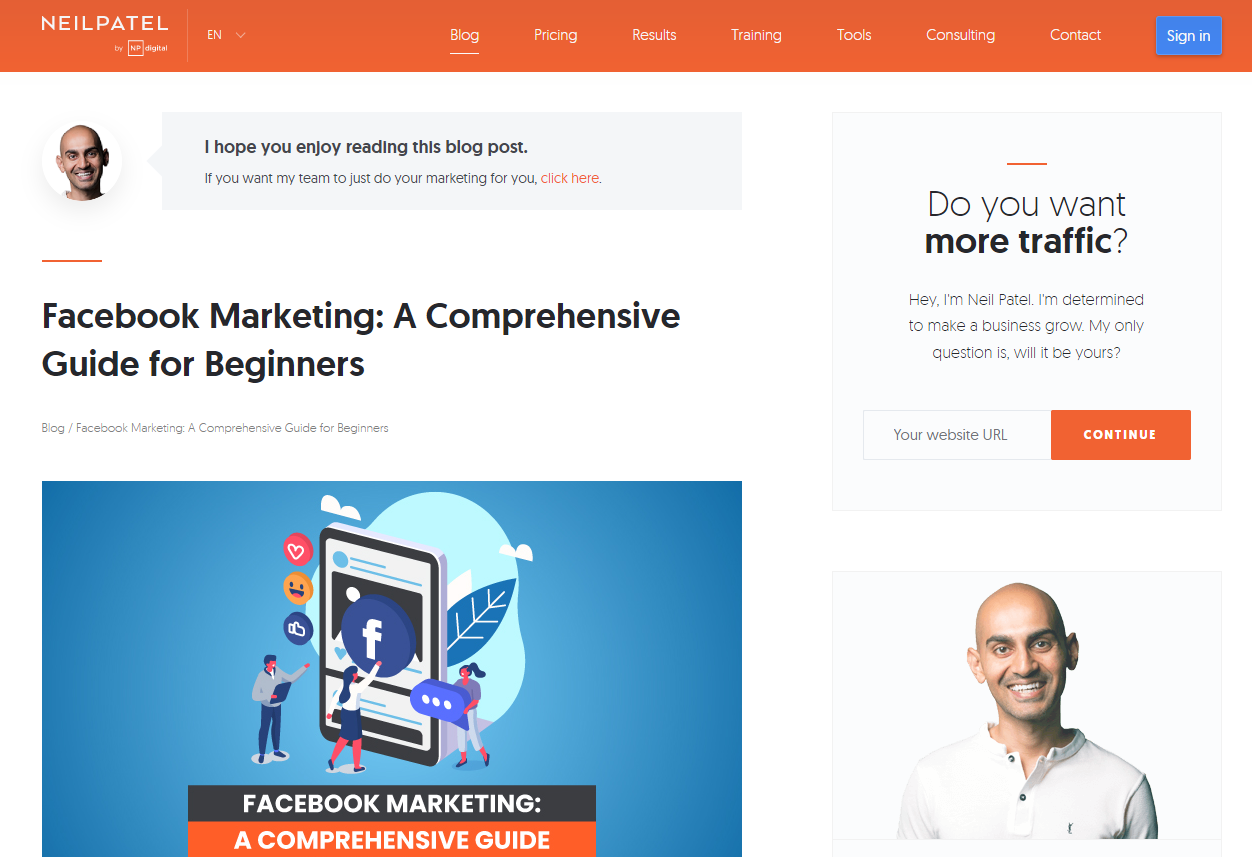 6. Neil Patel: Comprehensive Facebook Marketing Guide for Beginners
Out of all the Facebook learning resources we've covered in this article so far, this Facebook marketing guide is one of the most beginner-friendly. Neil Patel is a digital marketer that runs an agency helping clients with content marketing and improving SEO. His blog content is focused on teaching the basics to non-marketers, which makes his Facebook marketing guide a great option for complete beginners looking to get a simple overview of the basics.
Neil walks you through the Facebook tools available to create a robust marketing strategy for every budget. Beyond tips on marketing strategy, the blog post also guides viewers through the more technical aspects of Facebook marketing. You'll find step-by-step tutorials with screenshots on how to navigate the Facebook ads manager interface to do routine tasks like scheduling or placing ads.
Read Neil Patel's beginner-friendly blog post on Facebook Marketing.
7. Sprout Social – 7 Tips for an Effective Facebook Marketing Strategy
For marketers who have basic knowledge of Facebook marketing but need some help optimising their strategies or campaigns, Sprout Social's 7 Tips for an Effective Facebook Marketing Strategy offers unique insights you might want to look into.
The blog article focuses on high-level Facebook marketing strategy tips such as the best time to post for maximum engagement, the types of content consumers want from brands and how to keep your Facebook ads fresh. Each of the 7 tips featured in the article is backed by data from Sprout Social's Index survey as well as relevant case studies. We recommend giving this resource a read to learn about the best Facebook marketing practices employed by successful brands.
Read Sprout Social's 7 Tips for an Effective Facebook Marketing Strategy.
Bonus: Learn Facebook Marketing In-person From Industry Professionals at FirstCom Academy
From beginner-friendly guides to optimisation strategies for more experienced Facebook marketers, we hope you've found some useful Facebook resources to take your Facebook page to the next level and get more sales.
To really accelerate your learning and become a competent Facebook marketer in just a few days, why not consider learning in person from experienced industry professionals who can guide you and answer your questions as they come up?
FirstCom Academy's How to Run Successful Facebook Ad Campaigns is a WSQ-certified and SkillsFuture Credit-eligible course that is ideal for complete beginners. Taught by expert digital marketers with real-world Facebook marketing experience, the course provides learners with an in-depth understanding of Facebook tools and includes hands-on practice on how to navigate the ads manager interface and set up successful campaigns.
Interested? Sign up for FirstCom Academy's Facebook marketing course today!
---
Read also: