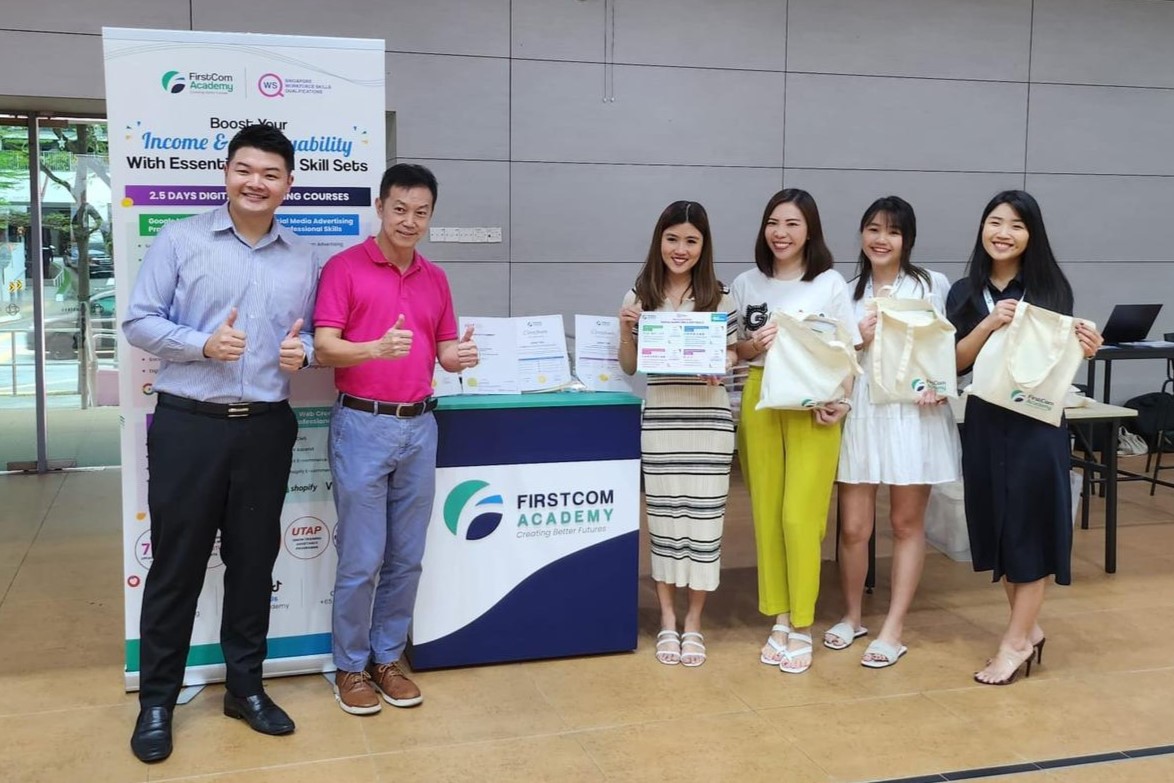 FirstCom Academy was honoured to participate in the Canberra Edusave and Education Award Presentation Ceremony 2023, hosted at the Canberra Community Club. On 21 May 2023, our dedicated team and CEO Jim Giam, visited the ceremony to celebrate the award winners, engage with students and attendees, as well as shed light on the paramount importance of digital tech skills for future career prospects.
With a focus on lifelong learning at any age, and equipping individuals with essential skills, we aimed to empower students to excel in today's competitive job market.
About the Canberra Edusave and Education Award
The Canberra Edusave and Education Award is aimed at recognising students residing in the Canberra Constituency for their outstanding academic achievements. It serves as motivation for students who have excelled in their studies and aims to inspire them to strive for even greater success in the coming year.
Students from Primary, Secondary and Tertiary education levels residing in the Canberra constituency are eligible to apply for this bursary award. Held yearly, the Canberra Edusave and Education Awards ceremony is a platform to acknowledge and support the academic pursuits of students, fostering a culture of excellence and lifelong learning in the Canberra community.
Engaging Attendees with the Power of Digital Tech Skills
At the event, FirstCom Academy showcased our commitment to fostering relevant skill development through an interactive booth. We engaged with attendees, providing them with valuable insights into the current job landscape and the dynamic world of digital tech skills. Our wide range of courses, covering areas such as Google Marketing, Social Media Advertising, Digital Content Creation and Content Strategy, Cybersecurity, and Effective Leadership, sparked interest among participants. We emphasised the practical aspects of our training programs, enabling attendees to grasp the real-world applications of these valuable skills.
Empowering Students for Career Excellence
Beyond the school curriculum, it's important to equip our students with the necessary knowledge and digital tech skills to prepare them for their careers — no matter the path they may choose. No matter how much we may study the theoretical, nothing prepares you for the real world like hands-on experience, which is why our courses center around hands-on activities and practical knowledge imparted by trainers with real-world experience in the industry.
Knowledge about future job scopes, the job landscape along with current industry demands and trends can also help students make more informed decisions about the career paths they wish to pursue.
Supporting Lifelong Learning at Any Age
You're never too young or old to pick up digital tech skills. At FirstCom Academy, we strongly believe in the power of lifelong learning. Our participation at the Singapore Canberra Edusave and Education Award Presentation Ceremony reflects our dedication to fostering a culture of continuous improvement.
We encouraged students at the event to adopt a mindset of adaptability and growth, preparing them to navigate the ever-changing job market. By staying abreast of the latest technological advancements and industry trends, both students and professionals can position themselves for long-term success.
Positive Reaction and Impact
The response to FirstCom Academy's presence at the event was overwhelmingly positive. Attendees expressed appreciation for the valuable insights we shared regarding the current working landscape and the significance of acquiring digital tech skills. Engaging discussions fueled enthusiasm among participants, inspiring them to pursue career growth with confidence. Witnessing the impact of our expertise firsthand reaffirms our commitment to empowering individuals through the acquisition of vital digital tech skills.
View this post on Instagram
Empowering the Future: FirstCom Academy's Commitment to Digital Tech Skills
FirstCom Academy extends sincere gratitude to all those who joined us at the Singapore Canberra Edusave and Education Award Presentation Ceremony 2023. We were delighted to engage with attendees and shed light on the incredible opportunities that digital tech skills bring to individuals seeking career advancement.
As a trusted partner in lifelong learning, we remain steadfast in our commitment to equip individuals with the essential digital tech skills required to thrive in today's fast-paced job market. Together, let us embrace the digital era and chart a path towards professional success!