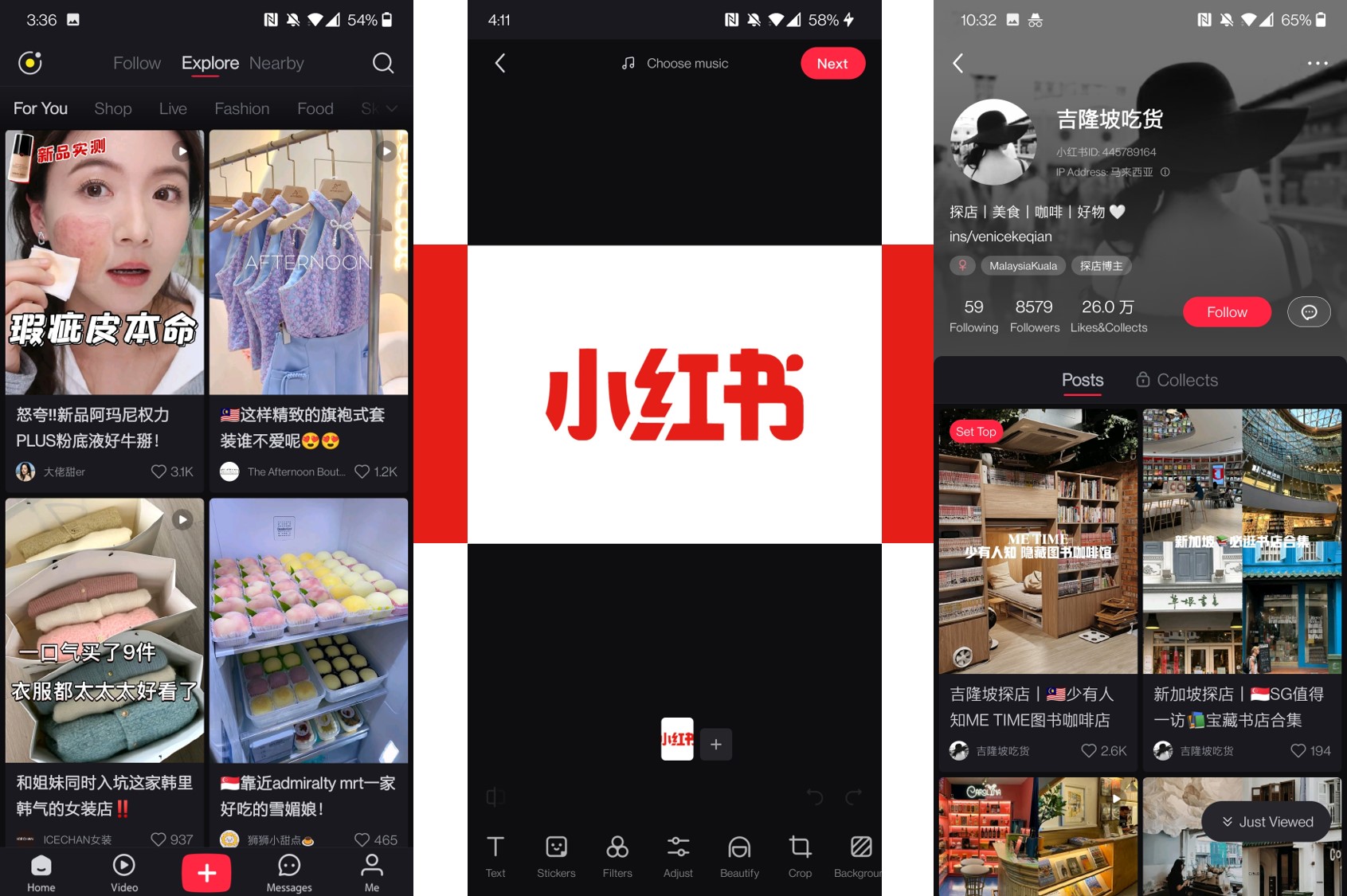 When we think of social media platforms, we often think of Western-centric platforms like Facebook, Instagram and Twitter. However, did you know that without access to Western social media apps, China has created apps to satisfy the social media demand of over 1.3 billion people.
Recently, many of China's social media apps are moving from closed to open platforms. Outside of China, you might find that many Chinese-speaking communities are users of Chinese social media apps.
Chinese-made social media apps are even growing in popularity amongst global users — TikTok, which goes by the name of Douyin in China is perhaps the most well-known example. The short video platform burst onto the international scene and quickly became the most popular social media app amongst Millennials and Gen-Z.
In this article, we'll talk about XiaoHongShu (小红书), one of China's most popular social media apps and why you should start paying attention to it.
What is XiaoHongShu
Described as China's Instagram, XiaoHongShu (小红书) or "Little Red Book" is a social media and e-commerce platform. On XiaoHongShu, users can share lifestyle, shopping experiences and creative content using a variety of formats including photos, text, videos and livestreaming.
Content on XiaoHongShu can range from cosmetics and beauty to fashion, food, travel, entertainment, fitness, childcare and more. The platform's social features also serve as a way for users to discover new brands. XiaoHongShu also includes an in-app shopping feature for users to browse, search and buy products.
History of XiaoHongShu
XiaoHongShu was founded by Miranda Qu and Charlwin Mao in 2013 with the aim of introducing good foreign brands to Chinese consumers. Although initially intended to be a shopping guide for Chinese consumers to do pre-purchase research on overseas products, the owners noticed a demand from its users to purchase the products they were researching.
To meet the demand, XiaoHongShu launched its e-commerce platform in 2014 and since then the brand has quickly grown to become a thriving social/e-commerce platform hybrid.
Popularity and User Demographics
XiaoHongShu ranks 5th among China's most popular social media apps with over 200 million monthly active users.
Its user base is primarily young females in their 20s and 30s. Female and male users are split 88.8% and 11.2% respectively. Most of XiaoHongShu users come from first and second-tier cities in China, meaning they are generally middle to upper-class women with higher spending power. As a result of this gender skew, XiaoHongShu is immensely popular for its beauty and fashion content featuring luxury beauty brands like Dior and Chanel.
How to Download XiaoHongShu
To download the XiaoHongShu app on an iOS device:
Open the App Store on your iOS device.
Search for "XiaoHongShu" in the search bar.
Locate the app and tap the "Get" button.
Wait for the app to download and install on your device.
Once installed, open the app and log in or sign up to use it.
To download the XiaoHongShu app on an Android device:
Open the Google Play Store on your Android device.
Search for "XiaoHongShu" in the search bar.
Locate the app and tap the "Install" button.
Wait for the app to download and install on your device.
Once installed, open the app and log in or sign up to use it.
How to Use XiaoHongShu: Social Features
Account Creation
When you first launch the XiaoHongShu app, you will be asked to create an account.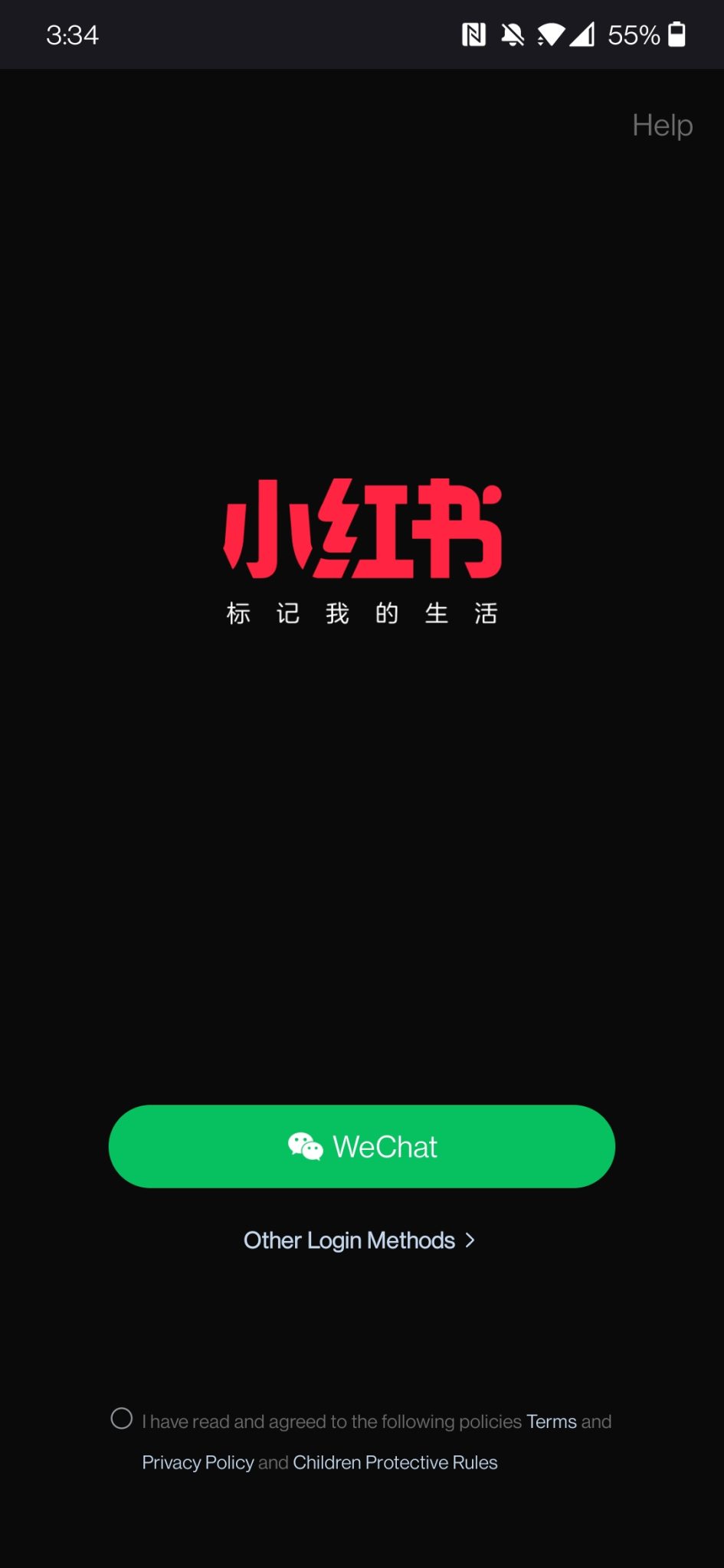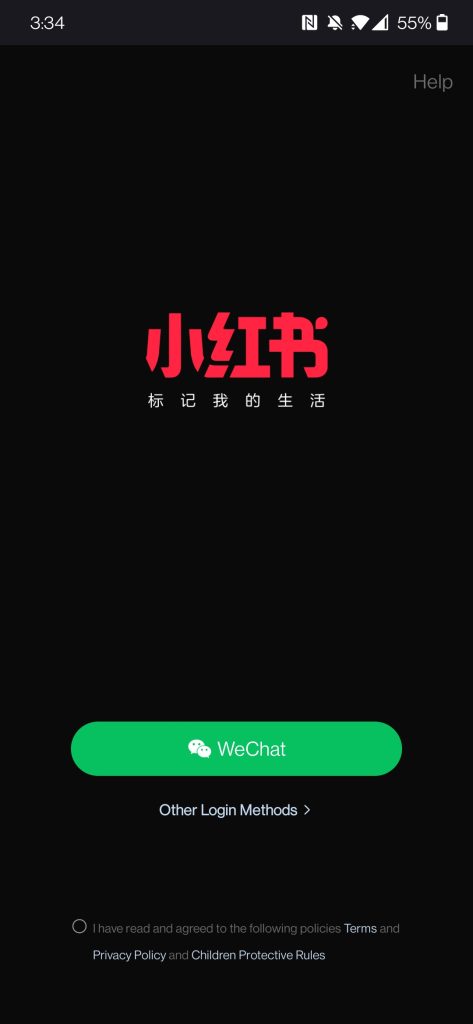 On the launch screen, you'll see an option to create an account via the following methods.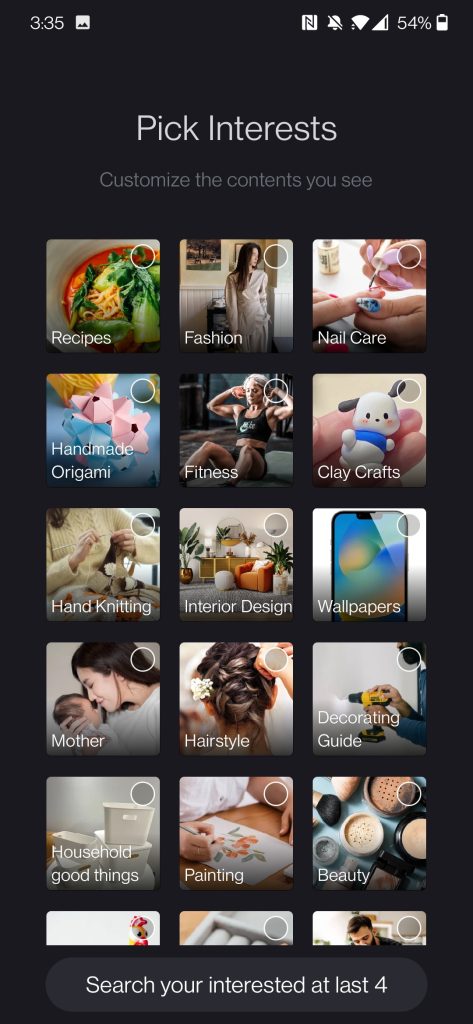 Follow the on-screen steps for your preferred method in order to create an account. Once you've selected your preferred account creation method, you'll be asked to enter your gender, age and interests. This will determine the type of content that will be shown to you at the start.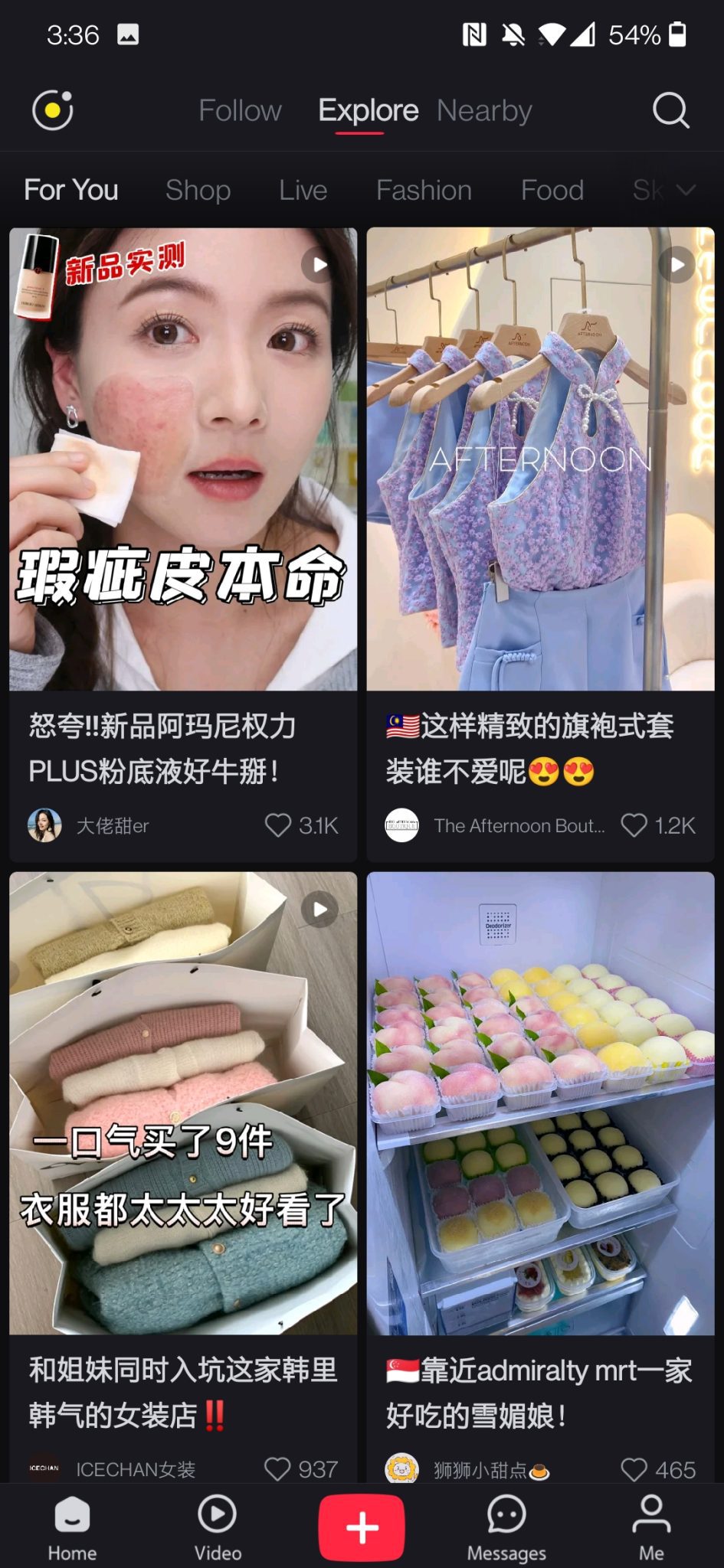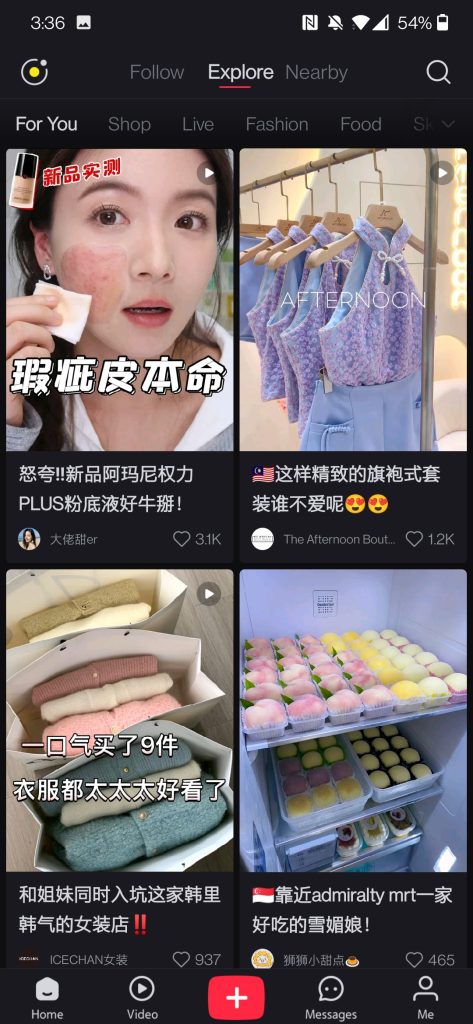 Once your account has been created you will be taken to the XiaoHongShu homepage which is also your feed.
Navigating the Homepage
Now that you have your account set up, let's start exploring the interface and discover what each of the buttons does.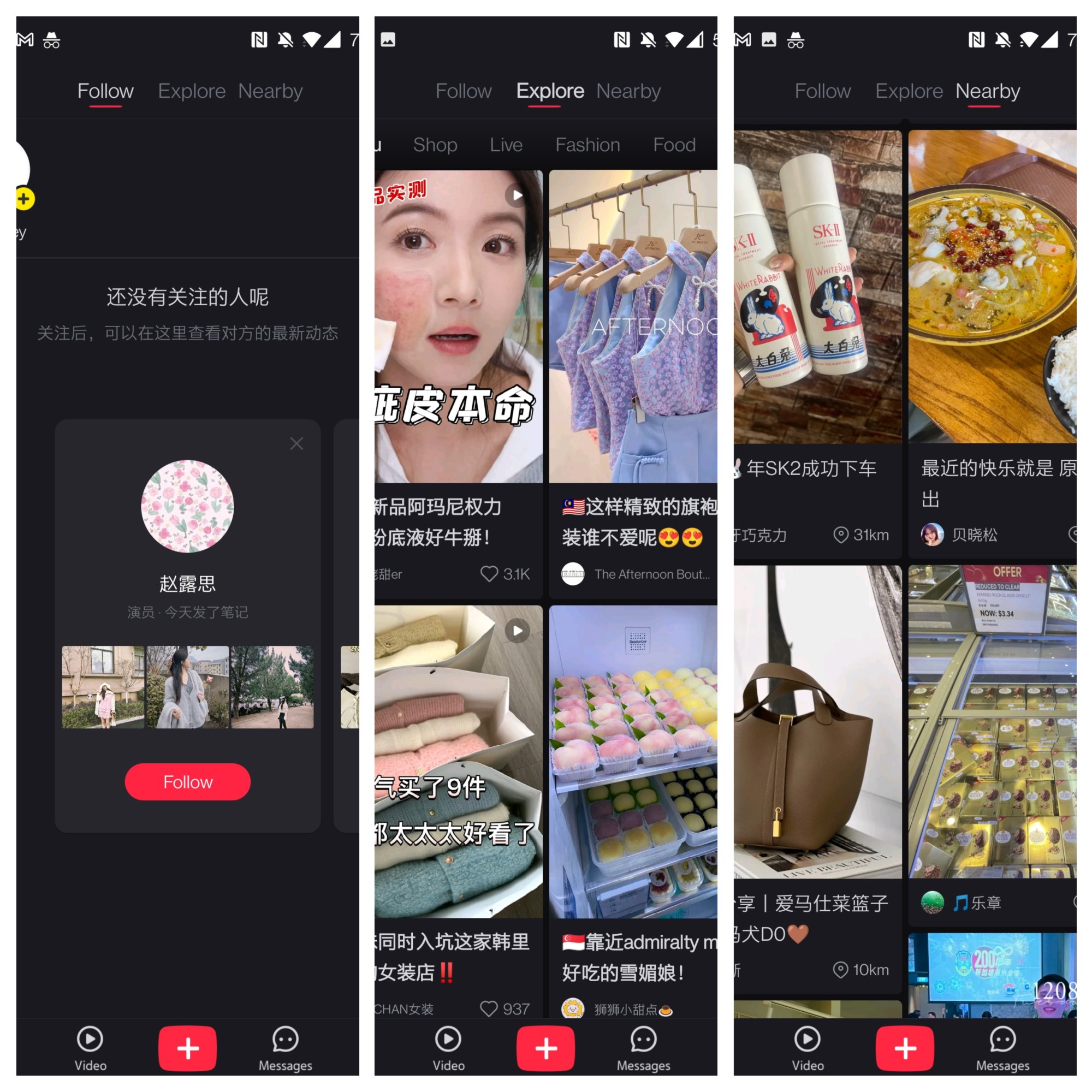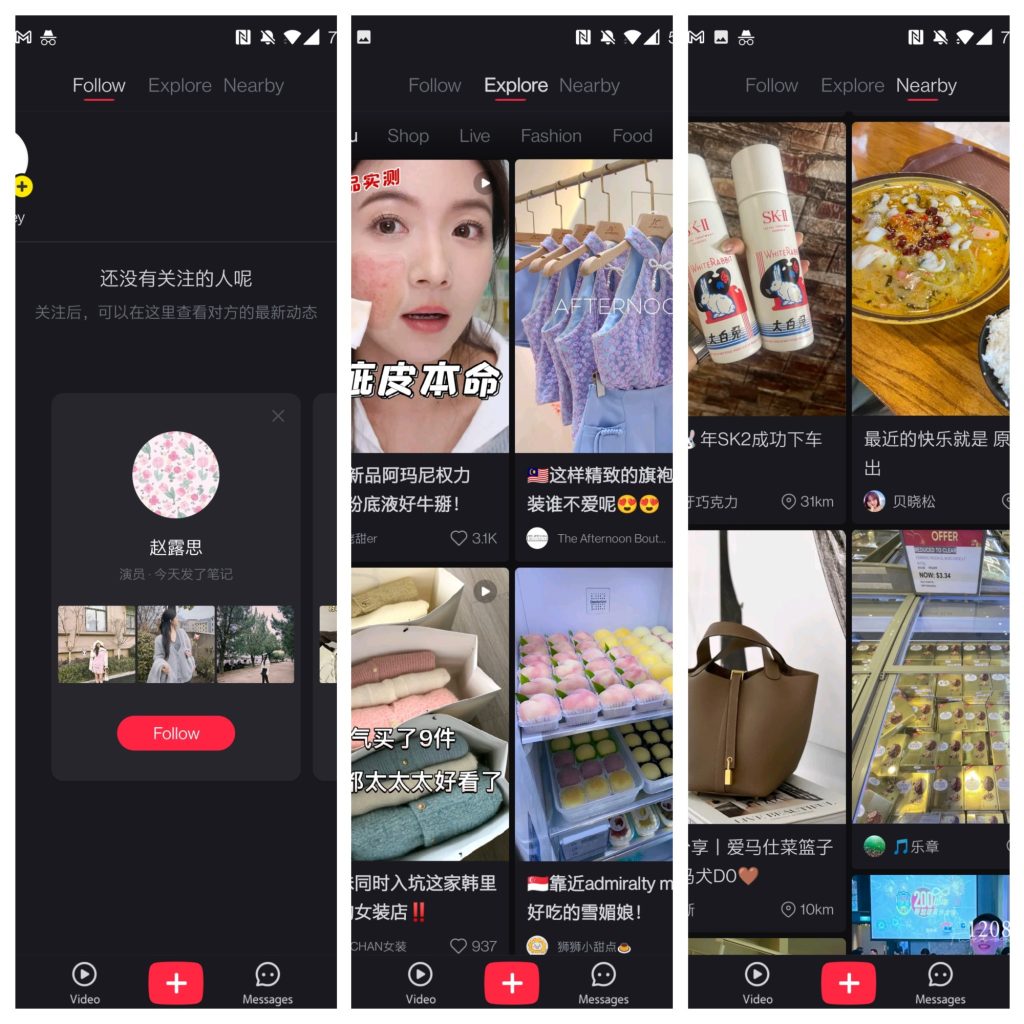 On the topmost bar you have three options.
Follow
This section contains all the latest posts and content from the people you follow. If you do not follow anyone, then the app will suggest people for you to follow.
Explore
Explore is the main way to discover user-generated content on XiaoHongShu. This is your feed which shows you similar content based on the posts you've liked.
Nearby
This function allows you to search for posts, people and products based on your current location. It is typically used to discover popular local products or trending places to visit.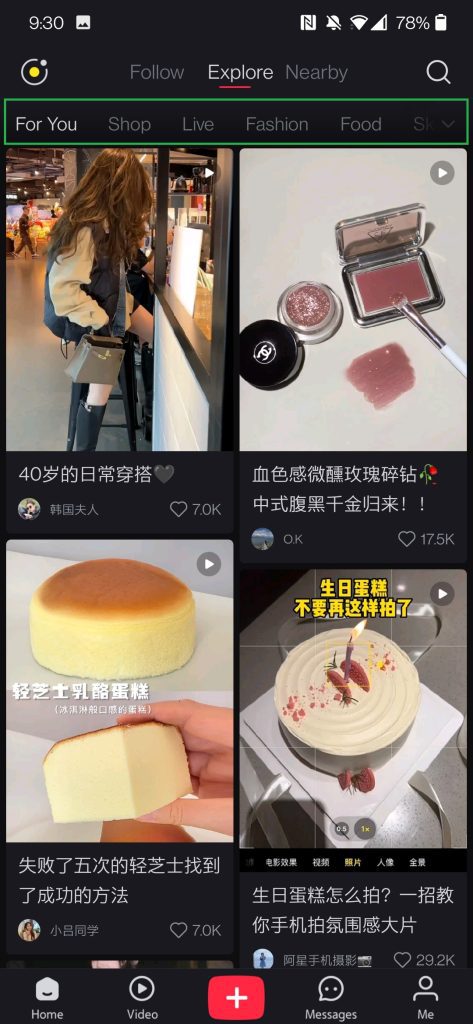 Just below the topmost navigation bar are your category tabs. These enable you to curate your feed and discover content based on your preferences.
For You
This is your main feed. Content displayed here will be selected by the algorithm based on what you've liked or interacted with.
Shop
The shop tab takes you to the XiaoHongShu e-commerce platform.
Live
As the name implies, clicking this tab shows you content creators who are live streaming on the app.
Interests
The interests you've selected during the account creation process will be displayed as tabs here. Clicking a tab will adjust your feed to show content based on the interest you've selected.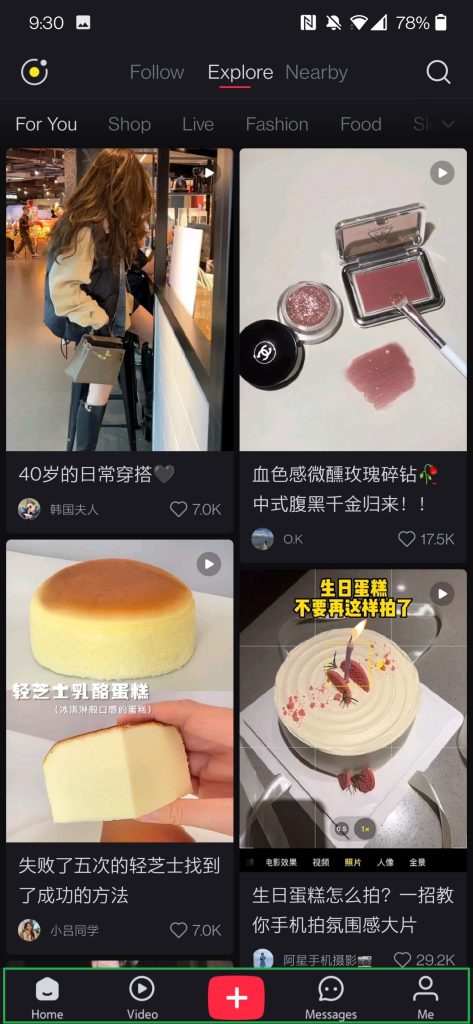 There are five more navigation buttons on the bottom bar. Let's go through them and what they do.
Home
Tapping this takes you back to the homepage of the app.
Video
Takes you to the video section of the app. This lets you browse short videos similar to Instagram reels or TikTok.
+
Tapping the red "+" button takes you to the post creation interface.
Messages
Takes you to the direct messages interface where you can check your private messages or initiate a private message with other users. You can also see your likes, new followers and new comments on your posts.
Me
Takes you to your XiaoHongShu profile. Here you can edit how others view your profile as well as see your posts, collection and likes.
Creating a Post
To create and publish a post on XiaoHongShu:
Tap the red "+" button at the bottom of the home screen.
Select the type of post you would like to create.

Shoot
Take an image with your phone camera
Video
Take a video with your phone camera
Album
Select an image from your phone's library
Template
Create a pre-designed post using XiaoHongShu picture or video templates
Live
Start a live stream.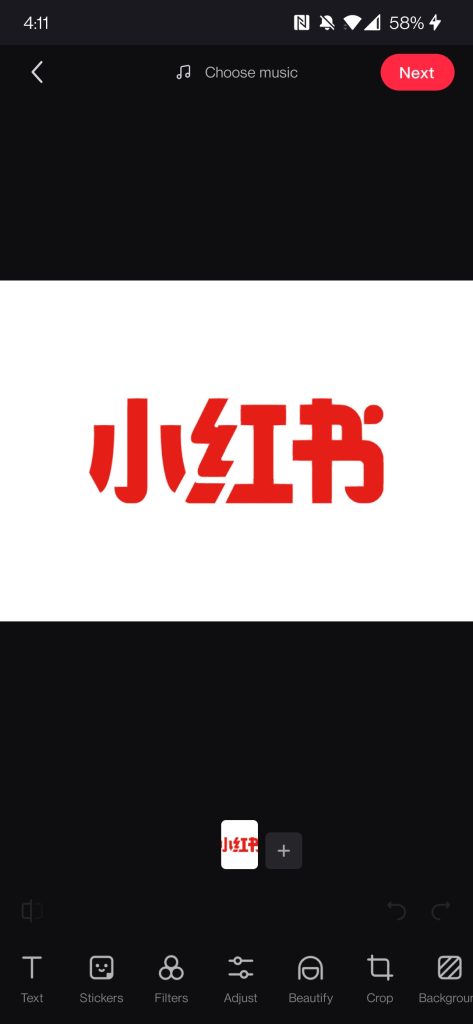 3. Edit your post. XiaoHongShu allows you to add music, text, stickers, filters and more.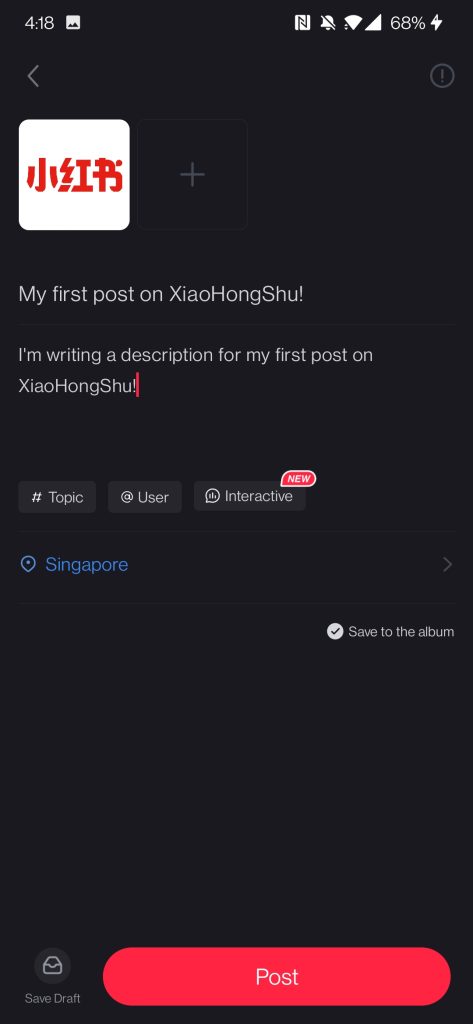 4. Write a title and description to your post. You can also add your location, hashtags or tag a user.
5. Publish your post by tapping on "Post".
Interacting with Content
As a social media and e-commerce hybrid, user-generated content plays a huge role in setting Little Red Book apart from other e-commerce platforms. Content on Xiao Hong Shu typically revolves around users sharing detailed experiences or reviews about a particular place, product or service. This leads to strong word-of-mouth advertising and encourages online community building.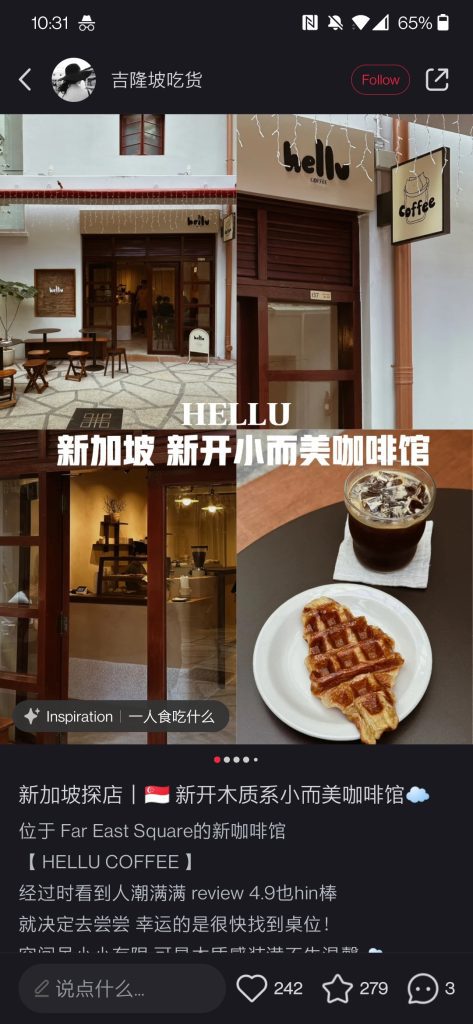 Images with a description is the most common format for a Xiao Hong Shu post. On the topmost bar, you can view a user's profile by clicking on their image, follow them or share the post outside of the app. You can interact with a post in three ways using the buttons at the bottom of the screen.
Heart icon
"Like" the post. Similar to Instagram's "Like" feature.
Star icon
"Collect" the post. This is a bookmark feature that saves the post which you can further organise as "boards" to access for future reference. This is the same concept as Pinterest boards.
Message icon
Comment on the post.
Using the Search Function
Users often use Xiao Hong Shu to research a specific product, brand or topic. The search function enables people to find posts, hashtags, related searches as well as user reviews of the subject they are searching for.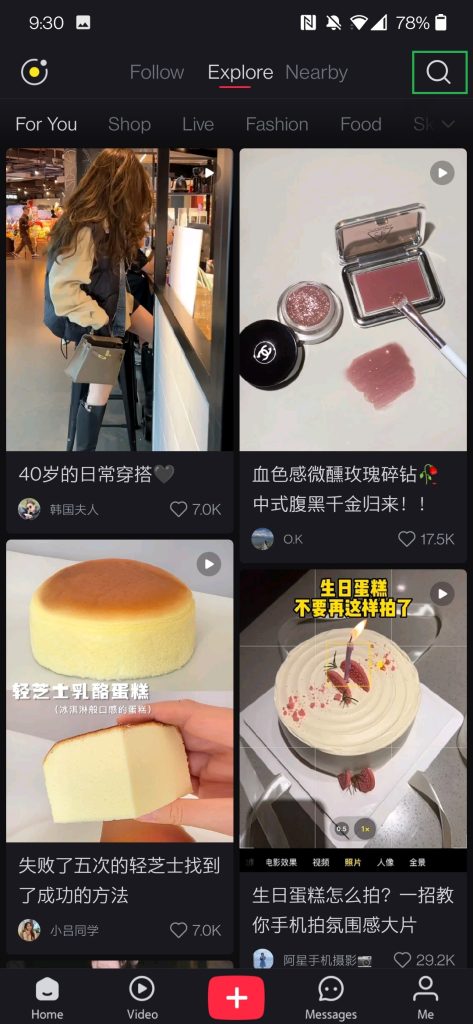 To start searching, simply click on the search button located on the homepage.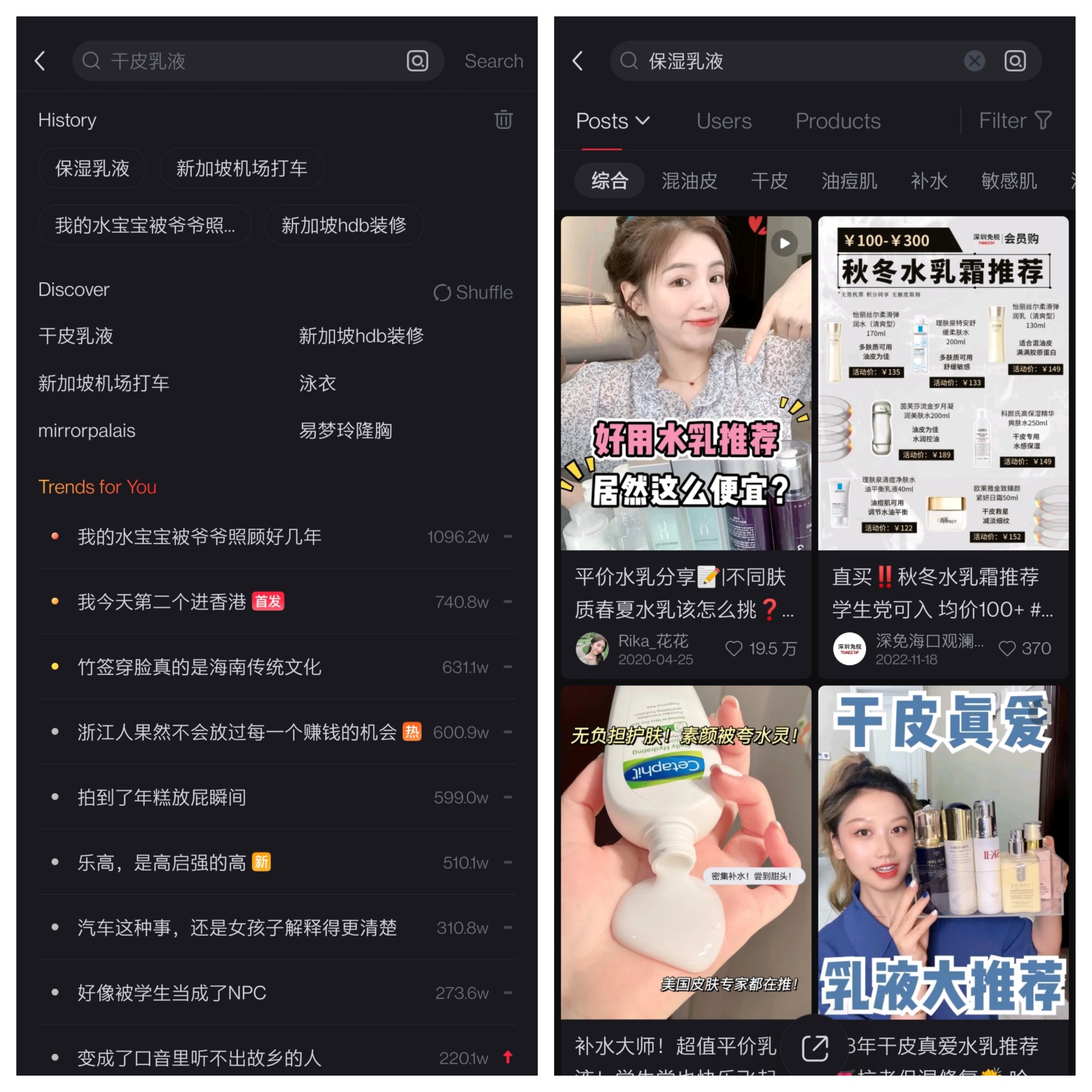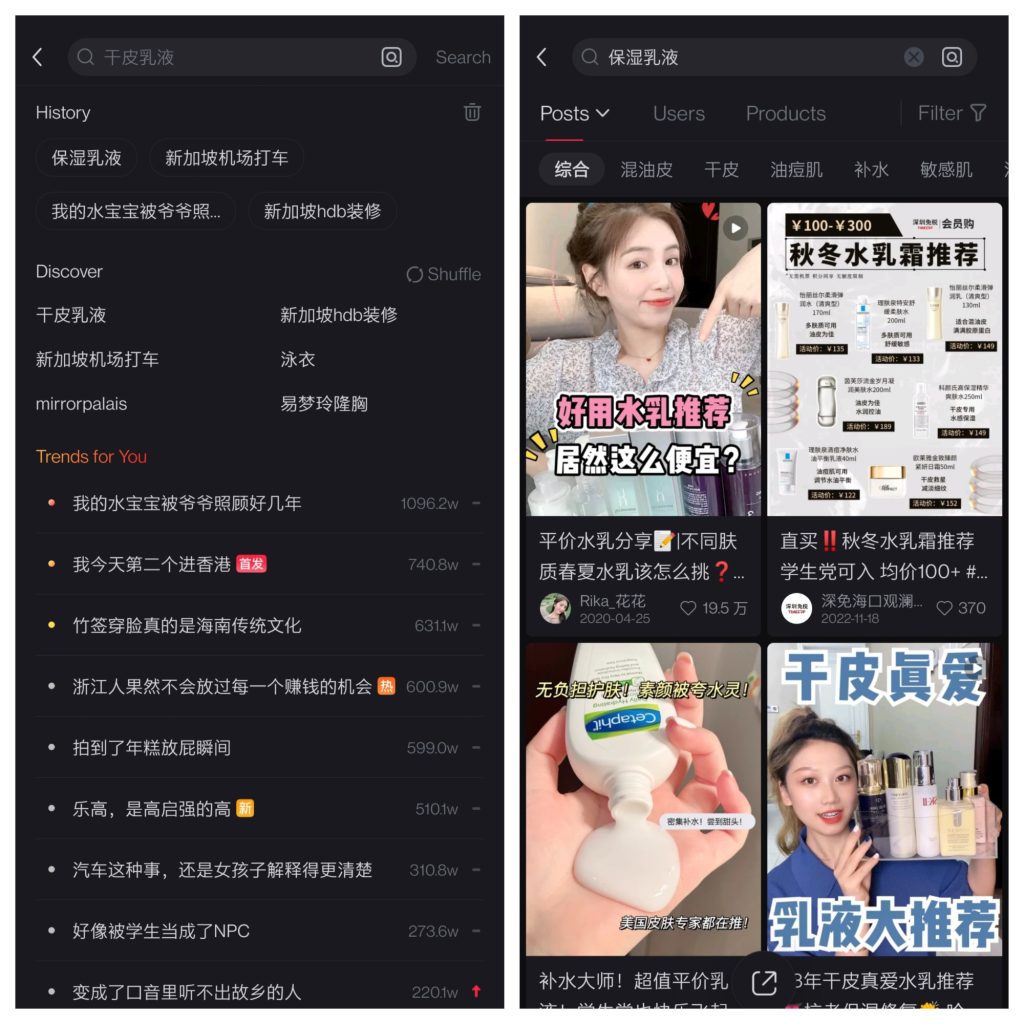 Clicking on the search icon on the homepage will bring up the search page. The search page shows trending searches as well as your recent searches.
Clicking on or entering a search term will bring up your search results along with hashtags related to the search topic.
How to Use XiaoHongShu: E-commerce Features
The social side of XiaoHongShu is heavily focused on user experiences, reviews and recommendations. As a result, the user-generated content on Little Red Book is generally regarded amongst its users to be more reliable compared to information from other sources.
To take advantage of this, the developers at XiaoHongShu decided to add e-commerce features to the app so you would be able to shop immediately if a product caught your eye while browsing other users' posts, reviews or recommendations.
Note: XiaoHongShu e-commerce features are intended for domestic users within China. At the time of writing, users outside of China are unable to purchase products from within the app and may also be unable to view certain product pages.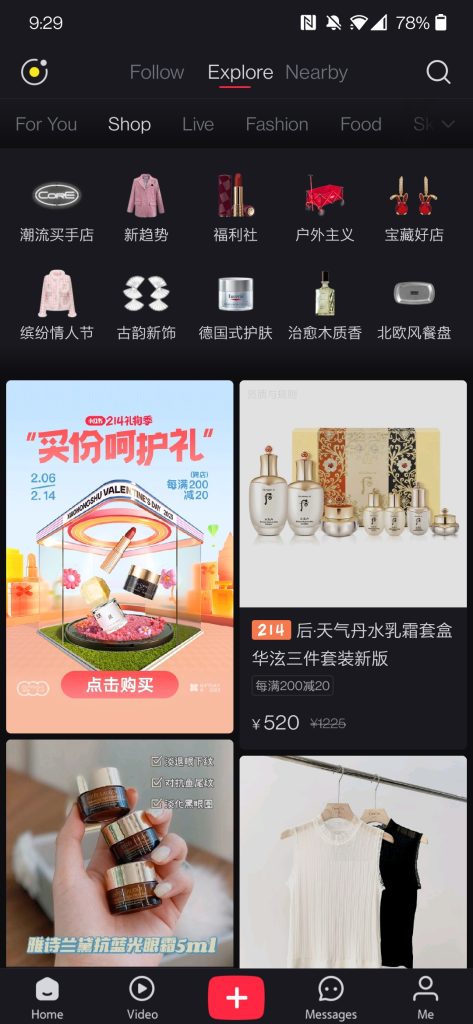 The main e-commerce page can be accessed by clicking on "Shop" from the homepage. This page displays the top brands as well as curated shop items based on your browsing behaviour.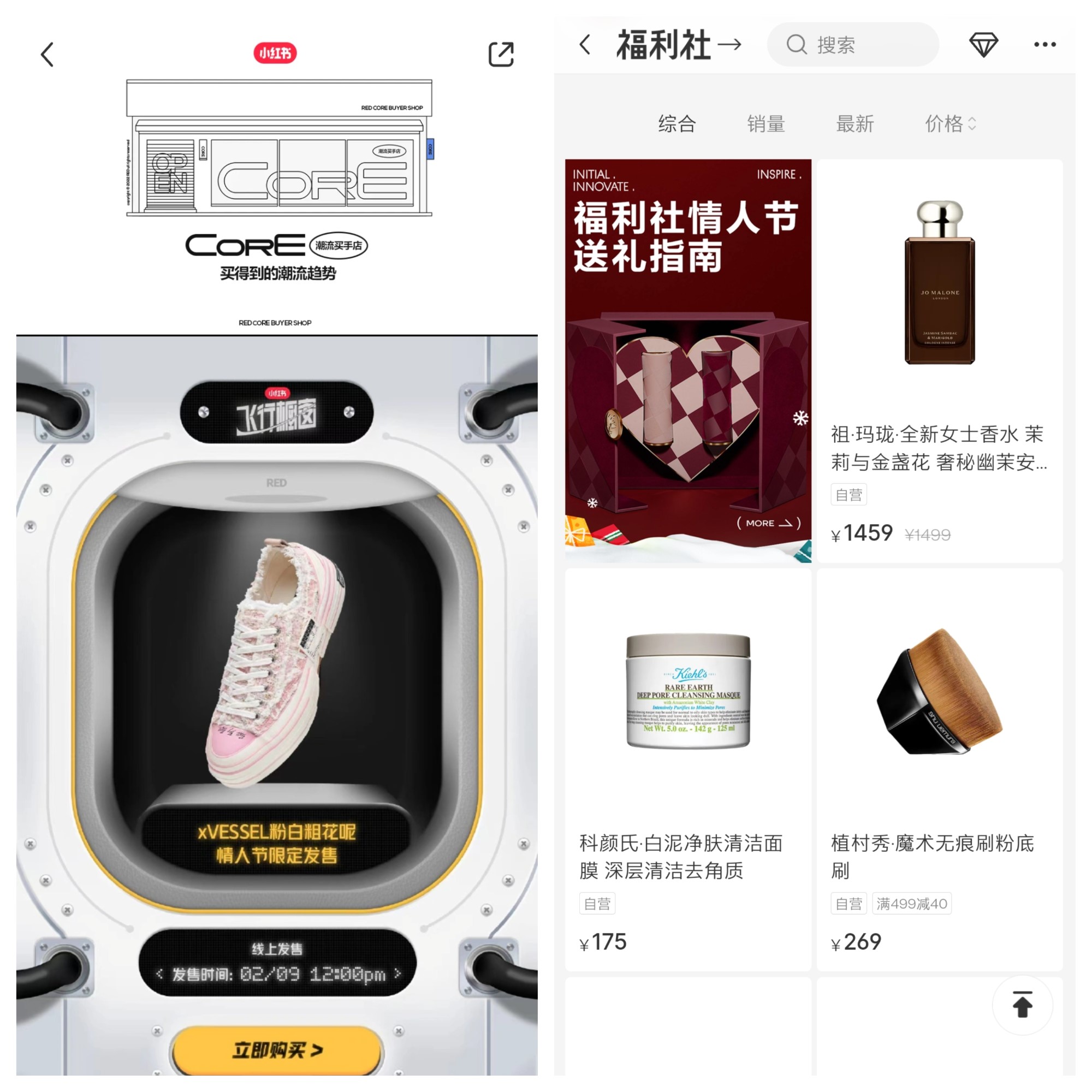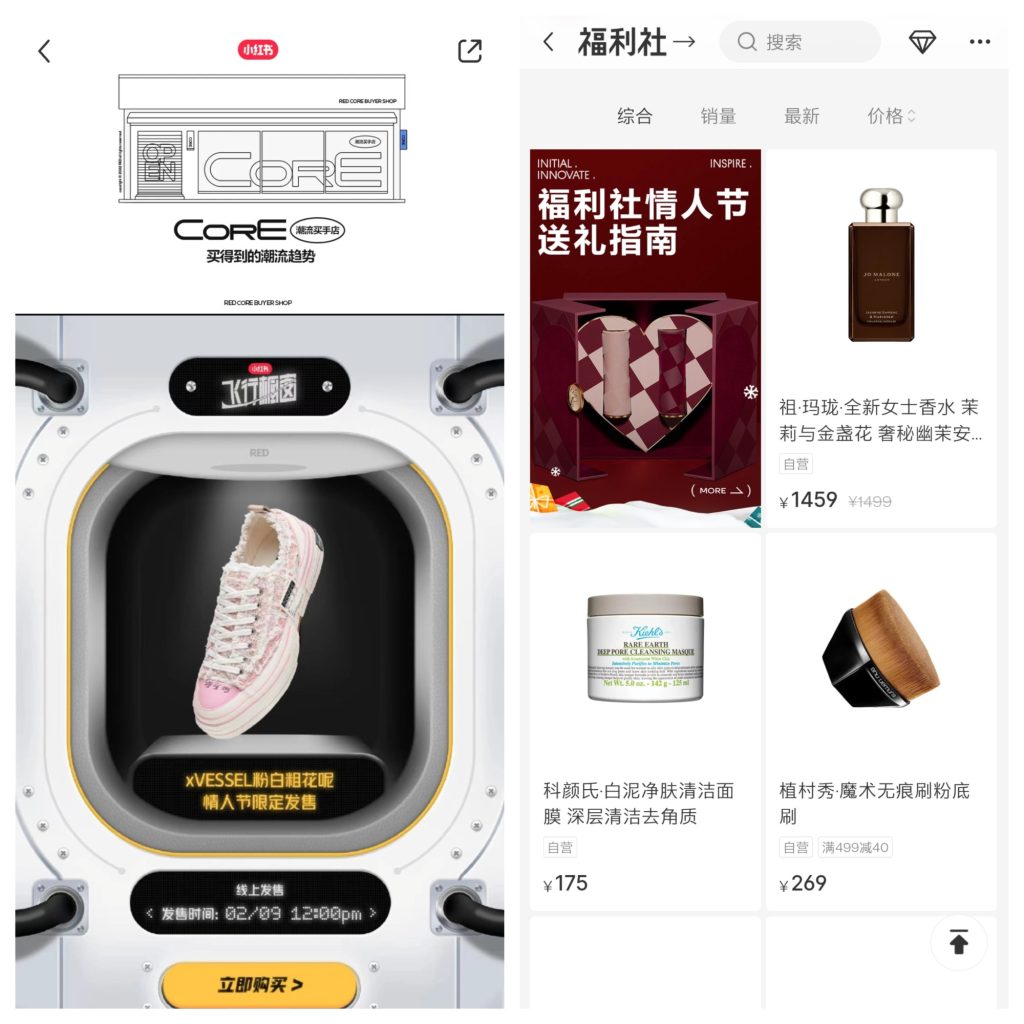 Tapping on a brand takes you to its shop page where you can browse the catalogue and product listings. XiaoHongShu shops may be self-operated by the platform or by 3rd-party sellers.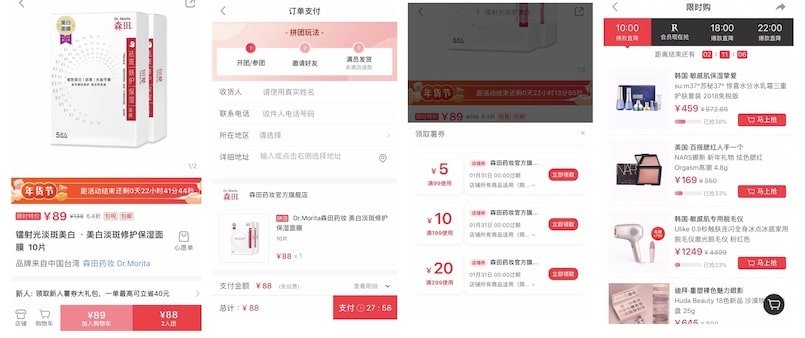 Credit: Dragonsocial.net
One of the key benefits of XiaoHongShu is the ability to read detailed user reviews about a product without having to leave the app. This makes it convenient compared to shopping on other online e-commerce platforms, which often involves searching for independent third-party reviews due to unreliable user reviews on the product page.
Like other e-commerce platforms, XiaoHongShu offers discounts, coupons and flash sales for their products. There's also a group-buying function that allows users to participate in mass group buys in order to save by purchasing in bundles. Customers have the option to add products to a cart or a wishlist, and can pay via Alipay or WeChat.
Learn How to Build and Advertise Your Brand on XiaoHongShu
We hope this article has been useful in providing you with a general overview XiaoHongShu and how to use its features.
As one of the fastest growing platforms not just within China, but amongst Chinese-speaking communities overseas — XiaoHongShu's unique brand of social commerce is proving to be a hit amongst its Millenial and Gen Z users. In fact, it's not uncommon for products endorsed by popular key opinion leaders on XiaoHongShu to be sold out immediately after a post!
Brands looking to capture the attention of Chinese-speaking Millenials and Gen Z communities would benefit greatly from learning how to promote themselves on XiaoHongShu. Social media marketers or managers can also take steps to futureproof their careers by familiarising themselves with the next big app.
Get hands-on experience with XiaoHongShu and learn from an industry expert who will teach you how to maximise your outreach efforts on Little Red Book. The XiaoHongShu course by FirstCom Academy is the fastest way for learners to go from zero knowledge to XiaoHongShu experts! Contact FirstCom Academy to register for the XiaoHongShu course 小红书课程.
Read also: