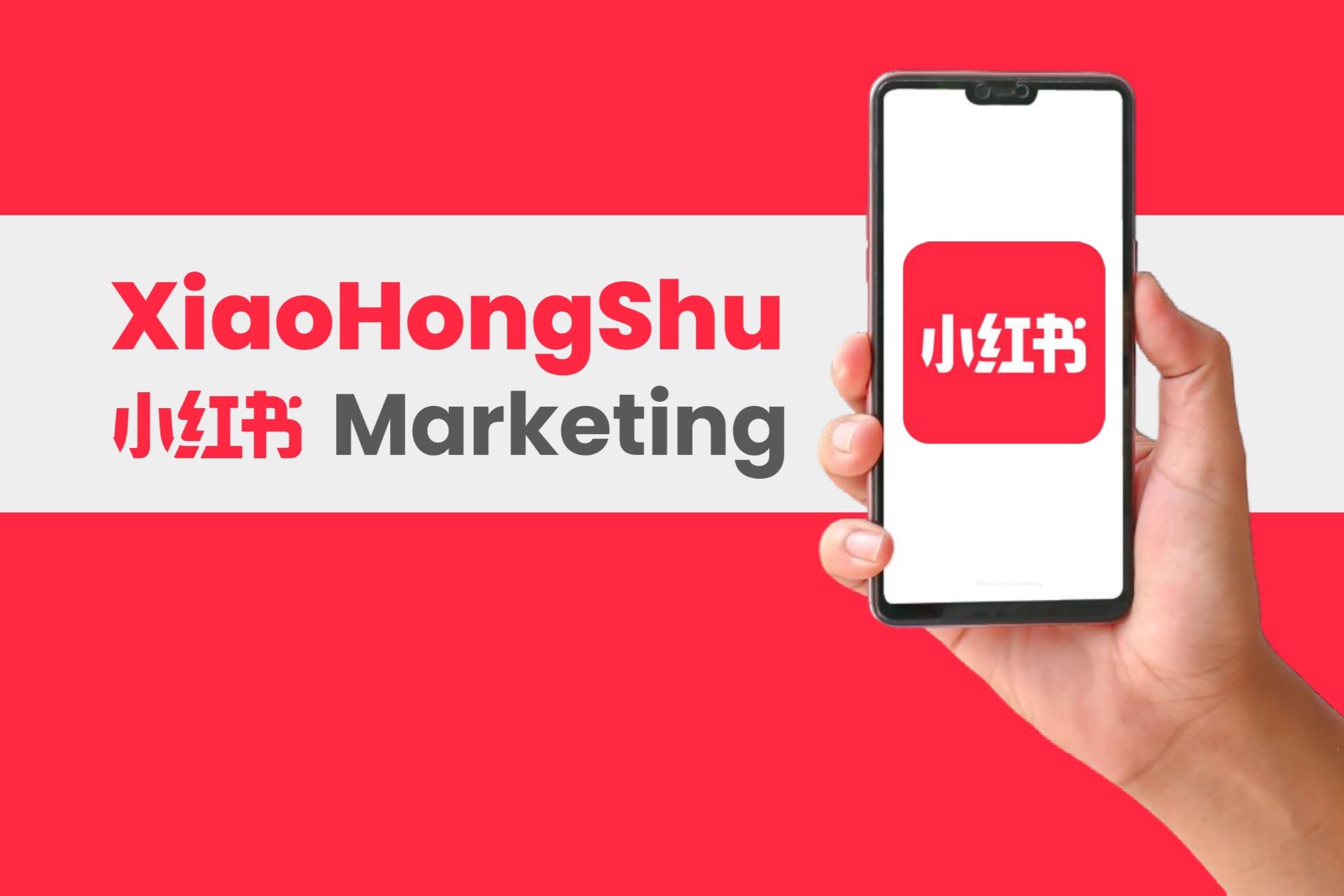 XiaoHongShu (小红书) or "Little Red Book" is China's 5th most popular social media app offering a unique blend of social media, content creation, product reviews and e-commerce shopping features. Often described as Pinterest, Instagram and a shopping platform in one, XiaoHongShu has comfortably carved a niche in China's competitive domestic app market.
Focusing on user-generated content (UGC) and transparency, XiaoHongShu has earned a reputation as a trusted platform for users to share and explore genuine product reviews and recommendations. As a result, XiaoHongShu marketing revolves around collaborations with key opinion leaders (KOLs), key opinion consumers (KOCs) as well as word-of-mouth marketing.
With millions of active users and a vibrant community centered around beauty, fashion, and lifestyle, XiaoHongShu has become the go-to platform for brands seeking to connect with young Chinese female consumers in their 20s and 30s with significant purchasing power. And because you can shop directly from the app, many local and foreign brands are wasting no time in establishing their presence on the platform, recognising the immense potential of Little Red Book eCommerce in converting marketing traffic to sales.
In this article, we'll cover everything you need to know about XiaoHongShu marketing and Little Red Book eCommerce through a series of intriguing case studies and examples. From creative content strategies to impactful collaborations with influencers, as well as shrewd strategies to boost sales, join us as we explore the distinctive qualities that set XiaoHongShu marketing apart from other social media platforms, and how you can achieve success in capturing the hearts and minds of its users.
What Makes XiaoHongShu Marketing and eCommerce Different from Other Social Media Platforms?
XiaoHongShu sets itself apart from other social media platforms through a range of distinctive features and functionalities that seamlessly merge social engagement with e-commerce capabilities.
Unique Combination of Social Media and E-commerce Functionalities
Unlike traditional social media platforms, XiaoHongShu goes beyond content sharing and interaction by integrating e-commerce functionalities with its social media features. Within the app, users can seamlessly browse and purchase products, transforming the platform into a one-stop shop for both content discovery and online shopping.
Emphasis on User-Generated Content, Reviews, and Recommendations
One of XiaoHongShu's key strengths lies in its emphasis on UGC, creating an ecosystem where users actively contribute product reviews, recommendations, and personal experiences. With Chinese consumers highly valuing word-of-mouth recommendations, XiaoHongShu becomes a trusted source for reliable and unbiased information.
Integration of KOL Marketing and Influencer Collaborations
A recent survey on Chinese consumer behaviour found that 49% of consumers depend on KOL recommendations for their purchase decisions. XiaoHongShu marketing thrives on the influence of KOLs and KOCs. Strategic collaborations with these influencers help brands amplify their reach and credibility. By partnering with influential KOLs, brands gain access to a ready-made audience and leverage their expertise as well as loyal following to drive engagement and conversions.
Seamless In-App Shopping Experience and Direct Purchase Options
XiaoHongShu offers a seamless in-app shopping experience, benefiting both brands and users. Users can effortlessly discover, explore, and purchase products without the need to navigate to external websites. The power behind the success of Little Red Book eCommerce is a streamlined process that enhances user convenience and expedites the path to purchase, creating a frictionless shopping experience that results in higher conversion rates.
Thriving Social Commerce Community
XiaoHongShu fosters a thriving social commerce community where users actively engage and share content with one another. The platform enables content sharing on external platforms like Weibo and WeChat, further maximising brand exposure. Its recommendation algorithm creates personalised homepages and an "Explore" page, ensuring that your brand's content is presented to interested users, driving increased conversion and sales. Moreover, XiaoHongShu users are highly dedicated, using the app multiple times a day, which presents ample opportunity to build brand awareness with well-managed XiaoHongShu marketing techniques.
XiaoHongShu Marketing Case Study: Perfect Diary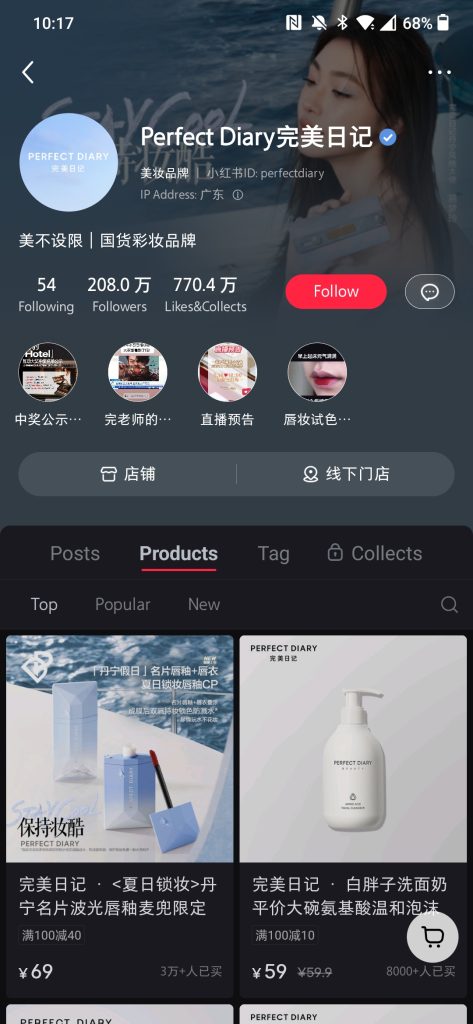 About Perfect Diary
Perfect Diary is a Chinese budget cosmetics brand founded in 2015 that achieved a meteoric rise to become one of China's top-selling cosmetics brands in just four years, competing with well-known global cosmetic brands like L'oreal. Today, Perfect Diary's XiaoHongShu page has over 2 million followers, over 770 million likes and bookmarks.
Perfect Diary's XiaoHongShu Marketing KOL Mix
In an analysis of Perfect Diary's Daydream product launch campaign on XiaoHongShu, Chinese marketing agency WalkTheChat found that the brand engaged over 150 KOLs using a "pyramid" structure — which means that they collaborated with a combination of a few top-tier KOLs with over 100k followers and lots of smaller KOLs with only a few hundred or thousand followers.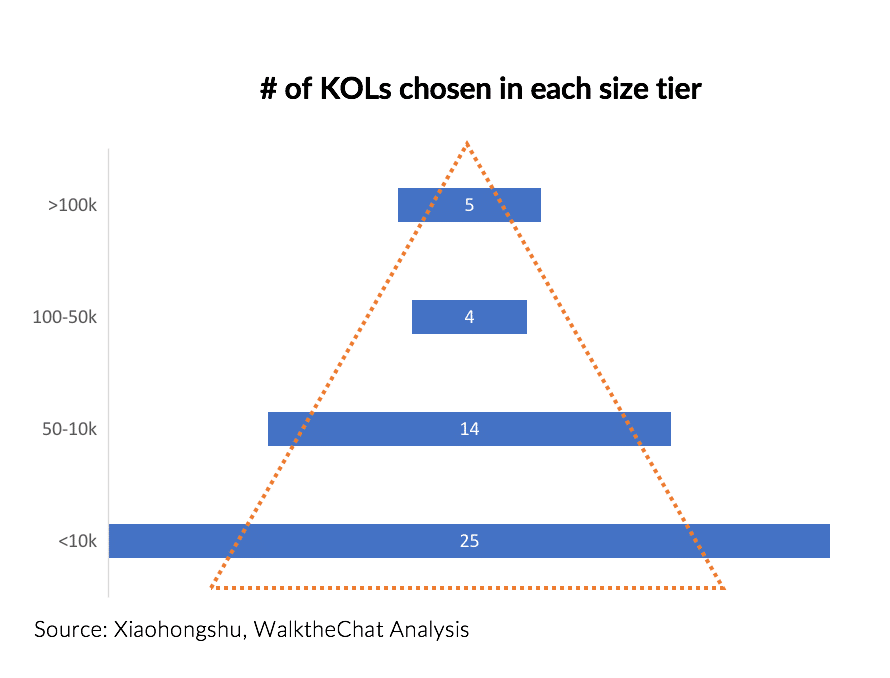 Why did Perfect Diary choose to engage a number of KOLs with a wide range of followers? The reason is because XiaoHongShu employs a content distribution algorithm that allows users to discover content from accounts they don't follow on their news feed. This makes it so that posts with high engagement are more likely to go viral on the platform, even if the post is from a user with a small following. Perfect Diary's XiaoHongShu marketing strategy to engage KOLs from multiple tiers enabled the brand to optimise its marketing efforts and reach a wider audience.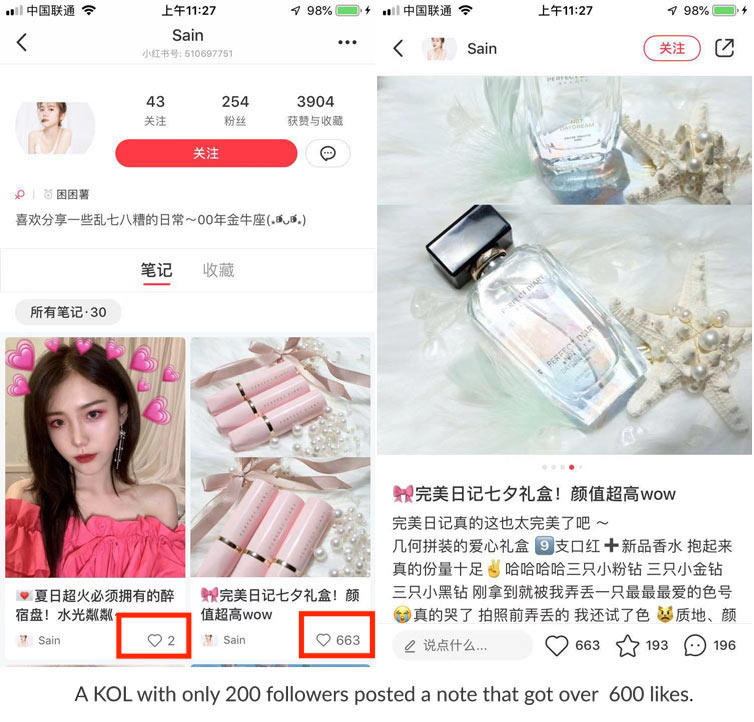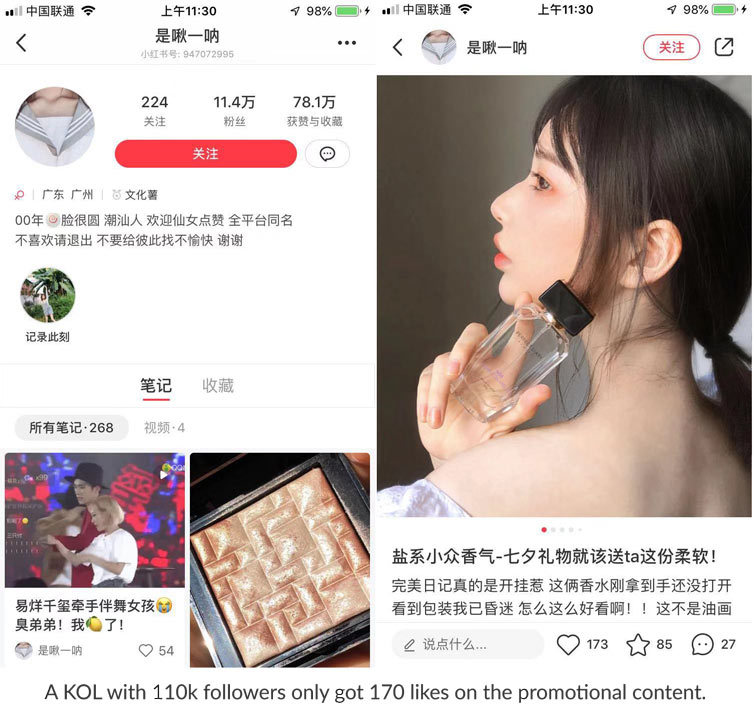 This was clearly demonstrated during the campaign when a KOL with only 200 followers published a note that received over 600 likes, while another KOL with over 110k followers received just 170 likes on her promotional content.
Perfect Diary's Content and Little Red Book eCommerce Strategy
In order to increase engagement for their Daydream campaign, Perfect Diary made use of one of XiaoHongShu's best marketing features — a lucky draw system built into the app. The brand encouraged users to participate by following, bookmarking and liking the campaign content in order to win a prize, increasing views and participation.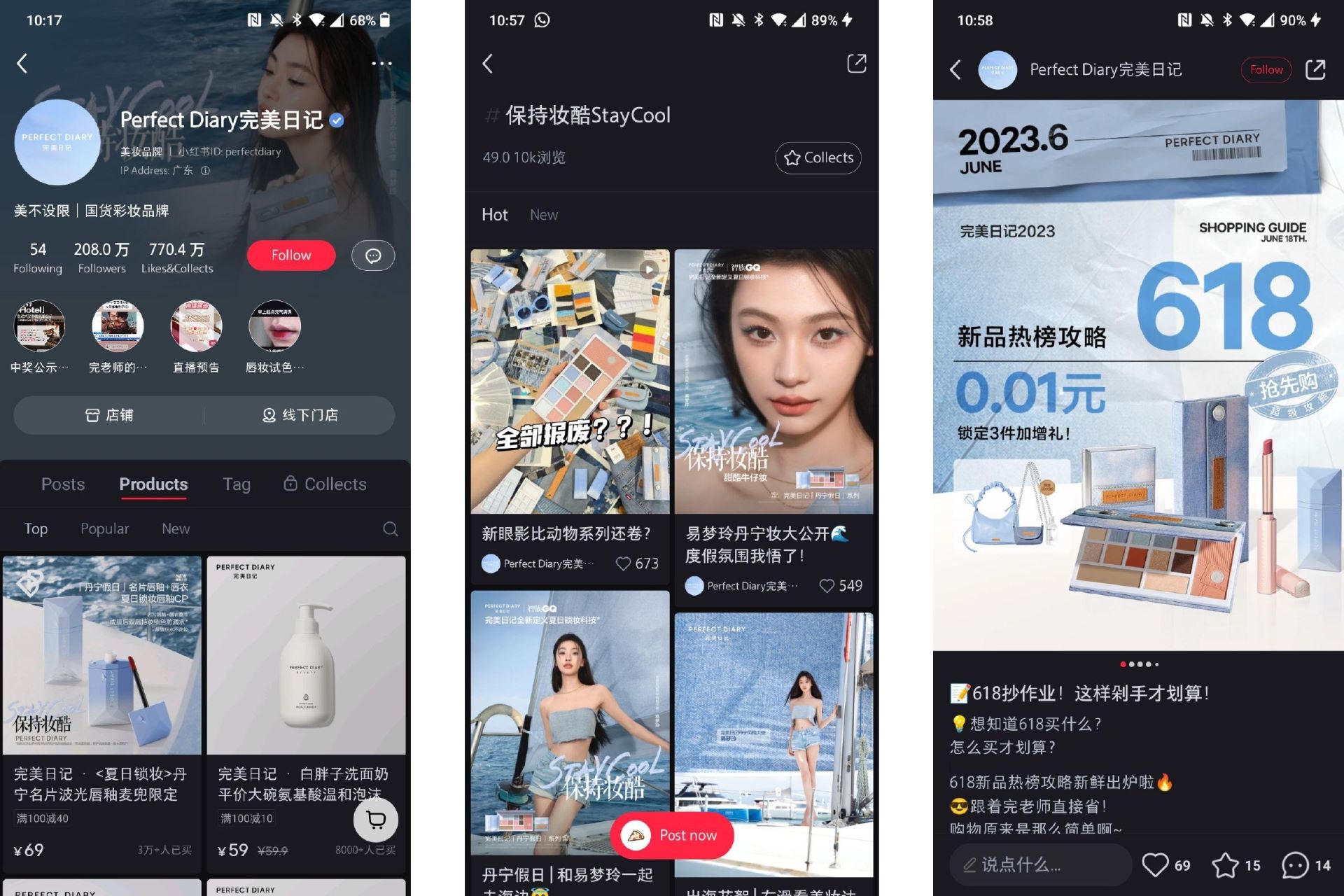 When implementing its Little Red Book eCommerce strategy, Perfect Diary tends to feature its top-selling products on their XiaoHongShu store. This approach is evident in their promotional campaign for the "Stay Cool" line of cosmetic products, where the brand specifically focused on a select number of SKUs and highlighted the flagship product from the line on their XiaoHongShu store. This strategy reduces distractions and helps keep sales focused on fewer SKUs, which can be especially helpful to increase conversions and momentum from a promotional campaign.
While only the top-selling products are featured on its XiaoHongShu store, Perfect Diary also directs traffic generated via promotional campaigns to its official stores on other Chinese shopping platforms if the customer wishes to purchase other products. However, this may not be an option for overseas brands that only have a presence on XiaoHongShu.
XiaoHongShu Marketing Case Study: Innisfree
About Innisfree
Innisfree is a popular Korean skincare brand known for its natural and responsibly sourced beauty products. With a strong presence in the Chinese market, the brand has strategically leveraged XiaoHongShu to implement an effective marketing strategy that aligns with its XiaoHongShu shop page, driving direct product sales on the platform.
Innisfree's XiaoHongShu Marketing: KOL Collaborations and User-Generated Content
Innisfree fully understands the influence of KOLs and UGC on XiaoHongShu. To drive product awareness and sales, the brand frequently collaborates with popular beauty KOLs who have a strong following and expertise in skincare. These KOLs create content that promotes Innisfree products and encourage their followers to make purchases through the XiaoHongShu shop page.
Additionally, Innisfree actively encourages their customers to share their Innisfree skincare routines, product reviews, and experiences using specific product or brand hashtags on XiaoHongShu. By showcasing real customers' positive UGC, Innisfree builds brand credibility and encourages potential customers to make direct purchases on their XiaoHongShu shop page, where they can find the products featured in the UGC.
Innisfree's XiaoHongShu Marketing: Capitalising on Trending Topics and Beauty Tips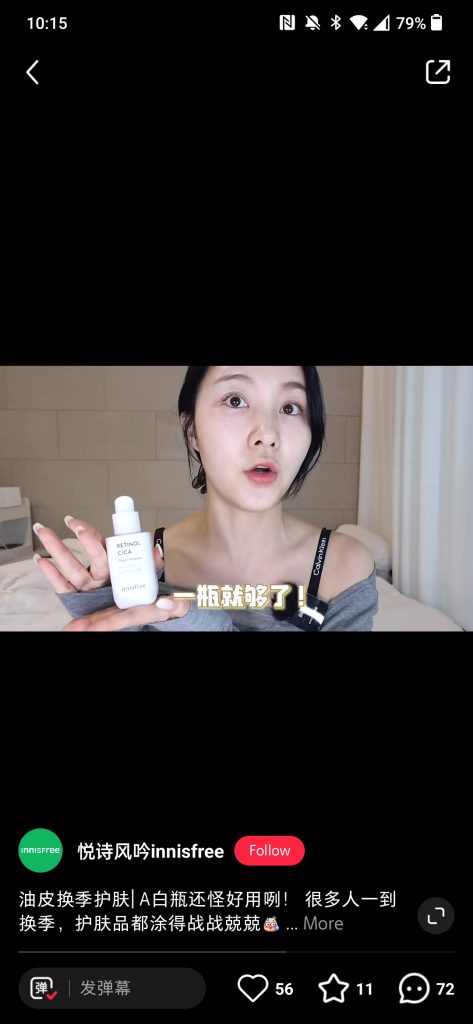 Innisfree keeps a pulse on trending topics and beauty tips within the skincare community on XiaoHongShu. The official page is where XiaoHongShu users can go for information on the latest Innisfree product launches, as well as product reviews or beauty tips using Innisfree products from KOLs. The brand reposts these reviews on its profile page to gain additional awareness and highlight social proof.
By aligning their marketing efforts with the interests and needs of their target audience on XiaoHongShu, Innisfree increases the likelihood of direct product purchases on its shop page. Customers are more inclined to explore and buy products directly when the content they engage with addresses their specific skincare concerns and provides relevant solutions.
Innisfree's Little Red Book eCommerce Strategy
Innisfree strategically curates their XiaoHongShu shop page to feature its top-selling or top-promoted product at the time. Additionally, the highlighted products are typically discounted, creating a sense of urgency to encourage users to take advantage of the limited-time offers and make direct purchases after reading a review.
By showcasing and discounting its most popular and sought-after skincare items, Innisfree creates a compelling shopping experience for XiaoHongShu users. Customers can easily discover and get a good deal on the brand's flagship products directly from the shop page, streamlining the path to purchase and increasing conversion rates.
XiaoHongShu Marketing Case Study: GANNI
About GANNI
GANNI is a Danish fashion brand known for its Copenhagen style and contemporary designs. While initially focused on markets in Scandinavia, EMEA, and North America, GANNI had minimal presence and sales in the Asian market, contributing only 3% to their total revenue.
GANNI's XiaoHongShu Marketing: Capitalising on Unintentional Buzz among Chinese Fashionistas
Despite not actively targeting the Chinese market, GANNI caught the attention of Chinese fashion enthusiasts. These fashion-forward individuals sought out labels that were not readily available in China, giving them a sense of exclusivity and uniqueness.
These Chinese fashion KOLs on XiaoHongShu played a significant role in the organic promotion of GANNI among Chinese fashionistas. Thousands of organic posts featuring GANNI products were shared on the platform, creating a buzz without any direct marketing effort from the brand.
GANNI's XiaoHongShu Marketing: Official Entry into the Chinese Market and Harnessing Momentum
Recognising the growing popularity and demand for their brand in China, GANNI decided to establish an official presence on Chinese social media platforms. In 2021, they launched official accounts on Weibo, WeChat and XiaoHongShu, intending to sell their products online to tap into the lucrative Chinese market.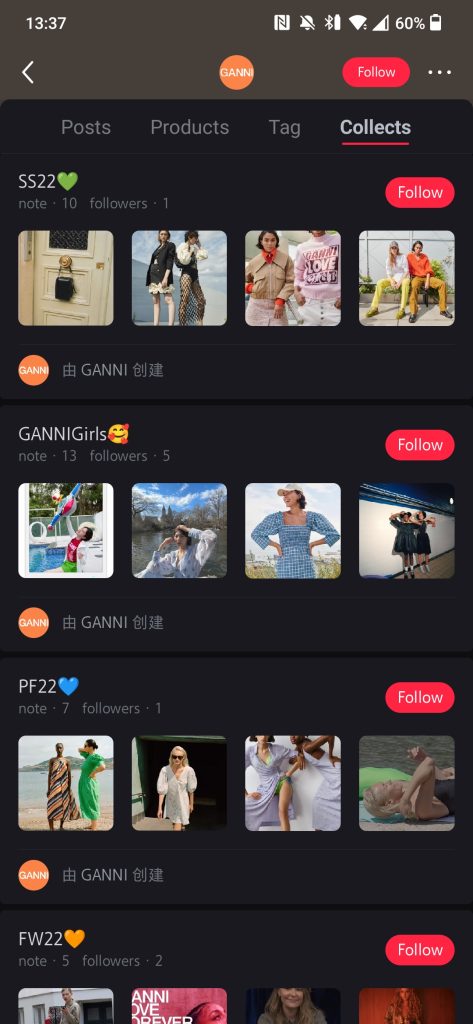 By embracing their newfound popularity amongst Chinese fashionistas on various social platforms, GANNI capitalised on the existing buzz and anticipation. On XiaoHongShu, the official brand profile was a way to connect directly with their Chinese audience, sharing updates and showcasing their latest collections. They also created collection specific hashtags and created #GANNIGirls as a way for their customers to identify themselves as wearers of the brand — adding these hashtags to their profile's "Collects" page to make it easy for fans to find.
GANNI's Little Red Book eCommerce Strategy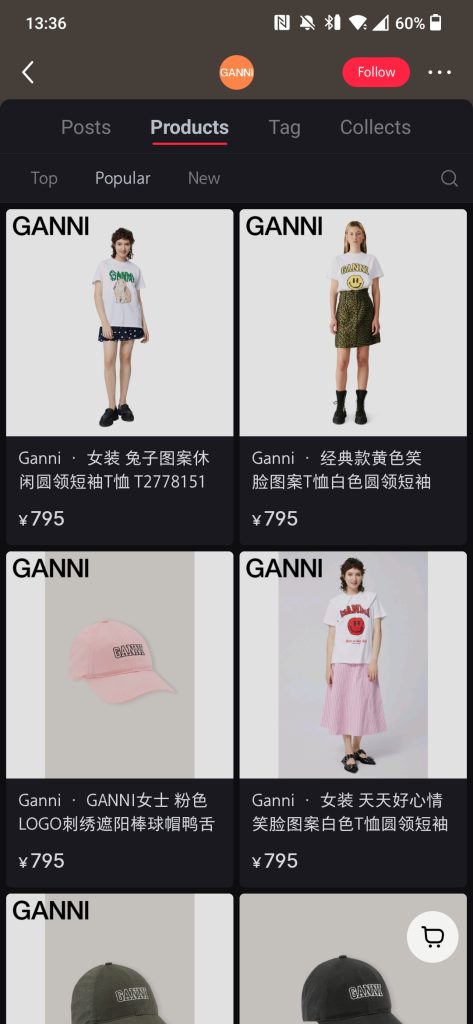 To provide a seamless shopping experience for Chinese consumers, GANNI launched their official store on XiaoHongShu and other Chinese shopping platforms. This move enabled them to turn their brand awareness momentum on social media into sales. Capitalising on the buzz created by KOL reviews to encourage consumers to shop directly from their XiaoHongShu store.
Learn XiaoHongShu with FirstCom Academy
XiaoHongShu is a unique and highly effective platform for marketing and eCommerce, bridging the gap between social media engagement and direct product sales. Through social interaction, user-generated content, influencer collaborations, and seamless in-app shopping experiences, brands that know how to combine XiaoHongShu marketing and Little Red Book eCommerce techniques can tap into the vast potential of engaged users on XiaoHongShu.
The case studies we've discussed in this article demonstrate the successful strategies employed by brands on XiaoHongShu. Whether it's leveraging KOL collaborations, showcasing user-generated content and reviews, or focusing on top-selling products, these brands have effectively aligned their marketing efforts with their XiaoHongShu shop pages to drive awareness, engagement, and direct purchases.
As a reader, we encourage you to explore and consider implementing similar approaches for your own brand on XiaoHongShu. By understanding the unique features and functionalities of the platform and tailoring your marketing strategies to its audience, you can unlock the immense potential for growth and success.
To gain further expertise and hands-on learning about XiaoHongShu, we invite you to enroll in FirstCom Academy's Social Media Advertising Programme, which includes a module on XiaoHongShu. The Marketing on XiaoHongShu course (小红书课程) is a comprehensive 2.5-day course that will provide you with in-depth insights, practical techniques, and strategies to raise your brand awareness on the platform and establish a presence amongst Chinese-speaking consumers!
Read also: