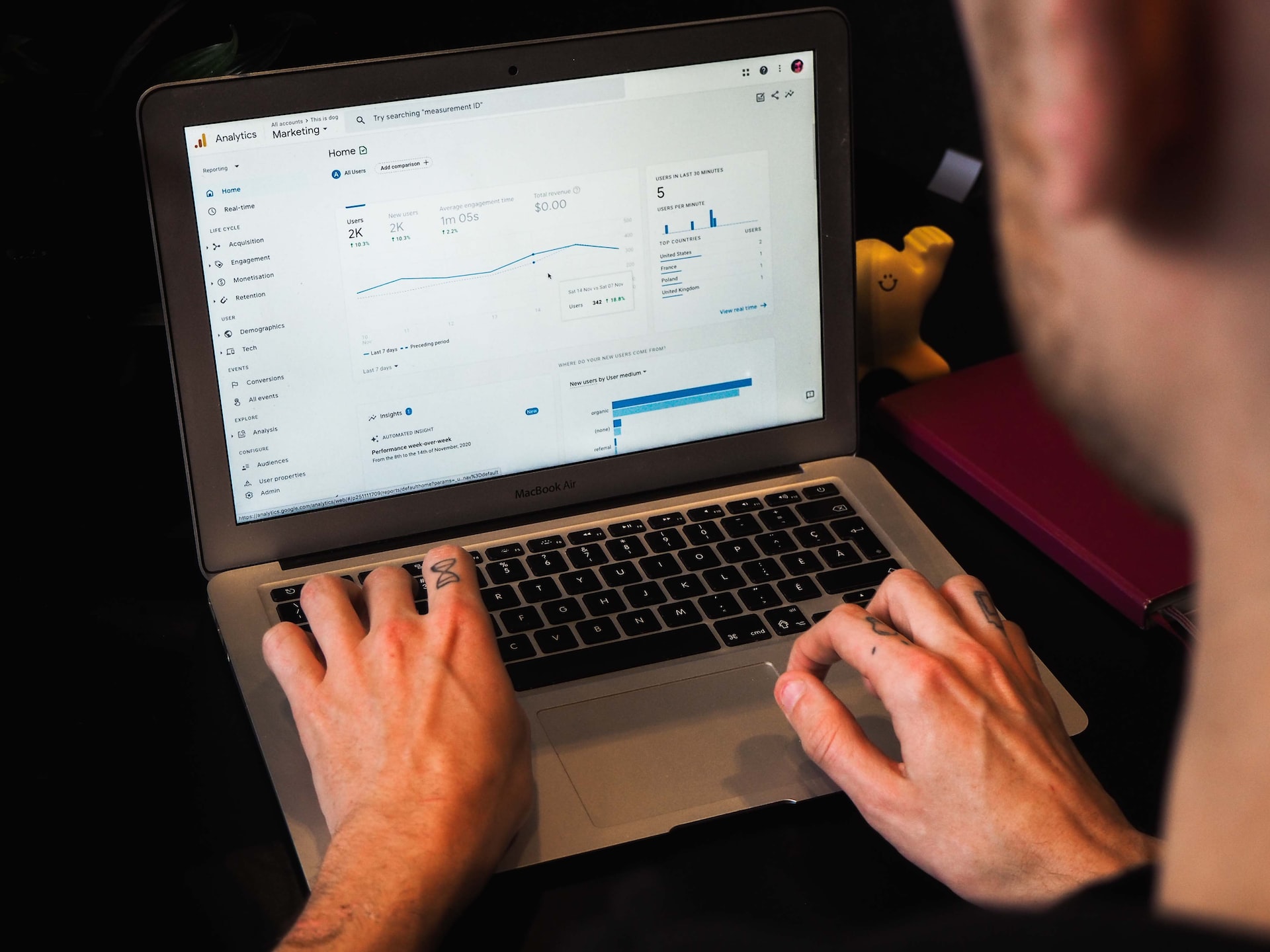 Google Analytics (GA) is a free web analytics service offered by Google that tracks and reports data across websites or apps. It is a feature-rich powerful tool that can help businesses better understand customer behaviour and improve their marketing efforts. However, it is not uncommon for complete beginners to be completely overwhelmed when it comes to learning Google Analytics from scratch.
We've scoured the internet to bring you eight of the best free and paid Google Analytics training certification courses that will provide you with structured ways to quickly pick up the basics and even develop advanced skills to improve your career opportunities.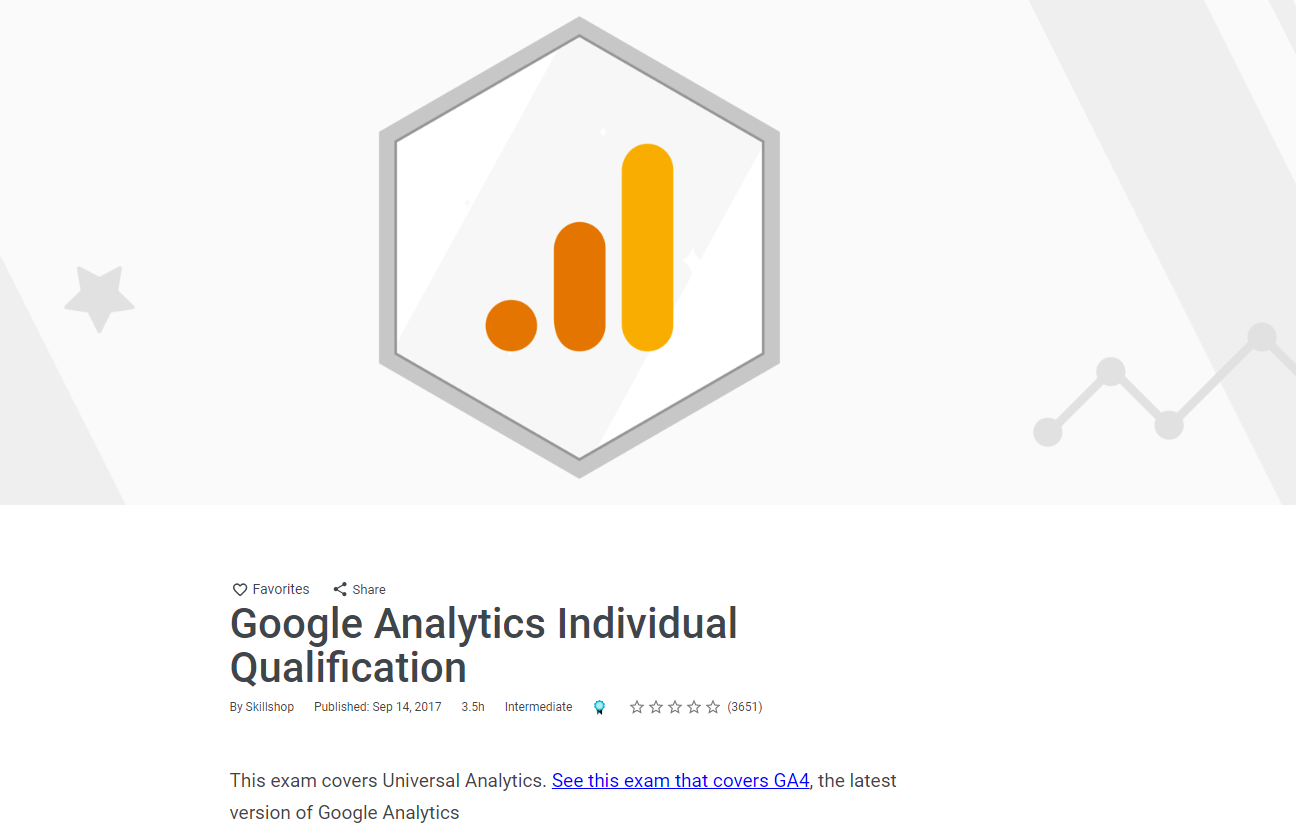 #1: [FREE] Google Analytics Individual Qualification on Google Skillshop
Get your Google Analytics certification straight from the source with Google Skillshop — a training platform anyone can use to develop skills for Google's workplace tools.
The Google Analytics Individual Qualification is a Google Analytics course which covers Universal Analytics, which will continue to be relevant until it is phased out on 1 July 2023. The total runtime of the course is 3 hours with 2 hours of lessons and a 1-hour assessment you'll need to pass in order to meet certification requirements.
Attending and passing this GA certification course demonstrates your understanding of GA's basic and advanced concepts including planning and principles; implementation and data collection; configuration and administration; conversion and attribution; reports, metrics and dimensions.
Is it worth pursuing? Definitely. This is a free GA course that will only cost you time, and adding a recognised Google Analytics certification to your resume can significantly increase job opportunities.
Explore the Google Analytics Individual Qualification.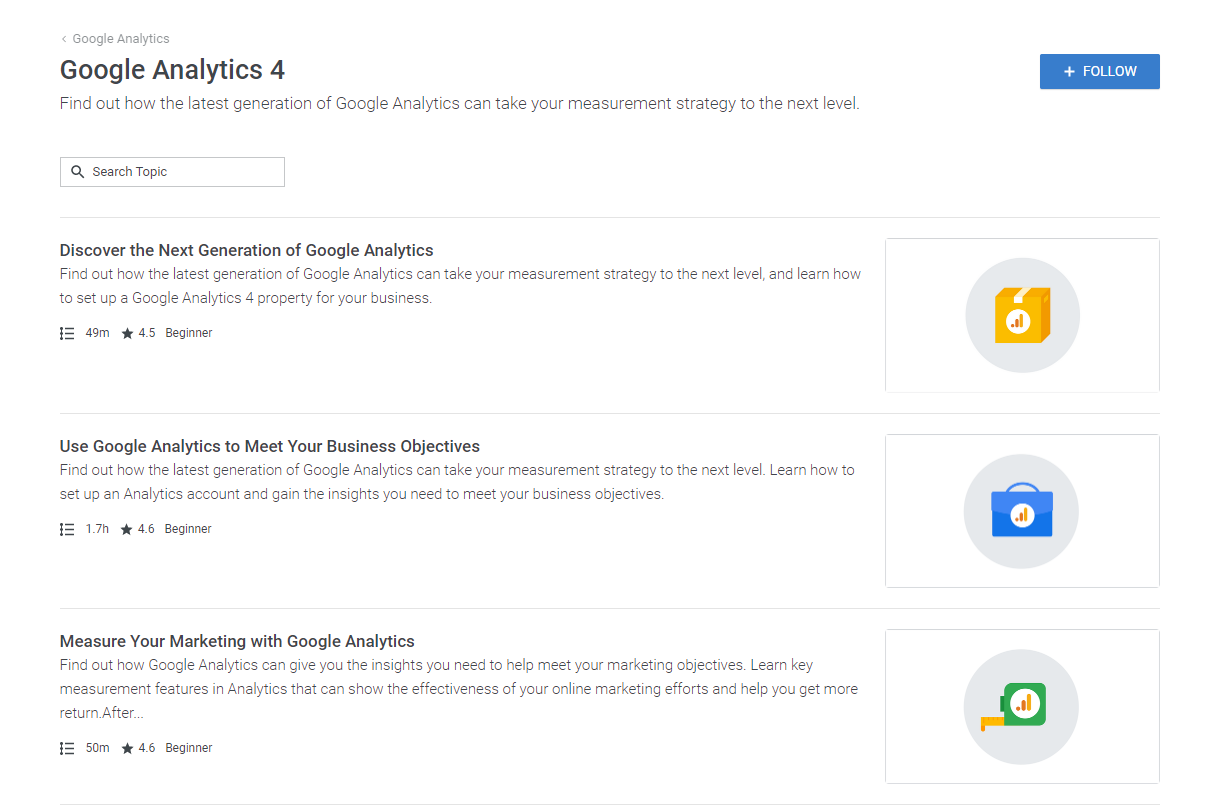 #2: [FREE] Google Analytics 4 on Google Skillshop
The next Google Analytics course from Skillshop you should consider is Google Analytics 4. As GA4 is the next generation of analytics, this free GA course contains more modules and can be more time-consuming to complete.
GA4 on Skillshop consists of five modules with a total estimated runtime of 8 hours and 45 minutes with a 1-hour assessment. You don't need to have prior Universal Analytics experience or Google Analytics training to understand the course material. From set-up to basic navigation, measurement features and data management — it's a structured way to take you from beginner to advanced user.
Attending and passing this GA certification course demonstrates your understanding of GA4. It certifies your ability to set up GA4 for a website or an app; collect data for business; use GA4's reporting tools and features; recognise key measurement features that show the effectiveness of your online marketing efforts.
There will be plenty of demand for GA4 skills when Google officially transitions from Universal Analytics. We think it is certainly worth pursuing a certification with GA4 on Skillshop to get noticed by prospective employers and put yourself ahead of the curve.
Explore the Google Analytics 4 on Google Skillshop.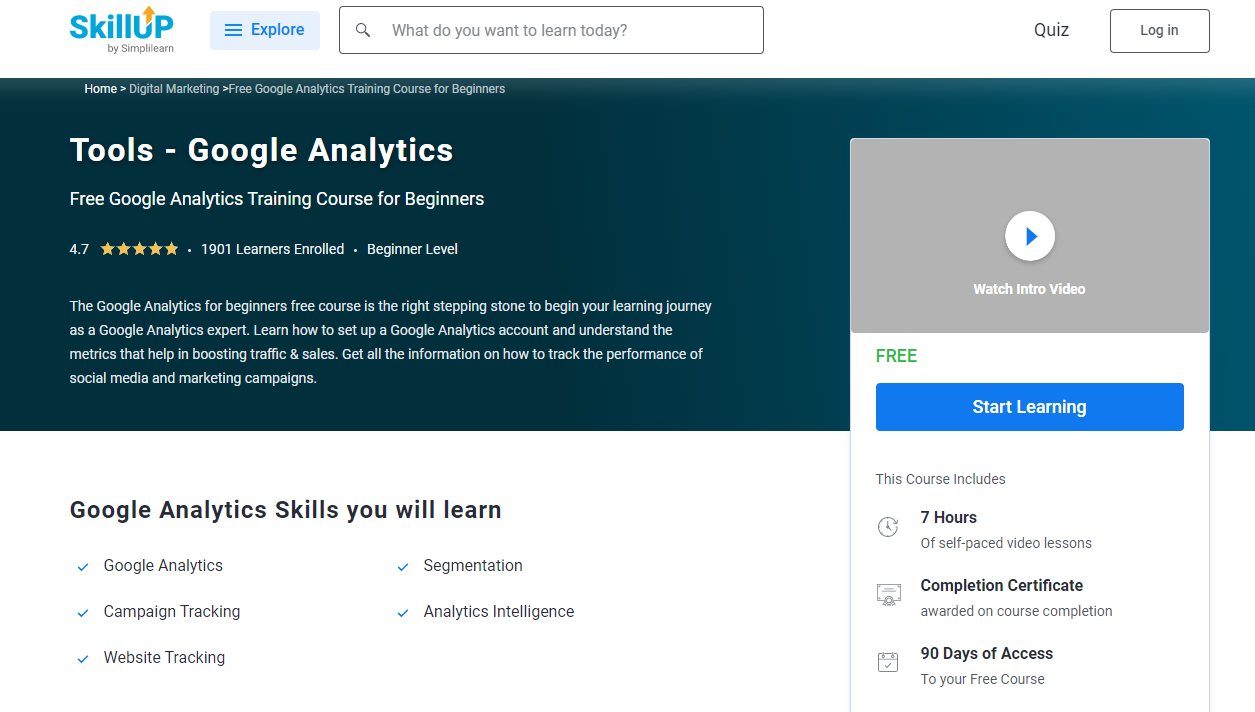 #3: [FREE] Simplilearn Google Analytics Course for Beginners
Looking for a free GA course that's self-paced and clearly structured? Simplilearn's Google Analytics course might be for you.
Developed by the Simplilearn SkillUp team, this GA certification course is designed to be a stepping stone for learners who have never used Google Analytics. The course consists of 7 hours of self-paced video lessons and learners will be awarded a completion certificate at the end. There are 16 lessons in total covering topics like campaign tracking, website tracking, data segmentation and analytics intelligence.
Simplilearn is a well-known online course provider for digital economy skills, so a certification from them shows employers that you know how to set up a Google Analytics account and understand the basics of tracking relevant metrics for campaign performance, traffic and sales.
Explore the Simplilearn Google Analytics Course for Beginners.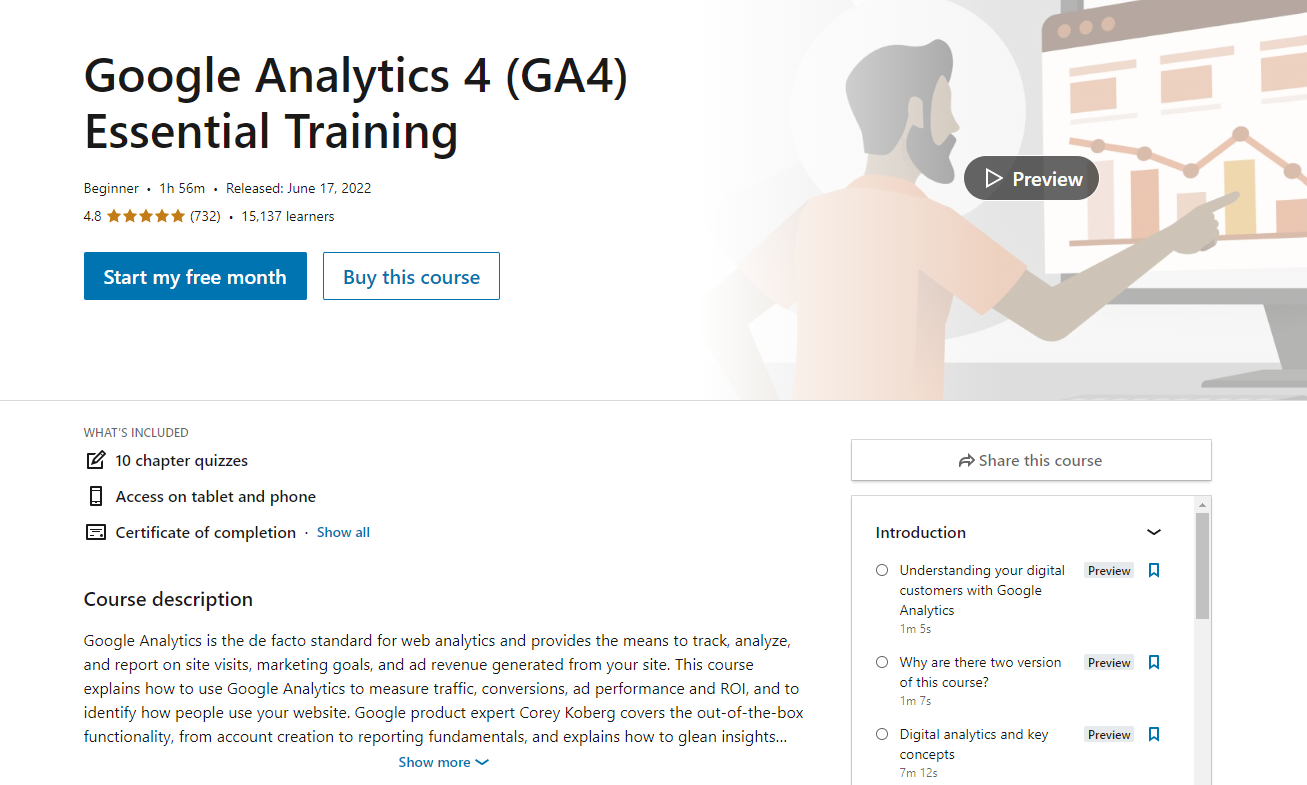 #4: [$39.99] LinkedIn Learning: Google Analytics 4 (GA4) Essential Training
LinkedIn Learning is an excellent online educational platform with plenty of expert-led courses on a variety of topics. Since LinkedIn's user base consists of professionals, you can be sure that their highly-rated courses contain content that is highly regarded and relevant to people from the industry.
Out of all the GA training courses on LinkedIn Learning, Google Analytics 4 Essential Training by Corey Koberg is the highest rated at 4.8 stars out of 724 reviews and almost 15k learners. Corey Koberg is a certified AdWords trainer who is also the creator of LinkedIn Learning's most popular Universal Analytics course.
In his Google Analytics course, Corey teaches learners how to use Google Analytics to measure traffic, conversions, ad performance, and ROI. He covers everything from account creation to reporting fundamentals and explains how to glean insights from the vast array of data available in an easy-to-understand and actionable way.
The course can be purchased for a one-time fee of $39.99 or accessed with a LinkedIn Learning subscription. The total runtime is estimated to be 2 hours long. At the end of the course, you'll receive a LinkedIn Learning Certificate of Completion you can download as a PDF or showcase on your LinkedIn profile.
If you want to learn from a professional trainer, explore Corey's Google Analytics 4 (GA4) Essential Training on LinkedIn Learning.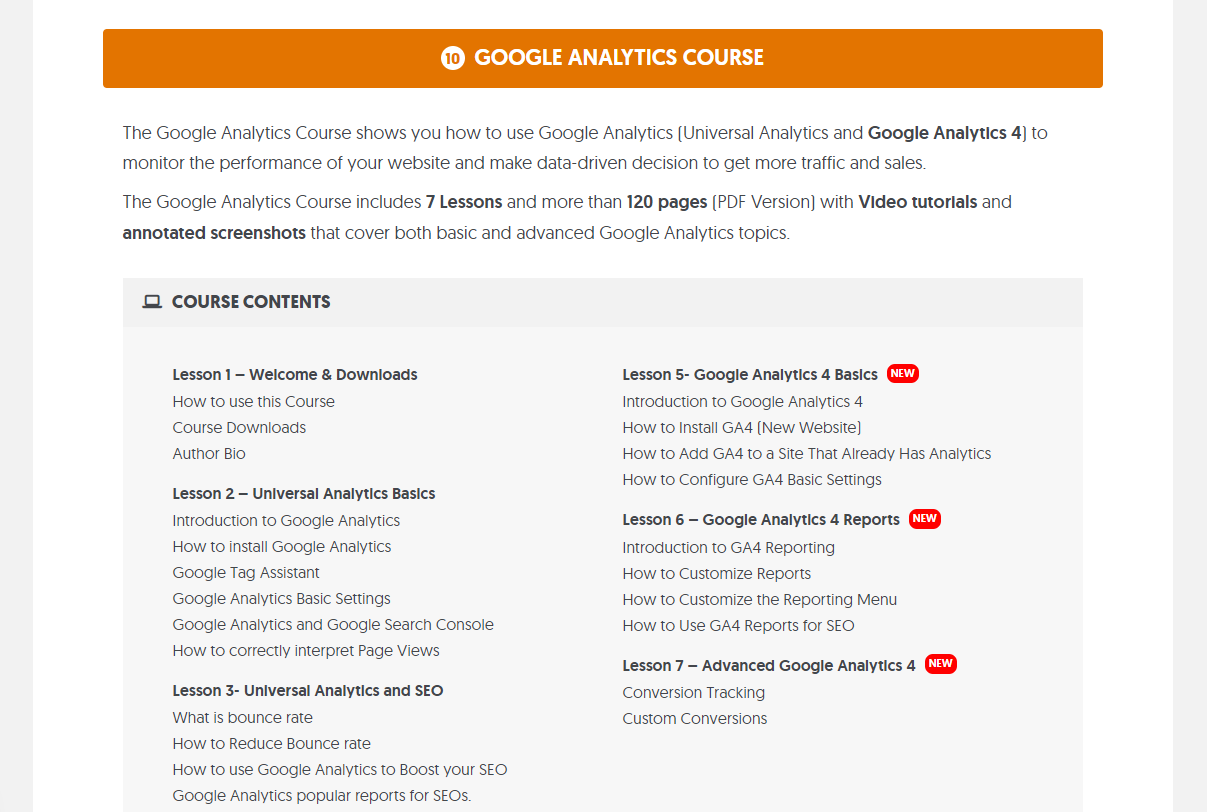 #5: [$119] Reliablesoft Academy: Google Analytics Course
Reliablesoft Academy's Google Analytics course is one of the few GA training courses available that covers both Universal Analytics and Google Analytics 4.
The course consists of seven lessons with video tutorials and annotated screenshots that cover basic and advanced Google Analytics topics. It is also available in a downloadable PDF version with over 120 pages.
Topics covered include:
Google Analytics Basics
Google Analytics and SEO
Advanced Google Analytics
Google Analytics 4 Basics
Google Analytics 4 Reporting
Google Analytics 4 Reports
Advanced Google Analytics 4
Reliablesoft does not offer a specific Google Analytics certification, but the course is part of their overall digital marketing course bundle. Upon completing the bundle and passing the respective final exams, you'll receive an SEO and Digital Marketing Certification from Reliablesoft to add your CV and open up new career opportunities.
Explore Reliablesoft's Google Analytics Course.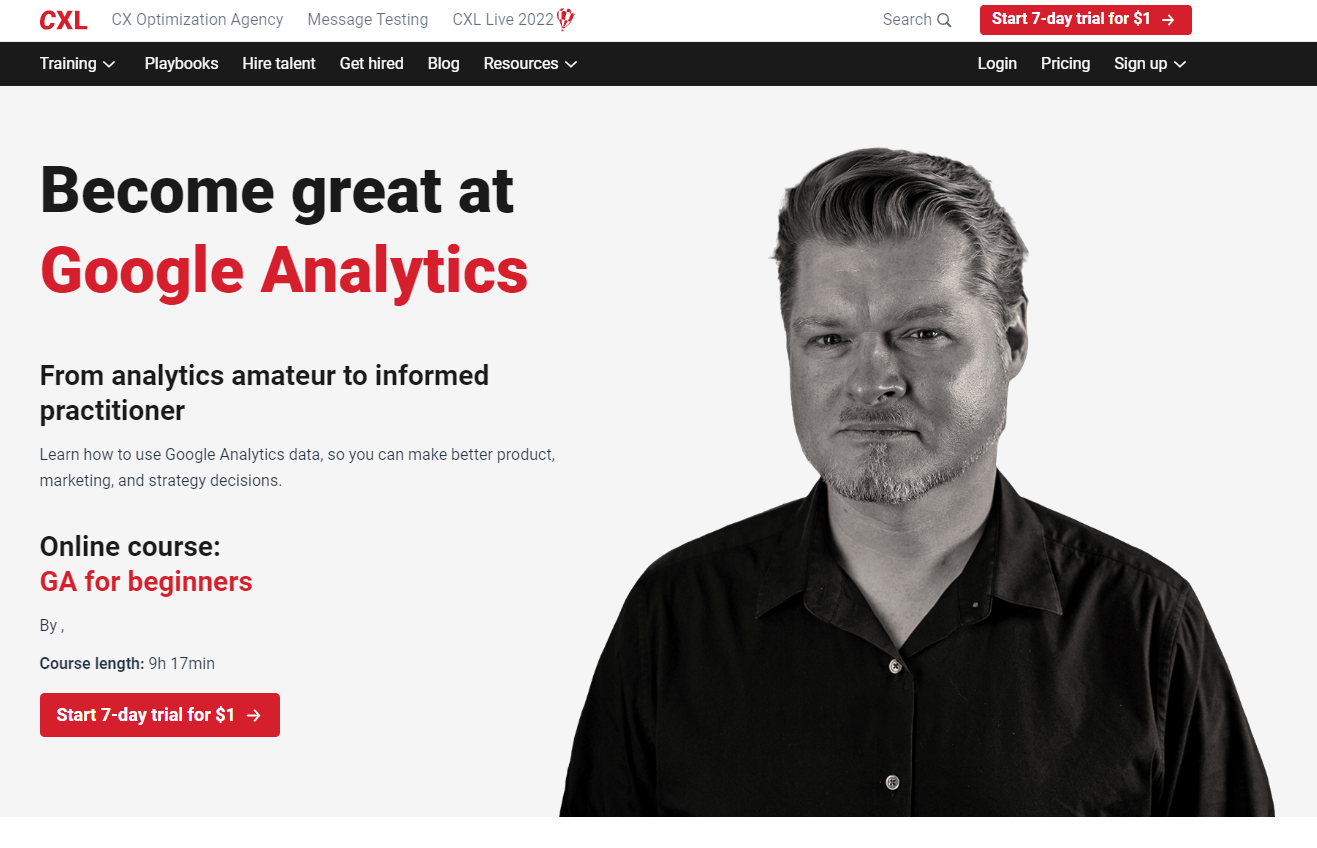 #6: [$331/mth] ConversionXL Institute: Google Analytics (GA) for Beginners
ConversionXL or CXL promises to help learners overcome the learning curve and go from analytics amateur to informed practitioner. Their Google Analytics course is designed for learners struggling to learn from Google or how-to blog posts.
The course runtime is 9h 17min and is split into four sections:
Getting to Know Google Analytics
Getting Started with Google Analytics
Understanding Traffic
Understanding Results
CXL's Google Analytics training programme will teach you how to navigate the GA interface, read data to understand your visitor trends and develop a meaningful strategy to improve business. To access the course, you'll need a subscription that costs $331/mth. This subscription also gives you access to CXL's full course catalogue on other digital marketing topics.
After you've completed the course, you'll receive a Certificate of Achievement from CXL and the ability to join their alumni network.
Explore CXL's Google Analytics (GA) for Beginners.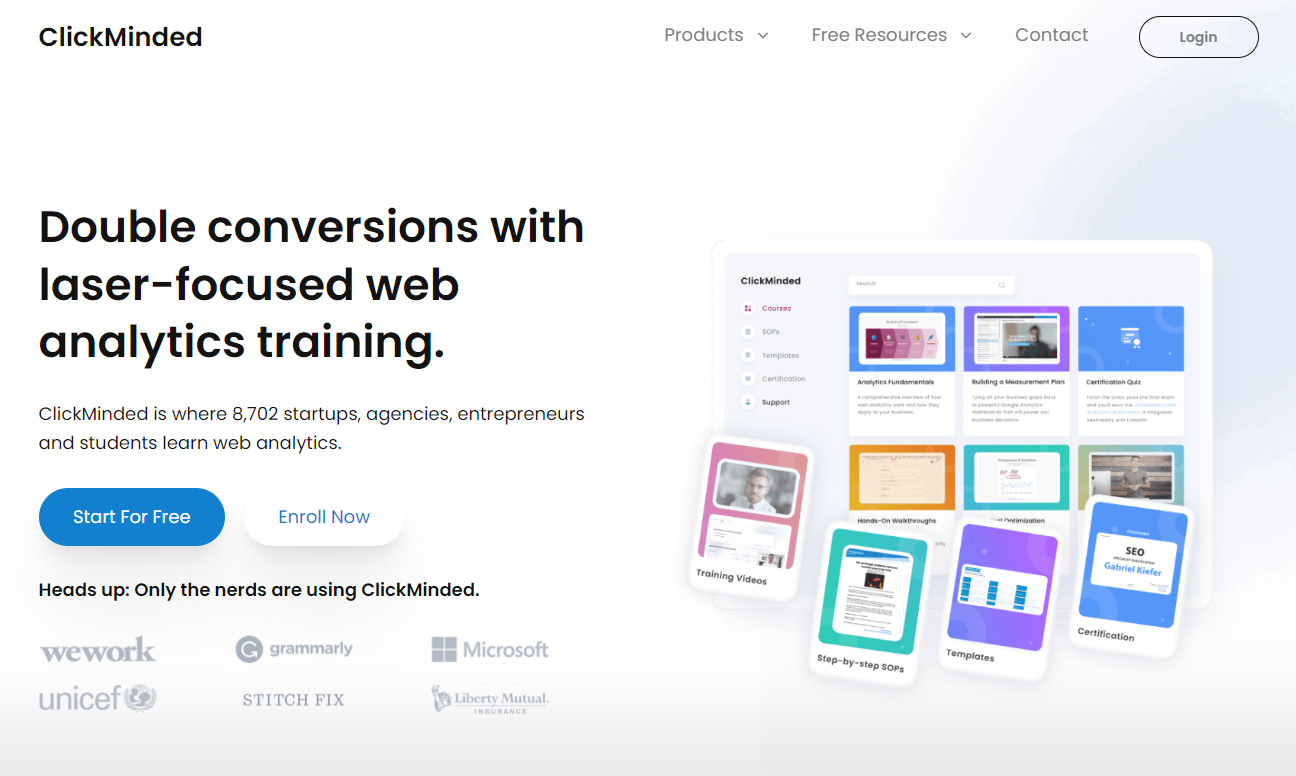 #7: [$997] ClickMinded Web Analytics Course
ClickMinded's Google Analytics course promises to help beginners simplify Google Analytics by focusing on just five core metrics. Taught by course instructor Chris Prahl, an analytics expert at Trakken (a cloud and marketing agency in Europe) — the course dives deep into what it takes to set up comprehensive tracking and shows learners how to monitor metrics that help grow any business.
At $997, this is one of the more expensive GA training courses online. Course reviewers liked the digestible and detailed content, as well as useful insights from real brands. Overall, the course's selling point is the laser-focus on actionable business strategies which makes it ideal for entrepreneurs or small business owners.
Explore ClickMinded's Google Analytics Training.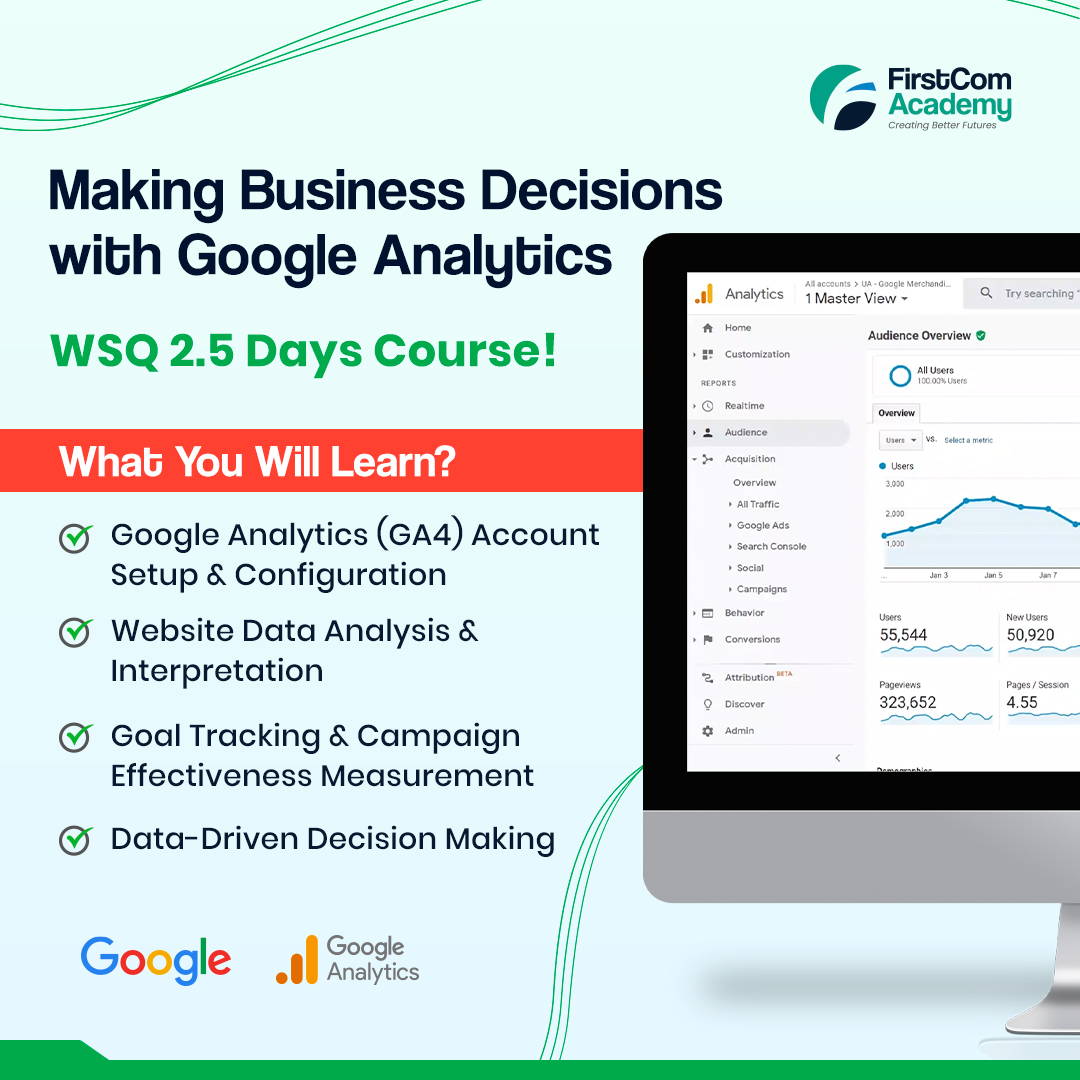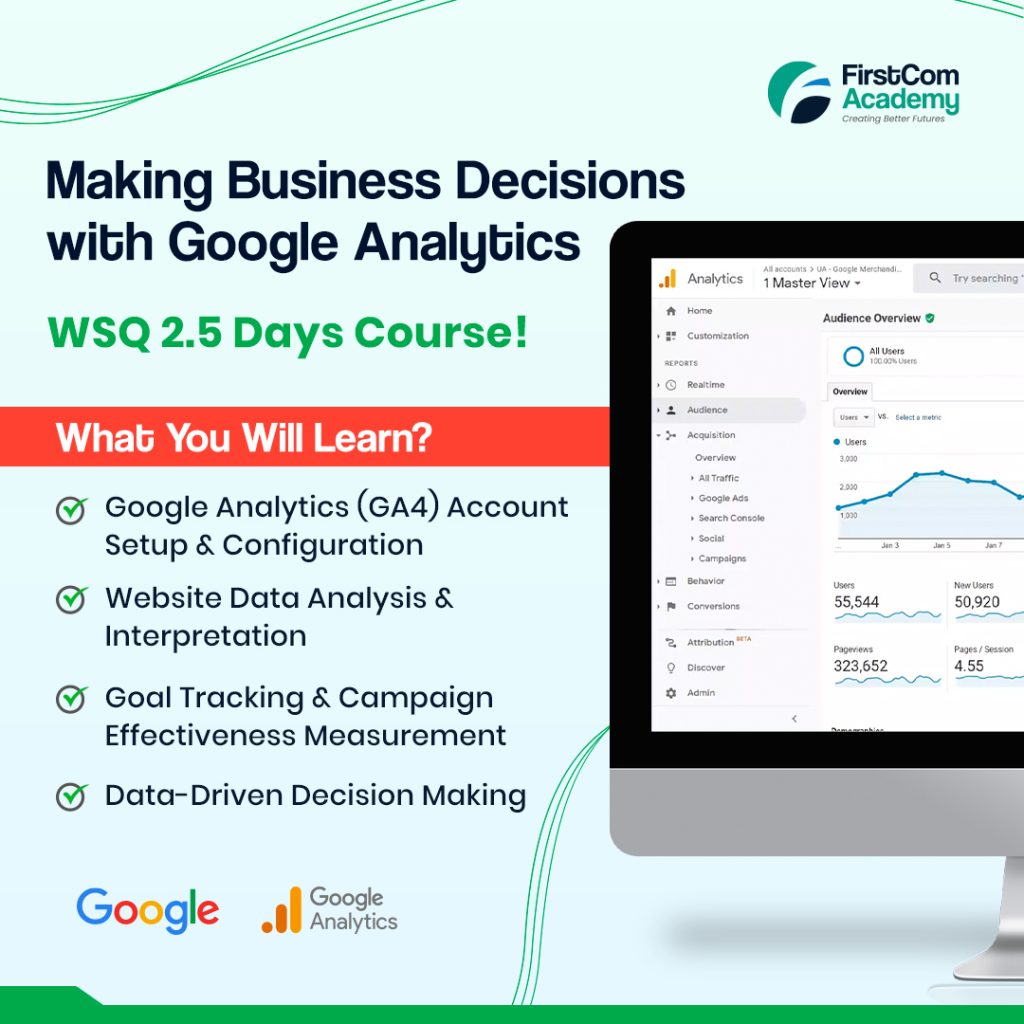 #8: [$330] FirstCom Academy: Making Business Decisions with Google Analytics
Obtaining a Google Analytics certification online can be convenient and a great addition to your resume. While there are plenty of excellent GA training courses on this list, it can be beneficial for you to be mentored by local marketers who can provide you with relevant insights and industry-recognised best practices.
FirstCom Academy's Making Business Decisions with Google Analytics is a WSQ-certified and SkillsFuture Credit-eligible GA certification course that is ideal for professionals looking to learn relevant and immediately applicable skills. Learners can benefit from hands-on Google Analytics training as they learn how to navigate and generate useful reports under the guidance of local digital marketers with real-world Google Analytics experience.
This 2.5-day SkillsFuture course is held in person, so you can ask questions and get immediate answers as well as feedback from your course instructor.
You'll obtain a FirstCom Academy Certificate of Completion and SkillsFuture WSQ Statement of Attainment upon passing the final assessment. As the course is under the National Infocomm Competency Framework, you'll receive a Google Analytics certification that can help you secure interviews for future roles and greatly boost your earning potential.
Explore FirstCom Academy's Making Business Decisions with Google Analytics.
Is It Worth Paying for a Google Analytics Course and Certification?
As you can see from this list, there are plenty of free GA training courses available. Is it worth paying for a Google Analytics course when free options exist?
In general, paid courses are valuable because they can cut through the noise and provide you with a structured and organised way to learn, saving you a great amount of time. Their content also tends to be of higher quality as they may be vetted or created by industry experts.
That said, whether paid or free — the quality of online courses can vary greatly. Before you enroll in a paid online course, take time to research learner reviews and the syllabus to ensure that its relevant to you!
It's always best to obtain a Google Analytics certification from a local course provider vetted by government initiatives like WSQ SkillsFuture. This way, you can be sure that you're receiving practical, applicable knowledge you can put to work immediately, as well as a recognised Google Analytics certification that will be useful for advancing your career. Sign up for Google Marketing Program today!
Read also: 10 Best Resources for Learning Google Analytics (GA)