Email marketing is one of the simplest, cost-effective and direct ways for businesses to connect with new customers, engage existing customers and grow their revenue. Compared to other forms of marketing, email has the potential to generate the highest ROI.
Because of its relatively low cost and low barrier to start, you might be wondering if email marketing training courses are necessary. While you can potentially learn everything you need to know via free online resources and plenty of trial and error — attending a reputable email marketing certification course can fast-track your learning so you can start achieving your goals quicker.
With that in mind, here are 8 of the best free and paid email marketing training courses available online to help you get up to speed.
#1: [FREE] HubSpot Academy: Email Marketing Certification Course
HubSpot Academy provides free online training for inbound marketing, sales and customer service professionals. As HubSpot's official learning resource, its courses are developed and taught by some of the best digital marketers in the business. Additionally, HubSpot is a recognised name in the digital marketing industry, which makes its certification valuable if you're seeking a new role.
HubSpot Academy's Email Marketing certification course has a total runtime of 4 hours and consists of 9 lessons:
Understanding Email Marketing
Creating a Contact Management and Segmentation Strategy
Sending the Right Email
Creating a High-performing Email
Understanding Email Deliverability
Outlining the Design of Your Marketing Emails
Testing Your Marketing Emails
Developing Relationships with Lead Nurturing
The course is free, but you'll have to create or log into an existing HubSpot account in order to access it. One of the highlights of HubSpot's free email marketing course is how organised it is. Even complete beginners should have no problems following its step-by-step chapters.
Overall, HubSpot Academy's Email Marketing Certification course is an excellent way to get a big-picture overview and learn the basics of email marketing in an organised and structured manner.
Explore HubSpot Academy's Email Marketing Certification Course.
#2: [FREE] Sendinblue: Email Marketing Certification Course
Sendinblue develops an all-in-one marketing and sales tool to help small businesses grow. They offer a free email marketing course with certification for visitors or users who want to learn more about email marketing. While Sendinblue might be more niche compared to big digital marketing names like HubSpot, their certification can still be useful if the job you are applying for uses Sendinblue as its primary email marketing platform.
Sendinblue's email marketing certification course is very thorough and is designed to give complete beginners a full view of how to become a successful email marketer. During the course, Sendinblue's own email marketing experts take learners through topics like personalised contact management, segmentation and campaign optimisation whilst giving hands-on practical tips. If you're a veteran who already knows the basics, you can still obtain the certificate by skipping ahead to complete the quiz at the end of the course.
Despite being a free email marketing course, Sendinblue's offering is chock full of information with over 63 videos, 8 quizzes and 4 hours of run time. Definitely worth a look for beginners and even experienced email marketers who want to step up their game.
Explore Sendinblue's Email Marketing Certification Course.
#3: [FREE] Simplilearn: Advanced Email Marketing Course
Simplilearn is a well-known online learning platform for its free and paid courses on a variety of topics. The free advanced email marketing course offers a completion certificate for learners who already have the basics down and are looking for something a little more in-depth.
With a runtime of 5 hours consisting of self-paced video lessons, this course takes learners through advanced marketing strategies, how to promote a product/service and how to solicit sales. Simplilearn's promise is that by the end of the course, learners will be able to better understand the nuances of building loyalty, trust and brand awareness through email marketing.
Here's an in-depth look at the modules you can expect:
Introduction to advanced email marketing
Write better subject lines
Develop emails that drive results
Optimise your email content
List management strategies
Automating your emails
Create optimal landing pages
Create an email campaign checklist
As far as email marketing training courses go, Simplilearn stands out because it is one of the few that dives into advanced strategies. The course is free, but learners are limited to 90 days of access. If you're someone with a good grasp of the basics, or an experienced email marketer that wants to up their game and get a certificate to boot, consider Simplilearn's Advanced Email Marketing course as a strong option.
Explore Simplilearn's Advanced Email Marketing course.
#4: [FREE] Mailchimp Academy: Email Marketing Certification
Mailchimp is one of the world's biggest email marketing platforms with over 14 million active users. Mailchimp Academy is a free users for Mailchimp users which offers individual courses on a variety of subjects. The email marketing certification course is open to anyone with a Mailchimp account as long as you opt-in to Mailchimp & Co.
Mailchimp's Email Marketing Certification course offers a full breakdown of email marketing and also teaches you how to use Mailchimp's platform to build successful email campaigns. Besides email marketing, you can also earn other certifications such as email automation to demonstrate your competency with Mailchimp's platform.
Explore Mailchimp Academy's Email Marketing Certification.
#5: [$39.99] LinkedIn Learning: Writing Emails People Want to Read
LinkedIn Learning is an excellent online educational platform with plenty of expert-led courses on a variety of topics. Since LinkedIn's user base consists of professionals, you can be sure that their highly-rated courses contain content that is highly regarded and relevant to people from the industry.
Rated 4.7 stars out of 6,060 reviews with over 200,000 learners — Writing Emails People Want to Read on LinkedIn is the highest rated email marketing course on the platform. Amongst the other email marketing training courses on this list, this one focuses on email writing techniques rather than email campaigns. Taught by bestselling author Sam Bennet, she walks learners through the basic types of emails, how to write engaging and clear emails, how to grab attention and how to craft relevant CTAs.
At the end of the course, you'll receive a certificate of completion which you can display on your LinkedIn profile.
Explore LinkedIn Learning's Writing Emails People Want to Read.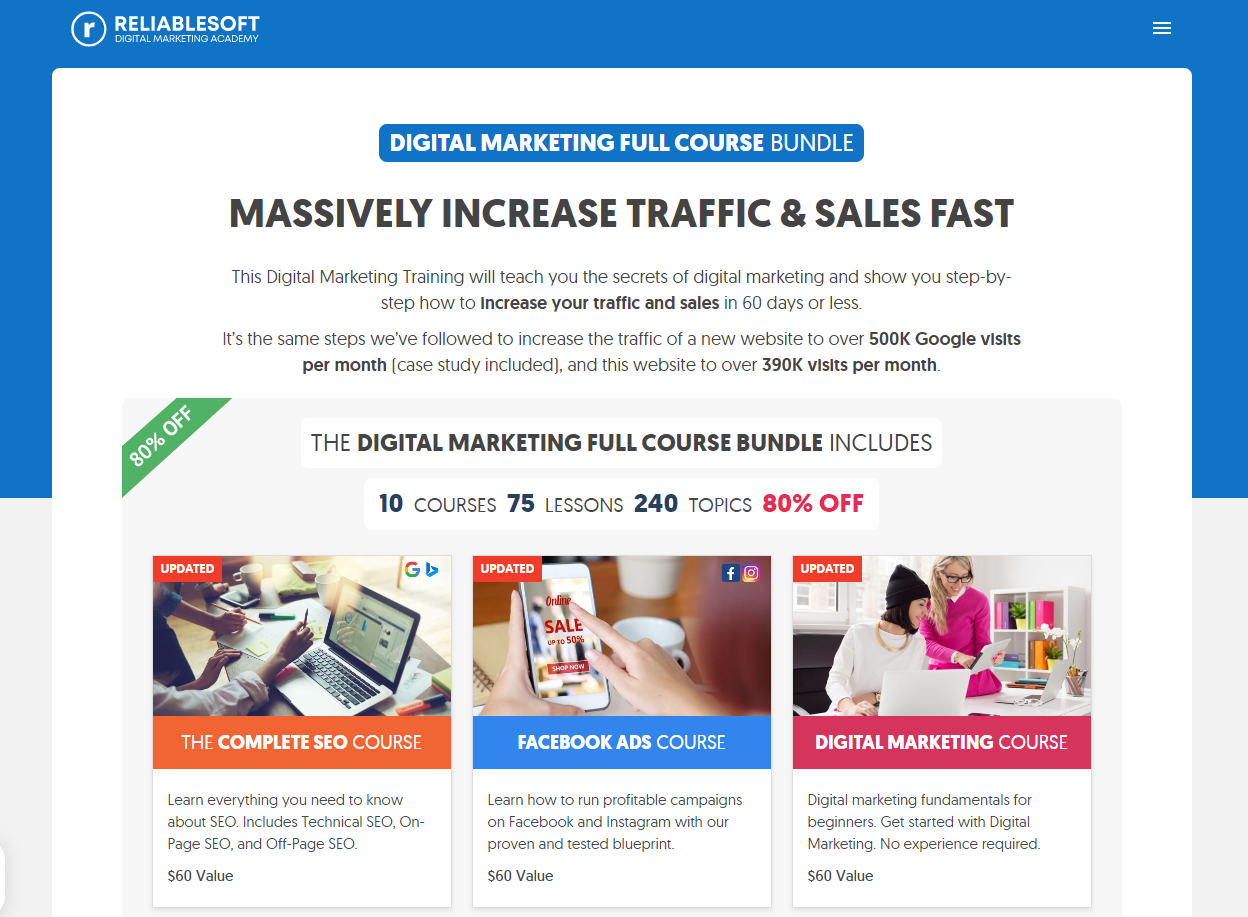 #6: [$119] Reliablesoft: Email Marketing Course
While there are plenty of standalone email marketing courses, they are sometimes offered as part of an overall package. This is the case for Reliablesoft which offers its email marketing course as part of its digital marketing course bundle.
The email marketing bundle covers both basic and advanced email marketing topics over 6 lessons. Included in the course are short instructional videos as well as a 70-page pdf. Course contents include how to create an email list, strategies to grow your email list, how to improve email open rates and more. You'll receive a certification at the end of the course when you pass the exam.
If you're someone who prefers to stick with a single provider for multiple courses, consider Reliablesoft's email marketing certification course. The bundle normally costs $600 but can be bought for as low as $119 when it goes on sale. Reliablesoft also offers a 60-day money-back guarantee.
Explore Reliablesoft's Email Marketing Course.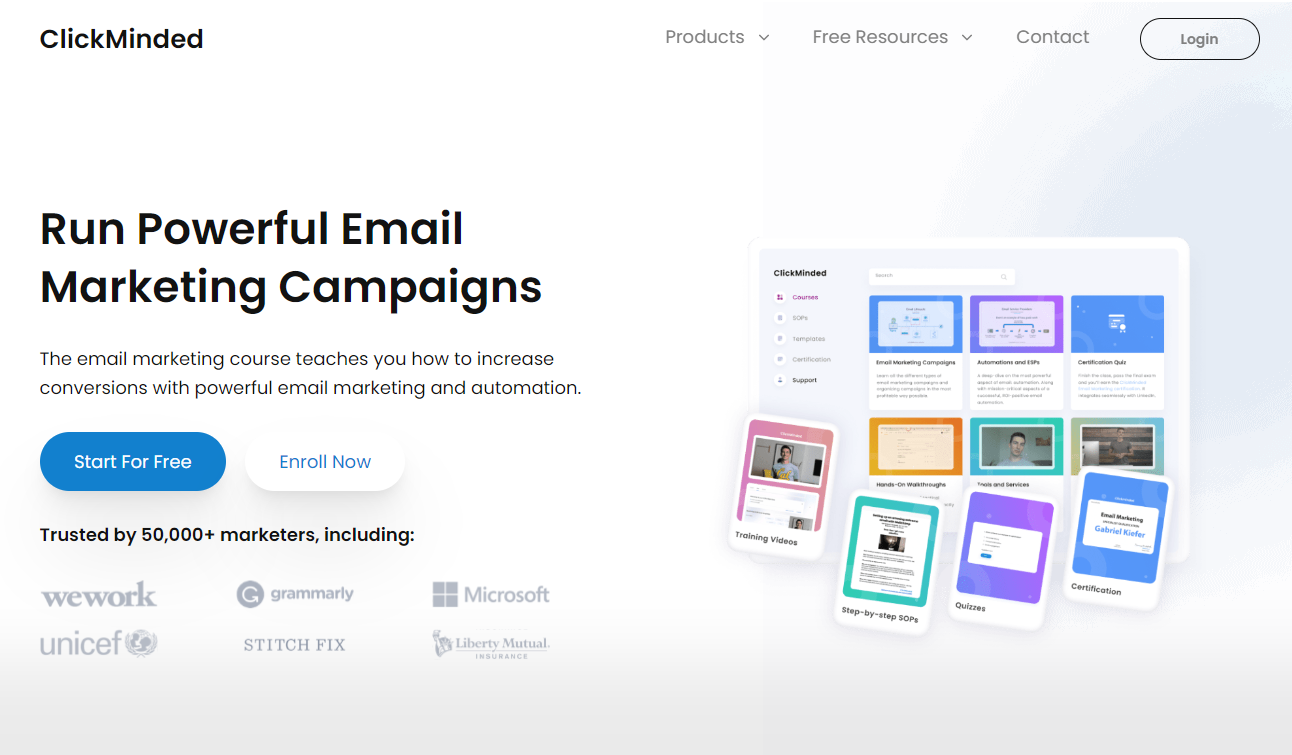 #7: [$997] ClickMinded: Run Powerful Email Marketing Campaigns
The ClickMinded email marketing course is taught by Lucas Chevillard who manages global email marketing at Airbnb. Unlike other email marketing training courses, ClickMinded promises to walk you through the process of implementing an enterpise-grade email automation strategy that's used at Airbnb.
If you like Airbnb's email marketing campaigns and want to replicate their strategy — or are curious at the behind the scenes look at how established brands conduct their email marketing, this course could be for you.
ClickMinded's email marketing course includes high-level strategy and specific walkthroughs on how to create email funnels that convert. Topics covered in the course include: how email marketing fits into your business, email marketing frameworks, subscriber segmentation strategy, how to create world-class automated workflows and more. You'll need to pass a final exam in order to earn your email marketing certification which you can display on LinkedIn.
Explore ClickMinded's Email Marketing Certification Course.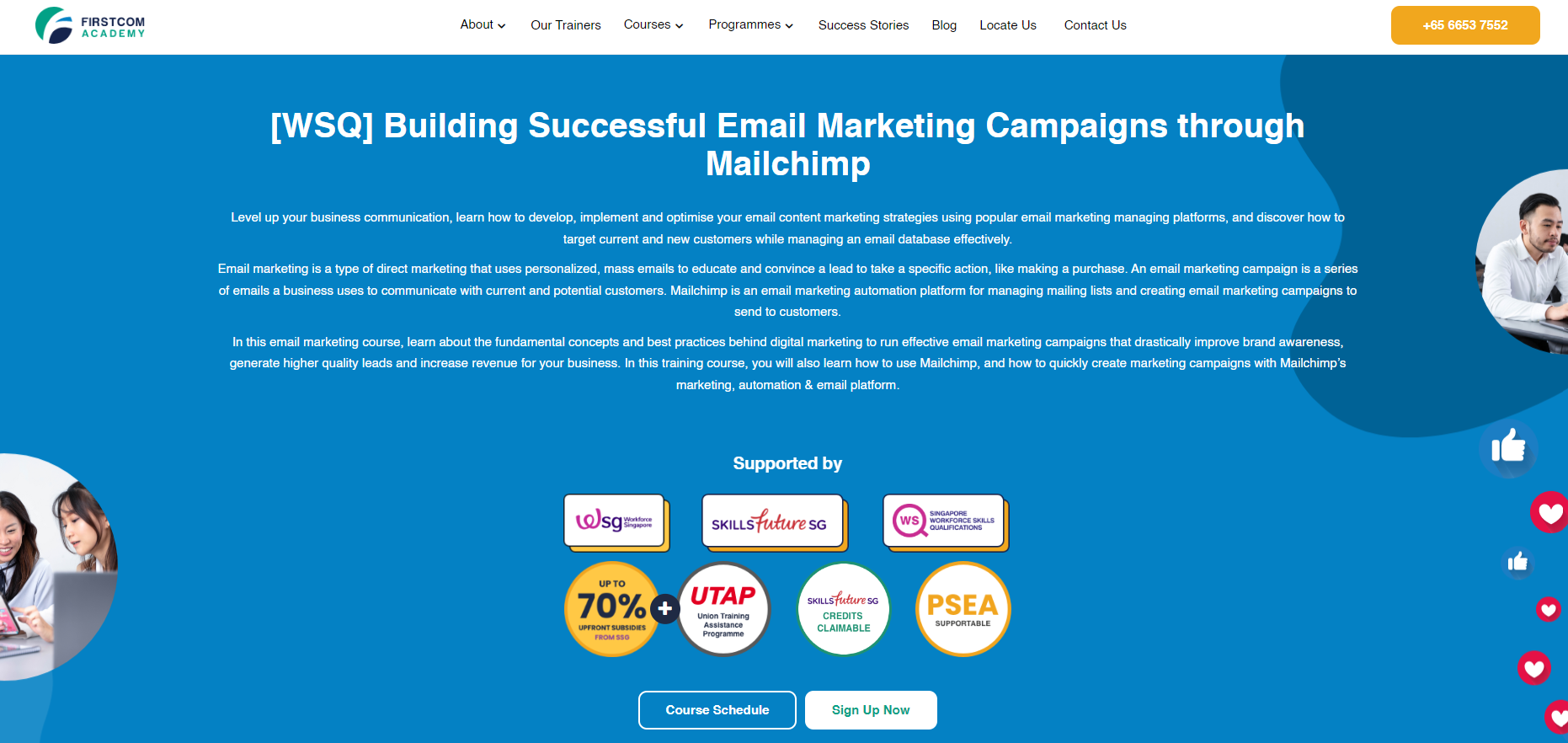 #8: [$240] FirstCom Academy: Building Successful Email Marketing Campaigns Through Mailchimp
While online courses can be a convenient way to learn about email marketing at your own time, one of the downsides of online learning is that the course contents may not be relevant to Singapore.
Additionally, certain online certifications may not be recognised by local employers. For peace of mind, consider enrolling in an email marketing course from a local course provider to ensure the curriculum is relevant and your certification is recognised.
FirstCom Academy's Building Successful Email Marketing Campaigns through Mailchimp is a WSQ-certified and SkillsFuture Credit-eligible email marketing certification course that is ideal for professionals looking to learn relevant and immediately applicable skills. Learners will get hands-on experience creating campaigns from scratch in Mailchimp under the guidance of experienced local digital marketers with hundreds of email campaigns under their belt.
This 2-day SkillsFuture course is held in-person, so you can ask questions and get immediate answers as well as feedback from your course instructor.
You'll obtain a FirstCom Academy Certificate of Completion and SkillsFuture WSQ Statement of Attainment upon passing the final assessment. As the course is under the National Infocomm Competency Framework, you'll receive a certification that can help you secure interviews for future roles and greatly boost your earning potential!
Explore FirstCom Academy's Email Marketing Certification Course.
Is It Worth Paying for an Email Marketing Course and Certification?
As you can see from this list, there are plenty of free email marketing training courses available. Is it worth paying for an email marketing course and certification when free options exist?
In general, paid courses are valuable because they can cut through the noise and provide you with a structured and organised way to learn, saving you a great amount of time. Their content also tends to be of higher quality as they may be vetted or created by industry experts.
That said, whether paid or free — the quality of online courses can vary greatly. Before you enroll in a paid online course, take time to research learner reviews and the syllabus to ensure that it is relevant to you!
It's always best to obtain an email marketing certification from a local course provider vetted by government initiatives like WSQ SkillsFuture. This way, you can be sure that you're receiving practical, applicable knowledge you can put to work immediately, as well as a recognised certification that will be useful for advancing your career.
Read also: