From the Northeast to Central Singapore, our Digital Skills & Employability Fair made its way from Waterway Point in Punggol to Junction 8 in Bishan last week!
From March 27th to April 2nd, job-seekers and mall-goers had the opportunity to be part of this fun and educational event, hosted by FirstCom Academy and partners, Surge Talents and FastJobs.
Like the Digital Skills & Employability Fair at Waterway Point, this event at Junction 8 was a treasure trove of information about the latest job market trends, in-demand skills and how to land your dream job. Whether you're a fresh graduate, a mid-career switcher, or someone simply looking for better job opportunities, the Digital Skills & Employability Fair had something for everyone.
Not only was it informative, but it was also a blast! We made sure to take the lessons learnt from our previous fair to make this one more engaging and interactive. Attendees had a great time participating in interactive workshops, games and activities that made learning about employment and digital skills development fun. The best part? They also had a chance to network with employers and industry experts, who shared valuable insights and tips on how to navigate the job market successfully.
Check out what went on at our Digital Skills & Employability Fair at Junction 8 in this recap!
Bigger, Better Lucky Draw Prizes!
If you've been following our social media pages, you've probably seen us drumming up excitement for our new lucky draw prizes!
1st Prize – iPhone 14 Pro Max 128 GB (Worth $1,815)
2nd Prize – Dyson Supersonic Hair Dryer (Worth $619)
3rd Prize – Dyson V8 Slim Fluffy (Worth $419)
View this post on Instagram
Participants simply had to fill in a questionnaire and submit their entry into a lucky draw box to stand a chance to win. They even got a go at our sure-win wheel with goodies like pens, notebooks, bags and bottles.
Stay tuned to our Facebook page where we'll be announcing the winners soon!
Introducing Our New Digital Knowledge Challenge
How in tune are you with digital trends? Do you know what's the most popular social media platform in Singapore? What about the number of hours the average Singaporean spends on Facebook?
Our new Digital Knowledge Challenge put participants to the test with questions on digital skills, online job trends and the state of the digital landscape in Singapore. Staying true to digitalisation, we hosted the quiz on a website, opening participation to anyone who entered the link on their smartphone. Our wonderful emcees kept things engaging, keeping the crowd updated on the scores and reading the questions aloud for a unique omnichannel experience.
Held at 1pm, 3pm, 5pm and 7pm daily — the top 3 winners each day walked away with $50 worth of NTUC vouchers each for flexing and impressing with their digital knowledge!
Longer, More Engaging Workshops
Our original 30-minute digital skills workshops were well-received at Waterway Point, with many of participants giving positive feedback about the knowledge shared. For the Digital Skills and Employability Fair at Junction 8, we extended their durations to 2 hours and covered 2 to 3 topics in one workshop to make it more useful and fulfilling to participants.
With the change in format, we moved the workshop onto the weekend to make it easier for participants to RSVP and attend. Goodie bags were also provided
View this post on Instagram
The new workshop was held from 4pm to 6pm on 1 – 2nd April 2023. Our course expert, Berlin Ng was on hand to share how participants can learn digital skills to open doors to new career opportunities even with no prior experience.
The Game of Life Returns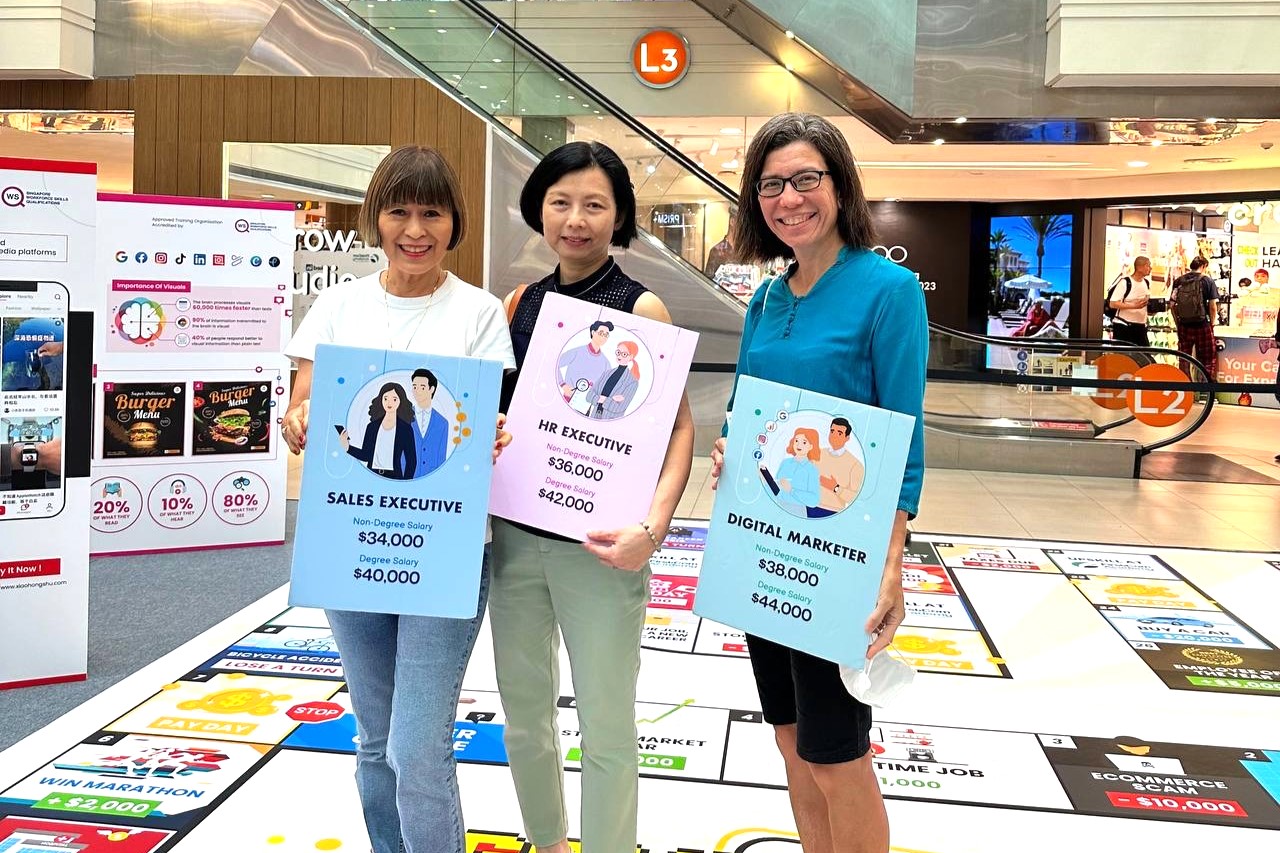 Our colourful mural — the ever-popular "Game of Life" also made a return! A striking sight sure to catch your attention in the middle of the atrium, the "Game of Life" is our fun take on the classic snakes and ladders where the goal is to reach at the end of the course with the most money possible.
Learning About Digital Skills and Practical Advice on Job Opportunities
Like our previous fairs, the focus of this Digital Skills & Employability Fair at Junction 8 was to provide information on job market trends, upskilling opportunities and in-demand skills.
Participants could get unique insights on Singapore's digital landscape via our digital boards, or even have their resume reviewed via a one-on-one consultation with our partner, SurgeTalents HR Consulting. It was excellent to see so many Singaporeans embrace the spirit of upskilling and be motivated to upgrade their digital skills, gain professional certifications and strengthen their resume to secure their dream jobs!
Naturally, our helpful course consultants were also available to help participants figure out the best course of action for their personal career and life goals. For those of you who are unsure of which digital skills to pursue, or need a little help with finding the right direction in your career, our course consultants are definitely the ones to speak to.
Stay Updated with Upcoming FirstCom Academy Events
Thanks to the mall-goers at Junction 8 and all of you who visited our Digital Skills & Employability Fair from 27th March – 2nd April 2023! It was a delight to see you there, and we hoped you had a good time taking part in our games, quizzes and workshops!
Missed our fair at Junction 8? Follow our socials to be notified whenever we have upcoming events so you don't miss any in the future!