Get ready to celebrate as PaPaZao (趴趴走) marks its first-year anniversary with a bang on the mesmerising Sentosa Island! This year's event was organised by renowned local film director Jack Neo in collaboration with education partner FirstCom Academy.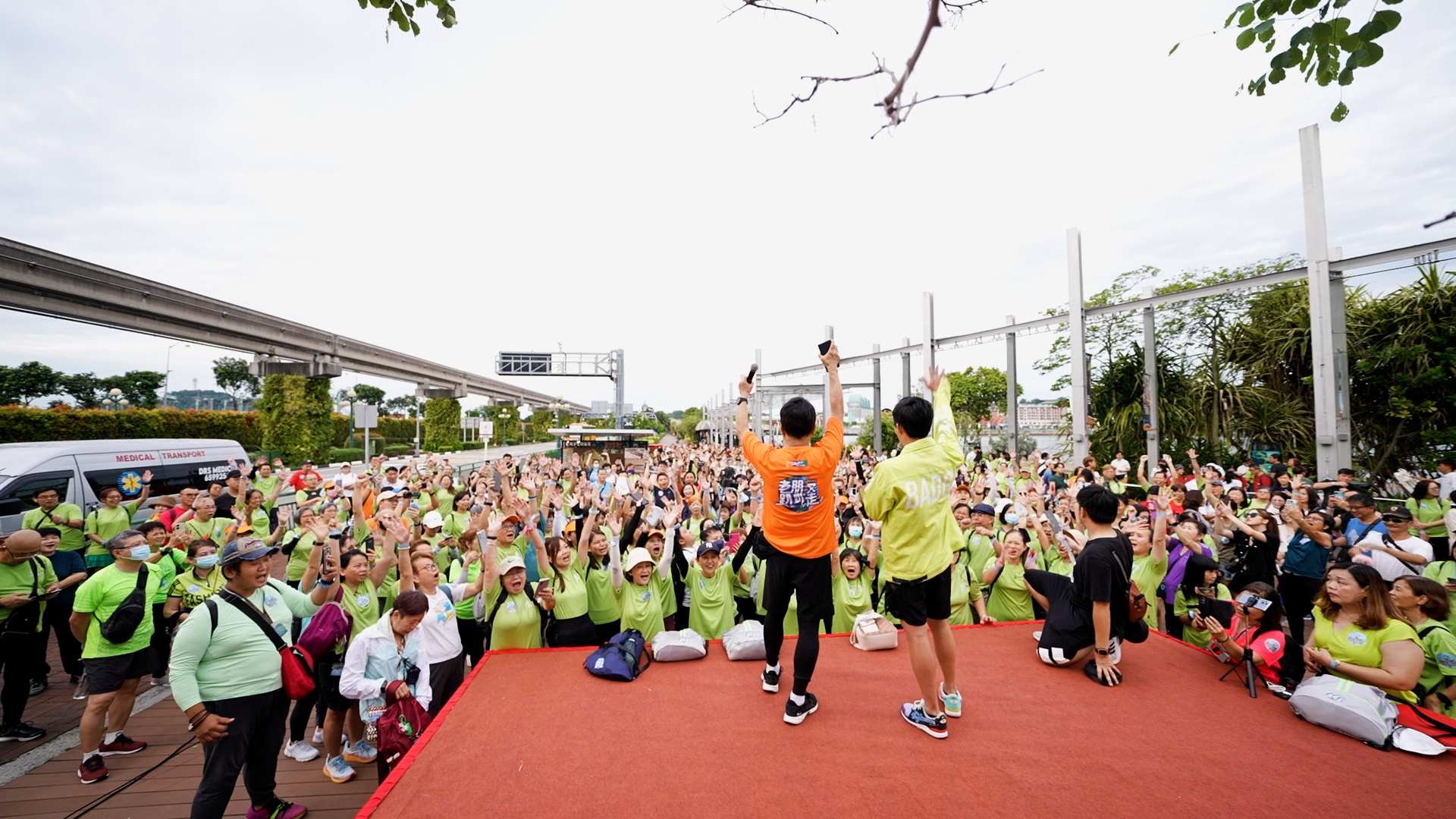 PaPaZao (趴趴走) participants ready and raring to go!
On 2nd July 2023, Sunday, a whopping 1,400 seniors and participants of all ages gathered at Sentosa Island at 7am for an unforgettable day filled with fun, excitement and new experiences. The goal? Promote healthy living, foster lifelong learning with essential digital skills and most importantly, having a blast!
The Joyful Walk at Sentosa
PaPaZao's (趴趴走) main highlight was a lively 3.5km walk taking participants on a journey through the breathtaking attractions of Sentosa Island. Starting from Sentosa Boardwalk and winding its way through the iconic Universal Studios Singapore, the enchanting Madame Tussauds Singapore, the captivating Sentosa Nature Discovery, towards the scenic Imbiah Nature Trial and picturesque Siloso Point before finally concluding at the vibrant Sapphire Pavilion.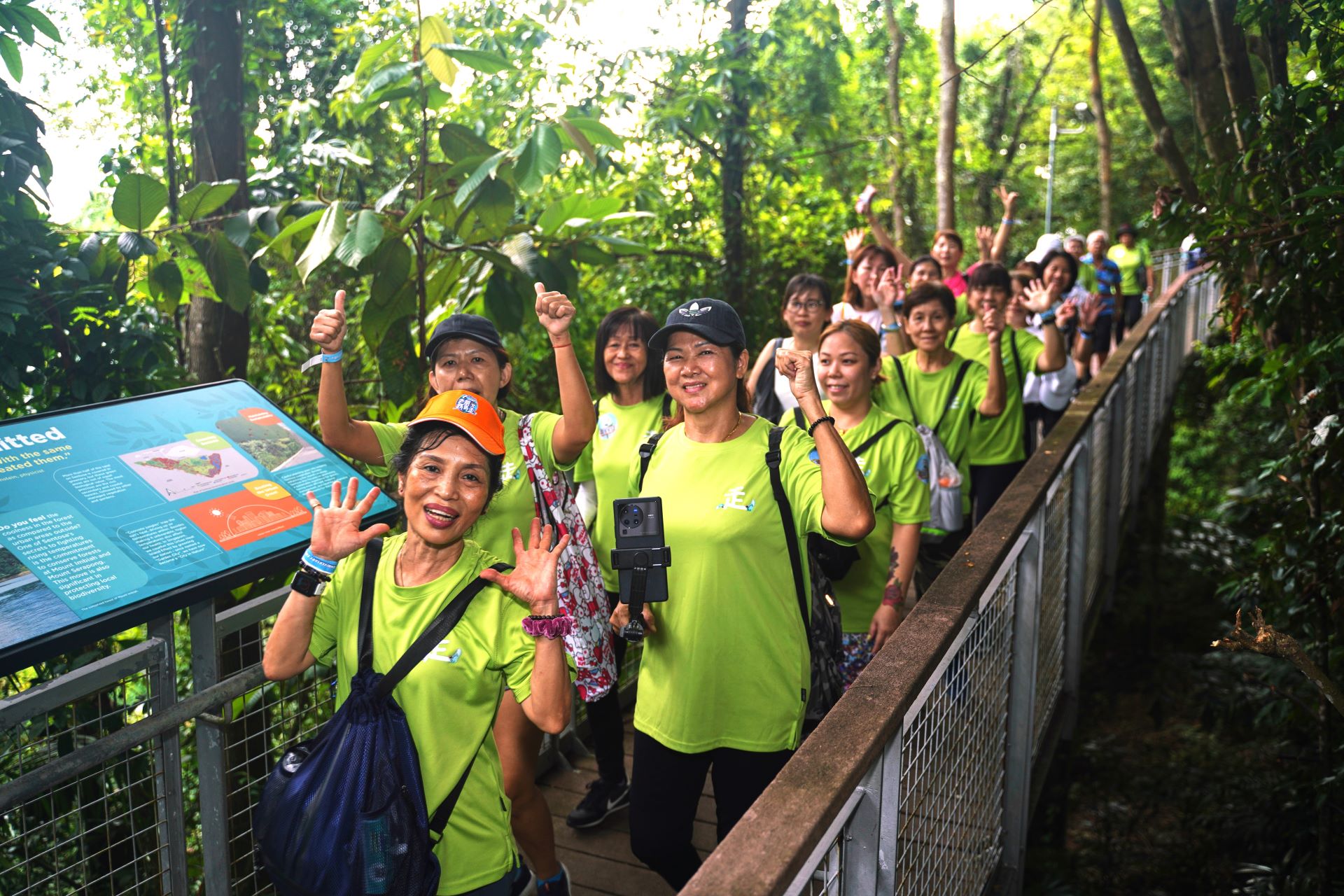 PaPaZao (趴趴走) participants taking a scenic walk around Sentosa
The weather was perfect for a leisurely walk as our participants warmed their legs and soaked in the vibrant sights, sounds and the energetic ambiance of Sentosa. With the morning sun gently beaming down, we saw plenty of bright smiles all round as the kilometres flew by!
<H2> Engaging the Mind <H2>
This year's PaPaZao (趴趴走) was not just about keeping the body moving — it was also about keeping the mind engaged. After all, a healthy body and an active mind is the key to ageing gracefully.
To keep things buzzing with excitement, this year's event also featured a Creative Contest Challenge as a thrilling twist. Encouraging participants to capture the essence of Sentosa and the PaPaZao (趴趴走) during their walk.
Engaging the mind with creative photos whilst out on the walk!
It was heartwarming to see many participants joyfully snapping away, letting their creativity shine in the photo-taking contest. Capturing the stunning Sentosa scenery and unique moments of the event whilst on their walk.
Many PaPaZao (趴趴走) participants were naturals in front of the camera.
But of course, learning how to take stunning images is just one of the many digital skills seniors can learn to pick up. There was also a vlog contest, where participants were encouraged to record and share their incredible PaPaZao (趴趴走) using their smartphones. Many participants were naturals and clearly comfortable in front of the camera, recording and sharing their thoughts like pros.
Last but not least was a TikTok trend contest — tasked to recreate the 趴趴走 TikTok trend by Jack Neo, many participants took to the camera to show off their dazzling moves!
With fantastic prizes worth up to $50,000 for grabs, the Creative Contest Challenge got participants practising their digital skills and encouraged them to bring their A-game!
Lucky Draws and Entertainment
Fantastic prizes up for grabs at the finisher lucky draw.
Participants who completed the 3.5 km walk were eligible for the thrilling finisher lucky draw. With incredible prizes worth over $10,000, 50 lucky winners walked away with coveted rewards like a Genting Dream 3-night cruise, a Prism+ 65″ television, an Apple iPhone 14 Pro, a Dyson V8 Slim Fluffy, a Happy Call Pot and Pan set and much, much more! Congratulations to the lucky draw winners!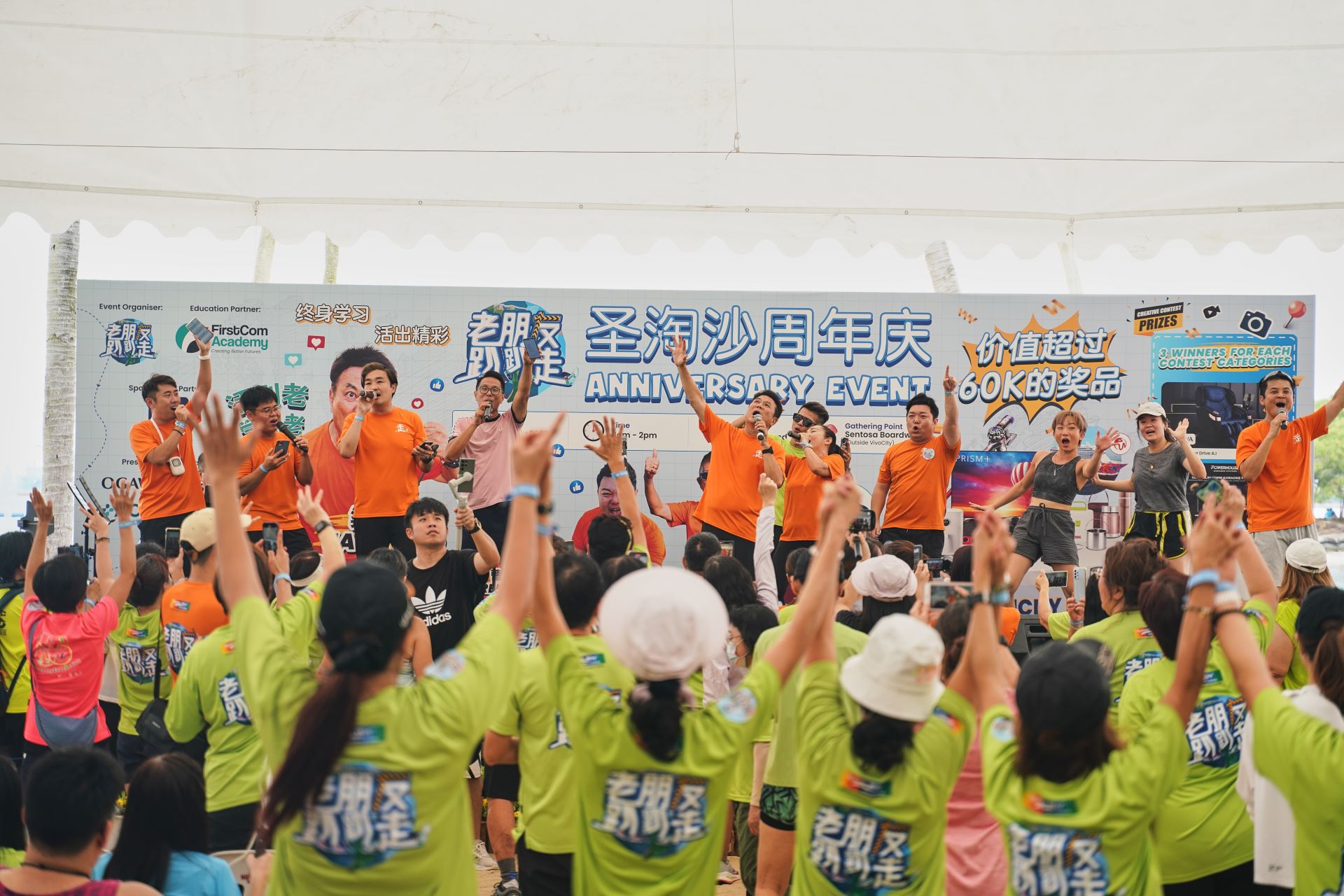 Ending the 老朋友趴趴走 PaPaZao event with song and dance.
The day culminated in a post-walk entertainment program. Joining us were local celebrities and artistes like Henry Thia, Ben Logan and Terence Cao. Adding star power to the event and infusing it with glamour and delight! Participants were entertained by lively singalong performances, and even got the opportunity to connect and take photos with their favourite celebrities!
Thanks for Coming to 趴趴走!
The team at FirstCom Academy would like to extend our heartfelt thanks to Jack Neo and all the participants who made PaPaZao (趴趴走) such a resounding success. We hope everyone thoroughly enjoyed themselves in an event that's all about building strong connections, embracing lifelong learning and enjoying yourself to the fullest.
@firstcomacademy We're still buzzing with excitement from all the amazing moments we shared at 陪你一起趴趴走 Anniversary Event! The energy, laughter, and unforgettable moments made this event truly unforgettable. Thank you to everyone for your participation! #FCA #FirstComAcademy #FCAxPPZ #FCA陪你一起趴趴走 ♬ original sound – FirstCom Academy
PaPaZao (趴趴走) is a truly unique and remarkable event for seniors to spend quality time with friends and loved ones, forge new friendships, stay active, and dive into the world of technology. It was inspiring seeing our participants not only enhance their physical well-being through the walk, but also develop their digital skills by gamely taking part in the Creative Contest Challenge. Thank you everyone for participating and unleashing your inner content creator!
Learn Digital Marketing Essentials with FirstCom Academy
No matter how old you are, it's never too late to learn digital skills! FirstCom Academy understands the importance of keeping up with technology, which is why we offer a Digital Marketing Essentials for Beginners Programme to learn in a stress-free, guided environment.
This program is designed to make learning digital marketing easy and enjoyable for everyone, regardless of their previous experience. So get ready to dive into the digital world with courses like smartphone photo taking, social media marketing with video creation as well as Facebook and Instagram fundamentals. With friendly trainers by your side, you'll gain digital skills and learn how to navigate the digital landscape with confidence.
In Closing: A Celebration of Health, Learning and Digital Skills
PaPaZao's (趴趴走) first-year anniversary event on Sentosa Island was an extraordinary celebration of healthy living, lifelong learning, and the joy of connecting with others.
It showcased the enthusiasm of seniors for staying active, acquiring new skills, and embracing technology. PaPaZao (趴趴走) is a reminder that age should never limit our passion for exploration and growth — so let's continue staying healthy and learning. As the saying goes, "活到老,学到老"!