From 6 March to 12 March 2023, FirstCom Academy held our Digital Skills & Employability Fair at the Waterway Point (WWP) Atrium in Punggol! Organised with support from our partners, Singapore Institute of Retail Studies (SIRS), SurgeTalents HR Consulting and FastJobs — it was a week of sharing as our course consultants, trainers and staff worked tirelessly to educate the public about the current job market, in-demand skills and how to secure better job opportunities.
Thousands of participants showed up over the course of the event, playing games, winning prizes, attending workshops and getting valuable career advice from our partners. A big thank you to everyone who made it possible.
If you missed out on our digital skills fair at Waterway Point, don't worry, we'll cover what went on so you know what to expect at the next fair!
A Warm Welcome with a Game Quest
Upon visiting the roadshow, every participant receives a welcome pack and a Game Quest card. The objective of the Game Quest is to fill in the blanks on the card to redeem a spin on our Sure-Win wheel. It was a pleasure to see the event floor buzzing with participants moving about the information boards for Game Quest answers!
Curious to know what prizes were up for grabs on the Sure-Win wheel? We had vouchers and useful goodies like pens, notebooks, bags, bottles and a digital marketing guidebook. Be sure to be there for our next fair for updated prizes!
Learning About Industry Trends, Digital Skills and Job Opportunities
For job seekers, the Digital Skills & Employability Fair was chock full of information on job market trends, upskilling opportunities and in-demand digital skills. Participants could also get career advice, practical interview tips and even learn new skills!
Information Boards
What happens when you do a Google search? What is the number of monthly TikTok users in Singapore? Have you heard of XiaoHongShu? What about choosing the right professional certification for your career goals?
We answered these questions and more with helpful information boards around the event! Not only were they a great source of trivia, they provided job seekers with information on current and upcoming digital skill sets. If you're unsure which digital skills to pursue, why not check out our information boards at the next fair?
Partner Talks
The event also featured talks from our partners on job opportunities, resume tips and interview preparation. Our partners, SIRS, SurgeTalents and FastJobs covered the following topics.
Singapore Institute of Retail Studies (SIRS)
Exciting Job Opportunities in Retail and E-Commerce
FastJobs
Supercharge Your Job Search in 2023
SurgeTalents HR Consulting
How to Prepare for Online vs F2F Interviews
How to Prepare a Resume and Tips to Land a Job Successfully
Digital Skills Workshops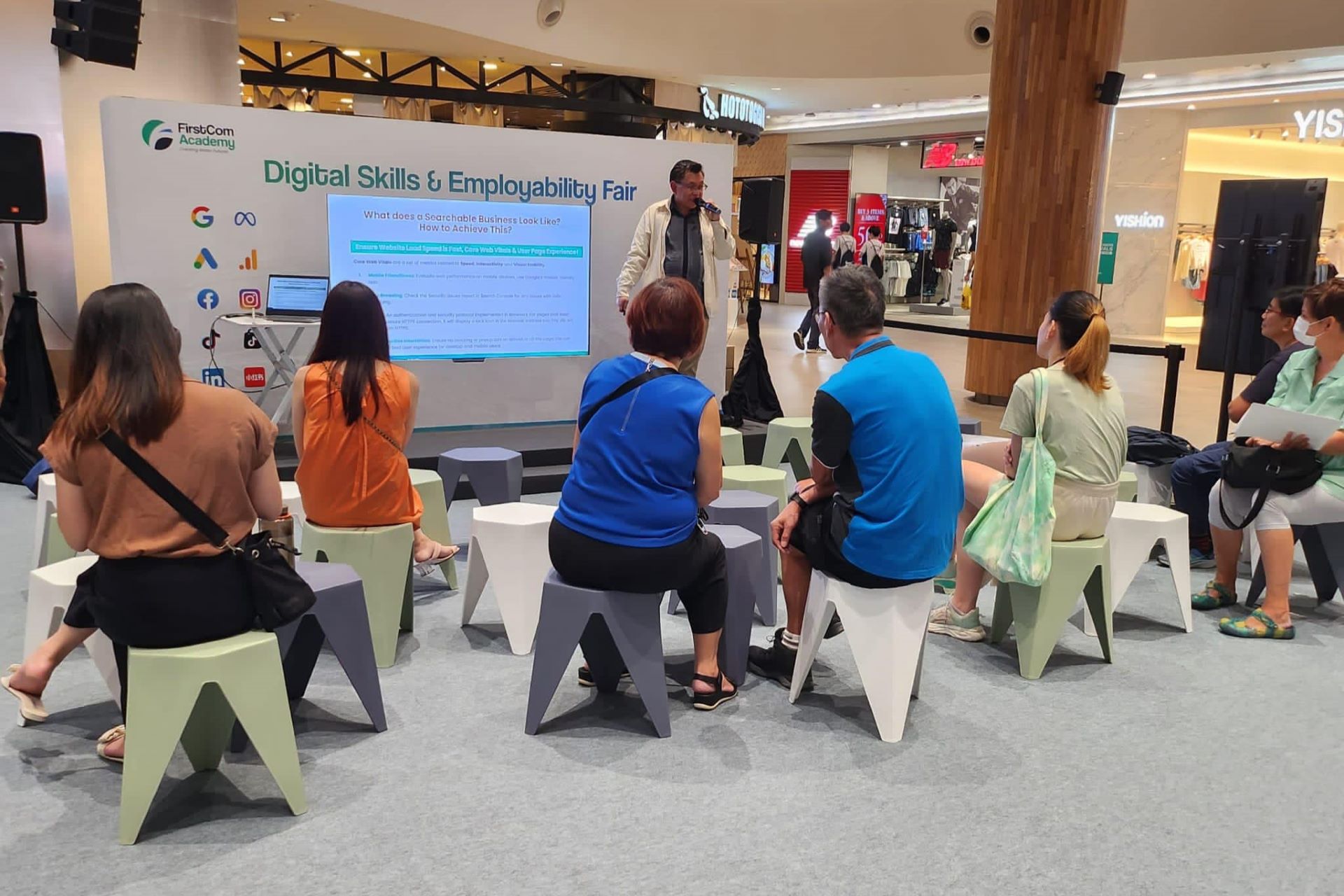 One of the main highlights of the event has to be the Digital Skills Workshops conducted by our very own FirstCom Academy trainers! Participants attending the workshops got to pick their brains in bite-sized 30 minute sessions jam packed with information.
Keep an eye out for the programme overview at our next Digital Skills & Employability Fair if any of the topics interest you!
Course Consultations
Our friendly course consultants were also on hand to help upskillers and job-seekers find the perfect course for their needs. Don't be afraid to ask them any burning questions you might have.
The Game of Life and Lucky Draws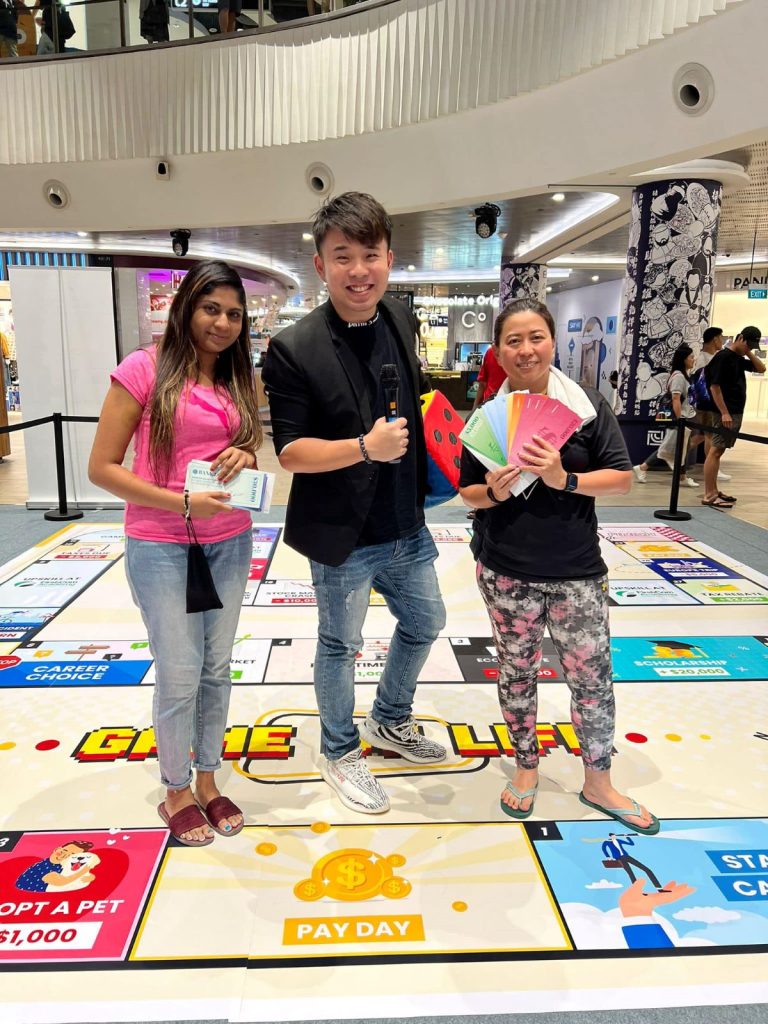 If you happened to pass by our event at Waterway Point from the 6 to 12 March, you might have noticed a colourful mural on the ground! This wasn't just for show! Our "Game of Life" is a fun take on the classic snakes and ladders where the goal is to reach at the end of the course with the most money possible. The prize? Up to $100 in NTUC vouchers!
Finally, event participants also got to take part in a daily lucky draw! The prizes on offer included an enrollment into their preferred FirstCom Academy course (worth $1.1k) as well as 2 Samsung Galaxy A8 Tablets up for grabs on the weekend.
A big congratulations to the winners!
See You at Our Next Digital Skills & Employability Fair!
We hope you enjoyed reading this recap of our Digital Skills & Employability Fair at Punggol Waterway Point (WWP). If you're disappointed that you missed out, don't be! Just save the date for our next fair and we'll see you there!
Digital Skills & Employability Fair at Bishan Junction 8 (J8)
Location: Bishan Junction 8 Atrium
Date: 27 Mar – 2 Apr 2023
Time: 11am – 10pm