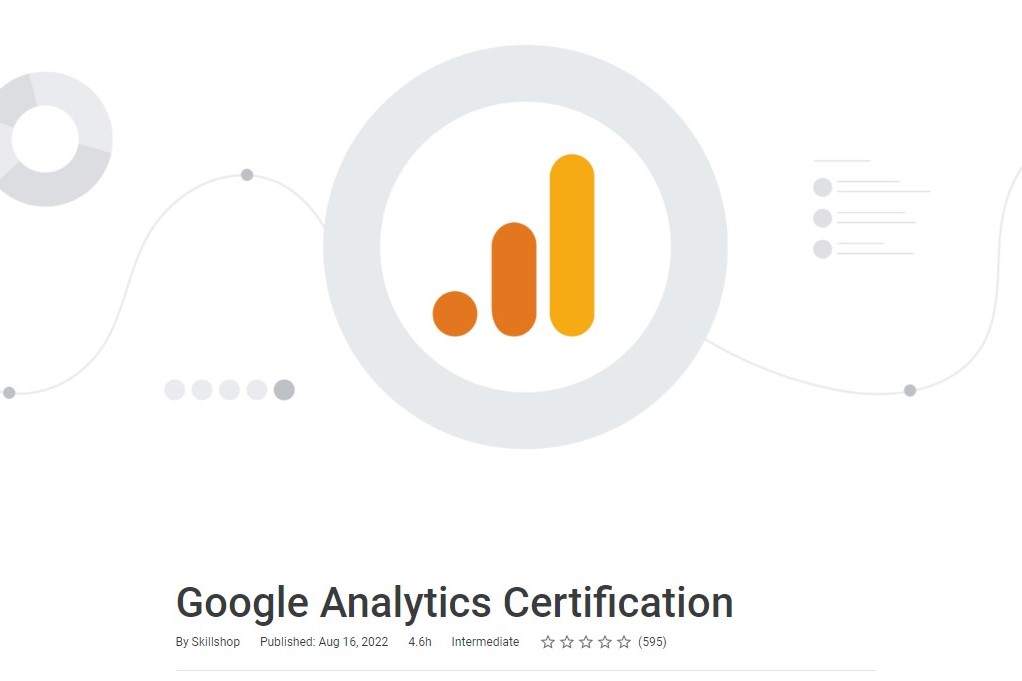 In the fast-paced world of digital marketing, understanding your web analytics inside out and the key to success. Google Analytics (GA) is a powerful tool that can help businesses unlock online success by providing valuable insights into website traffic and user behaviour, allowing organisations to make data-driven decisions that can boost their online presence and ultimately increase revenue.
What is the Google Analytics Certification
Offered by Google Skillshop, the Google Analytics certification shows that you have the necessary skills and knowledge to analyse and optimise website performance. The certification is free to take, and is issued by Google when you pass Google's certification exam.
Employers often want to hire a marketer with a Google Analytics certification because of their ability to interpret data that can be used to improve organic and paid marketing efforts, which in turn improves business performance.
Benefits of Obtaining Google Analytics Certification
Whether you're a new job-seeker looking to break into the industry, someone making a mid-career transition or a digital marketing professional seeking to advance your career prospects — obtaining a Google Analytics certification is a surefire way to help you stand out from other candidates.
Demonstrates Your Expertise in Web Analytics
A Google Analytics certification shows potential employers that you really know your stuff when it comes to web analytics and data analysis. And since the certification is awarded by Google itself, it shows that you have been vetted by the company that created the tool.
Earning a Google Analytics certification is demonstrable proof that you have the expertise needed to understand Google's metrics and influence data-driven decisions. This is particularly important for roles in digital marketing, web analytics, and data analysis, where having a deep understanding of these areas can set you apart from other candidates.
Enhance Your Digital Marketing Career Prospects
Google Analytics is the internet's leading web analytics tool used by about 28.1 million websites. As one of the most sought-after skills, job postings related to digital marketing often requires proficiency in Google Analytics.
Obtaining a Google Analytics certification makes you eligible to apply for more jobs, leading to more opportunities and increasing your chances for higher salary offers and career advancement opportunities.
Build Your Professional Credibility and Trust
A Google Analytics certification adds credibility to your professional profile and showcases your commitment to continuous learning and professional development. Employers will be able to tell that you possess a strong work ethic and a commitment to honing your skills.
In a competitive job market where you could potentially be fighting against hundreds of applicants, such an impression can make all the difference!
How to Get a Google Analytics Certification
Whether you're new to the industry or a professional looking to refresh your skills, obtaining a Google Analytics certification is a straightforward process. For these steps, we'll assume you're someone who is new to the industry.
Step 1: Learn About Google Analytics
In order to pass the Google Analytics certification, you'll first need to build up your knowledge and understanding of the tool. You can do so by studying the wide variety of Google Analytics resources out there.
Google Skillshop is Google's official online learning platform that provides free training on Google's products and services. It is designed to help individuals make the most out of Google's tools, covering everything from basic concepts to advanced features. As the official resource, Google Skillshop's Google Analytics courses should be one of the first places you visit.
Then, to take your learning even further, check out our list of the 10 Best Resources for Learning Google Analytics. We cover some of the best third-party Google Analytics learning resources available online for beginners to advanced users.
Step 2: Prepare for the Google Analytics Exam
Once you feel confident in your Google Analytics knowledge, you're ready to take the next step and earn your certification. Before you do so, it's a good idea to know what you're getting into. This means understanding details like the exam format, time limits, potential questions and topics covered. Fortunately, we've got you covered. See the Google Analytics certification exam topics and format below.
Google Analytics Certification Assessment topics:
Key Principles
Planning
Implementation and Data Collection
Configuration and Administration
Conversion, Reports, Metrics and Dimensions
Google Analytics Certification Assessment format:
50 questions
75 minutes to complete
Score of 80% of higher to pass
If you end the assessment early or the timer runs out before you have answered enough questions correctly, you will not pass and not be able to resume where you left off
Waiting time of 1 day before retaking the assessment if you failed your last attempt
Step 3: Take the Google Analytics Exam
Once you're ready, it's time to test your knowledge and take the Google Analytics exam!
You can take it anywhere as long as you have a device and an internet connection. We recommend taking it on a laptop or desktop so you have an easier time reading the questions and selecting your answers.
Make sure you're comfortable and in an environment where you can focus. Good luck!
Remember that you'll be able to retake the exam 24 hours after your previous attempt, so don't be discouraged if you're not able to pass on the first try. Simply brush up on your knowledge in the meantime and be prepared to retake the next exam.
Tips to Ace Your Google Analytics Certification Exam
Feeling nervous? Follow these tips to help you feel well-prepared and confident before taking the Google Analytics certification exam.
Take Practice Exams
Third party resources available online offer a variety of practice exams that can help you get a feel for the types of questions you'll encounter. Take advantage of them to practice so you'll feel more comfortable and ready when the time comes to take the real test.
Familiarise Yourself with the Exam Format
The Google Analytics certification exam is timed, so it's important to be familiar with the exam format and how the questions are presented. Make sure you know how to navigate through the exam and how to answer each question type.
Create Notes and Study Materials
Since the exam is held online, you're free to refer to any notes or study materials you might have. Use this to your advantage to help you remember key concepts and terminology.
Take Your Time and Don't Rush
While the exam is timed, it's important not to rush through the questions! Read each one carefully before answering and make sure you understand what each question is asking before selecting an answer.
Eliminate Wrong Answers If You're Unsure
Stuck on a question? Don't guess blindly! Try eliminating any obviously incorrect answers first to increase your chances of selecting the correct answer.
Is the Google Analytics Certification Worth It?
Now it's time for the big question. The Google Analytics certification exam is tough, so is it worth going through all the trouble to get the certification?
In short? Yes!
Whether you're interested in pursuing a career in digital marketing or looking to advance your digital marketing career, obtaining a Google Analytics certification demonstrates to potential employers that you have a deep understanding and the skills to use the tool. With the increasing demand for data-driven marketing roles, obtaining a Google Analytics certification can potentially lead to better job opportunities and higher salary offers — making it a valuable investment in your career development and professional growth.
Want to learn how to use Google Analytics to track business performance, identify areas for business improvement and increase sales conversions? Take up the Google Analytics training course.
Read also: 8 Best Free and Paid Google Analytics (GA) Training Certification Courses