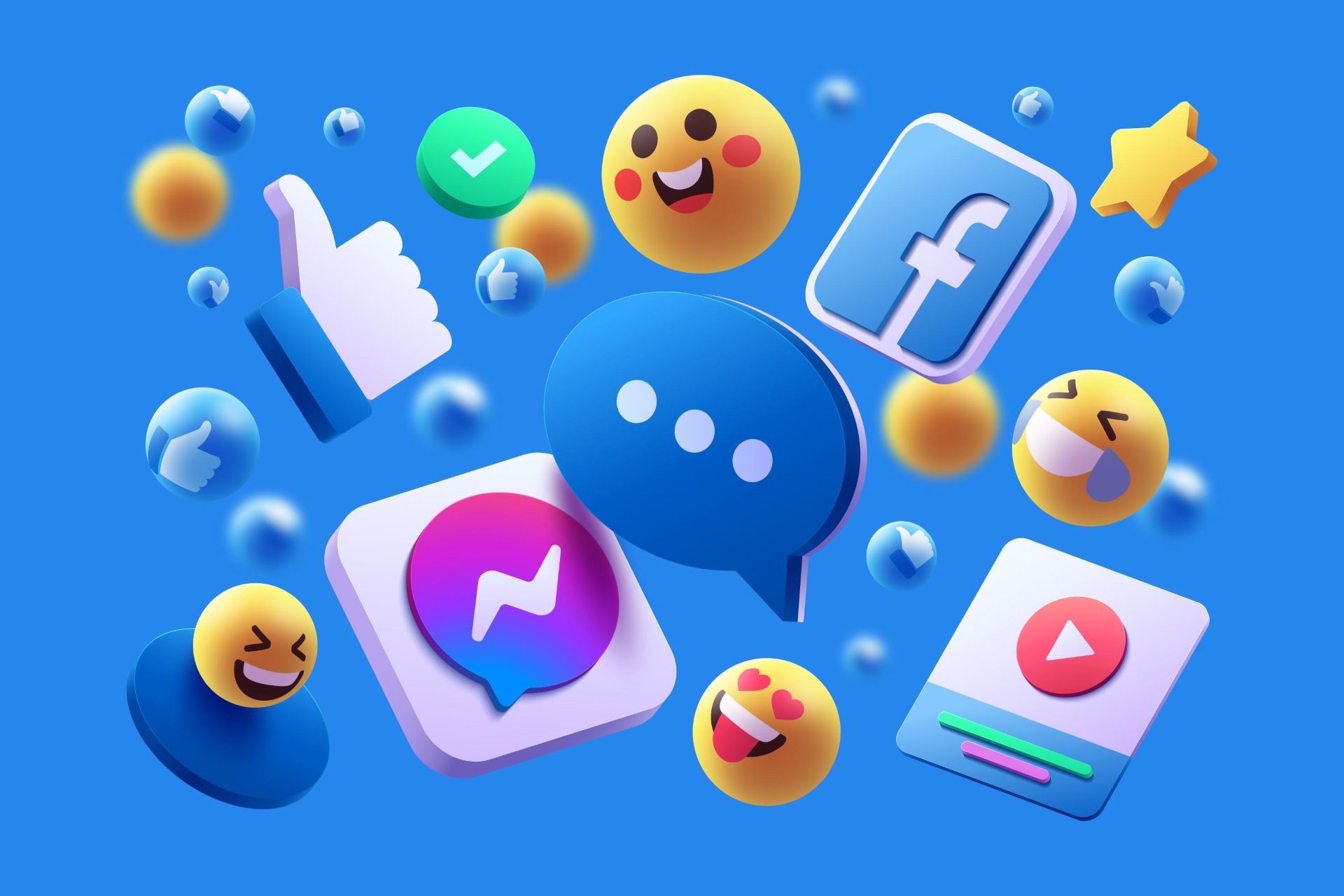 Digital marketing is a broad and rapidly growing field as the online world becomes an increasingly significant portion of our everyday lives. In Singapore, employers have ranked digital marketing as one of the top five job roles they aim to fill (Marketing Interactive). Meanwhile, digital marketers enjoy lucrative pay with annual salaries for digital marketing managers ranging from $45,000 to $110,00 (JobStreet).
Today, digital marketing is a umbrella term for a number of different specialisations such as content marketing, social media marketing, search engine optimisation (SEO) and more. Whether you're looking to start a career make a switch to digital marketing, we've compiled 10 of the best free and paid digital marketing certification courses to help you get a head start.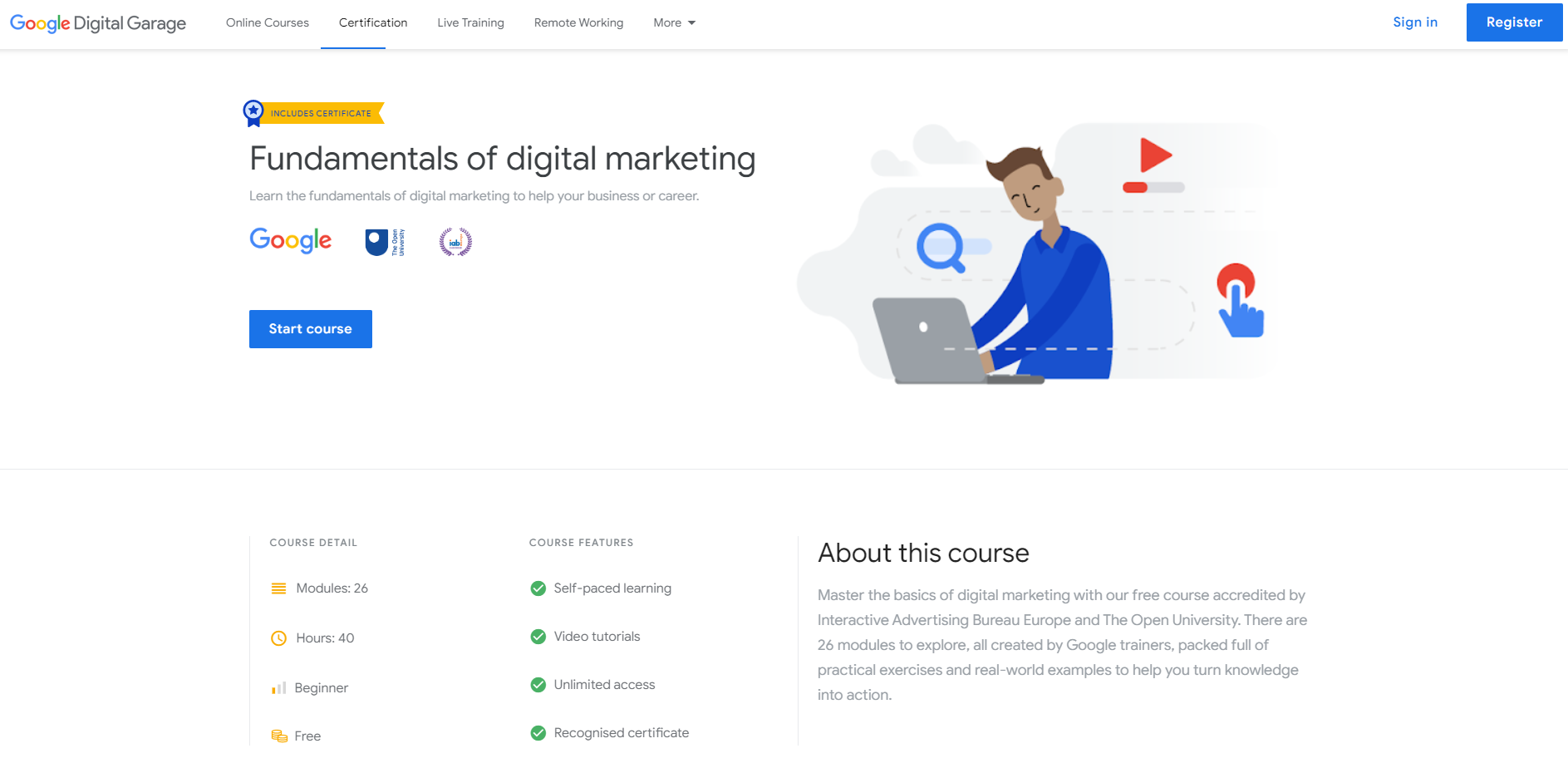 #1: [FREE] Google Digital Garage: Fundamentals of Digital Marketing
Google Digital Garage is the company's online course platform dedicated to digital marketing training courses.
Fundamentals of Digital Marketing is the platform's only digital marketing certification course created by Google's trainers and accredited by Europe's Interactive Advertising Bureau and The Open University.
This is a comprehensive self-paced course aimed at complete beginners. It comprises 26 modules with 40 hours of content like video tutorials, practical exercises and real-world examples. At the end of the course, you'll receive an industry-recognised certificate from Google that demonstrates your understanding of the core concepts of digital marketing.
We recommend Google's Fundamentals of Digital Marketing course if you're looking to obtain an industry-recognised certification to boost your career.
Explore Google's Fundamentals of Digital Marketing.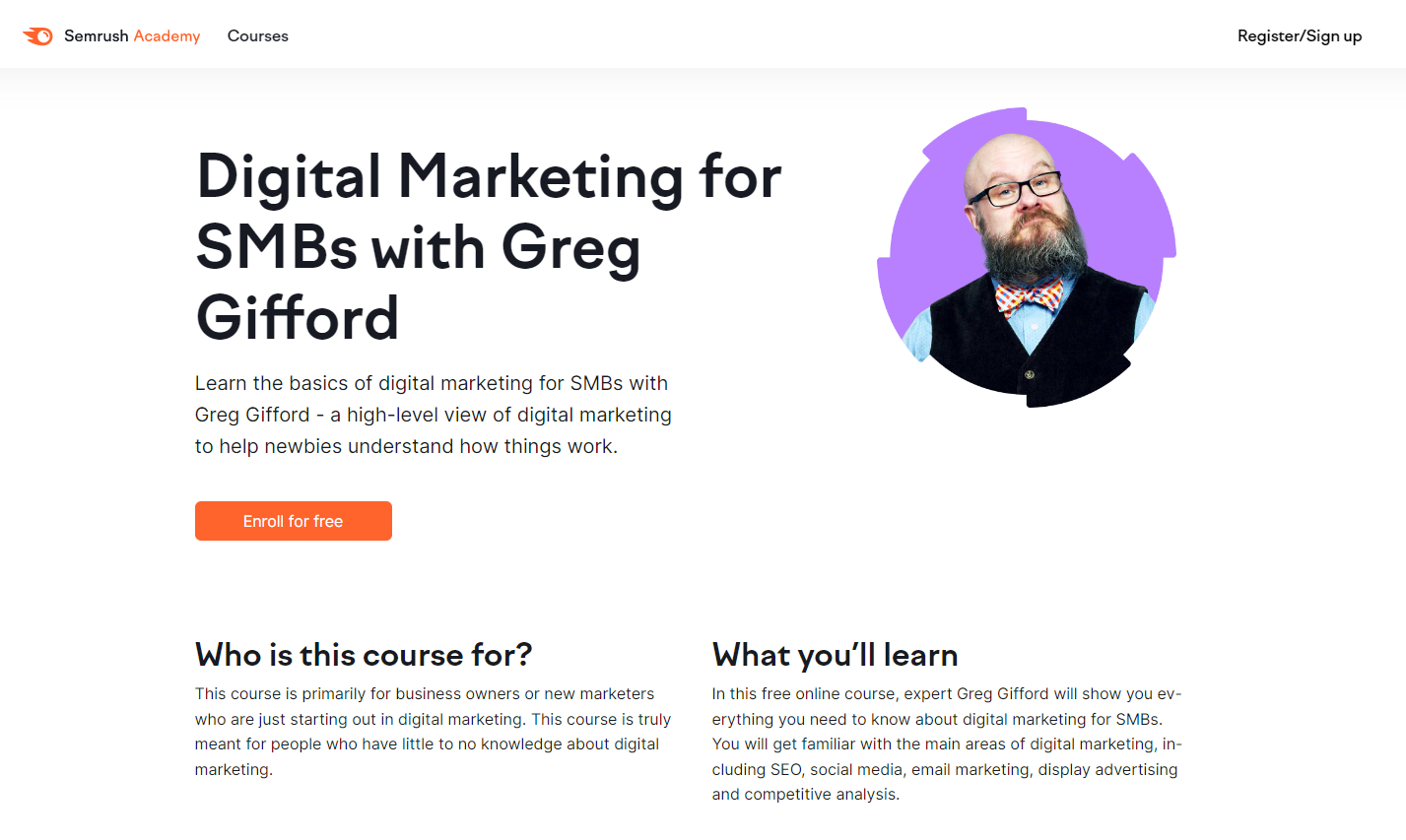 #2: [FREE] Semrush Academy: Digital Marketing for SMBs
Semrush develops digital marketing tools used by the world's leading companies. To help its users, the company has created Semrush Academy which offers digital marketing training courses taught by best-in-class marketing experts.
Digital Marketing for SMBs is a free digital marketing course taught by Greg Gifford, an experienced SEO consultant with over 17 years of experience. This course is primarily for business owners or new marketers who are just starting out in digital marketing.
Greg takes learners through the basics of digital marketing and gives learners a high-level view of how things work. You'll learn about the main areas of digital marketing including SEO, social media, email marketing, display advertising and competitive analysis. At the end of the course, learners will receive a certificate from Semrush Academy.
We recommend this course if you are a small business owner or someone who wants to learn digital marketing from a proven industry expert.
Explore Semrush Academy's Digital Marketing for SMBs by Greg Gifford.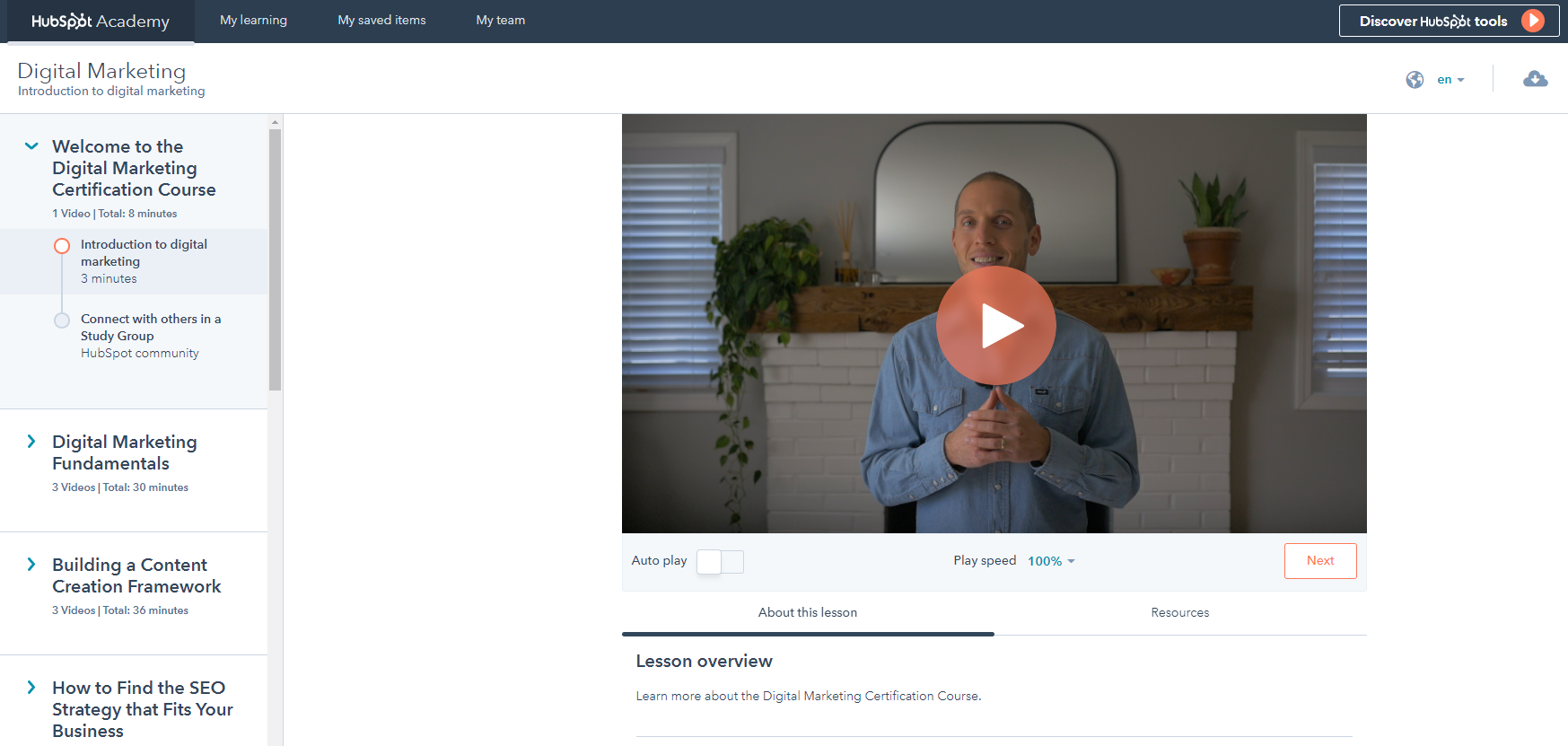 #3: [FREE] HubSpot Academy: Digital Marketing Course
The HubSpot blog is one of the most popular online resources for digital marketers worldwide. So when their online course platform — HubSpot Academy releases a digital marketing course, you know it's been created and vetted by industry experts.
This is a comprehensive free digital marketing course suitable for the following learners:
Marketing managers looking to upskill their digital marketing expertise
Content marketers looking to broaden their skillset
Students looking for an introduction to digital marketing
The course runtime is about 4 ½ hours and consists of 9 lessons with 11 quizzes. Topics covered include how to optimise your website for search engines, as well as how to create a non-paid and paid digital marketing strategy for your business. At the end of the course, you'll receive a globally-recognised HubSpot certificate that will help you stand out to potential employers.
This course is suitable for beginners who want to learn from a recognised organisation and attain an industry-recognised certificate for their resume.
Explore HubSpot Academy's Digital Marketing Course.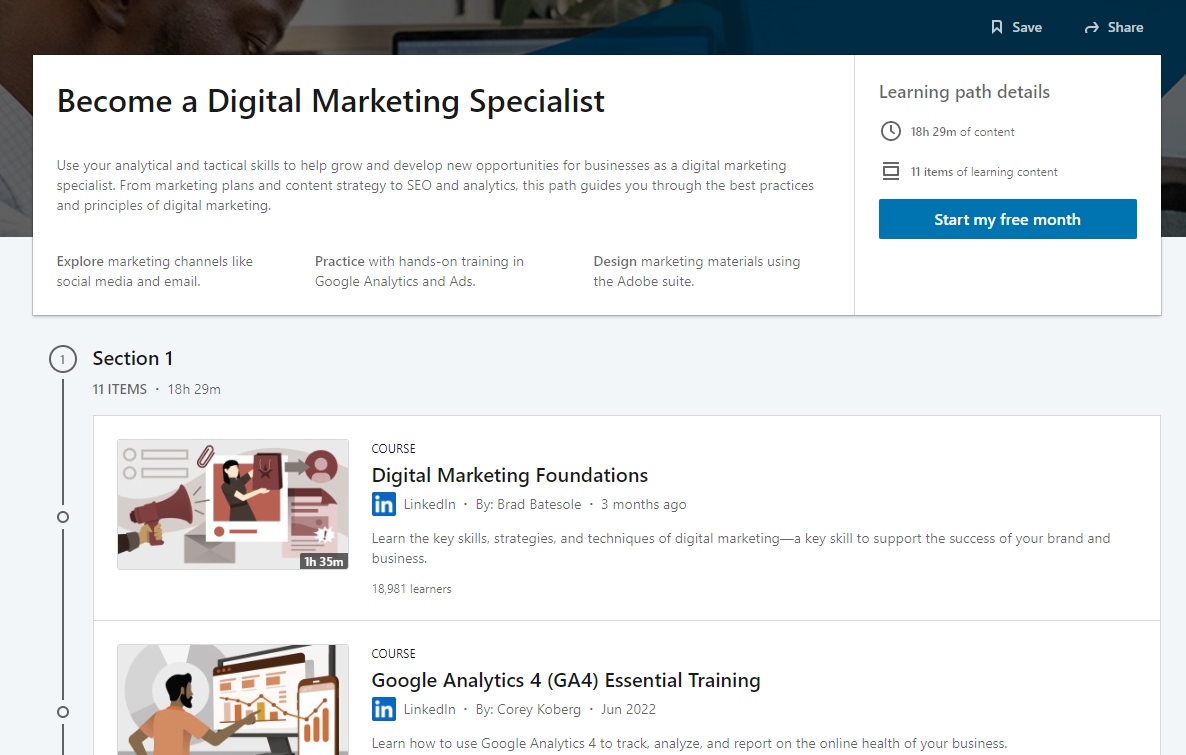 #4: [$26.99/mth] LinkedIn Learning: Become a Digital Marketing Specialist
Learning paths on LinkedIn Learning are a series of courses that culminate in a certificate of completion. From marketing plans and content strategy to SEO and analytics, LinkedIn Learning's Become a Digital Marketing Specialist learning path is designed to guide learners through the best practices and principles of digital marketing.
To access the LinkedIn Learning courses you'll need to subscribe to the platform at a rate of $26.99/mth if paid annually, or $49.99/mth if paid monthly. The learning path consists of 11 courses with a runtime of 18h and 29m. Each course is taught by industry experts who will guide you through the particular topic.
Completing each course rewards a certificate of completion which you can display on your LinkedIn profile. This option is ideal for beginners who want to pick up the basics of digital marketing from industry experts on a trusted platform.
Explore LinkedIn Learning's Become a Digital Marketing Specialist.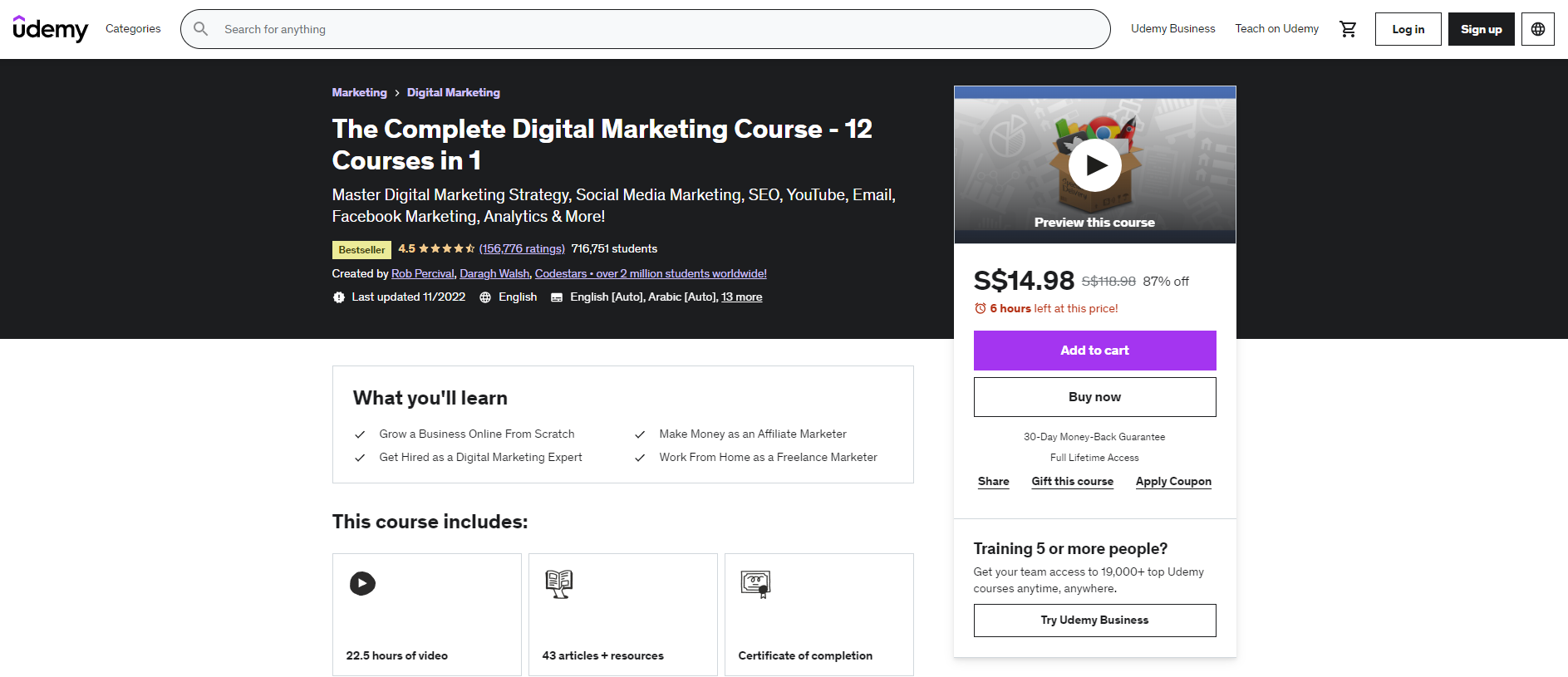 #5: [$118.98] Udemy: The Complete Digital Marketing Course Bundle
Udemy is a popular online learning platform offering a variety of digital marketing courses on specific topics like SEO, Content Marketing, Google Ads and more.
While the variety of courses available can be great if you already know which subset of digital marketing you want to explore, it can be overwhelming for beginners who want to start with a basic digital marketing course that sets them up with a strong foundation.
For that, we've picked out The Complete Digital Marketing Course Bundle which consists of 12 courses each covering major online marketing topics. They are:
Market Research
WordPress
Email Marketing
Copywriting
Search Engine Optimisation (SEO)
YouTube Marketing
Social Media Marketing
LinkedIn Marketing
App Marketing
Google AdWords
Google Analytics
Facebook Ads
While it might seem like a lot to go through at first glance, the course does an excellent job of summarising the topics without overwhelming learners. There are a total of 20+ hours of lectures, training, quizzes and practice activities. You get a Udemy certificate of completion once you finish the course.
You can pick out which of the 12 topics are most relevant to you and even come back to topics you've skipped in the future. Udemy's Complete Digital Marketing Course Bundle is priced at S$118.98, but you can add the course to your wishlist and wait for a discount to get it at a good price. At the time of writing, the bundle is 87% off at just S$14.98.
This course is suitable for complete beginners who want to get a basic understanding of the different digital marketing channels.
Explore Udemy's Complete Digital Marketing Course Bundle.
#6: [$59/mth] Coursera: Google Digital Marketing and E-commerce Professional Certificate
Offered in collaboration by Google and Coursera as part of the Grow with Google Initiative, this digital marketing certification course aims to turn learners with no degree or experience into job-ready professionals in less than 6 months.
This is one of the most comprehensive digital marketing training courses available with a total of 7 courses each taking about 20 hours to complete. All courses are accessible via a Coursera subscription at $59/mth.
The program equips learners with in-demand skills that will prepare them for an entry-level job. You'll learn from subject matter experts at Google and learn how to use tools and platforms like Canva, Google Ads, Google Analytics, Hootsuite, HubSpot, Mailchimp and Shopify. Additionally, learners will also have the opportunity to build their own portfolio with projects like customer personas and social media calendars to showcase their job readiness to potential employers.
Upon course completion, learners will earn a professional certificate from Coursera and Google.
This course is ideal for learners who are preparing for a new career, and want a structured pathway to an entry-level job in digital marketing.
Explore Coursera and Google's Digital Marketing and E-commerce Professional Certificate.
#7: [$600] ReliableSoft Academy: Digital Marketing Full Course Bundle
Digital marketing is a broad topic with many different specialisations, which is why you'll often see several types of digital marketing training courses marketed as bundles rather than a single all-encompassing digital marketing course.
ReliableSoft is a full-service digital marketing agency providing SEO and digital marketing services since 2002. The folks over at ReliableSoft have put together a bundle of 10 courses from their academy that covers all major aspects of digital marketing.
The following courses are included in the bundle:
Digital marketing basics
Facebook / Instagram ads
Google ads
Search engine optimisations (SEO)
Keyword research
Content marketing
Email marketing
Google analytics
Social media marketing
eCommerce SEO
The entire training bundle costs $600 and consists of 10 courses and 75 lessons covering 240 digital marketing related topics. However, they occasionally have 80% discounts that bring the total price to $119.
According to ReliableSoft, they've designed their courses based on experienced working with clients from different industries and student feedback. The courses are created by qualified and recognised experts with hands-on experience, and the course content is continuously updated with the latest digital marketing techniques as the company tests them on their own campaigns.
Upon completion of the course and required exams, you'll get a digital marketing certification to showcase on your resume and open up new career opportunities.
This is a great option for beginners looking to learn digital marketing in the fastest way possible. Since the course content is derived from ReliableSoft's own digital agency experience, you can be sure that you'll be learning the latest digital marketing techniques and best practices.
Explore ReliableSoft's Digital Marketing Course Bundle.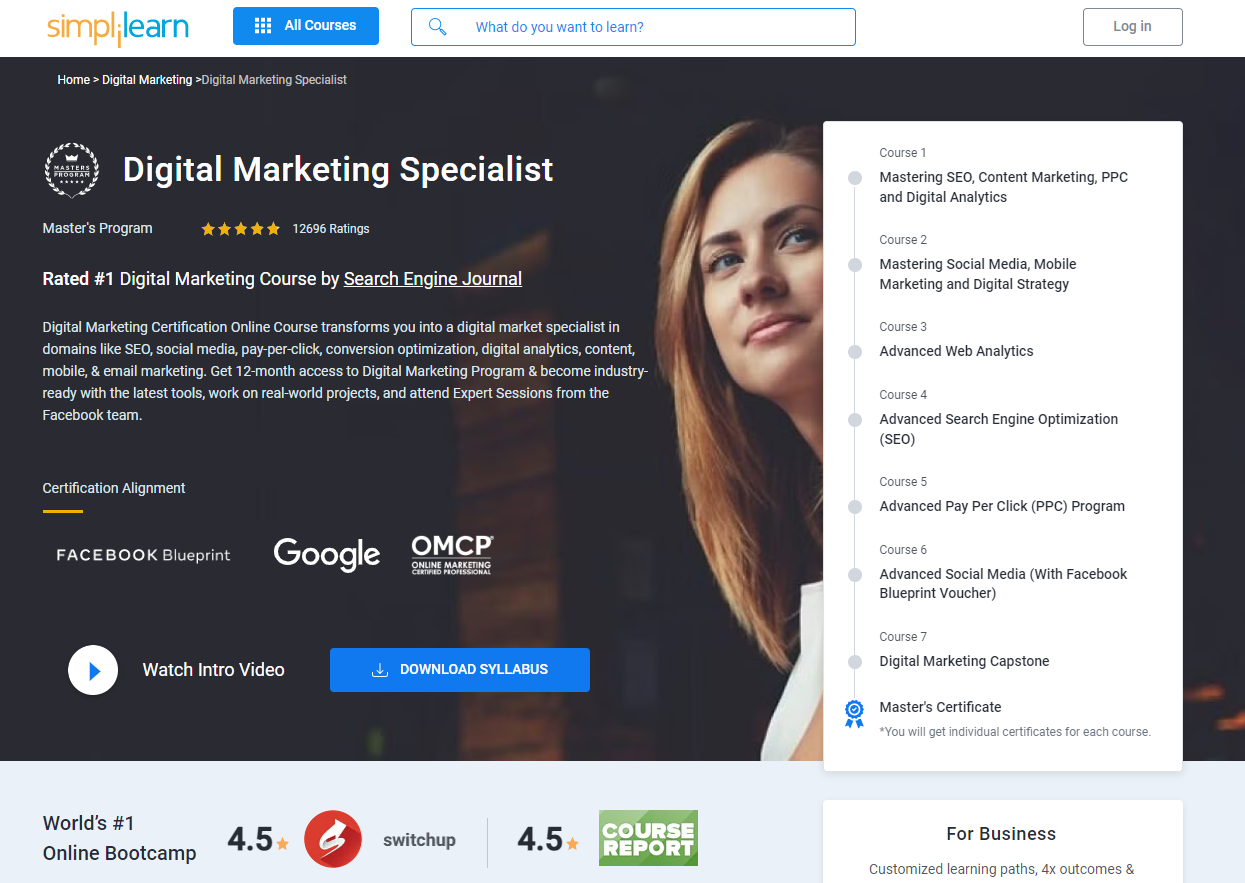 #8: [$1,049] Simplilearn: Digital Marketing Certification Training Course
The Simplilearn Digital Marketing Certification Training Course is one of the most comprehensive and well-structured online courses available. Rated the #1 digital marketing course by Search Engine Journal, it is a premium course and the second-most expensive on this list at $1,049.
What does that price tag get you? Co-created with Facebook, Simplilearn's digital marketing certification course aims to give learners an in-depth understanding and advanced knowledge of digital marketing domains. Using a mix recorded and online classes taught by industry experts, learners will be exposed to 30 digital marketing tools, explore case studies and complete real-world projects to become industry ready.
The course is also aligned with industry-standard digital marketing certifications like Facebook Blueprint, Google Ads and Analytics, Hootsuite and HubSpot so you'll be ready to pass those exams should you choose to take them. At the end of the course, you'll receive a Simplilearn Master's Certificate as well as an individual certificate for each course, which validates your ability to lead digital marketing efforts in your organisation.
The premium price tag may rule out solo learners looking for a course without a hefty investment. This digital marketing course is more suitable for people working in organisations and want to convince management to invest in a digital marketing course.
Explore Simplilearn's Digital Marketing Certification Training Course.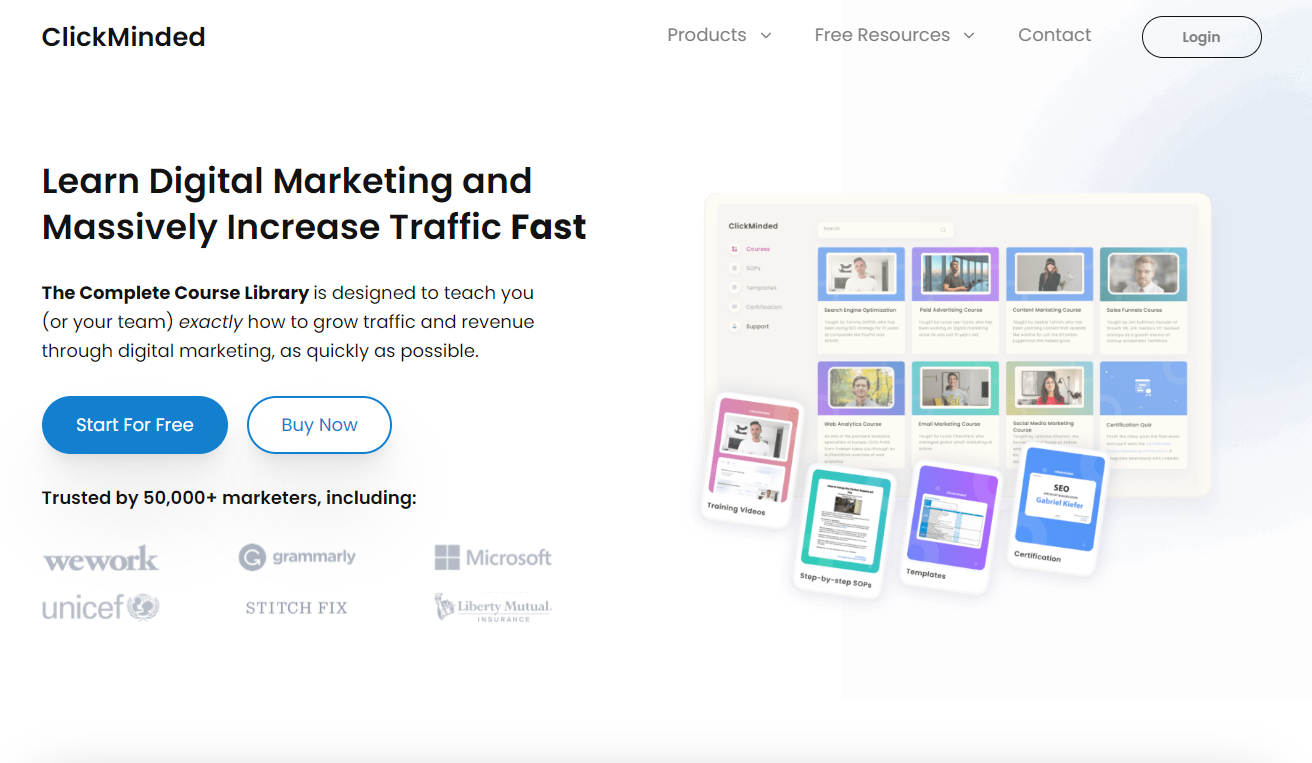 #9: [$1,997] ClickMinded: Complete Digital Marketing Course Library
ClickMinded is a massive library of world-class digital marketing courses and SOPs designed to teach learners how to massively increase traffic and sales for any website as quickly as possible. The organisation was co-founded by Tommy Griffith, an SEO manager who has worked at companies like PayPal and Airbnb.
At $1,977 — ClickMinded's Digital Marketing Course Library is the most expensive option on this list. However, you do get access to all 7 of their digital marketing courses which would ordinarily cost $997 each. The 7 courses are:
Content Marketing Course
Email Marketing Course
Paid Advertising Course
Sales Funnels Course
SEO Course
Social Media Course
Web Analytics Course
ClickMinded's digital marketing courses range from entry level to intermediate. Taught by professionals who are actively working in the industry in big organisations, they are designed to give folks a fundamental understanding of each category and get learners up to an intermediate understanding as quickly as possible. All courses come with an individual certificate and a 14-day money back guarantee.
What ClickMinded's digital marketing training courses offer that others don't is a set of SOPs that are designed to systemise digital marketing tasks to help you work more efficiently.
The high cost makes ClickMinded's courses unsuitable for individuals. However, if you are an employer or an employee researching potential digital marketing training courses for your employer — this option is ideal for learners who already know the basics and want a course that explores actionable strategies to improve their businesses.
Explore ClickMinded's Complete Digital Marketing Course Library.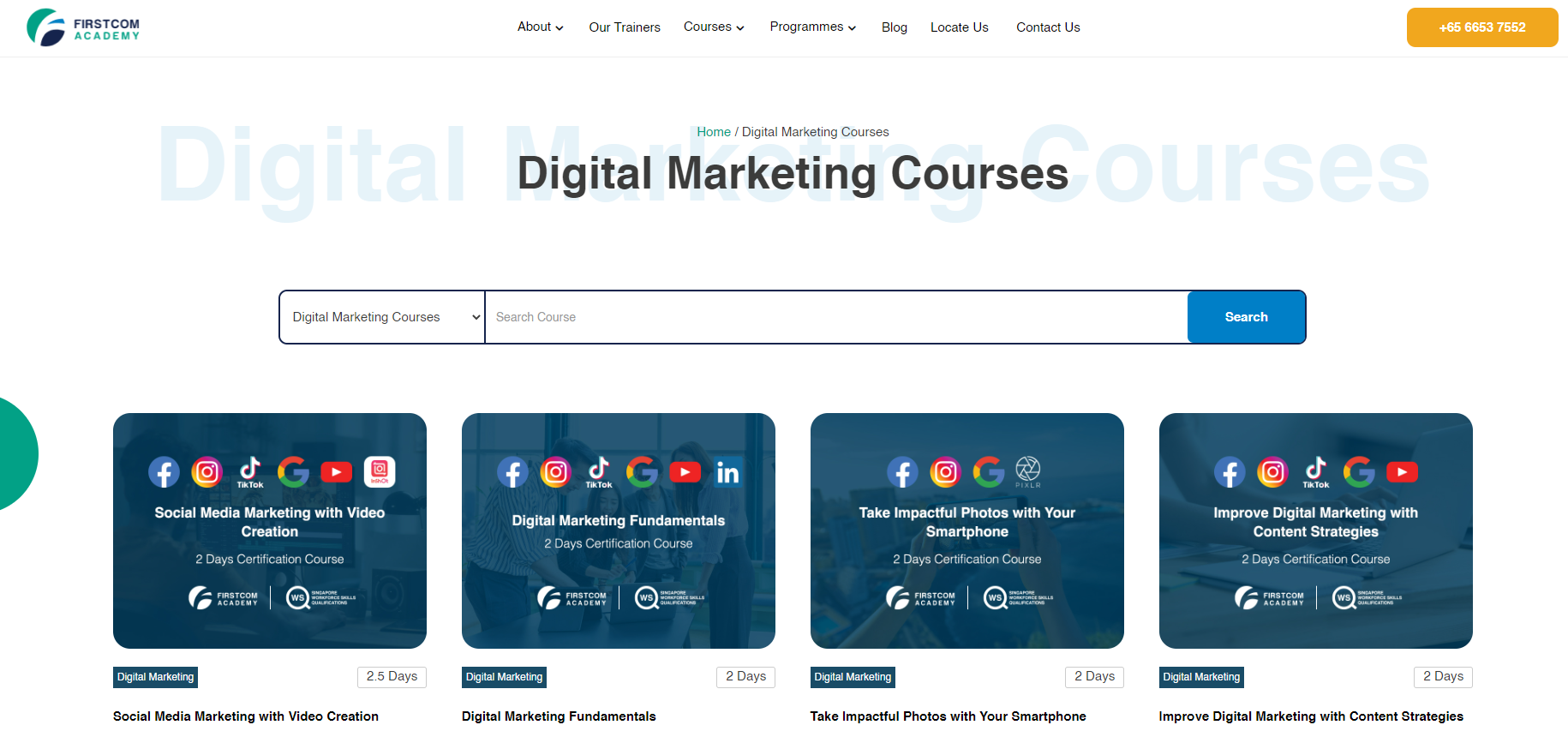 #10: [$330] FirstCom Academy: Digital Marketing Courses
While online courses are convenient, the lack of a governing body and course providers catering to different regions means the actual content can be hit or miss depending on your needs.
If you're searching for a digital marketing course in order to upgrade yourself or prepare for a career switch, it can be beneficial for you to learn from experienced local marketers who can provide you with relevant insights and best practices.
FirstCom Academy's Digital Marketing Courses are WSQ-ceritfied and SkillsFuture-eligible meaning that they have been vetted by national institutions to be ideal for Singaporean professionals looking to learn relevant and applicable digital marketing skills. Courses are priced at $1,100 but can be subsidied up to 70% at $330 per course.
FirstCom Academy offers a total of 5 courses covering different aspects of digital marketing:
Digital Marketing Fundamentals
Improve Digital Marketing with Content Strategies
Social Media Marketing with Video Creation
Take Impactful Photos with Your Smartphone
Create Attractive Animated Artworks with Powtoon
Building Successful Email Marketing Campaigns through Mailchimp
No matter if you enroll in one or several courses, you'll learn about best practices and receive hands-on training from industry experts. And as the courses are conducted in-person, you'll be able to get immediate answers to your questions and get real-time feedback from your course instructor.
All courses take about 2 to 2.5 days to complete. Once you've passed the final assessment, you'll obtain a FirstCom Academy Certificate of Completion and SkillsFuture WSQ Statement of Attainment which is recognised by Singapore employers.
Explore FirstCom Academy's full range of Digital Marketing Courses.
Is It Worth Paying for a Digital Marketing Certification?
As you can see, there are plenty of digital marketing training courses available online. The courses in this article alone cater to learners of different levels with price points ranging from free to affordable and premium prices aimed at organisations.
With so many to choose from, how do you know which is good, bad or relevant to your needs?
In general, paid digital marketing courses are valuable because they provide you with a structured and organised way to learn. Saving time as you don't have to deal with information overload if you were to learn digital marketing on your own. Paid courses also tend to have higher quality content as their courses are vetted by accredited institutions.
When it comes to online courses, paying for a course only to find out that its contents and practices are not relevant to your country or region can be a real risk. That's why we recommend enrolling in a digital marketing certification course from a local provider.
This way, you can be sure that you're receiving practical, applicable digital marketing knowledge you can put to work immediately, as well as a locally-recognised certification that will be useful for advancing your career.