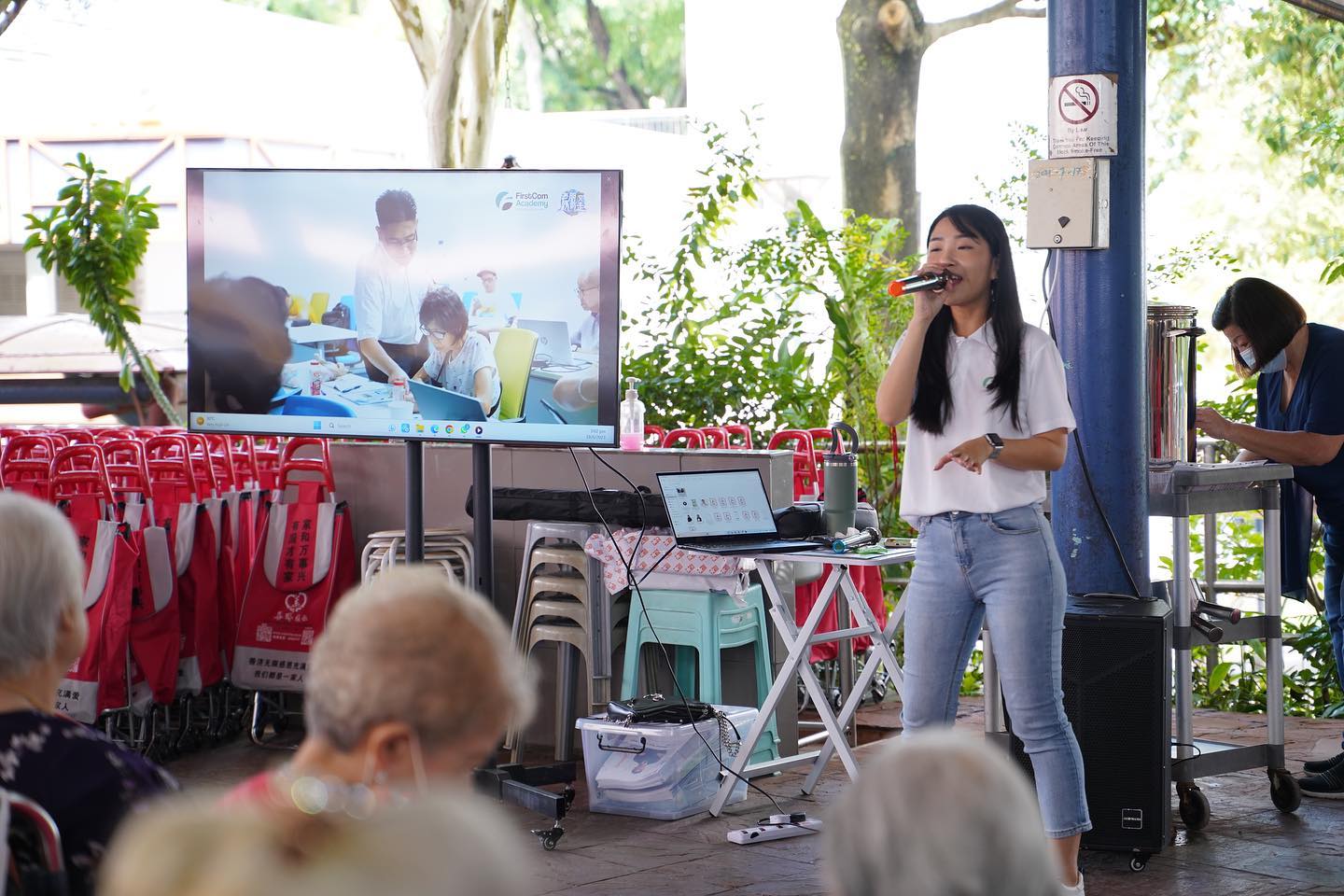 In a world where technology is constantly evolving, keeping up with the latest trends and advancements can be challenging, especially for seniors. However, at FirstCom Academy, we believe that learning knows no age limits, and our mission is to promote lifelong learning and upskilling within the community.
On 18th June 2023, we had the privilege of attending the Father's Day event organized by team 爱心团队 at 107 Jalan Bukit Merah, where we had the opportunity to share our vision and engage with the senior citizens. Our aim was to introduce our specially tailored "Digital Marketing Essentials for Beginners" program and demonstrate how it can empower seniors to embrace the digital era confidently. Let's delve into our experience at the heartwarming event and explore the power of lifelong learning.
A Happy Father's Day at Jalan Bukit Merah
The FirstCom Academy team was invited to a Father's Day event organised by the lovely 爱心团队 team who went above and beyond to create a memorable day for the seniors in Jalan Bukit Merah the community. Amidst the festivities, FirstCom Academy gave out informative materials to introduce ourselves to the residents and emphasise the importance of continuous lifelong learning, regardless of age.
The seniors warmly welcomed us as they indulged in snacks and refreshments. We took this opportunity to host a short presentation, where we explained the essence of lifelong learning and how it can open doors to new opportunities and personal growth. The spirit of enthusiasm was contagious as we shared success stories of seniors who had already embarked on their learning journey with FirstCom Academy.
Introducing Digital Marketing Essentials for Beginners
At the heart of our engagement was our Digital Marketing Essentials for Beginners Programme. This thoughtfully designed curriculum aims to provide seniors with the necessary skills to keep up with technology and navigate the digital landscape confidently. The world of digital marketing can be daunting for newcomers, but we believe that with patient guidance and real-world insights, anyone can master it.
As an organisation focused on empowering individuals with knowledge, FirstCom Academy understands that learning is a lifelong journey. It doesn't matter what stage of life one is in; there are always opportunities to grow and adapt to the ever-changing world around us. With our Digital Marketing Essentials Programme, we aim to create an inclusive learning environment where seniors can acquire practical skills and discover new passions.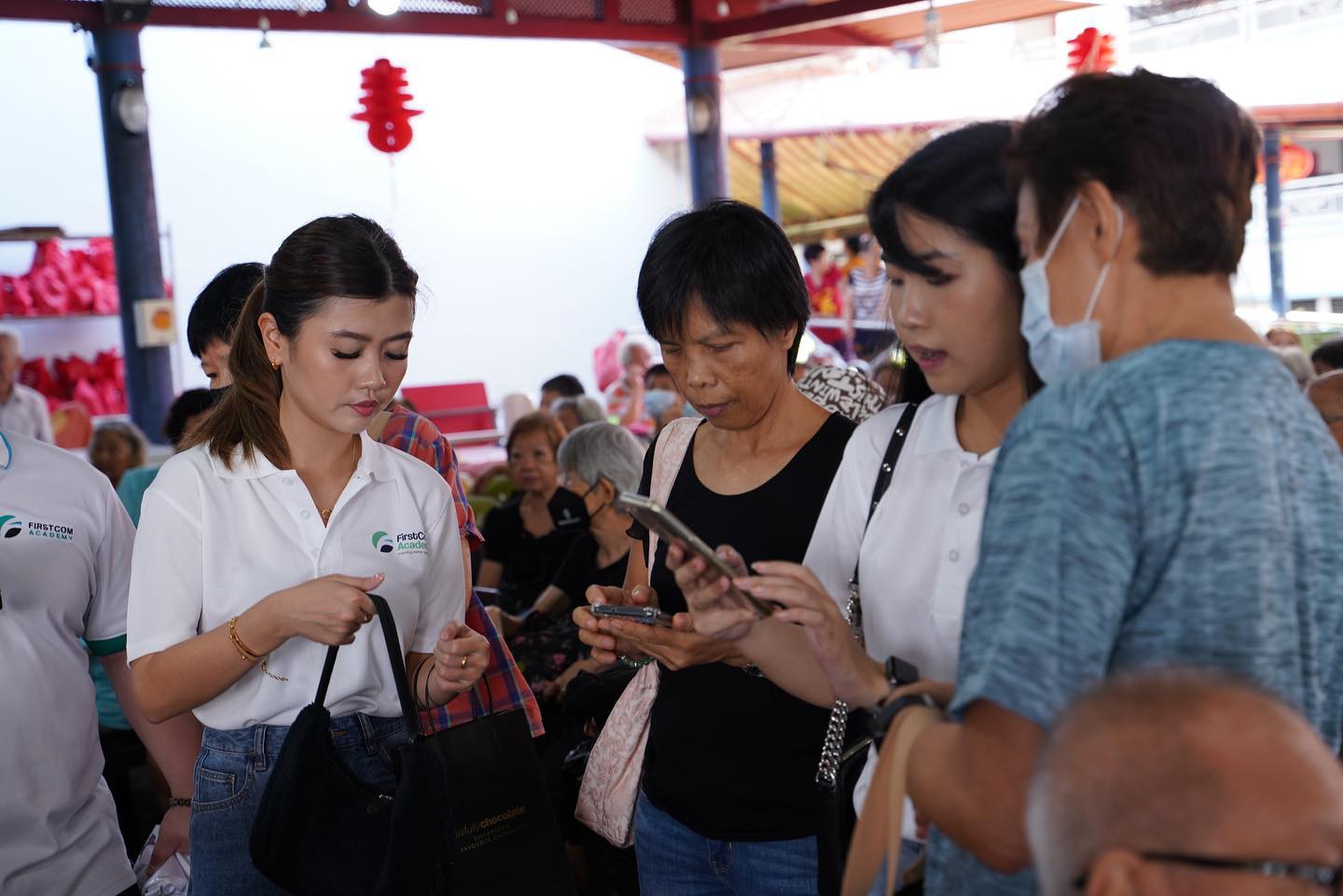 Program Modules: Taking Seniors on a Digital Journey
Module 1: Take Impactful Photos with Your Smartphone (Course Ref. No.: TGS-2021008644)
This mobile photography course recognises the power of visuals in the digital realm. Participants learn various photography styles for digital content and how to choose the right visuals for their brand. The module also covers using mobile phone cameras effectively and editing photos with free tools to enhance digital marketing efforts.
Module 2: Social Media Marketing with Video Creation (Course Ref. No.: TGS-2021005547)
In this course, seniors dive into the exciting world of social media marketing. We explore popular platforms like Facebook, Instagram, LinkedIn, YouTube, and TikTok, learning how to develop engaging social media campaigns. To make the process accessible, we also focus on smartphone video creation and using free video editing applications for post-production enhancements in this video creation course.
Module 3: Facebook and Instagram Fundamentals (Course Ref. No.: TPG-2022025192)
Understanding the power of social media marketing, we dedicate an entire module to Singapore's most popular social media platforms: Facebook and Instagram fundamentals. Seniors discover best practices for setting up Facebook ads, running effective campaigns, analysing data for optimization, and utilising third-party tools to enhance their marketing strategies.
Making Learning Attainable for Seniors
Up to 70% SkillsFuture subsidy is available for FirstCom Academy Programmes for Singaporean citizens aged 40 and above.
@firstcomacademyAt Firstcom Academy, we believe in making a positive impact on the lives of others. This Father's Day, we are thrilled to share our heartfelt involvement in the activity organised by the lovely team, 爱心团队, that focus on promoting lifelong learning for the elderly and embracing the joy of giving back. 🙌✨ Remember, the power to make a difference lies within each of us. Let's come together and create a world where every person feels valued, supported, and cherished. 💙✨ #FCA #FirstComAcademy #lifelonglearning #Upskilling #UpskillingStartsWithYou #neverstoplearning♬ original sound – FirstCom Academy
Helping Fathers and Seniors Embrace Lifelong Learning
We would like to thank team 爱心团队 once again for inviting us to the Father's Day event at 107 Jalan Bukit Merah. The FirstCom Academy team had the privilege of engaging with senior citizens and promoting the spirit of lifelong learning. Through our Digital Marketing Essentials for Beginners Programme, we demonstrated that age is no barrier to acquiring new skills and knowledge. As we witnessed the seniors' enthusiasm and eagerness to embrace digital marketing, we were reminded once again that learning is a lifelong adventure, and it's never too late to embark on it.
In a world of constant change, we are committed to empowering individuals, regardless of their age, to thrive in the digital era through lifelong learning*. Together, we can bridge the generation gap and build a more inclusive and technologically competent community.