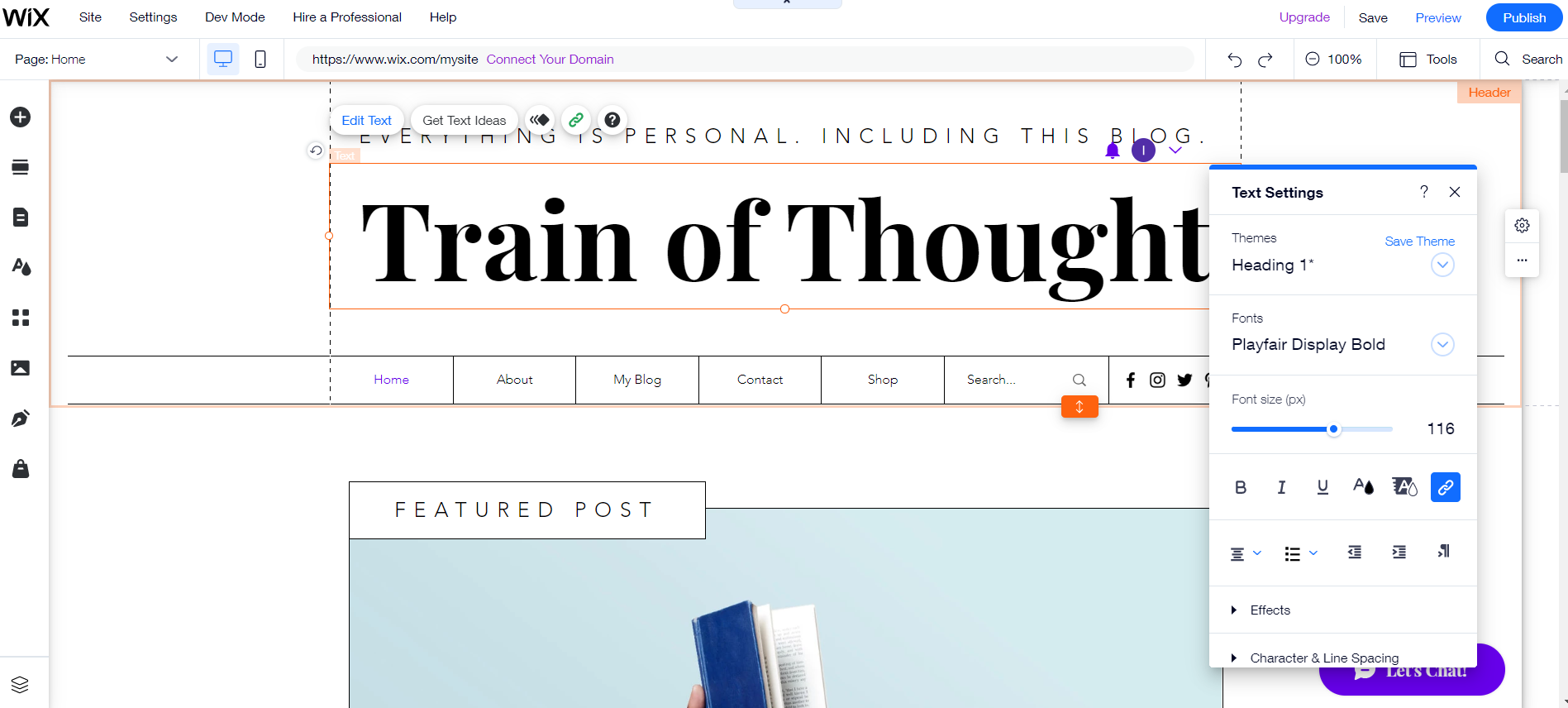 Wix is the ideal platform for anyone looking to create a beautiful, professional website with no coding experience. Whether you're starting a blog, personal portfolio or a new business website, this step-by-step Wix setup tutorial will take you from an absolute beginner to a Wix wizard.
By the end of this Wix guide, you'll have a fully featured, functioning Wix website to call your own. Ready? Let's get started!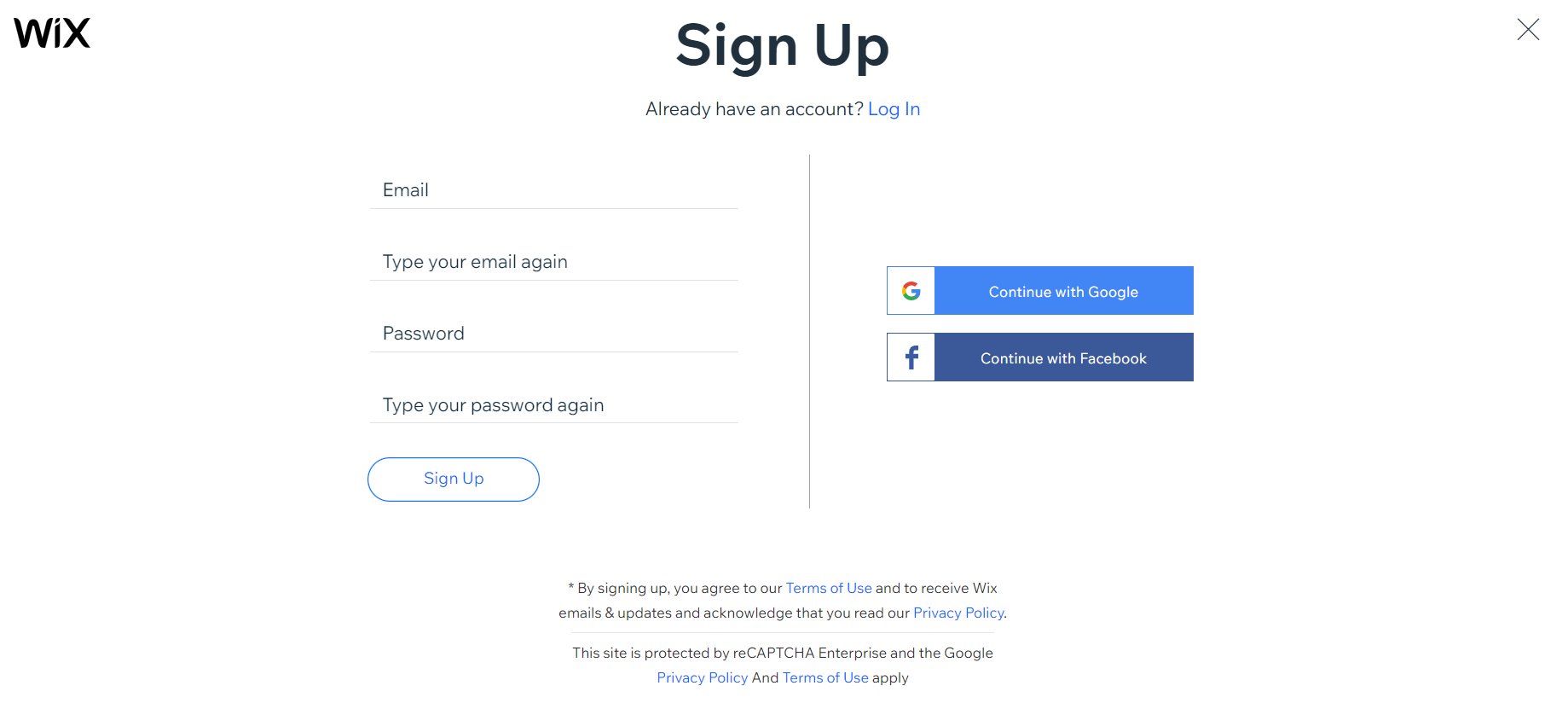 Step 1: Create an Account
Before we begin, you'll need to create a Wix account if you don't already have one. On the Wix sign-up page, you can create a Wix account using your email or an existing Google or Facebook account.

Step 2: Choose Between Wix ADI or Wix Editor
Once you've created and logged into your Wix account for the first time, you'll be prompted with a series of questions about the type of website you want to create, after which Wix will present you with recommendations based on your answer.
After going through the questionnaire, you'll be asked if you'd like to let Wix ADI create a website for you, or create your own website with the Wix editor.
Wix ADI stands for Artificial Design Intelligence. Sounds fancy. It offers a simple but limited way to create a website by using artificial intelligence. Here's a quick comparison between the two.
Wix ADI
Wix Editor

Create a website by answering a few questions

Wix ADI will generate footers, headers and pages based on your answers  

Customisation is limited to selecting a theme and changing colours

You can edit the pages created by Wix ADI, but the editing functions are limited to small tweaks

Create a website by using Wix's drag-and-drop website builder

Full control over your website's overall design including layout, pages, templates and colours

Is less restrictive and has more options than Wix ADI, but requires knowledge of the Wix platform

Ability to add more third-party apps and widgets onto your Wix website than Wix ADI
It should be noted that while you can convert a website made by Wix ADI into the Wix Editor, it doesn't work the other way round. While creating a website using Wix ADI is a very quick and straightforward process, it is more suitable for users who have a small website with just 2 to 5 pages and aren't fussy about their website's design.
For this Wix setup tutorial, we'll be guiding you through the Wix editor which has more options and customisation features.

Step 3: Choose Your Website Template
After you've selected Wix editor, you'll be presented with some website templates based on the questionnaire you answered earlier. If the category Wix has chosen doesn't match up with your business or purpose of your website, you can browse templates from other categories using the navigation bar.
Wix has over 800 designer-made website templates to choose from, so take your time to go through any designs that catch your eye before you make a decision.
To get an idea of how each template looks and functions, simply mouse over your desired template and click "View" — this will open a new tab in your browser with a demo website using the template you selected. From here, simply click around to explore the template.
Once you've decided on a template, click "Edit" or "Edit this site" to start making changes. You can't change your template after your website goes live, so make sure you're set on the template you've chosen.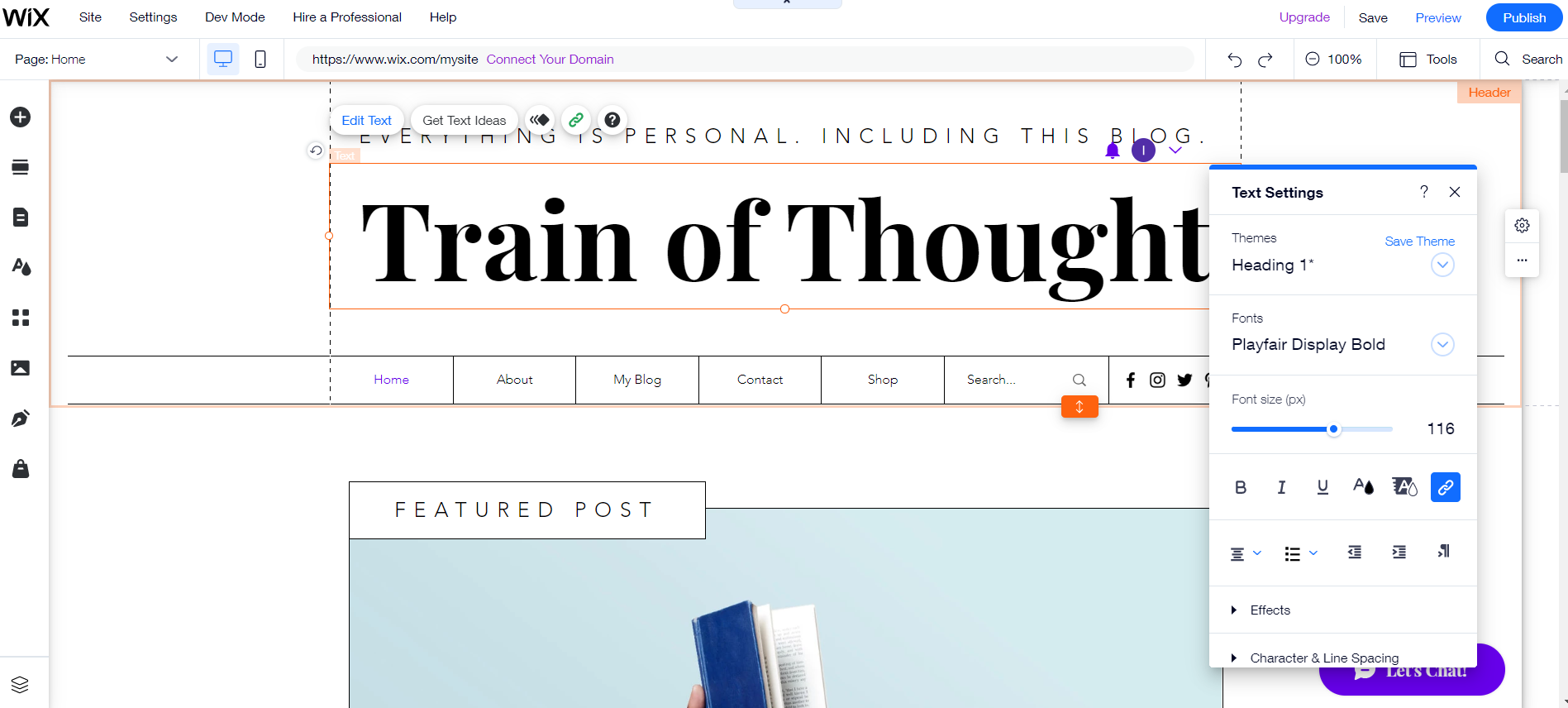 Step 4: Moving, Adding and Changing Text
Once you've chosen your website template, you'll be taken to the Wix Editor to customise your website. If this is your first time exploring a drag-and-drop builder, don't be alarmed! Everything has been made to be intuitive and easy to use, even to complete beginners.
In this part of the Wix guide, we'll spend the next few sections taking you through some of the basic functions in the Wix Editor so you can start customising your website how you'd like.
Let's start with the text.
Moving Text
To change where text is positioned on your website:
Click on the text you wish to move, wait for an orange box highlighting the text to appear
Click on the empty space between the text and the orange box
Your cursor should turn into four arrows, drag the text box to your desired position
Adding Text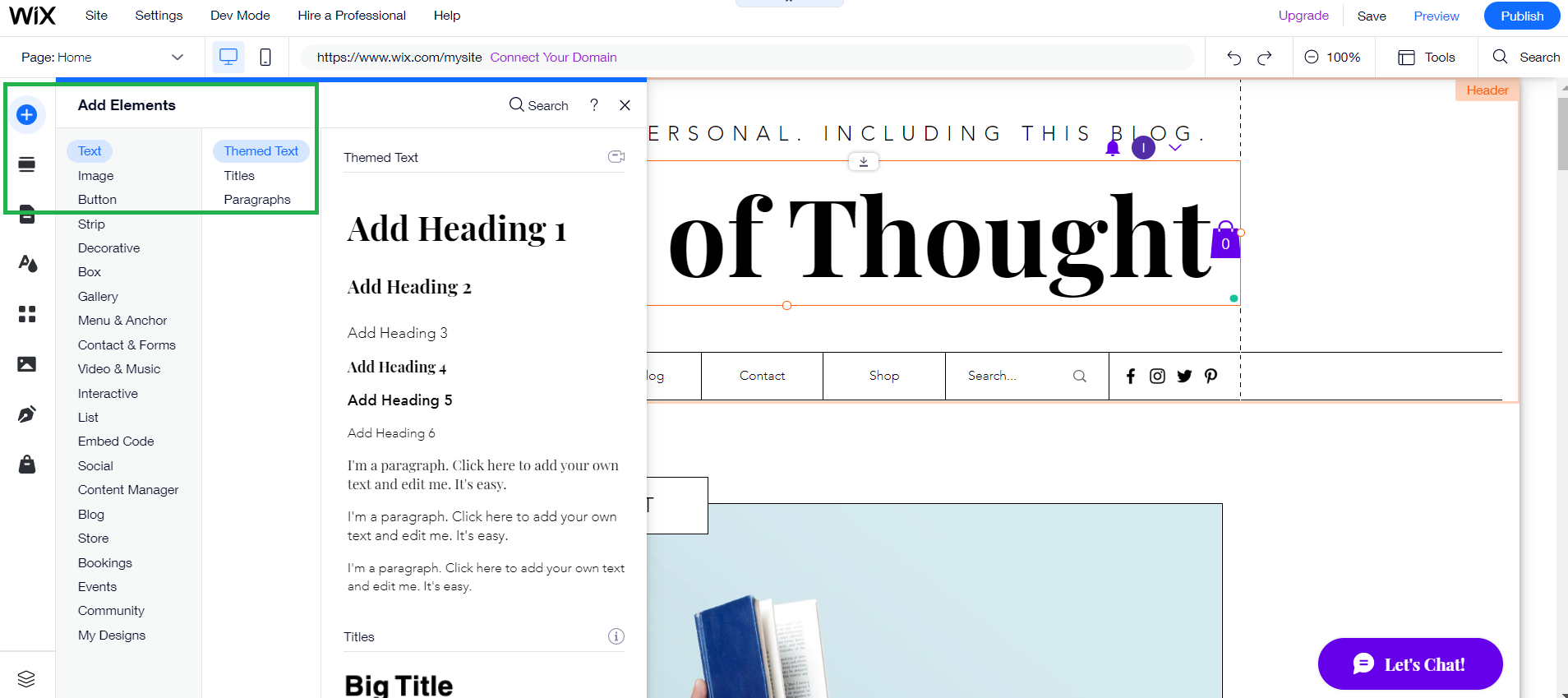 To add new text into your template:
Click on + button on the top of the left navigation bar
Select the first option "Text"
Choose the type of text and design you want to add: "Themed Text", "Titles" or "Paragraphs"
Changing Text
Changing the text in your template is straightforward enough.
Click on the text you wish to change, wait for an orange box highlighting the text to appear
Select the text within the box to remove it, and type your new text
Change text properties such as font, font size and effects in the "Text Settings" pop-up box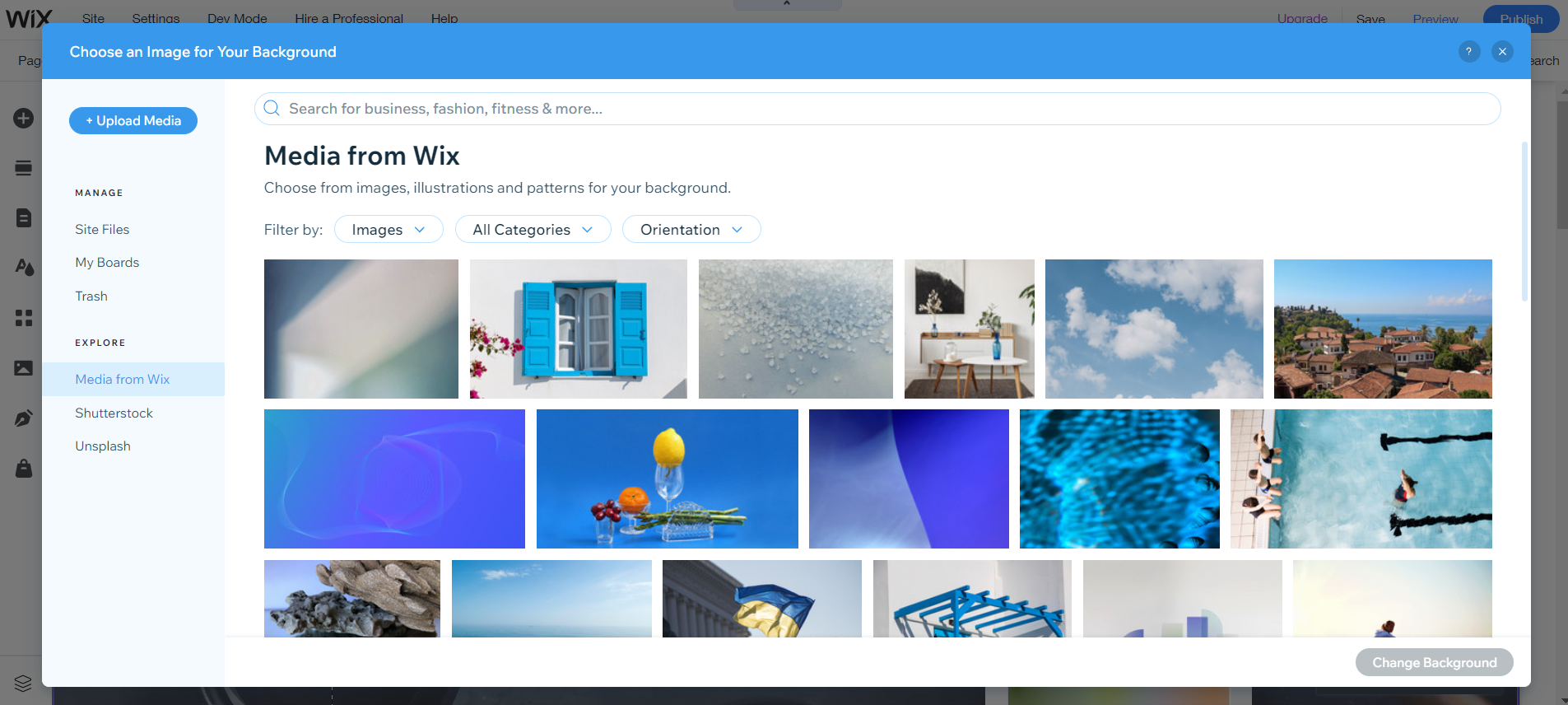 Step 5: Adding, Changing and Editing Images
Like text, adding and changing images in the Wix Editor is an intuitive and straightforward process. The great thing about Wix is the option to upload your own photos or use one of the free illustrations or images from their library. There's also an option to upload images from your social pages like Facebook or Instagram.
If you still can't find a suitable image for your website from those options, you can explore free stock image websites like Unsplash.
Adding an Image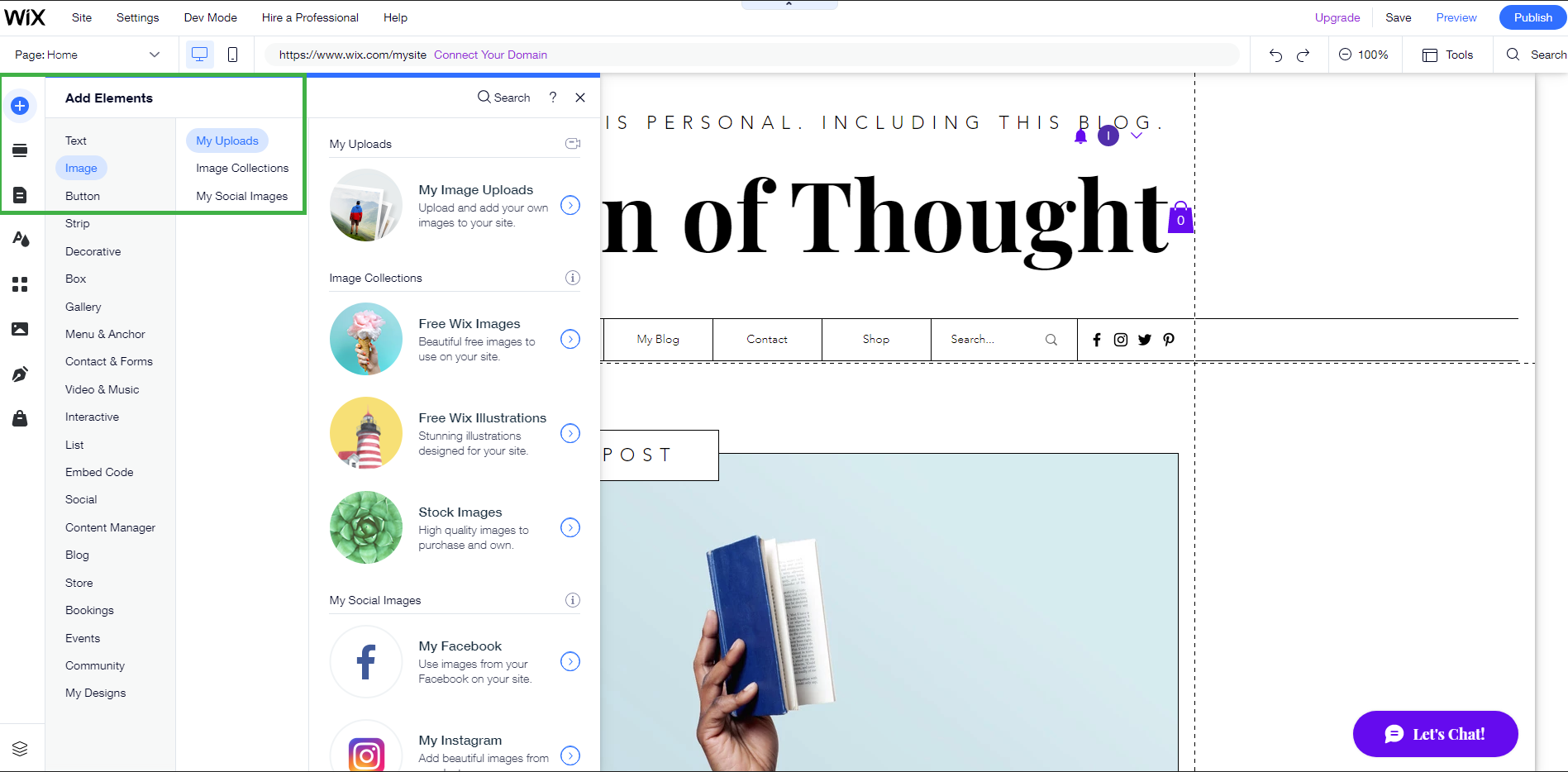 To add a new image into your template:
Click on + button on the top of the left navigation bar
Select the second option "Image"
Choose where you'd like to add the image from
Changing an Image
To change an existing image on a template:
Click on the image you wish to change and a blue border should appear indicating that the image has been selected
Select "Change image"
Locate and select the new image you would like to use
Editing an Image
Wix makes it easy to edit images with just a few clicks. To edit an image to your liking:
Click on the image you wish to edit
Select "design" or "filters"
Choose the frame or colour filter you'd like to apply to the image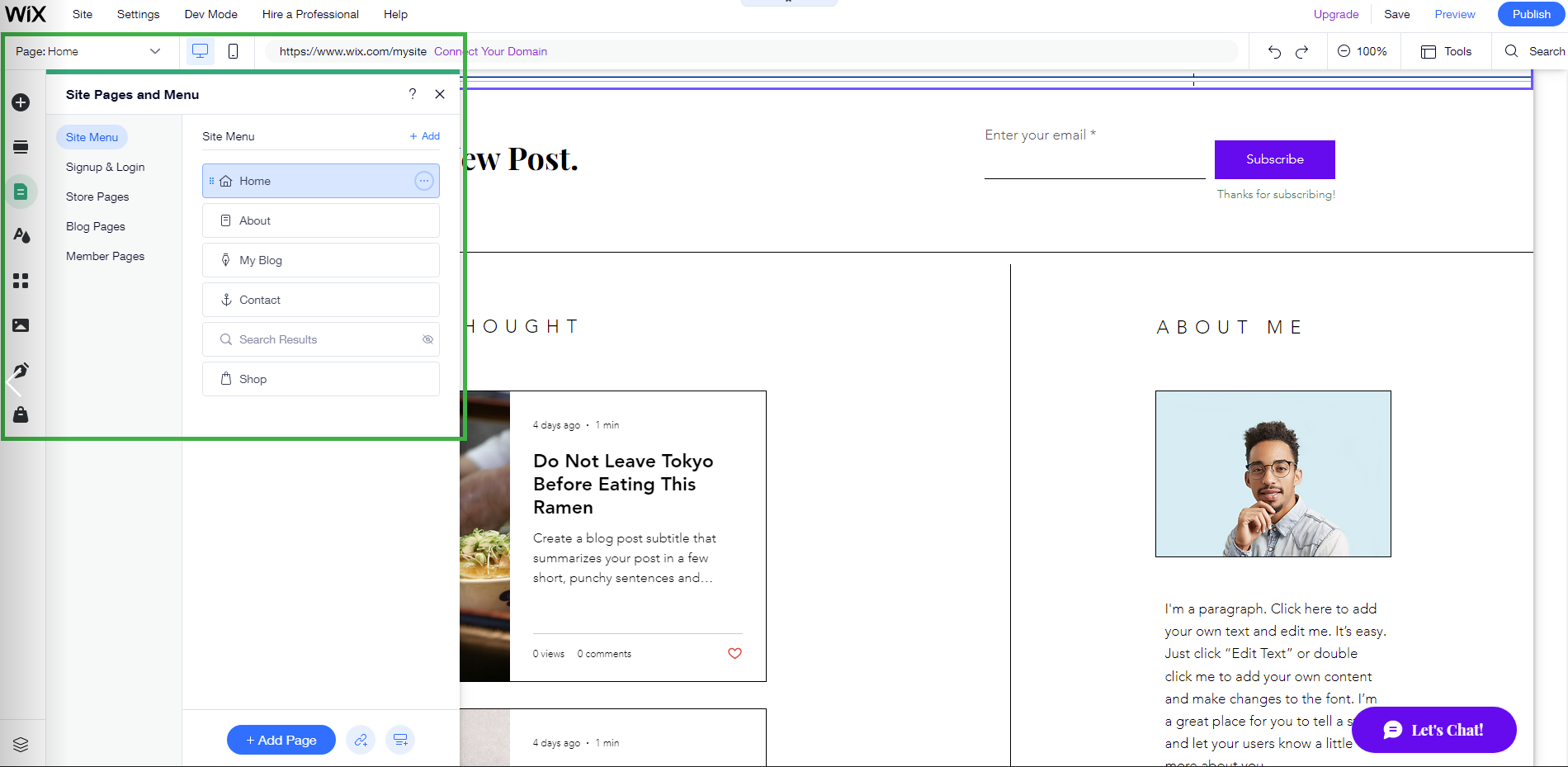 Step 6: Adding Pages
Depending on the type of website you're setting up, Wix automatically creates a few pages for your website depending on what it thinks you'll need. If you find the need to add or even remove certain pages from your website, here's how you can do so:
Click on "Site Pages and Menu", the third button from the top on the left navigation bar
Click "+ Add" to add a page
Click on the three dots "…" to delete or hide a page
The "Site Pages and Menu" button gives you an overview of all the pages in your website. It's an easy way for you to choose which pages to display, which to hide and even edit a page's information, layout and SEO settings.
Step 7: Managing Your Online Store
Whether you're operating a subscription business model or selling physical products, e.g. kids bed, or digital products, every Wix website comes with handy features to set-up and manage an online e-commerce store.
From adding products to setting up shipping, delivery and payment methods, here's how to handle the basic functions of a Wix online store.
Adding Products
To add a product to your Wix store:
Navigate to the Wix dashboard
Click "Store Products" on the left navigation bar
Click "+ New Product" on the top right of the page
Select the appropriate option and fill in your product information
Set Up Shipping and Delivery
Once you've added physical products to your store, you'll need a way to ship and deliver them to your customers. Wix has a handy shipping and delivery settings page which contains everything you need to manage how your customers receive your orders.
To get to the "Shipping and Delivery" settings page. Simply:
Go to the Wix dashboard
Click on "Settings" third from bottom on the left sidebar
Click on "Shipping & fufillment" under the eCommerce & Finance category
The shipping options you can change are split into three categories:
Domestic
International
Third-party fulfilment services
The first two options are relevant if you ship the products out yourself and do not rely on a third-party logistics provider. On the "Shipping and Delivery" settings page, you'll be able to change how shipping rates are calculated, change the estimated delivery time as well as provide local pick-up options.
If you use a third-party logistics provider, you can click on "Fulfillment Services" and find the relevant app for your logistics provider in the Wix app market.
Add Payment Modes
Before you get your shop up and running, there must be a way for customers to pay. Wix e-commerce stores can be connected to Stripe and PayPal, which gives you access to a wide variety of popular payment options.
To add payment modes to your Wix store:
Go to the Wix dashboard
Click on "Settings" third from bottom on the left sidebar
Click on "Accept Payments" under the eCommerce & Finance category
Connect your relevant payment methods
There is also a manual payment option which you can use to add cash or other offline payment modes, as well as cash on delivery.
Step 8: Add a Domain Name
A domain name is the custom URL your customers will enter into their browser when they want to navigate to your website. That's why it is important to pick a domain name that is easy to remember.
If you are a free user on Wix, your domain name will appear as www.yourstorename.wixsite. If you would like a custom domain name, you will have to subscribe to one of Wix's premium plans and become a paid user.
Wix gives you the option to purchase a domain name from them or connect to a domain you already own.
To add a domain name, navigate to settings > connect a domain.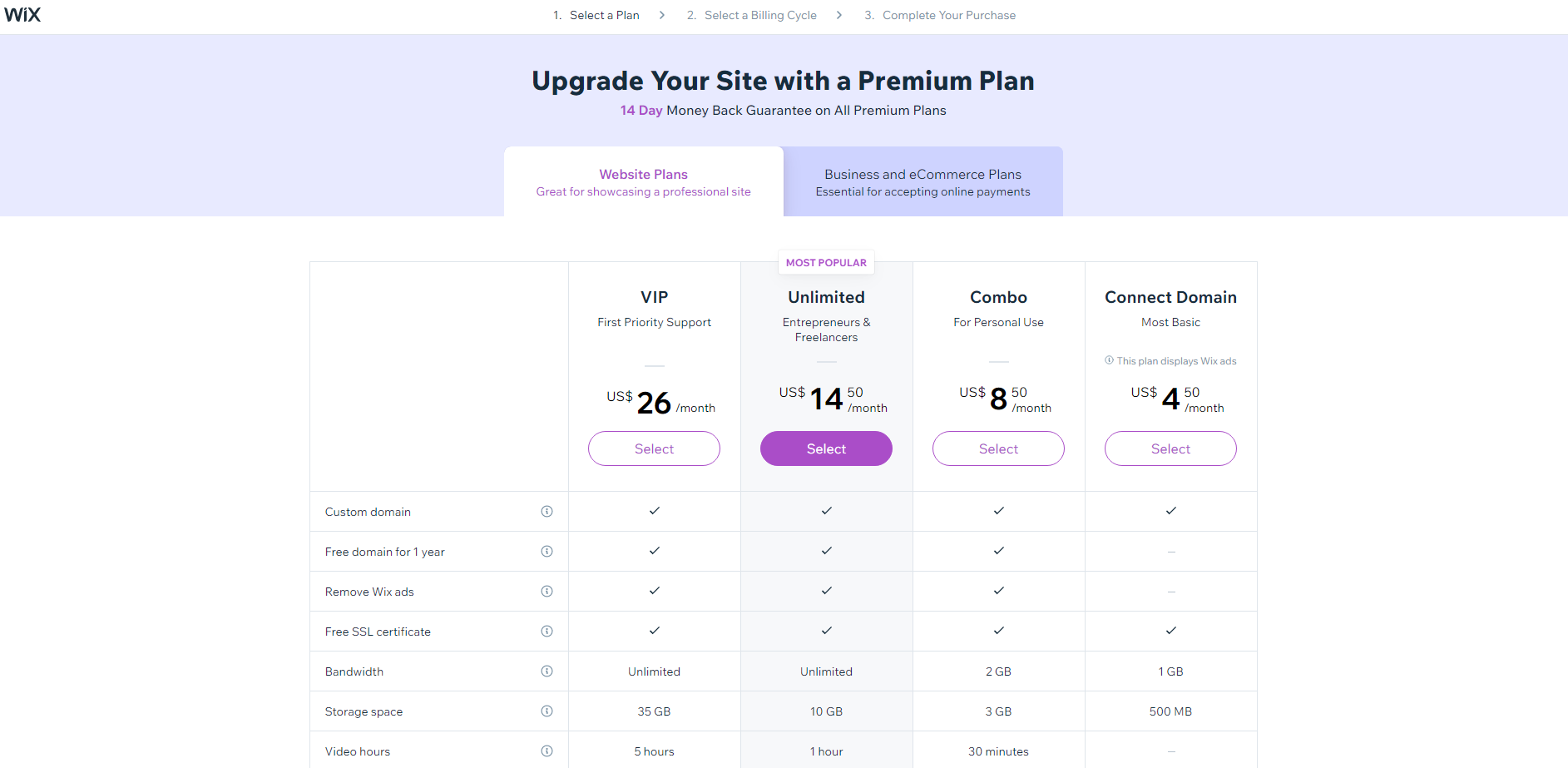 Step 9: Choose Your Wix Subscription Plan
While you are free to use Wix as a free user, a Wix subscription plan gives you access to advanced features that are crucial to your website — especially if you're running a business. Choosing a subscription plan and becoming a paid user allows you to customise your domain name and removes on-site ads, instantly making your website more professional.
To subscribe, simply click the "Upgrade" button on your Wix dashboard. Wix offers Website Plans as well as Business and eCommerce Plans depending on your website needs.
Ad-free website plans range from US$8.50/mth to US$26/mth, while business plans range from US$17/mth to US$35/mth.
Step 10: Publish Your Website
Once you've got everything set up and finalised your website's design — you're ready to publish!
From the website editor, simply click on the "Publish" button on the top right and your website is now live! It's that easy!
You'll still be able to make changes to your website while it is live. To do so:
Open your Wix dashboard
Click on Manage Site
Click on Edit Site
Make your changes and click Publish again
Learn How to Setup Your Wix Website from Experts at FirstCom Academy
We hope that this step-by-step article on how to set up and manage a Wix website has been useful to you. If you prefer to learn in-person rather than read an article, why not sign up for FirstCom Academy's Wix courses?
FirstCom Academy's web design courses are ideal for anyone who wants to learn how to use Wix to set-up and run a successful online store. Learn from industry-vetted and ACTA/ACLP-certified trainers who will guide you on how you can use Wix to create your own online store that follows industry best practices. And because the course is conducted in-person, you can get immediate answers to your questions by an expert with real-world experience.
Learn how you can create your own website or online store without any code by signing up for our Wix website creation course or Wix E-commerce course today!
Read also: 8 Best Resources For Learning Wix Web Design