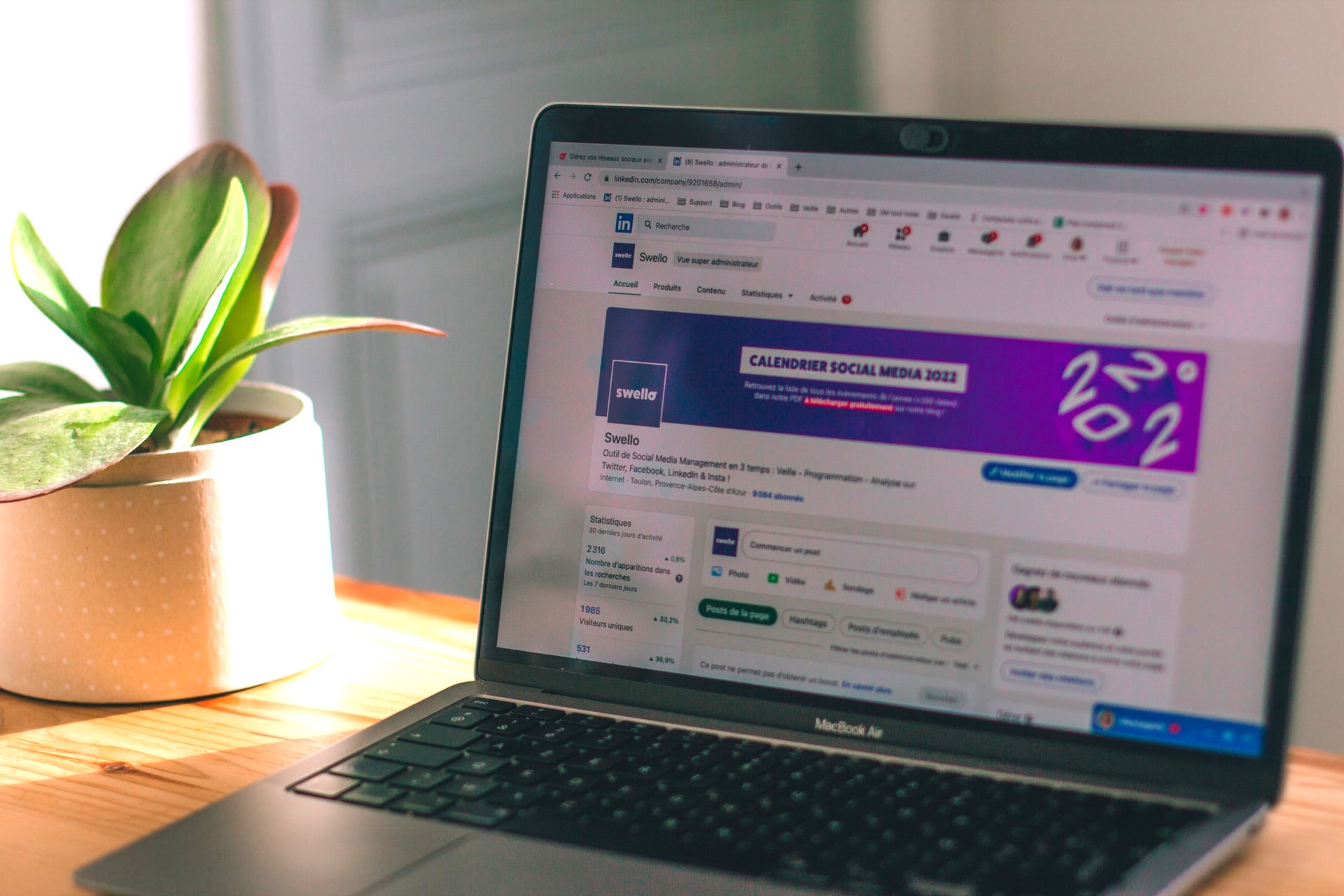 You've probably heard that LinkedIn is the world's largest professional network. It's not just for job hunters and recruiters anymore. So, it's no surprise that LinkedIn is a powerful place to market your business and connect with potential customers.
With over 800 million users on LinkedIn globally in 2022, it's a wise move to start building your presence here now if you want to sell more products or services online.
Whether you're an experienced marketer or just starting out, this beginner's guide will help you learn how to sell on LinkedIn, from creating an effective profile to tracking the performance of your content marketing efforts.
Create A Professional Profile That Boosts Your Credibility
LinkedIn profiles, like any other form of social media, are a reflection of your business. And since LinkedIn is a professional platform, you want to ensure that your profile is as professional as possible and includes all the relevant information about your company, including the products and services you offer.
Discover how to create a company page with LinkedIn's step-by-step guide here.
Make sure your profile is optimised for search
Use keywords that help people find you when they search for them. For example, if you sell the same service like other businesses in the same industry, use keywords that differentiate you from them (or at least don't use the same ones). You can also:
Add a location tag and company name to increase visibility on local searches
Add a cover photo that highlights the best features of your product or service to make it stand out from the crowd
Make sure your headline and summary show what you do best
This is where you want to sell yourself as well as your business (and not just by using buzzwords like "best-in-class"). Put yourself in the shoes of someone who doesn't know anything about your industry or services.
What does this person need to know about what you do?
What makes it unique?
How will it help them?
Focus on selling benefits rather than features here – people want results more than explanations of what something does.
Be Active and Publish Content Regularly
It's important to be active on LinkedIn as someone who also wants to sell their products or services. This will help you establish yourself as an authority in your industry, build trust with your audience, and build a relationship with them.
LinkedIn is a great place to post articles that will drive traffic back to your website or blog. You can also share these articles on other social media platforms like Facebook and Twitter, which will increase their reach significantly.
Optimise your organic reach on LinkedIn
Choose the right time to share your content – Optimise when you share your posts, so they get maximum exposure! According to Sprout Social's research, the best times to post on LinkedIn are Tuesday through Thursday between 10 am to noon.
Use hashtags in posts and comments so that people who are interested in similar topics can find your post easily by searching for these hashtags without having to use advanced search options in LinkedIn Search. This way, when people search for keywords related to your topic, they will find your post in their feed and might click through to read more about it or buy from you!
Discover and Connect With Prospects
As a business owner, it's important to use this platform to its full potential by reaching out to prospects and turning them into customers.
There are two types of connections: inner circle and outer circle.
Inner circle connections are people you know personally or professionally, such as coworkers, bosses or clients.
Outer circle connections are people who are not in your inner circle but may be interested in what you're offering or could benefit from what you have to offer.
LinkedIn allows you to search for specific types of professionals based on industry or location to find the right people for your business. You can search for people using the search bar at the top of the page or go through your connections' friends lists.
Several ways to discover ideal prospects on LinkedIn are:
Search for industry-specific groups or events where you can meet potential clients. For example, if you're an accountant who wants to sell tax services to small business owners, search "accounting groups" on LinkedIn and join groups that seem relevant.
Search for companies that fit your target market and connect with them.
Use LinkedIn Sales Navigator to identify potential customers who have already engaged with your brand – and then reach out directly!
Make meaningful connections with the right people
This is one of the most important things when selling on LinkedIn. Don't just connect with everyone who accepts your invitation – doing so will likely annoy them and damage your reputation as well as theirs. Instead, target people who are likely to buy from you or refer others who might buy from you if they see that their friend is connected with you on LinkedIn.
Send targeted messages
After making a connection with someone, send them an InMail message inviting them to connect on LinkedIn (or invite them directly if they're already connected).
You can also use the 'who's viewed your profile' feature to find potential customers.
This feature allows you to see who has viewed your profile so that you can reach out and connect with them through direct messages on LinkedIn.
Harness The Power of Linkedin Groups
LinkedIn groups are one of the best ways to build your online presence and engage with other professionals in your industry. These groups bring together people who are interested in the same topics or have similar job titles so that you can target a specific group of people with your message.
Connect with people through groups related to your industry
LinkedIn groups are all about engagement, so if you want to sell successfully, you'll need to put some effort into following other members and engaging with their posts. This shows that you're interested in what they have to say, making them more likely to notice anything else you post there.
LinkedIn offers two kinds of groups: open and closed. The difference between these two types is that closed groups require an invitation before you can join them – which means that only members can invite new members (and anyone else will be rejected). As such, closed groups tend to be much more exclusive than their open counterparts, meaning fewer users but higher conversion rates once they've joined.
Increase Brand Awareness With LinkedIn Ads
One of the best ways to reach out to target people directly within their newsfeeds without having them leave the platform, LinkedIn Ads are a great way to get more leads and sales without spending too much money on advertising costs. Using various targeting parameters like job title, company name, work location etc., you can reach a specific audience who is likely to be interested in your product or service.
Once you've built up enough credibility on LinkedIn, start targeting prospects with LinkedIn Ads by creating ads promoting your company, products, or services with compelling images and captivating copywriting that speaks directly to the audience you want to target. The key is knowing who you're trying to reach, so make sure your ad copy reflects this!
LinkedIn Marketing is a suite of advertising solutions that help you get more out of LinkedIn Ads by helping you make the most of all the different features available on the platform.
The most popular feature is LinkedIn Lead Gen, which lets you add a "Lead Form" directly onto your website so that people can sign up for your newsletter or download an ebook. If they do, they'll automatically be added to your target audience list in LinkedIn Ads.
You can also use Advanced Marketing Solutions (AMS), which lets you upload lists of contacts from other websites into LinkedIn Ads so that you can target them with ads based on their industry or job title. This is useful if you want to reach out to potential customers who haven't been exposed to your brand yet.
Leverage Content To Generate Leads and Build Relationships
The first step is to know your audience and what they want to read. If you're selling something, their decision-making process is often influenced by third-party content. The articles, images and videos you share will help them decide whether or not they should buy your product or service. This means that the quality of your content is just as important as its quantity.
Share articles, images and videos that engage the community on LinkedIn while conveying your company's personality and message. The best way to do this is by creating a library of content relevant to your industry and customers' needs – and then sharing it on LinkedIn in a way that makes sense for your business.
As mentioned earlier, post updates regularly so people can see what you're doing at all times. Don't just post about sales promotions or product launches – share industry news, interesting facts or anything else that might be relevant to your target audience.
Measure and Analyse Performance To Optimise Results
You've probably heard about the importance of measuring and analysing the performance of your LinkedIn Ads campaigns. This is vital for getting a feel for what types of ads work better than others – and this will help you improve your results over time.
There are two main ways to measure what's working for you on LinkedIn:
Use the free tools provided by LinkedIn
Implement third-party analytics
You can use the LinkedIn advertising dashboard to track the number of clicks that lead to purchases, as well as other metrics such as cost per click (CPC) and cost per acquisition (CPA). You can also use Google Analytics to measure how many people visit your website after seeing your ad or sponsored InMail.
By using these tools, you'll be able to see what types of content perform best. This will help you tailor your future campaigns to get more conversions and leads from LinkedIn.
To measure how well your LinkedIn profile is working for you, here are some metrics that will help:
How many people see your updates?
This can be measured using the 'Views' metric on each post in the 'Stats' section of your profile page. The more views a post gets, the more people have seen it.
How many messages do I receive?
This is measured by counting how many messages you get each month in your inbox under 'Messages'.
How many connections do I have?
This is found under 'Connections' on your profile page. The more connections you have, the greater reach you have through them, so they're worth investing time in building up!
---
LinkedIn is a great way to promote your business, but it's not an easy platform to master. It can be tricky to get started and find success on LinkedIn, but if you follow the steps in this article or other LinkedIn marketing learning resources, you'll be well on your way.
Bonus: Learn In-person From Industry Professionals at FirstCom Academy
While self-learning with the resources mentioned above is a great way to familiarise yourself with selling on LinkedIn – there's no substitute for fast-tracking your progress with a new skill by learning from experienced industry professionals.
FirstCom Academy's 2.5-day LinkedIn Marketing course is ideal for anyone who wants to learn how to leverage LinkedIn Marketing to develop professional relationships, discover business partners, find new prospects, and generate high-quality B2B leads.
Learn from industry-vetted and ACTA/ACLP-certified trainers who will guide you on establishing a strong presence on LinkedIn, run effective advertisements, and manage and evaluate campaigns using LinkedIn Campaign Manager and LinkedIn Analytics.
Get the most out of this face-to-face learning with an expert with real-world experience. Visit our LinkedIn Marketing course page to sign up and book your slot today!
Read more: 8 Best Free and Paid LinkedIn Training Certification Courses