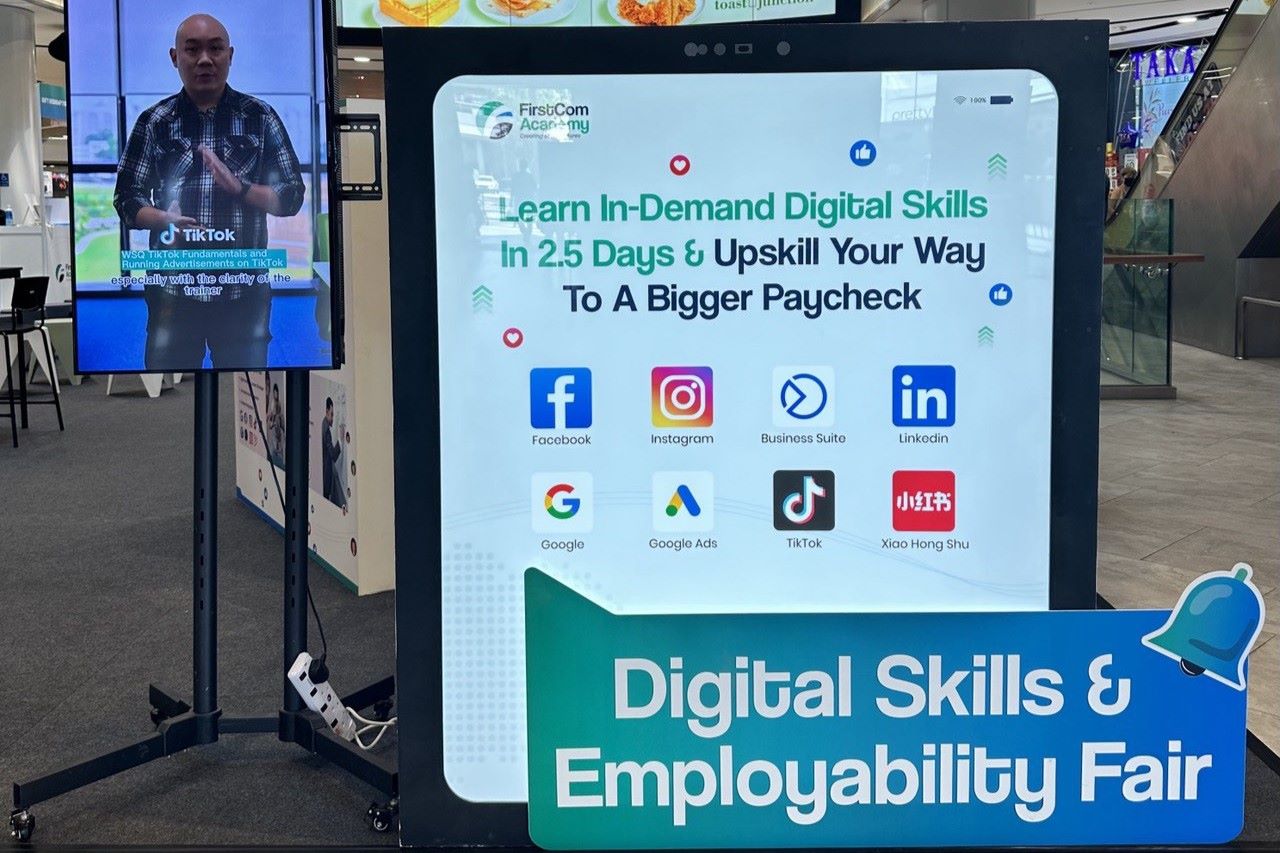 The Digital Skills & Employability Fair, organised by FirstCom Academy, is back and making waves at Century Square in Tampines! After successfully captivating audiences at previous locations, including Waterway Point in Punggol and Junction 8 in Bishan, this exciting event promises to be bigger and better than ever. From 24th to 26th May 2023, learners and job-seekers of all ages visited our roadshow to learn about digital skills upgrading and how to unlock a world of possibilities.
At FirstCom Academy, we understand that time is precious, and learning should be efficient and effective. That's why our 2.5-day courses, taught by experienced industry practitioners, ensure you acquire relevant digital skills quickly, retain them, and apply them to achieve your career goals, whether you are looking for a career switch or aiming for a promotion.
Discover the Digital Landscape and Boost Your Employability
The Digital Skills & Employability Fair at Century Square is a treasure trove of insights into the latest job market trends, in-demand digital skills, and strategies to land your dream job. No matter where you are in your career journey, there's something for everyone at this event.
Engaging Workshops and Interactive Learning
Learning doesn't have to be dull! We've taken the lessons from our previous roadshows and enhanced the experience for you. We engaged and entertained the crowd with interactive course consultations, discussions, trivia boards and activities that make acquiring digital skills both enjoyable and effective. Attendees got valuable insights and tips on how to thrive in today's job market.
Information Boards to Guide Your Journey
A hallmark of FirstCom Academy are the informative display boards that help attendees navigate the digital landscape with ease. Learn about popular digital platforms, understand the impact of certifications on your career goals, and discover the right digital skills to pursue for success in the digital age! Our information boards act as a compass for would-be lifelong learners as they forge ahead in their career.
Test Your Digital Knowledge
Are you up to date with the latest digital trends? Do you know what are the most sought-after digital skills? Put your knowledge to the test! From social media statistics to insights on the Singaporean digital landscape, our roadshow had nuggets of useful trivia and information to keep attendees engaged.
Explore In-Demand Digital Skills and Career Opportunities
For job-seekers, the Digital Skills & Employability Fair provides a wealth of information on job market trends, upskilling opportunities, and in-demand digital skills. Our dedicated course consultants were on hand to offer practical advice and guidance, helping attendees chart the best course for personal and professional growth.
Don't Miss Out on Future FirstCom Academy Events
To all the amazing attendees and mall-goers at Century Square, thank you for making the Digital Skills & Employability Fair a resounding success! We hope you enjoyed the event as much as we enjoyed hosting it. If you couldn't make it to this event, fret not! Follow us on our social media platforms to stay updated on our upcoming events and ensure you never miss an opportunity to enhance your skills and future-proof your career.
Stay connected with FirstCom Academy: