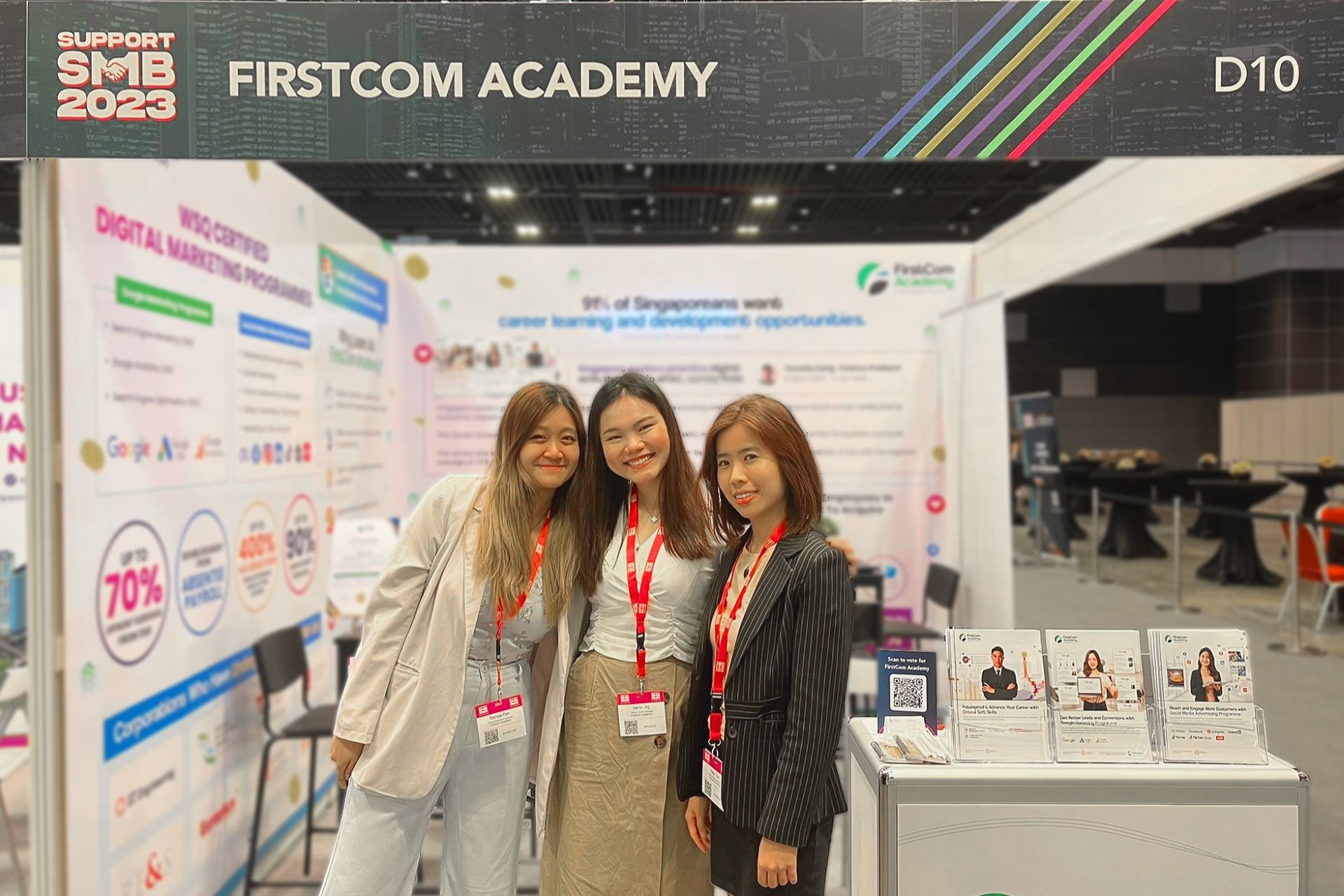 The team at FirstCom Academy were thrilled to participate in the inaugural Support Small-Medium Businesses (SMB) 2023 event held at the Suntec Convention Centre from 16th to 17th May 2023. Our mission has always been to equip professionals with effective and industry-relevant digital skills, and this event provided a valuable platform to showcase our programs and how we can help.
About SMB 2023
SMB 2023 was a two-day event designed for professionals to network, discuss and address the challenges faced by SMBs in the digital age. There was a conference encompassing topics designed to help small-medium enterprises (SMEs) as well as exhibition booths showcasing innovative solutions and tools to support their business operations.
As a proud participant in this significant event, FirstCom Academy had the privilege of sharing our expertise and empowering SMBs with valuable digital skills essential for growth and success in the modern business landscape.
Navigating the Competitive Business Environment
Since the theme around the event was addressing challenges faced by SMBs in the digital age, the team at FirstCom Academy decided to showcase our specialised programs with specific digital skills tailored to meet the exact needs of SMBs. Specifically, we chose to highlight our Google Marketing Programme, Social Media Advertising Programme and Effective Leadership Programme.
Our Booth at SMB 2023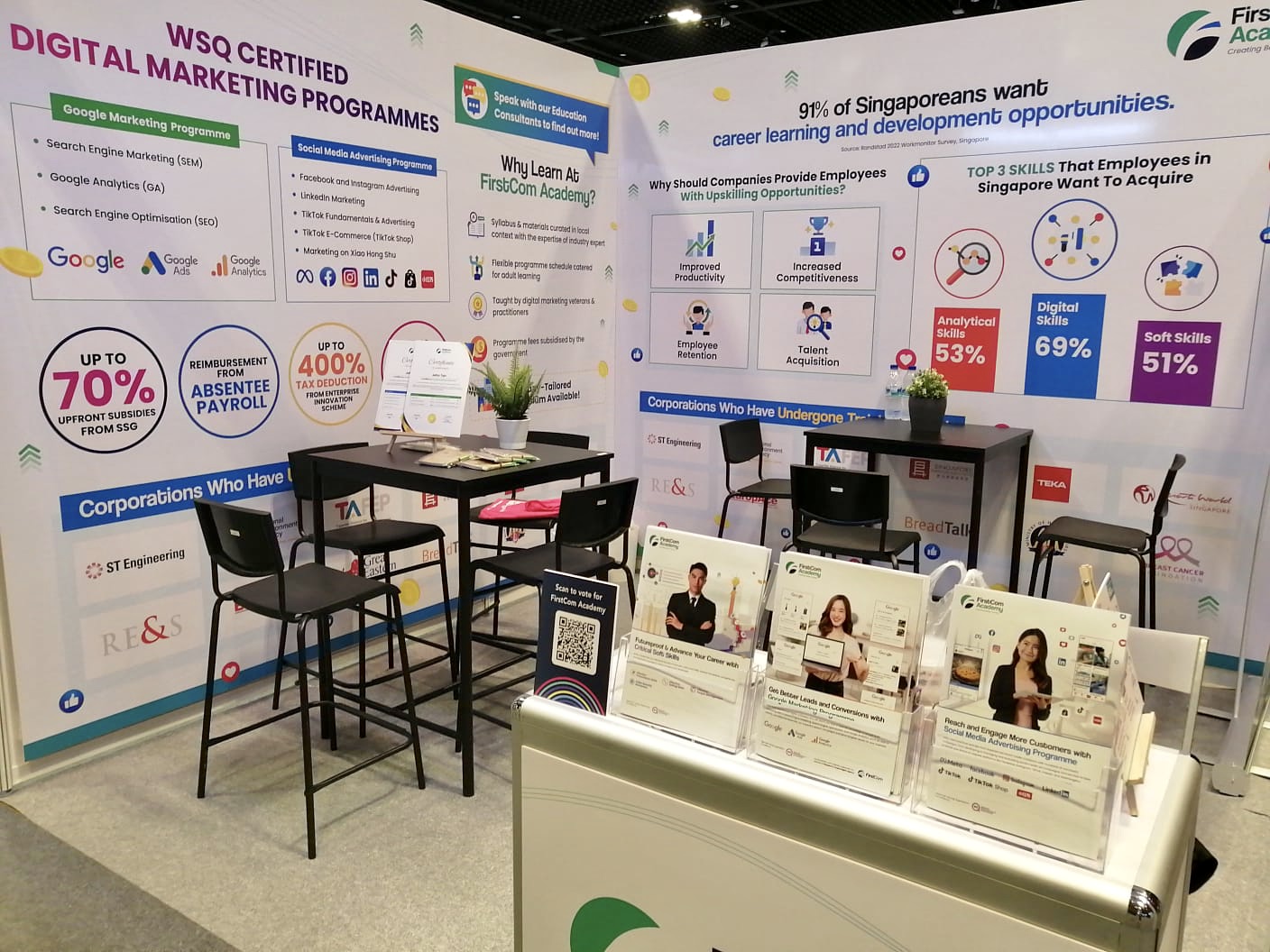 FirstCom Academy's booth at SMB 2023 was designed to captivate the attention of visitors and provide them with valuable insights. We created eye-catching information boards displaying essential statistics related to the employment landscape in Singapore. We specifically chose statistics that shed light on the growing demand for career development opportunities and highlighted the significance of upskilling employees with essential digital skills. This included information like the top skills that employees in Singapore want to acquire, as well as the proven benefits of upskilling employees as a business owner.
By investing in their workforce's professional growth, businesses can achieve increased competitiveness, attract top talent, improve productivity, and successfully undergo digital transformation.
In addition to the statistics, we emphasised our commitment to providing quality education by showcasing reasons for learning at FirstCom Academy — such as government-supported funding, experienced industry practitioners as trainers, localised course curriculum, our reviews as well as the corporations who have entrusted us with training their employees.
Interactive Consultation and Program Exploration
FirstCom Academy's booth at SMB 2023 provided a platform for interactive consultation and program exploration, fostering meaningful conversations between our knowledgeable course consultants and attendees. We encouraged visitors to discuss their unique business challenges and goals, allowing us to provide personalised guidance and recommendations. With a diverse range of programs, including Google Marketing, Social Media Advertising, Digital Content Creation and Content Strategy, Cybersecurity, and Effective Leadership, we ensured that attendees found the courses that best aligned with their aspirations.
To facilitate informed decision-making, we made our detailed course brochures readily available. These brochures outlined the objectives, curriculum, digital skills, and benefits of each program, enabling attendees to explore our offerings in depth. Our course consultants, armed with extensive knowledge and expertise, were well-prepared to address queries and guide visitors towards the most suitable courses for their career goals and business objectives.
Hosting a Masterclass on Digital Skills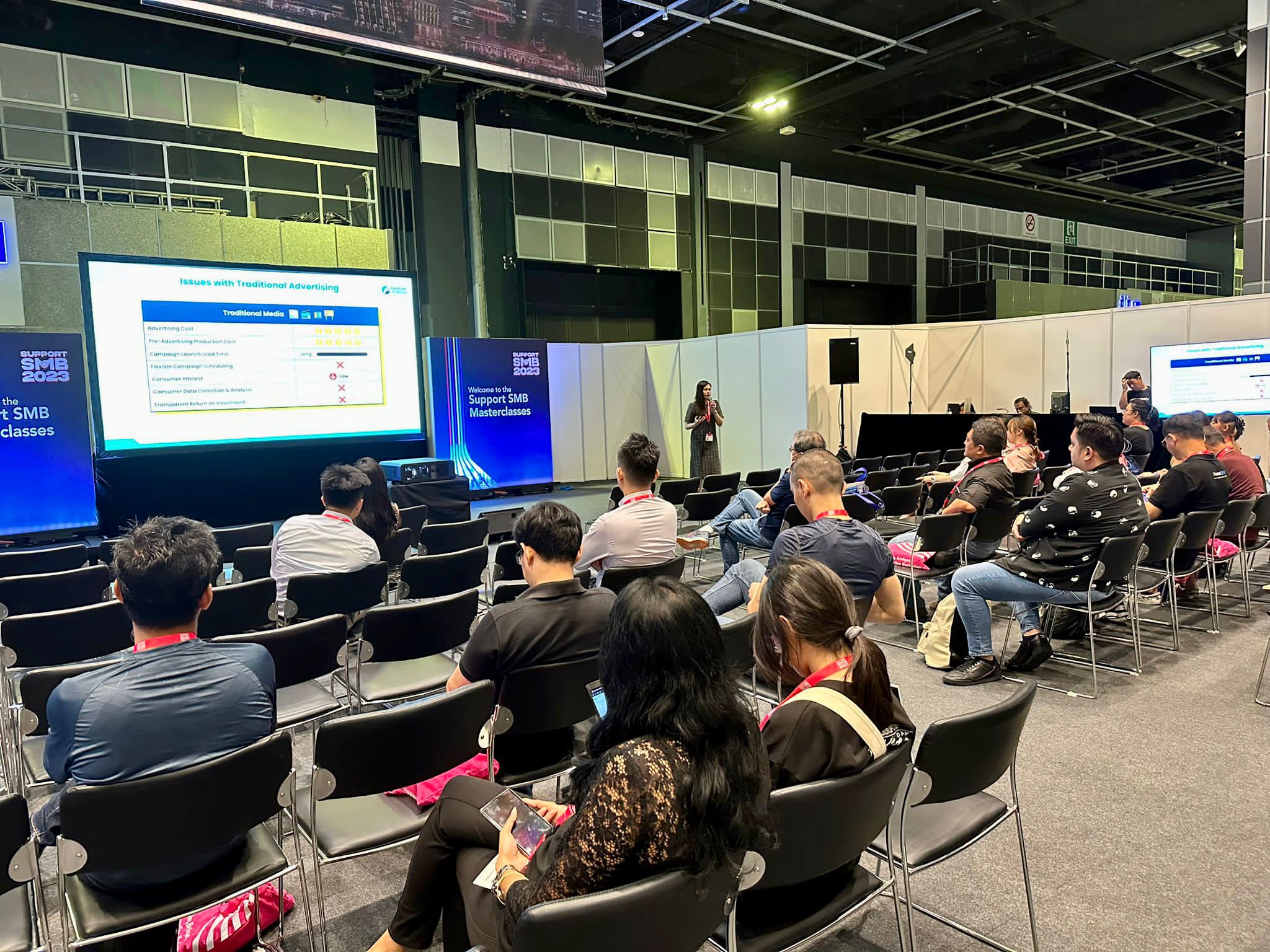 One of the highlights of SMB 2023 were the masterclasses where esteemed speakers were invited to share their expertise on specific topics with the conference attendees. FirstCom Academy was invited to share our expertise in digital skills — our team conducted an insightful masterclass on Google Ads and Social Media Advertising. In a one-hour session, we covered essential topics such as campaign optimisation, audience targeting, ad copywriting and budget management. Attendees of the masterclass walked away with the knowledge and tools to effectively leverage digital advertising platforms and seize opportunities for business growth.
Notable Exhibitors and Industry Support
The SMB 2023 convention brought together a host of notable exhibitors, including well-known local names like MyRepublic, TP-Link Singapore, Workforce Singapore, Stripe, Senoko Energy Singapore, and Carousell. Their presence underscored the significance of embracing innovative technologies and forming strategic partnerships to drive business success. As part of this vibrant community of industry practitioners and organisations, we were privileged to contribute to the collective knowledge and support available to SMBs.
FirstCom Academy's Approach to Imparting Digital Skills
At FirstCom Academy, our unique approach sets us apart in the adult training landscape. We prioritise hands-on training and industry relevance to ensure our learners acquire essential digital skills efficiently. By tailoring our curriculum to be relevant to local contexts, we equip professionals with practical knowledge that directly translates into their day-to-day work. We understand the value of time for SMBs, which is why we condense our courses into just 2.5 days, minimising disruption to business operations while maximising skills transfer.
Investing in Digital Skills for Sustainable Growth
FirstCom Academy's participation at the Support SMB 2023 convention exemplified our dedication to empowering small and medium businesses with valuable digital skills. Through our engaging booth, interactive consultation sessions, and insightful masterclass, we showcased our commitment to equipping SMBs with the necessary tools for success in today's dynamic business landscape. With our efficient and hands-on approach, we continue to play a pivotal role in driving business growth and career advancement for professionals in Singapore.
Looking to upgrade your employees with essential digital skills? Explore our range of comprehensive training programmes taught by experienced industry practitioners. Make FirstCom Academy your training partner and let's accelerate your business growth and success together.