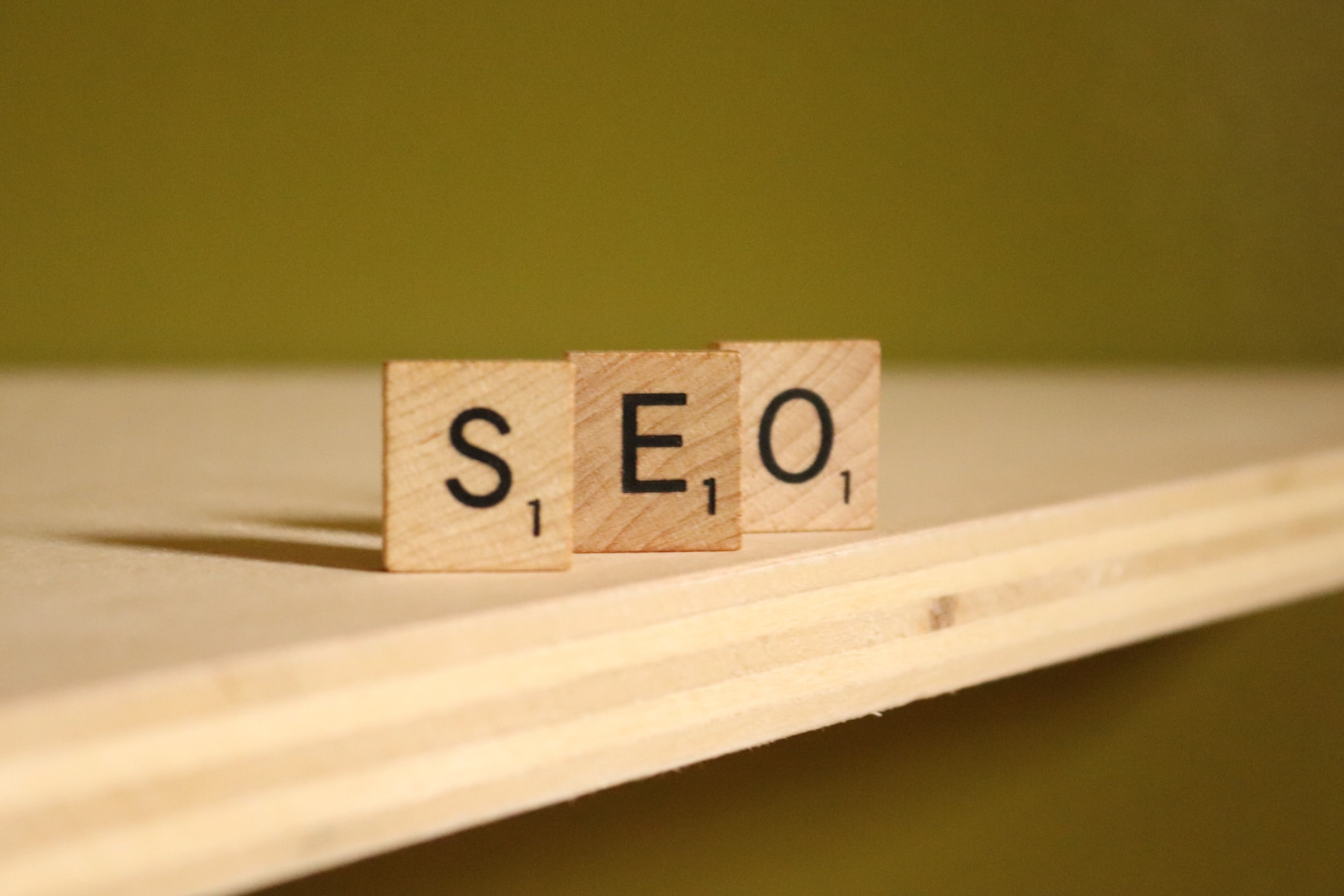 If you're new to Search Engine Optimisation (SEO) and looking to join the industry, one of the best ways to be noticed is to enroll in a relevant SEO course and obtain a recognised SEO certification for your resume. This signals to employers that you have passion for the subject and demonstrates your competency to increase your chances of getting hired.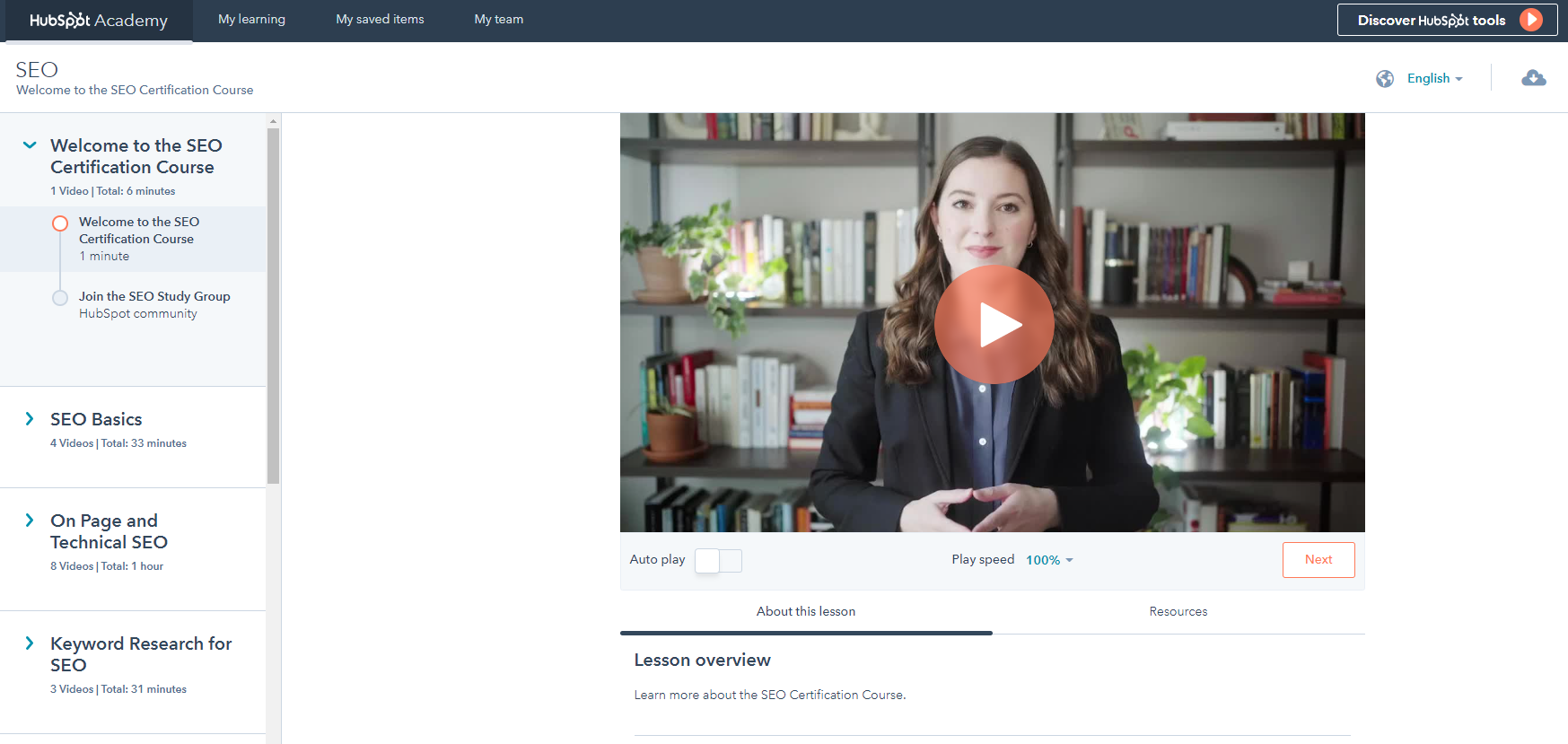 #1: [FREE] HubSpot Academy: SEO Certification Course
HubSpot is a company that develops and markets software tools for inbound marketing, sales and customer service. The company has demonstrated SEO expertise with an extensive blog that ranks first on digital marketing topics.
The HubSpot Academy SEO Certification Course is a free course that consists of 7 modules covering the following topics:
SEO Basics
On-page and Technical SEO
Keyword Research
Link Building
Website SEO
SEO Reporting
Although the course is free, you'll have to create a HubSpot account in order to access it. The course duration is estimated to be around 3 hours long, culminating in an exam that takes about 1 hour to complete. You'll need to score 45/60 to obtain your certification and must wait 12 hours between attempts.
Is HubSpot Academy's free SEO course worth it? Certainly. HubSpot is a widely recognised brand in the digital marketing industry, so adding their SEO certification to your resume helps employers verify that you have relevant knowledge. To increase your chances of landing a job, be sure to show instances where you have applied the SEO knowledge you've learnt, such as on a blog or social media page.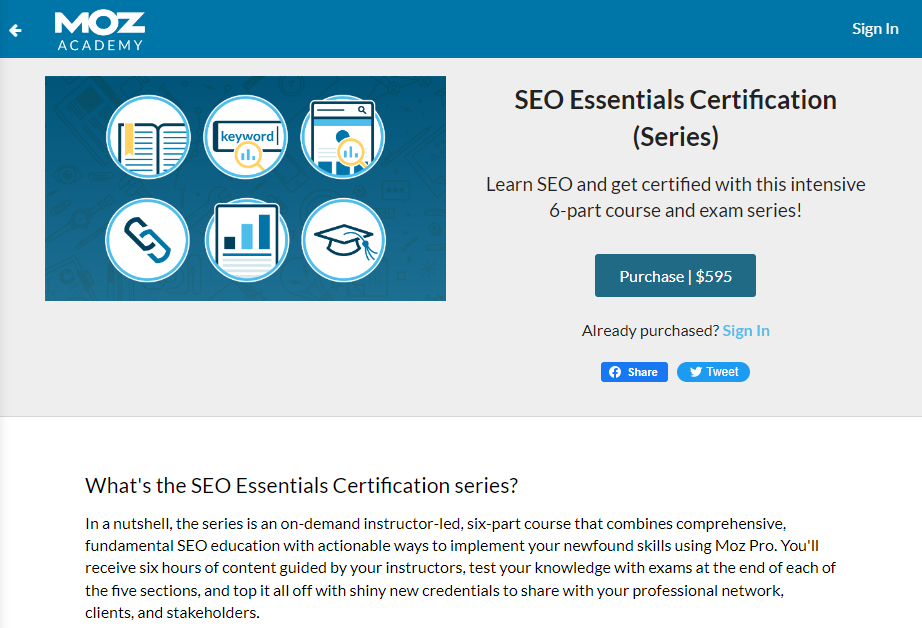 #2: [$595] Moz Academy SEO Essentials Certification
Moz develops all-in-one SEO software to help companies increase traffic, rankings and visibility in search results. Their product is used by global brands like Zillow and Trivago. Moz Academy is their training arm that provides easy-to-access SEO education with instructor-led courses and certifications for beginners and advanced users alike.
Moz Academy's SEO Essentials Certification is aimed at complete beginners looking to pick up the foundational knowledge needed to execute common SEO projects. It consists of over 6 hours of video content, quizzes and includes a final exam. Upon completion of the SEO certification course with a passing score, users will receive a printable certificate and a LinkedIn badge.
The course modules are:
Understanding the Fundamentals of SEO
Developing Keyword Strategies
Applying On-page Optimisation Strategies
Building Effective Link Strategies
Creating Effective Reporting Strategies
Final Exam
According to Moz, you won't need a subscription to their SEO tools as their course focuses on important SEO concepts and theories independent of tools. Testimonials from students say that the course is informative, well-organised and great for beginners looking to understand the impact of SEO on a business. However, advanced users also mentioned that the course was too basic.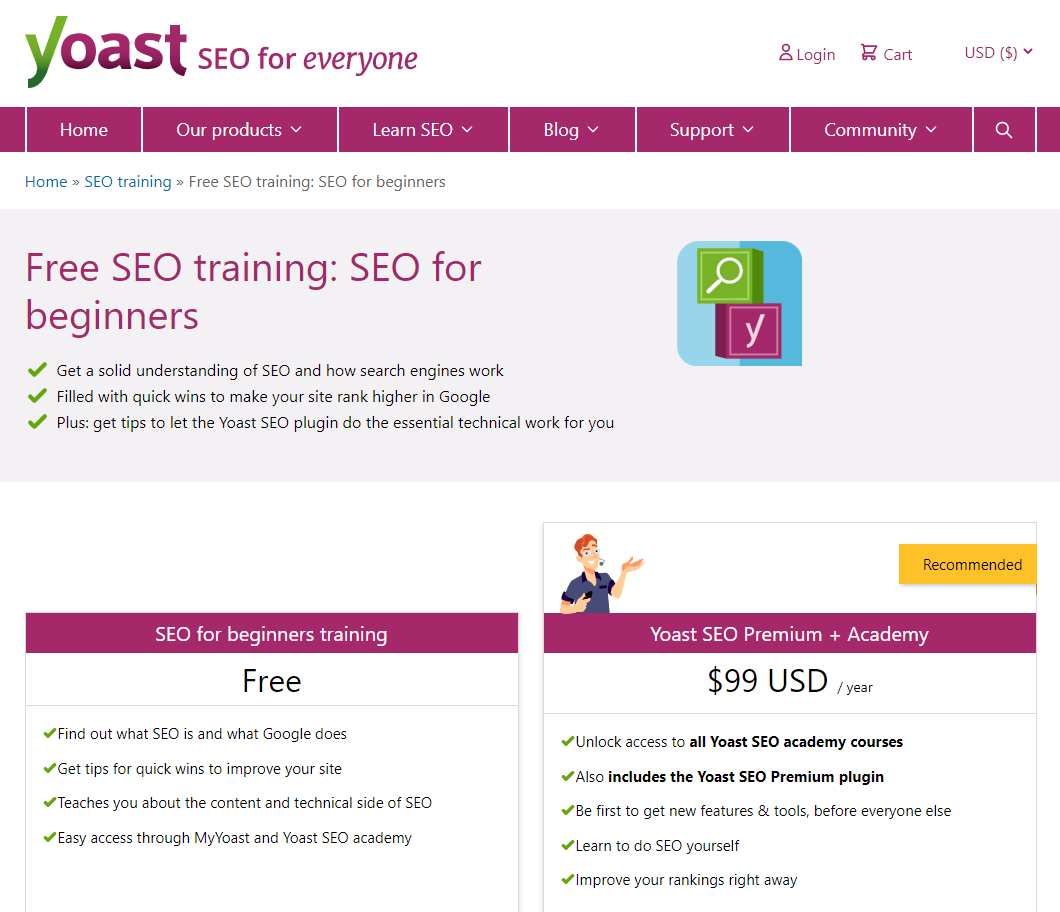 #3: [FREE or $99/year] Yoast SEO for Beginners
The most widely used SEO plugin for WordPress websites, Yoast helps millions of users optimise their websites without SEO knowledge. So when the SEO experts at Yoast come up with an SEO certification course, you know you're getting information from experts that know what they're talking about.
Yoast offers both free and paid SEO training courses. The free SEO course is catered exclusively to beginners and sets you up with foundational knowledge before delving into the content and technical side of SEO. In total, the course contains a total of 2 hours of instructional videos, as well as quizzes, convenient PDF files and an SEO vocabulary cheat sheet. Meanwhile, a premium subscription runs $99/year and unlocks access to the rest of Yoast SEO Academy courses as well as their premium plugin. Whichever you choose, you'll receive a certificate and badge you can display on your website or LinkedIn for completing either the free or paid SEO course.
WordPress is a popular content management system for many websites, so the Yoast SEO certification course can help you stand out if the company you are applying for uses Yoast and WordPress to manage their website.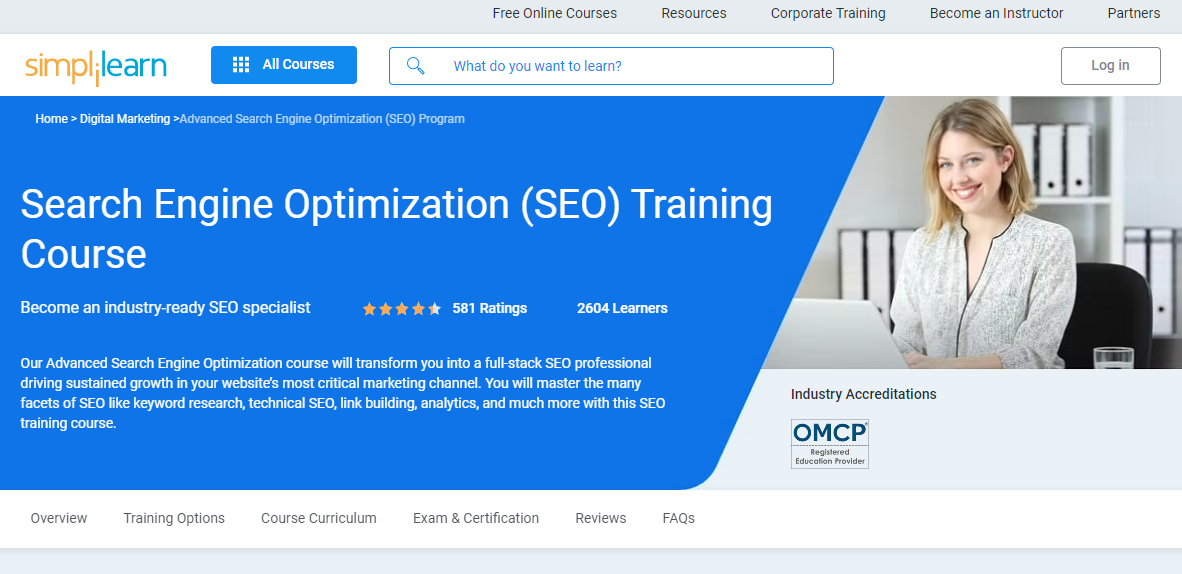 #4: [$748] Simplilearn Search Engine Optimisation (SEO) Training Course
The Simplilearn SEO Training Course is a comprehensive SEO certification course that promises to take learners from complete beginners to full-stack SEO professionals.
The self-paced learning version of this SEO course costs $748. This comes with lifetime access to the content, 25 hands-on projects and 3 simulation test papers for self-assessment. The comprehensive syllabus is split into 4 sections: SEO foundations, advanced SEO, advanced content marketing and advanced web analytics. Each section contains several hours of video lessons culminating in a simulation exam and a project. Additionally, the course also includes lessons on popular SEO tools like Moz, Semrush and SpyFu.
To obtain Simplilearn's SEO certification, you'll need to complete the entire syllabus, score 75% or higher in the Advanced SEO exam and complete the projects for each section. The course is rated 4.5 stars by 581 users.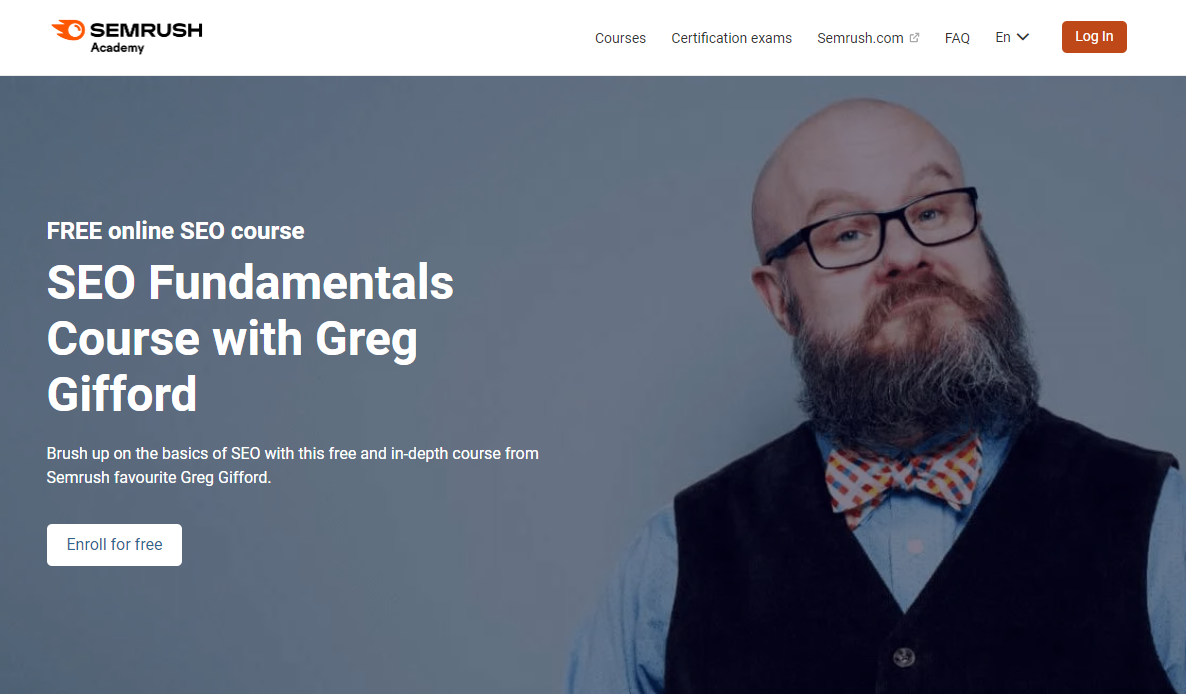 #5: [FREE] Semrush SEO Fundamentals
Semrush develops SEO and other digital marketing tools used by the world's leading companies. The company has demonstrated expertise at helping businesses achieve excellent digital marketing results.
SEO Fundamentals is a free SEO course from Semrush Academy, although you'll have to first create a Semrush account to access it.
Designed for beginners who want to learn the basics of SEO, the course is delivered by Greg Gifford, an experienced SEO consultant with over 17 years of experience. It features 31 video lessons and quizzes with a course runtime of about 4 hours. To obtain your SEO certification, you'll have to take pass an exam that tests your knowledge of the topics covered during the course.
Besides SEO Fundamentals, Semrush also offers other free SEO training courses on topics like keyword research, backlink management, mobile SEO and more.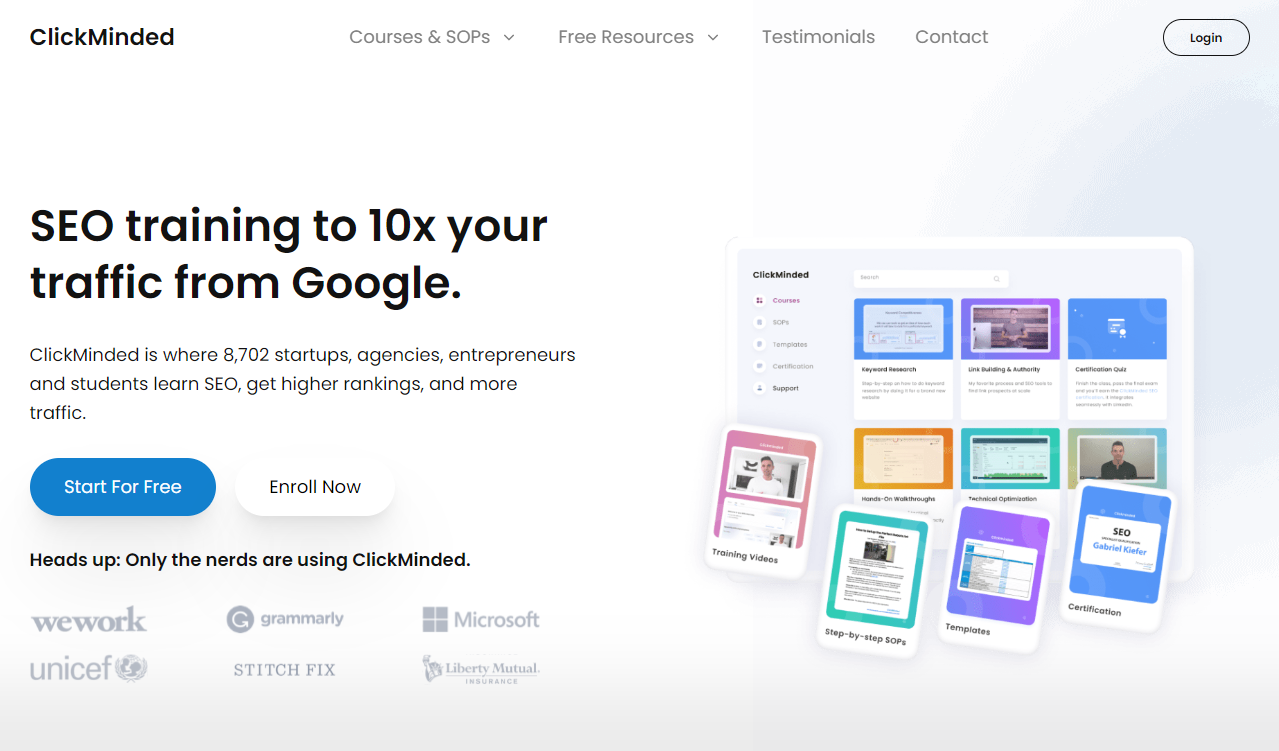 #6: [$997] ClickMinded SEO Course
The ClickMinded SEO Course was created by Tommy Griffith, an SEO manager who has worked at companies like PayPal and Airbnb.
The course costs $997, is completely self-paced, and focuses on a fundamental, practical SEO framework Tommy has used to grow organic traffic at the places he's worked at. He claims that the framework has been used by thousands of digital agencies, marketers, entrepreneurs and bloggers to great success. In fact, the bulk of the course learners are people with their own businesses or websites who want actionable strategies they can start employing instead of general SEO knowledge.
The course is about 3 to 6 hours long split into small, digestible segments for easy referral. You obtain a certificate of completion upon finishing the course.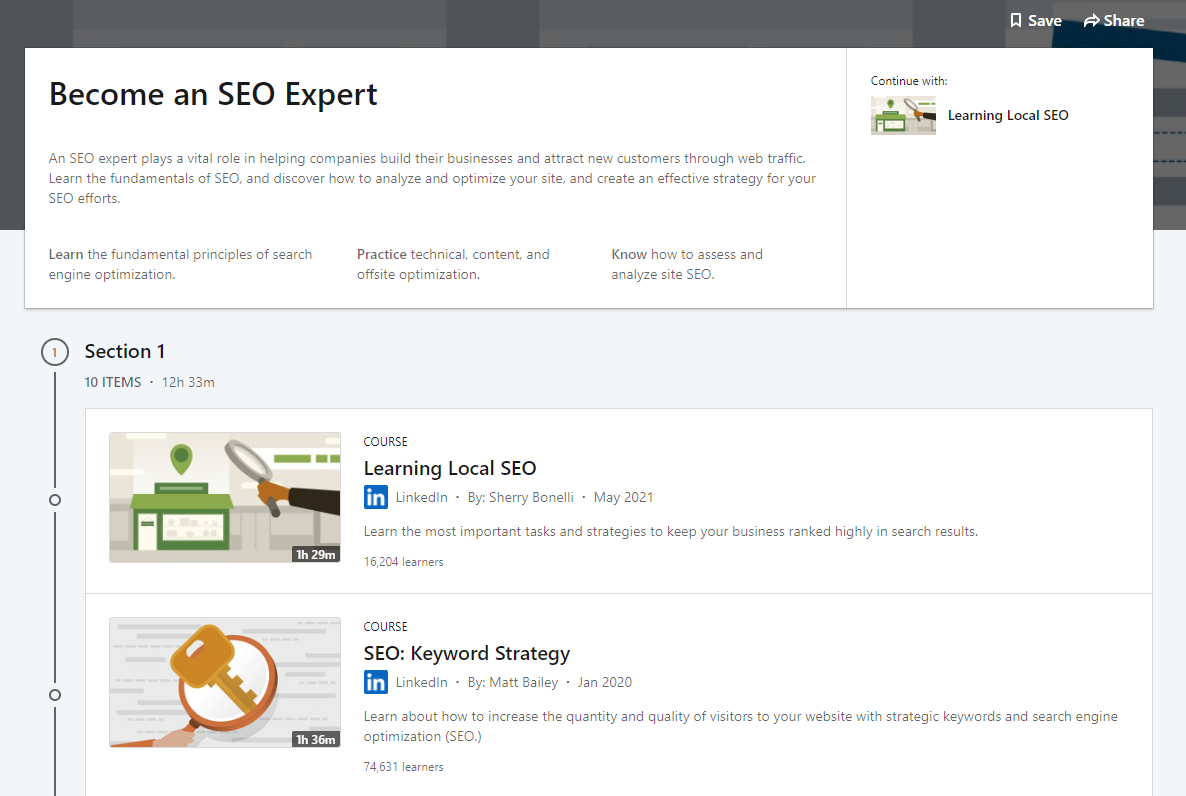 #7: [$26.99/mth] LinkedIn Learning's Become an SEO Expert
Learning paths on LinkedIn Learning are a series of courses that culminate in a certificate of completion. The Become an SEO Expert learning path features 10 courses with over 12 hours of content in total. To access LinkedIn Learning courses, you'll need to subscribe to the platform at a rate of $26.99/month if paid annually, or $49.99/month if paid monthly.
The SEO training courses cover topics like:
SEO Foundations
Local SEO
International SEO
Keyword Strategy
Link Building
SEO Videos
SEO for Social Media Profiles
Technical SEO
SEO Marketing Tools
SEO for Ecommerce
Each individual SEO course is led by an industry expert who will guide you through their particular topic. You can choose to complete a single course if the topic does not interest you or is irrelevant to you. You're rewarded with a certificate of completion for each course, which is a great way to stand out on the world's most popular professional network!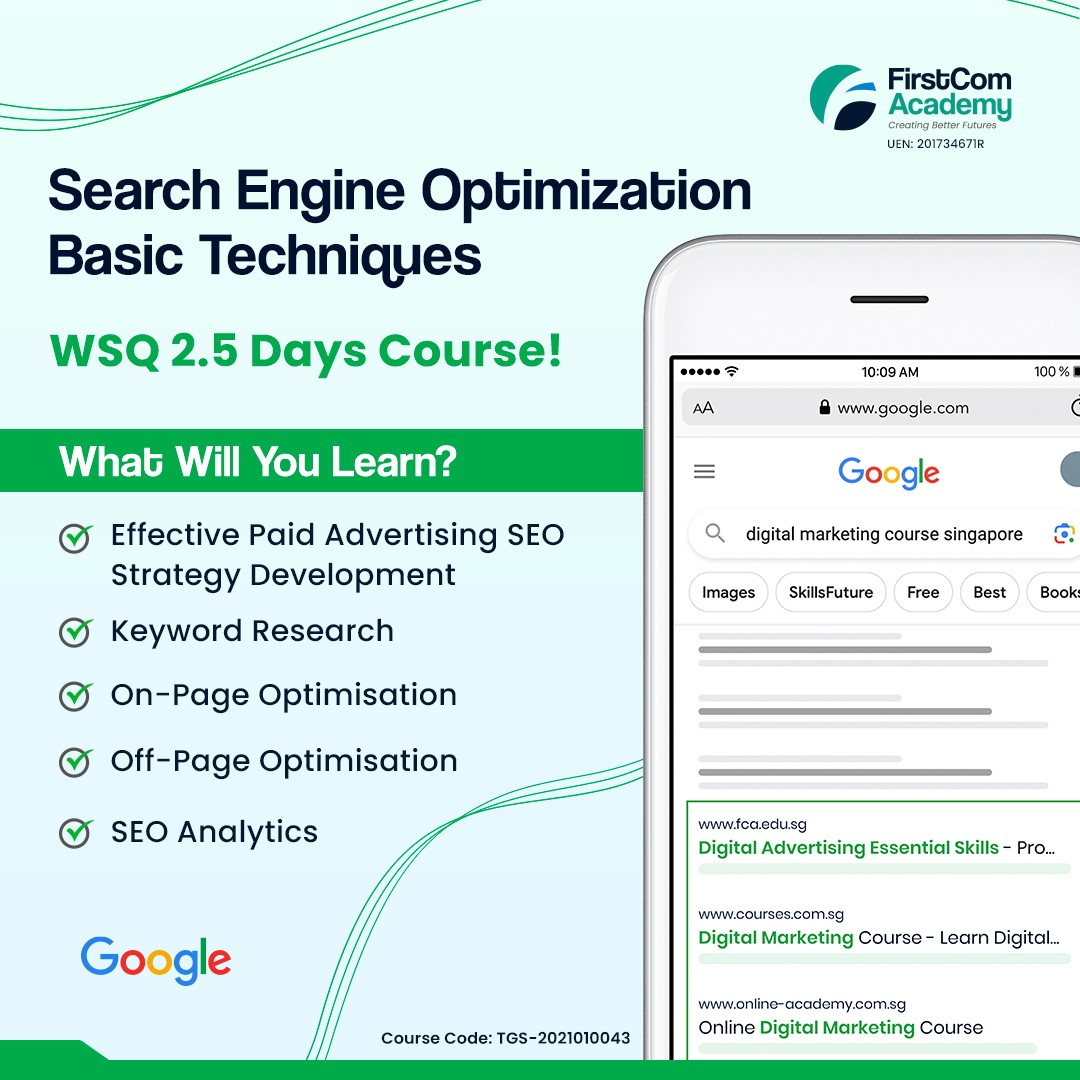 #8: [$330] FirstCom Academy: SEO Basic Techniques
While online SEO courses can be convenient, their contents can be irrelevant to the country you are practising SEO in. Most general SEO practices can be applied to any scenario, however, there is a stark difference between the way you approach local versus international SEO. It can also be beneficial for you to learn from seasoned SEO experts with in-depth knowledge of best practices in your country, so you can get more applicable tips.
FirstCom Academy's SEO Basic Techniques course is a WSQ-certified SEO certification course relevant to anyone who wants to run or market in business in Singapore. The in-person course originally costs $1100 but you can make use of available subsidies to bring the course fees down to as low as $330.
The duration of this SkillsFuture course is 2.5 days, during which you'll learn about SEO fundamentals, best practices and receive hands-on training on how to use SEO tools. Unlike online courses, you'll be able to receive immediate answers to your questions and get real-time feedback from your course instructor — who is a seasoned SEO expert.
You'll obtain a FirstCom Academy Certificate of Completion and SkillsFuture WSQ Statement of Attainment upon passing the final assessment. As this SEO course is recognised under the National Infocomm Competency Framework, this SEO certificate can help you secure interviews for future SEO-related roles and greatly boost your earning potential.
Is It Worth Paying for an SEO Course?
As you can see, there are plenty of SEO training courses out there. But is it worth paying for an SEO course when free options exist?
In general, paid SEO courses are valuable because they can cut through the noise and provide you with a structured and organised way to learn, saving you a great amount of time. Their content also tends to be higher quality as they may be vetted or created by industry experts. Which certification is best for SEO?
That said, the content offered by online paid SEO courses can vary greatly. Pay close attention to the syllabus of an online SEO course before you enroll — you don't want to pay for a course only to find out that its contents are not relevant to you!
That's why we recommend learning obtaining an SEO certificate from a local course provider. This way, you can be sure that you're receiving practical, applicable SEO knowledge you can put to work immediately, as well as a recognised SEO certification that will be useful for advancing your career.
Read also: 10 Useful Search Engine Optimisation (SEO) Learning Resources